When somebody asks you about your dream kitchen, the first thing that comes to your mind is a beautiful, large space used not only for cooking but also for relaxing and entertaining, right? If you are like the rest of us, the answer to this question is probably YES. But, keep in mind that those large and beautiful kitchens are difficult to take care of. And more importantly, keep in mind that they come with a crazy price tag. So, if you don't want to pay an arm and a leg for your new kitchen and if you don't want to keep maintaining it daily, you should opt for a low-maintenance kitchen on a budget. You don't need anything too fancy –you just need a functional kitchen (that is also visually appealing). And today, we will help you build one. That is, today, we will share with you some tips and tricks on how to design a functional kitchen on a budget.
Choose Your Kitchen Cabinets First
It is necessary to choose the color and the style of your kitchen cabinets first, as they will dictate everything else in your kitchen. When it comes to color, your best options for a low-maintenance kitchen are beige, crème, grey, or even something pastel-like. Don't make the biggest kitchen design mistake and choose colors such as white or black. Although these colors look amazing in kitchens, they are a nightmare to clean!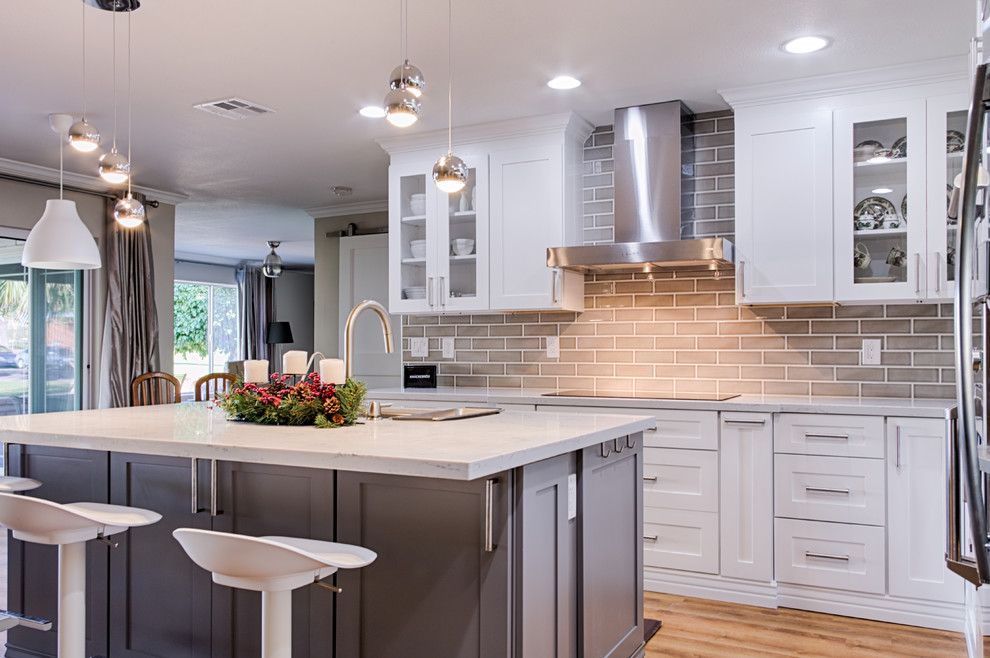 And, speaking of nightmares to clean, stay away from open cabinets and shelves—they tend to accumulate dust and clutter. Always opt for closed cabinets, drawers, and shelves. Moreover, in order to design a low-maintenance kitchen on a budget, avoid embellishments. They are tricky to clean. The simpler the kitchen, the cheaper and the more low-maintenance it will be.
Now Comes the Floor
Once you have chosen the colors of your kitchen cabinets, try to match your floors with them. You should go for something that is neither too dark nor too bright. A perfect in-between is needed. Moreover, if you want to design a low-maintenance kitchen on a budget that is also modern, match your kitchen floor with the backsplash. This is a feature the whole world loves right now.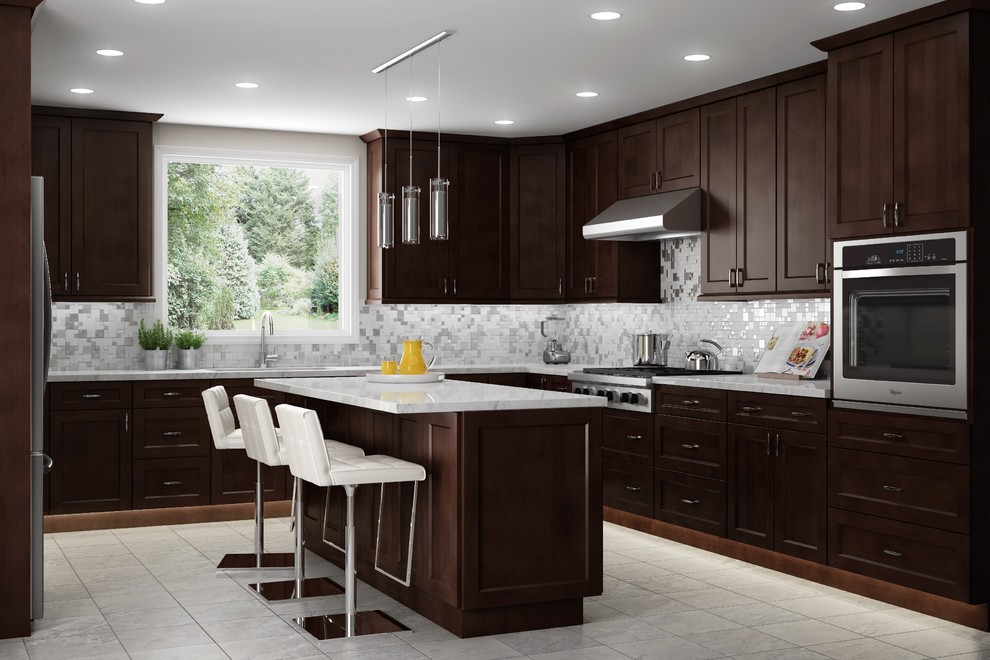 Photo by Bliss Cabinets (RTA Cabinet Mart)
Moreover, be careful when choosing the material for the kitchen floor. For a beautiful and functional kitchen—we suggest using laminate or porcelain tiles. These two are the cheapest and most resistant to stains. Avoid hardwood floors and floors made of stone – they are expensive and very difficult to maintain. You can also ask a specialist to give you some recommendations or do research on your own.
The Right Kitchen Countertop Makes All the Difference
If your kitchen is in dire need of renovation but you are on a low budget, consider changing only the countertop. This change can make all the difference. It can transform your entire kitchen! But, again, be careful when choosing the countertop—it should be amazing in order to mask the state of the rest of your kitchen. Our advice is to choose a countertop made of one piece only – that way, you will have an elegant surface and a surface that is just too easy to clean.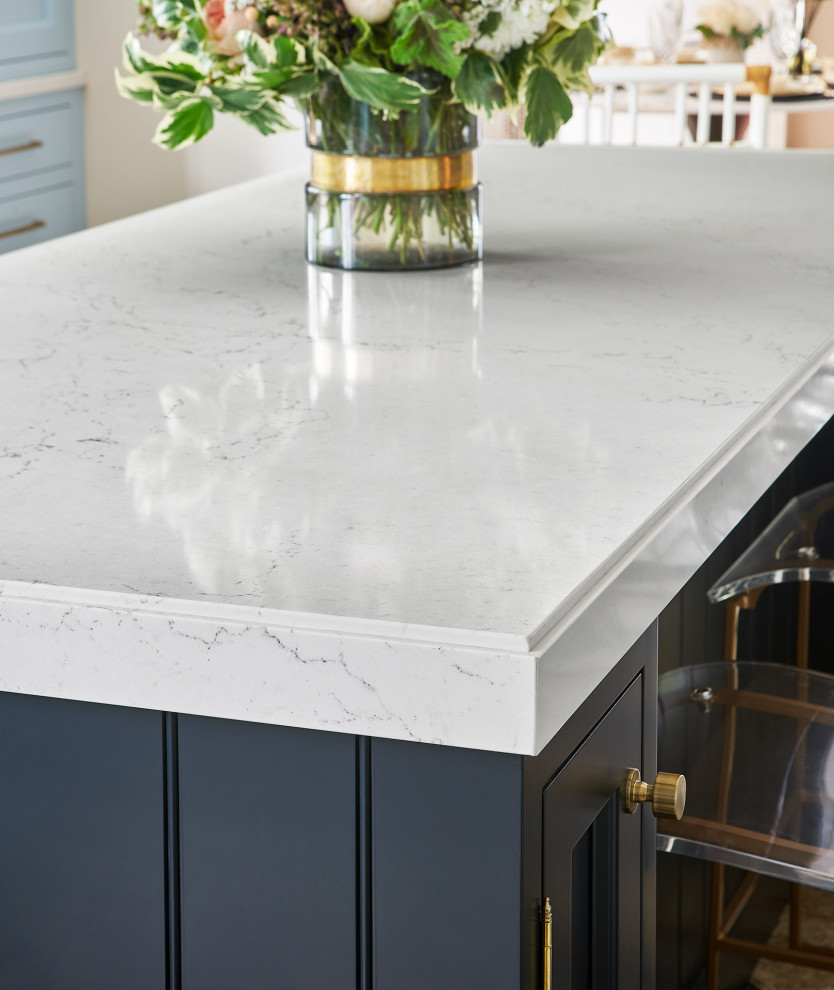 Moreover, when installing your countertop, make sure everything from your kitchen is out of the way. So, pack up all the kitchen appliances (as well as all other things such as dishes, decor, etc.) that typically stand on your countertop. You will need to remove them temporarily until the professionals install the countertop. Then, once everything is done, you can put them back again.
A Backsplash is a Must for a Low-Maintenance Kitchen on a Budget
In the past, having a backsplash in a kitchen was not really a thing. It became one only a couple of years ago. Nowadays, you can't find a kitchen without a backsplash—all 2022 kitchen trends will tell you that. But, these kitchen "elements" are not only there to make your kitchen beautiful and interesting. They are there to help you keep your kitchen looking and smelling nice. This fact needs no clarification—we all know how greasy, dirty, and smelly our kitchen walls can become because of cooking! And, with a backsplash, that can be avoided.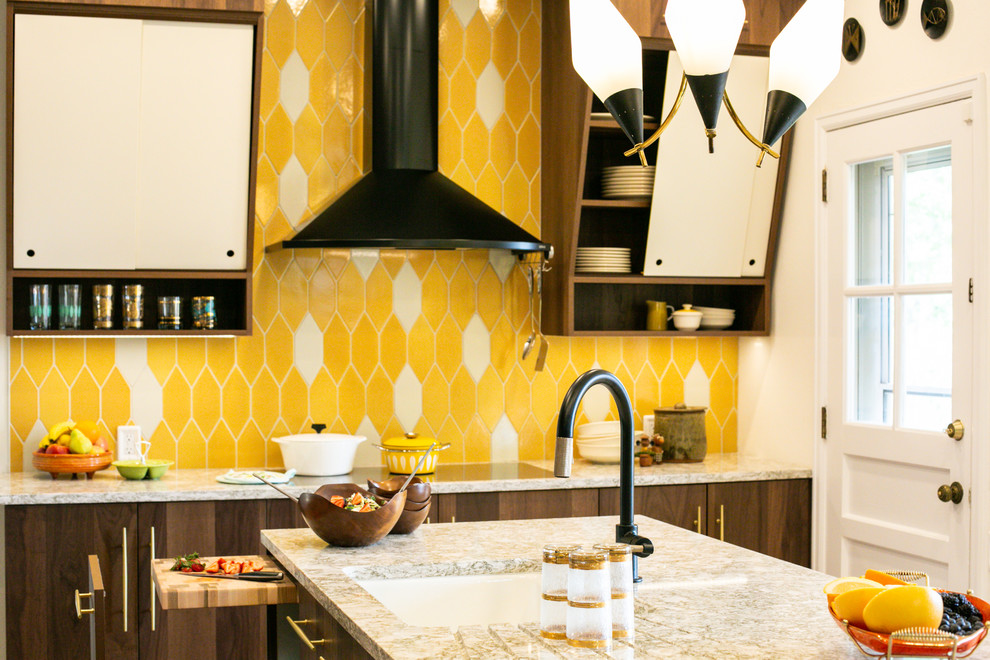 Be careful when choosing a nice-looking backsplash and trying to design a low-maintenance kitchen on a budget. These two don't go together. Namely, a backsplash can be quite expensive, especially if one piece. To save some money, you can try DIY-ing the backsplash. You can buy smaller pieces of laminate, marble, glass, quartz, mirror, etc., and glue them yourself. Doing this is neither hard nor time-consuming—but just to be safe, be sure to watch a YouTube video or two on how to create your own backsplash.
What about Kitchen Appliances?
When trying to design a low-maintenance kitchen on a budget, you must not forget about the appliances! Without them, a kitchen is not a kitchen. So, as soon as you decide on the color and style of the cabinets, floors, and backsplash, turn to choosing appliances. In general, one 'typical' kitchen needs a fridge, freezer, stove, dishwasher, kitchen chimney, and microwave. Buying these is going to be expensive—there is no doubt about that. Of course, there are ways for you to cut some corners, but we don't advise that. Cheap appliances (or second-hand ones) won't be of good quality and won't last long. So, try to invest in some good and new ones—they will pay for themselves in the long run.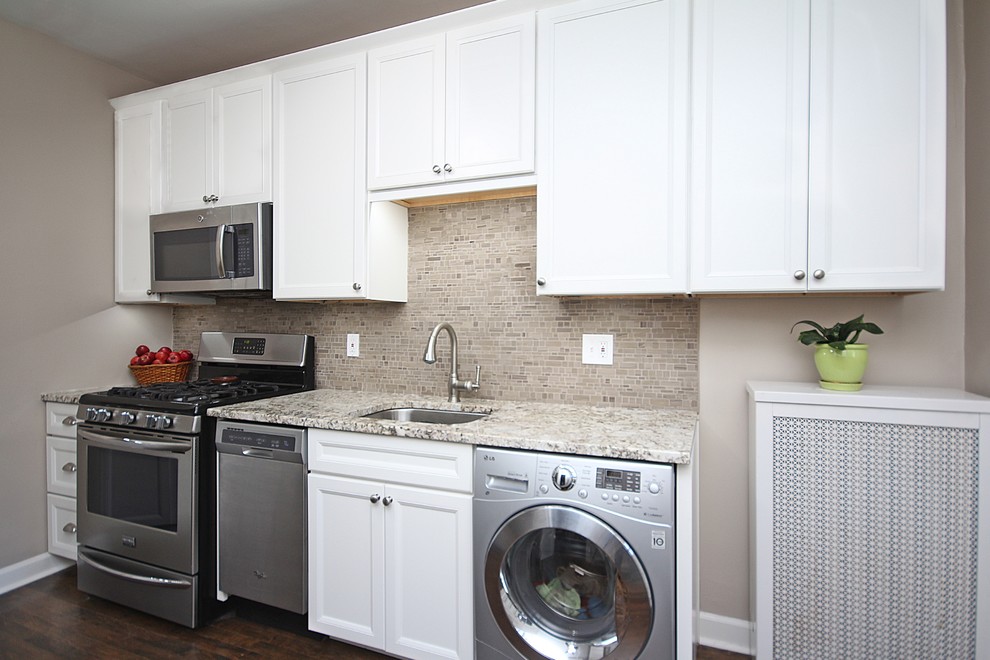 As you have seen, there are many ways you can design a low-maintenance kitchen on a budget! You just have to be creative and resourceful. Consider some of our tips from above—we are sure you will not regret them. And, one final tip–hire contractors of trust! You will need reliable people to make all of your kitchen dreams come true. Do some research on different kitchen specialists in your area, and hire ones who seem most reliable and most experienced! They are the only ones who can help you design a low-maintenance kitchen on a budget.
Author Bio:
Angie Collins has been working as a moving consultant for Fairfax Transfer and Storage, where she helped people plan their relocations. In her free time, she also helps her husband build furniture and equip apartments. Angie is also a mom of two girls and a cat owner.