Designing or remodeling your kitchen can be very exciting. But, if you are doing it on your own, you are bound to make a few mistakes here and there. Painting the walls the wrong color can be an easy fix; however, certain miscalculations can turn out to be quite costly. This is why it is vital to get properly organized before starting the remodel. Also, you may find that hiring a professional designer could pay off in the long run. Here are some typical kitchen design mistakes that are easily preventable.
A Poorly Planned Layout
A strategically planned layout is vital for any kitchen design's functionality and visual appeal. For instance, the way you place the appliances and cabinets is critical for your kitchen design. The arrangement must be entirely suitable for preparing, cooking, and cleaning in the area. And, if you love entertaining, you need this area to be particularly practical. You want to be able to enjoy it and not stress out every time you cook for your family and guests. When designing a kitchen, good organizational skills are crucial to figuring out the best kitchen layout for your needs. It is a great idea to map out the space and all of your most-used appliances on paper before you start.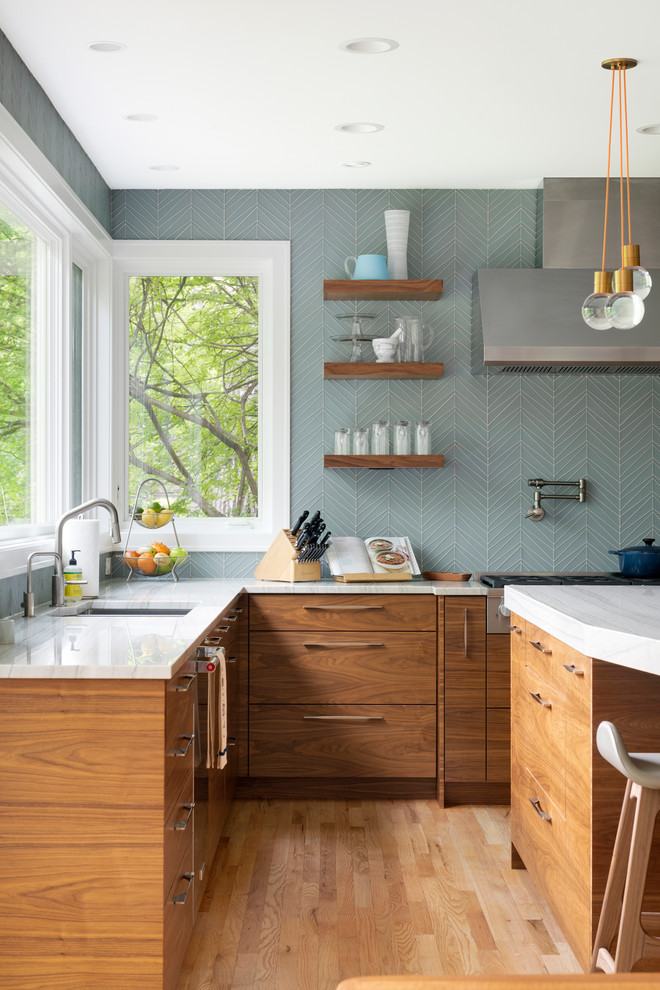 One of Many Kitchen Design Mistakes—Inadequate Lighting
Adequate lighting is vital for an enjoyable and clean kitchen. It is challenging to have a functional space without proper lighting: it will cause frustration every time you try to prepare food or clean it. Ensure that you have several light sources to ensure appropriate light throughout the space. For instance, if you go for the wrong light fixtures over your countertops, you will end up cooking and cleaning up in the shadows. A common mistake is prioritizing aesthetics over functionality. Pretty lights are great, but you need to ensure that they shine enough light over your work surfaces.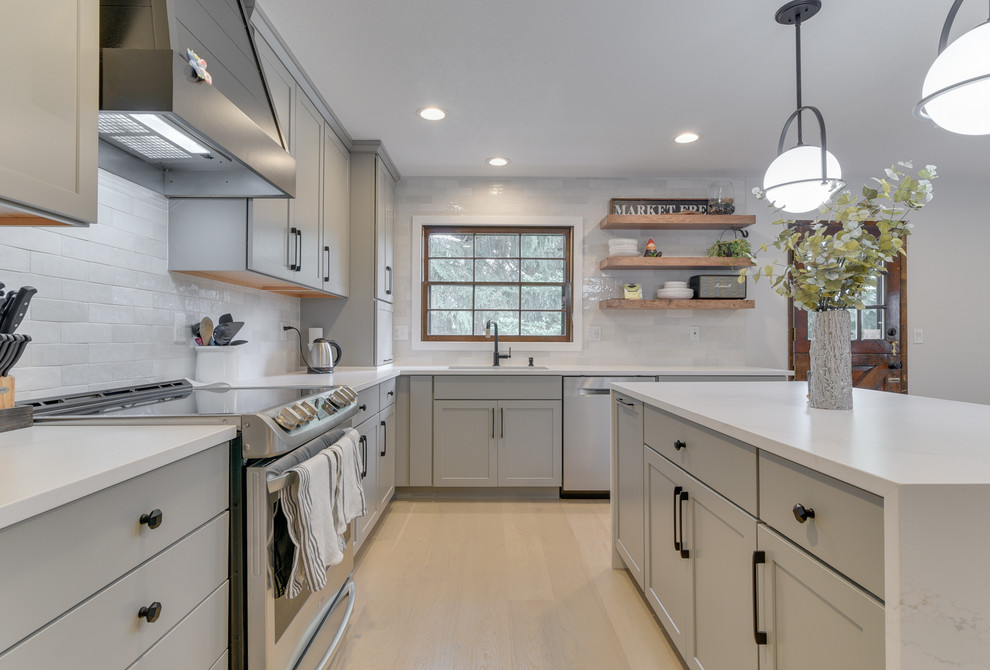 How to do it properly:
Position the lighting in front of you instead of directly above or behind you;
Install downlights and pendant lights on separate circuits. This makes it easier to control your lighting levels;
Choose bulbs that release sufficient light.
Inadequately-Measured Worktops and Appliances
Installing worktops at the wrong height can put the functionality of a kitchen design at risk. In order to set the correct height for a worktop, go between 890 to 940mm. This will give you the most comfortable height for all the typical kitchen tasks. Having said that, there is no perfect height for worktops, and it can vary depending on either your supplier or your personal preference. Additional kitchen design mistakes:
Inadequately measured space can lead to unnecessary protrusion from oversized refrigerators. This can affect your ability to open cabinets and other appliances in your kitchen, which is inconvenient, to say the least.
Not measuring small appliances like microwaves, blenders, and food processors. Without adequate space, they can end up creating clutter. You might even have to put them away, which is less than practical.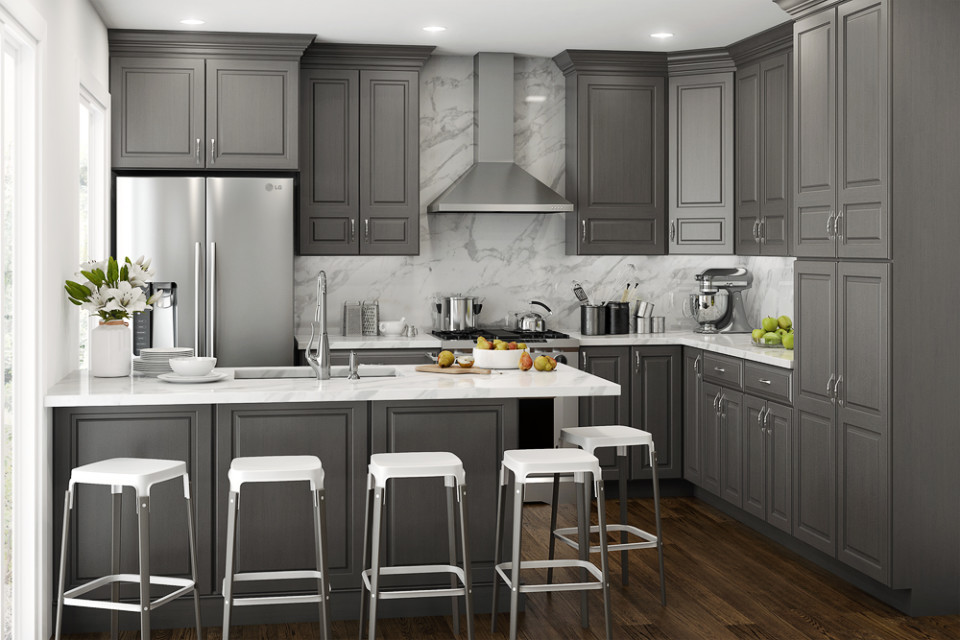 Photo by Cupboards Kitchen Bath Discounters
When selecting appliances, do it well in advance. Check the dimensions and the way appliances open. This way, you will ensure that your kitchen layout can accommodate them the way it works for you and your family.
Store It or Throw It Away?
When putting things away in your kitchen, consider if they are worth keeping. One of the most common kitchen design mistakes people make is hoarding and keeping duplicates just in case, even if the items aren't functioning quite properly. So, consider if you need to store it or throw it away. Perhaps you need to replace some pieces altogether instead of keeping them indefinitely. You may think you will fix that toaster or blender eventually, but it might be time for newer models if they have been taking up space for ages. If you have had certain small appliances for a few years, it is only sensible to replace them instead of keeping them and not using them.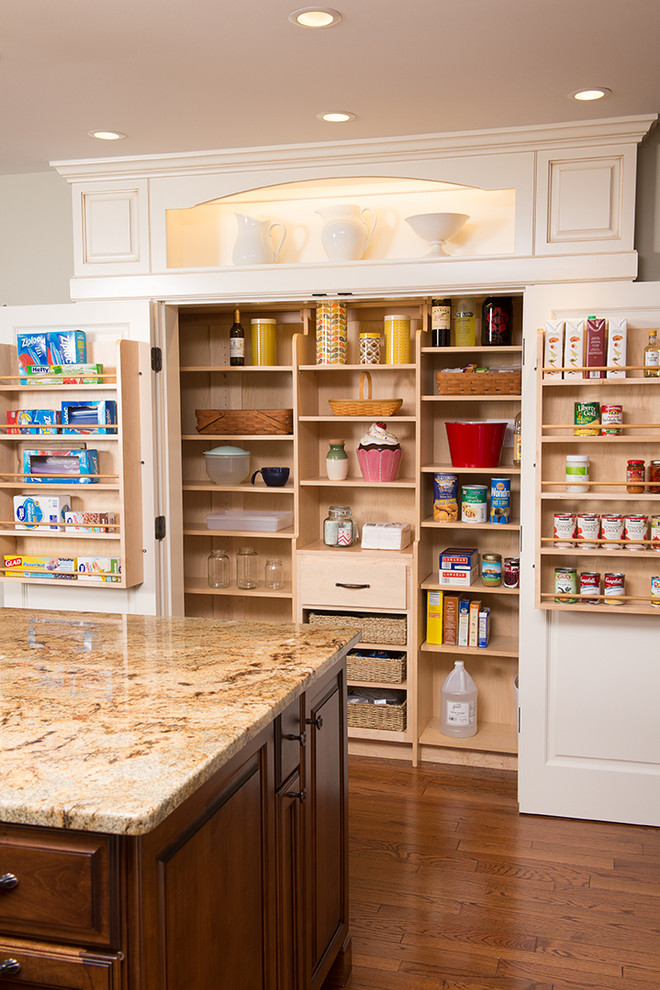 Photo by Briggs Design Associates, Inc.
Misjudging Door Clearance
This is an easy kitchen design mistake to make. However, it can turn into a nightmare if you are unable to open doors fully or at the same time. A lack of proper planning can lead to issues in fitting and future usage. This can affect everyday things like being able to open cabinets and appliances. It may seem inconsequential, but it can lead to daily frustrations and pricy alterations in the future. Lack of space can make any kitchen feel cramped and restricted. A simple solution is to have at least 1.2m of space between kitchen units.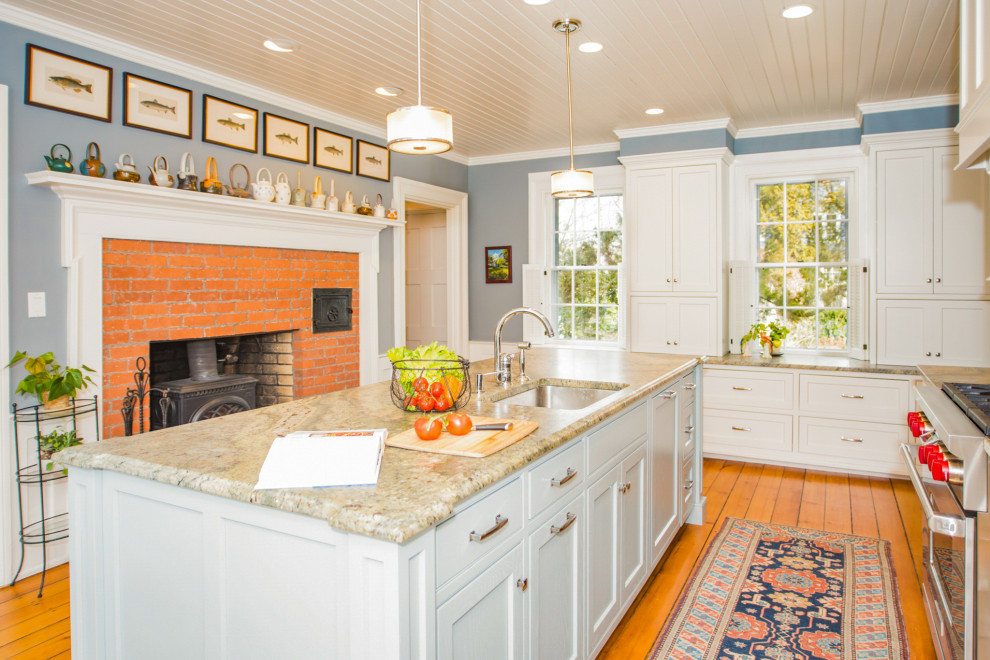 Photo by Glenn Baller & Company
Forcing an Island
Kitchen islands have become a staple of modern kitchens. However, it does not belong in every kitchen. The size of your kitchen may not be big enough to accommodate an island. And trying to force it at any cost is a kitchen design mistake you should never make. Your kitchen can still be beautiful and functional with appropriate countertops and other design solutions. A great idea is to go for a peninsula. It can free up the center of a small kitchen where all the activity is and allow guests to still be a part of the interaction.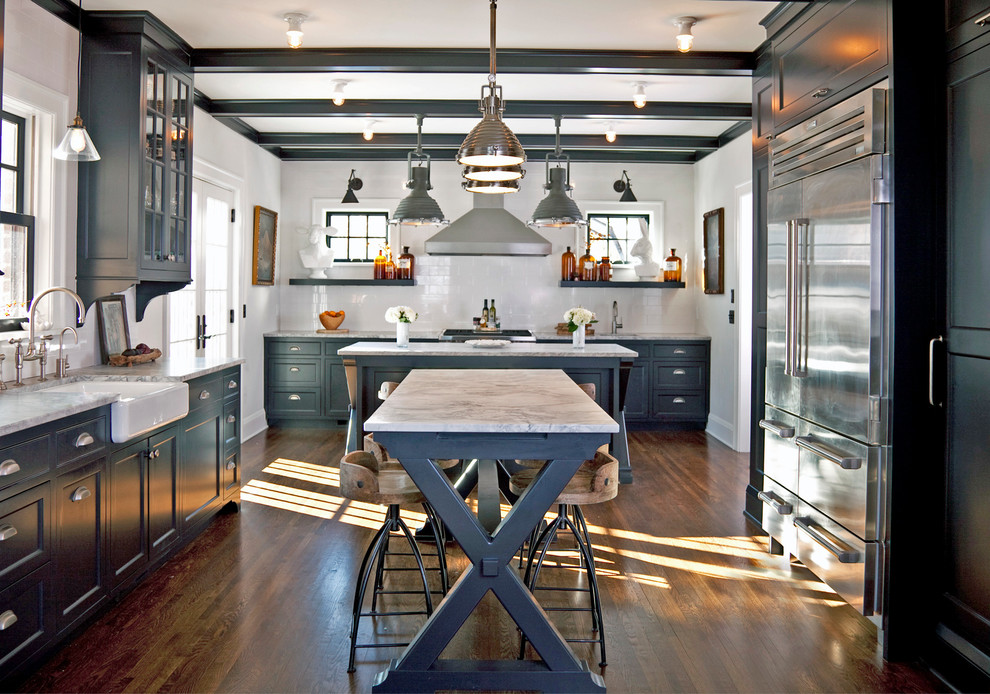 Photo by TreHus Architects+Interior Designers+Builders
Setting up Cabinets that Are Too Deep
One of the biggest kitchen design mistakes is installing cabinets that are too deep. While generous storage is desirable in any kitchen, having appliances in the very back of the cabinet will render them useless. However, even if you have made that honest mistake, there are still ways to make the most of those deep cabinets:
Add roll-out trays to your cabinets so you can fully extend your storage. This feature will make it easy to find items and make your life easier.
Install a kidney-shaped pullout for easier reach.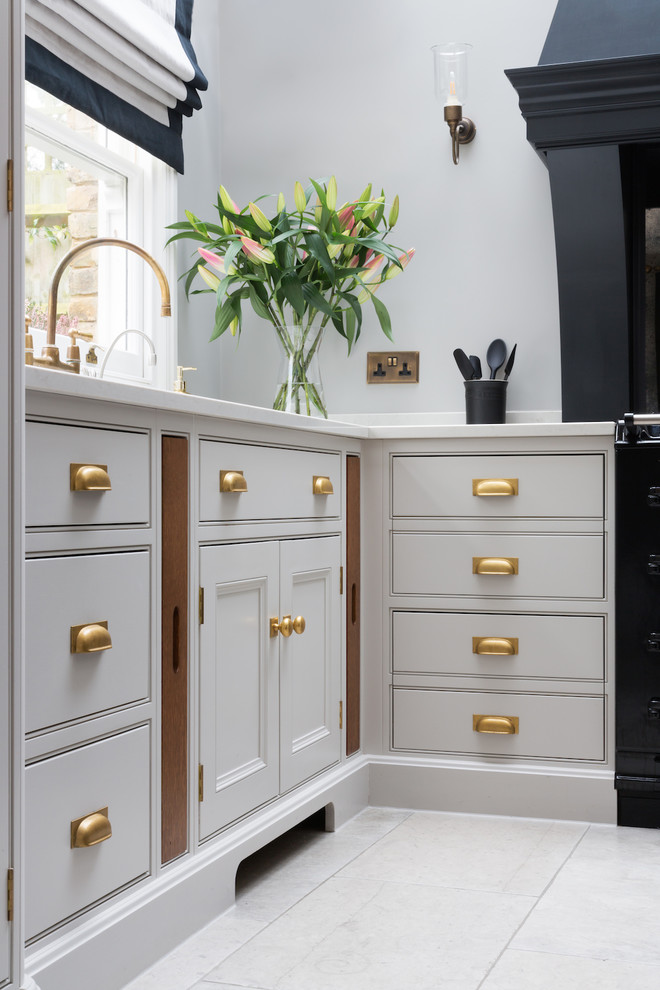 Forgetting About Function
An important rule to go by is to ensure that you put the sink, stove, and fridge in suitable locations. The locations need to be relevant to one another and allow enough space for usage and practical access. One of the kitchen design mistakes many people make is not taking into account the workflow and function when choosing kitchen cabinets. You do not want the open doors to block your movement. Plan your kitchen layout in advance and choose your appliances before you start picking your cabinetry.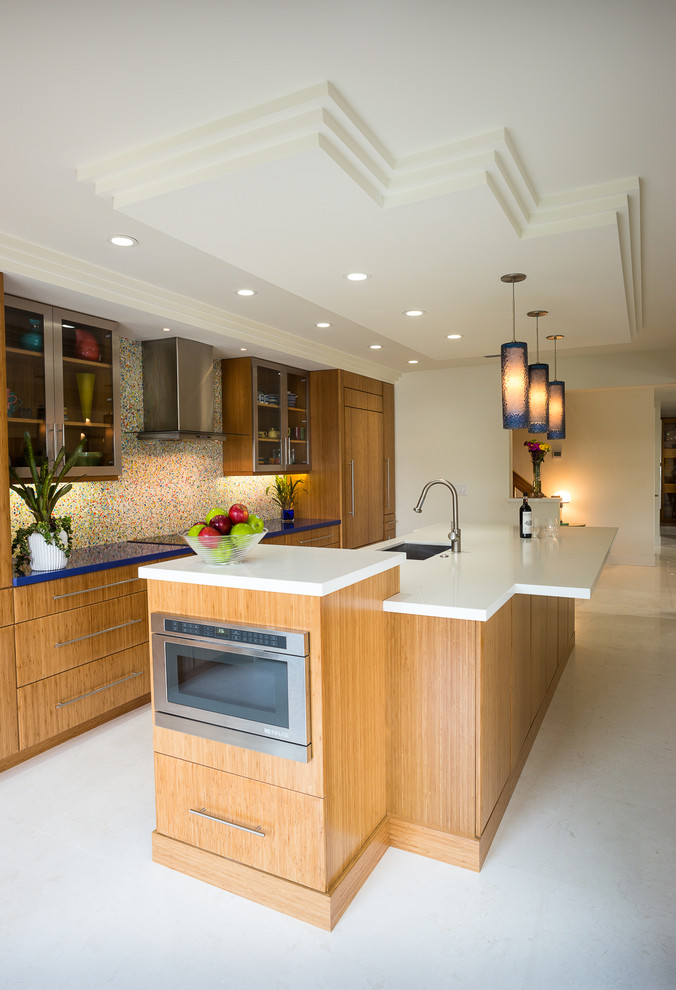 Photo by Integrative Designs Inc.
Author bio:
Kelly Preston is an interior designer and a freelancing content writer. Passionate about helping design enthusiasts live up to their full potential, she writes blog posts for websites in this style and niche and moving companies such as Zippy Shell Louisiana. She believes everyone should feel great in their home. She loves running with her dogs by the beach in her free time.