The covid-19 pandemic has left us all shaken. Our lifestyles have changed dramatically as we try to adjust to the new world created by the virus. We are in the 2nd year of the pandemic, and it has become apparent that this virus is not temporary. Therefore permanent adjustments are being made in all facets of life to cope with the changing reality.
Just as the virus has changed work structures, it has also affected home designs. From paint color to a versatile use of space, COVID-19 has influenced many home style trends. Let's take a look at some popular 2022 kitchen trends that are inspired by the changing lifestyle.
You can take inspiration from these trends to redo your kitchen while you wait out the virus; it's a win-win 😀
Let's get started!
1. Compact Designs
Since COVID-19 has restricted restaurants, people are cooking more at home. Needless to say, most of us are struggling to try to make our kitchen look as organized and less congested as possible. With less space and endless kitchen utensils, it can be quite a difficult task. Nevertheless, many people have overcome this obstacle. So here is what you should do.
If your kitchen space is a bit small, it must be designed and decorated in a way that helps you make sure that every bit of space in the kitchen is utilized. To avoid making your kitchen appear cramped and congested, you can construct a line of cabinets along one side of the wall and leave enough space that gives the impression of a neat, streamlined design.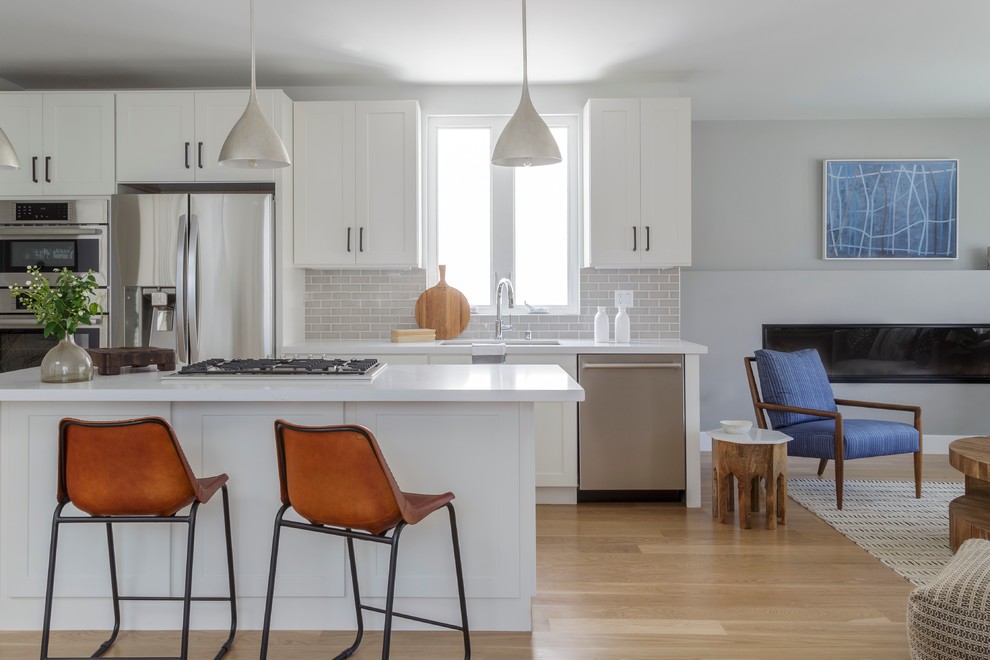 One of the most important parts of a kitchen is its worktop stations; they contain all of the culinary utensils needed in a kitchen. That's why they must be built strong and sturdy to withstand the weight, and their materials are heat resistant.
Another important step is choosing a good material for the tiles that you seek for your kitchen floor. Since it's a compact designed kitchen, it's better to get glossy tiles as they add a finishing touch of elegance and spotlessness to your kitchen. Enhance the aesthetics by matching the color of the tiles with the walls and cabinets of the kitchen.
2. Unique Structured Designs
People have become bold – perhaps being stuck at home, innovative designs are all they can do to keep sane. This gave designers the confidence to experiment by adding their own uniqueness to interior designing and bringing their clients' ideas to life.
These designers are discovering a new world of eccentric and strange geometry designs for kitchens. Some people might not be able to afford these designs as they are quite costly, so they resort to looking for tips and tricks that they can use to make their kitchens look unique.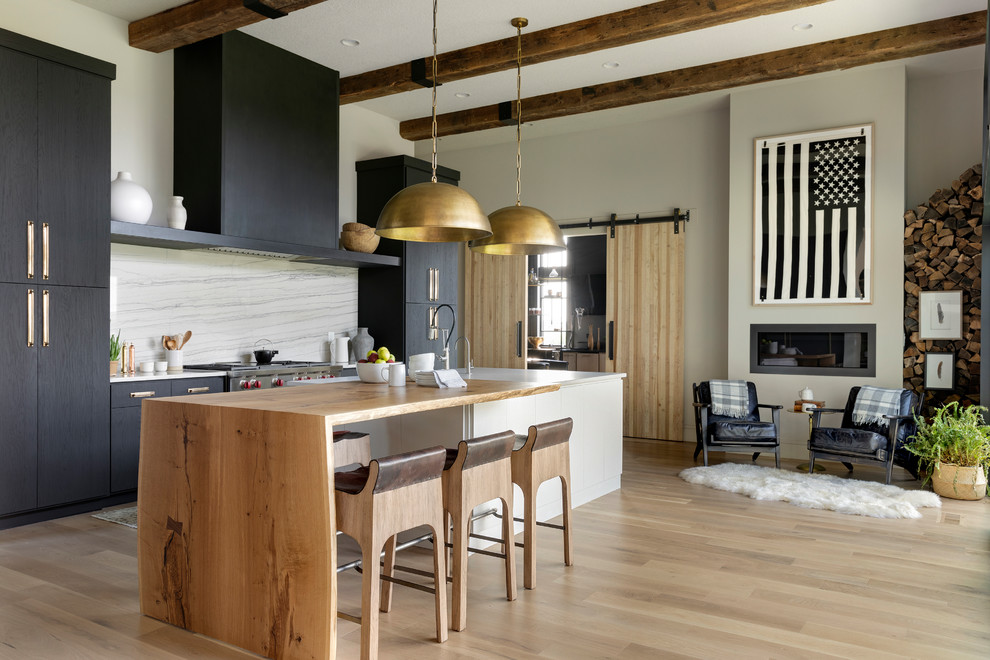 It's not difficult to make your kitchen look unique; all you have to do is think outside of the box by adding what suits your style to it. An example of a unique design is a Modern Rustic design. It is a look that focuses on natural wood structures in the kitchen, such as cabinets and chairs. This makes your cabinets stand out more in a white kitchen but also gives the impression of a soft and warm appearance.
Another example is a Two-Toned design. This type of design is all about color contrast coordination. Meaning that if you get your top cabinets painted in a light color, you can get your bottom cabinets painted in a darker version of that color. This creates a very visually pleasing appearance of your kitchen and makes it seem larger.
3. Simple Structured Design
While whacky designs have gained popularity, they haven't reduced the demand for simple designs. Inspired by the quote "less is more," it makes your kitchen look more spacious and organized, especially if your kitchen space is small.
Adding too many elements can make your kitchen cramped and congested. If you want to achieve the type of appearance that makes your kitchen look more spacious and organized, then you must design your kitchen in a minimalistic fashion that doesn't seem too extravagant. Minimalizing is a key factor.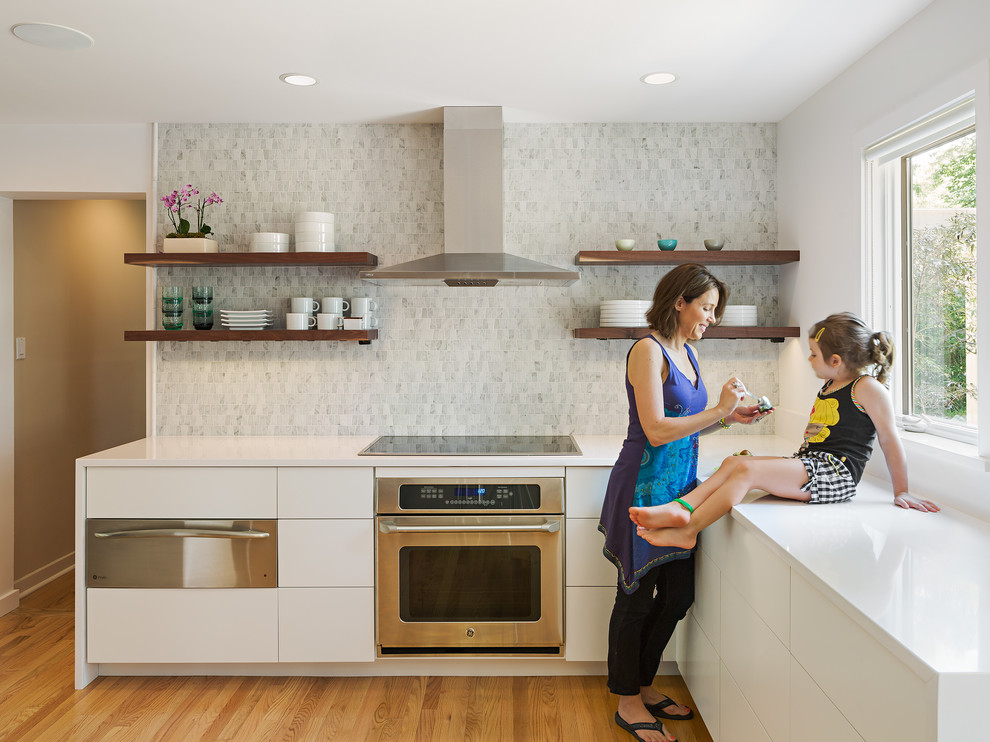 One way to do that is when you're choosing the colors for the tiles of your kitchen, you should choose simple pastel colors such as soft pinks, blues, and greys. Also, make sure that they match well with the rest of the things in your kitchen, such as cabinets, drawers, etc., as it makes your kitchen look simple but classy.
Another way to make sure that the simplicity of your kitchen doesn't get ruined is by making hidden storage in the kitchen. An example of this is when you buy a fridge that doesn't match the refrigerator gap, you could utilize that gap and use it as storage for things like wine, glasses, etc.
4. Kitchen Stove Designs
Kitchen stoves are an essential part of kitchens. There should be enough space between each stove on the worktop station to be convenient for people to use and give proper heating. There are many kitchen-stove designs that you can choose from. You would want to invest in one that is safe and convenient to use. So here are some of the best ones that you can choose from:
Gas Heating Stoves
These stoves are designed to burn propane or natural gas. They're preferred for stovetop cooking, as they give better control overheating. Some of the most common models of these are the direct vent models and ventless models.
While setting up your gas stove, it's recommended to have it assessed by a gas safety engineer to prevent gas leaks mishaps. Once checked, a gas certificate is issued, which proves that your appliances are in proper working order.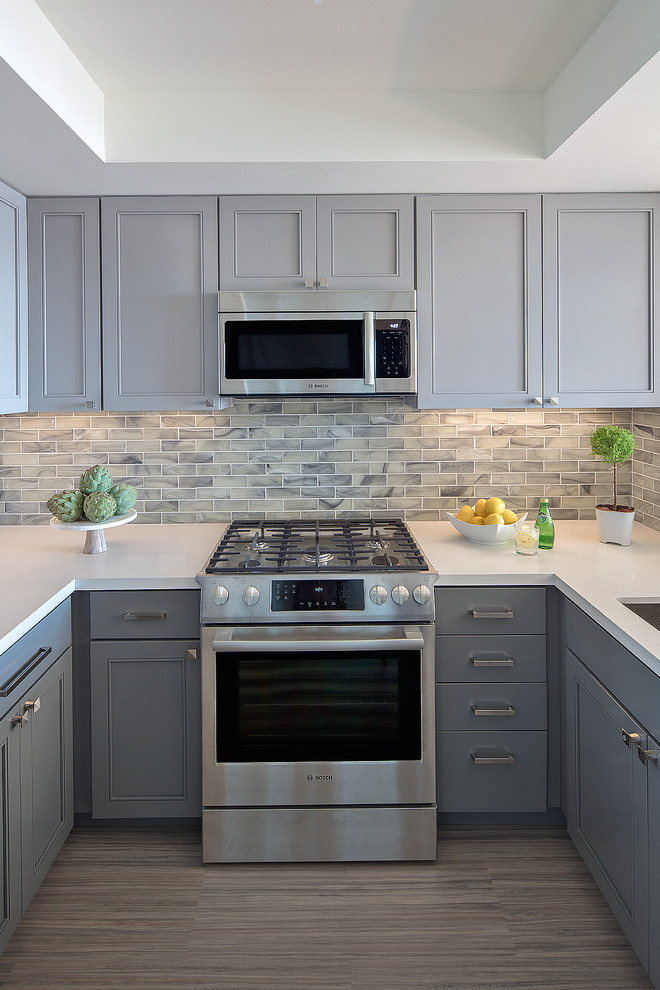 Photo by Kimball Starr Interior Design
Gas stove and Electric Oven (Dual-Fuel Cooker)
Dual fuel cookers come with a gas stove and electric oven. The gas stove is efficient for cooking food in pots or pans, whereas an electric oven offers even heating, useful for baking. However, it's difficult to install if the stove setting area doesn't have an electric or gas connection.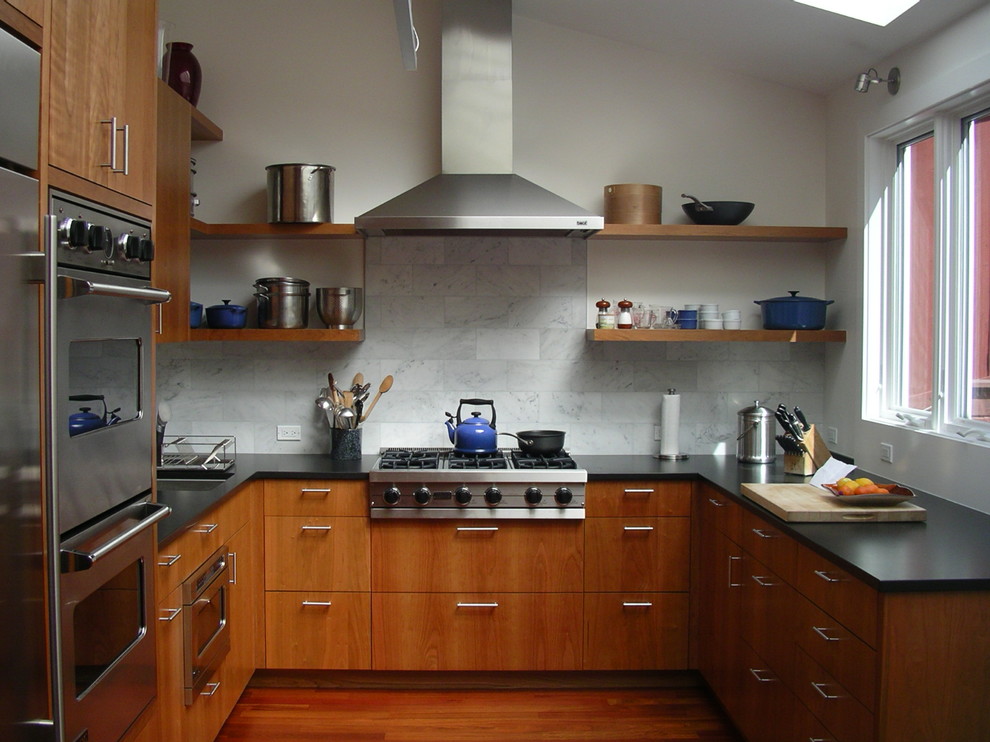 Which Kitchen Style Do You Prefer?
The kitchen is an integral part of the house – most homemakers spend a big chunk of their time in kitchens, especially during the pandemic. 2022 kitchen style trends are inspired by utility – compact and simple designs are popular as they have proper spacing and enough storage for appliances and utensils.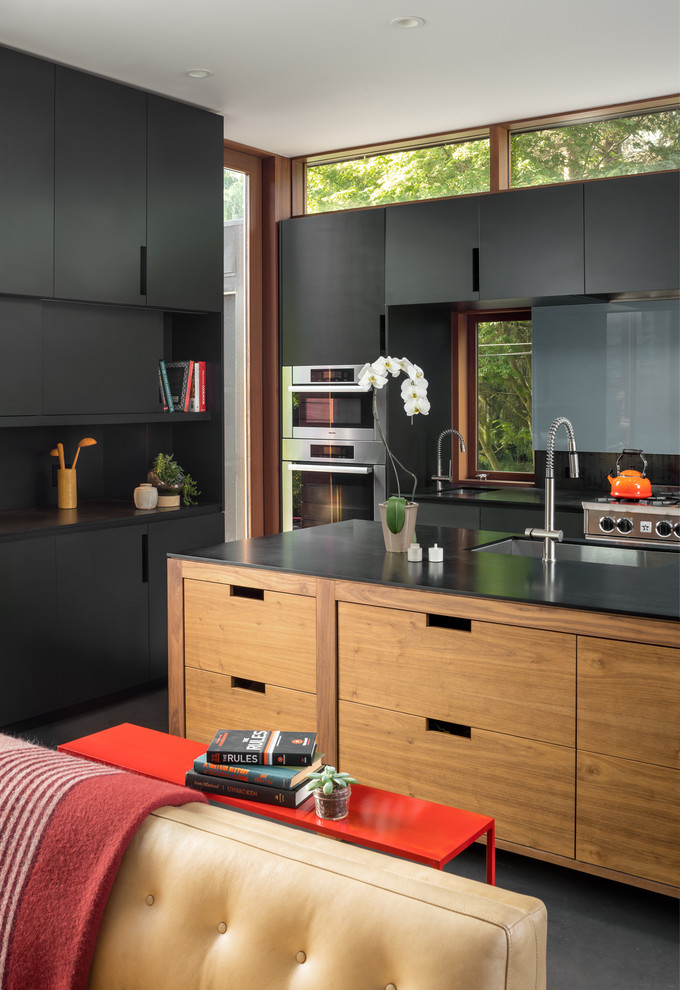 Photo by MW|Works Architecture+Design
On the other end of the spectrum, out-of-the-ordinary geometrical shapes are also being used to give the kitchens a unique layout and style. Most designers are utilizing the space in creative ways to maximize storage space and kitchen organization.
With the above-mentioned kitchen trends of 2022, you can modify your kitchen to enhance its aesthetics and usability for cooking.
Author Bio:
Shoaib provides ghostwriting and copywriting services. His educational background in the technical field and business studies helps him in tackling topics ranging from career and business productivity to web development and digital marketing. He occasionally writes articles for gas safety certs.