In the 21st century, it's important to have a home that is perfectly calibrated to your needs. After all, you want to feel completely comfortable in your home. If your family is very interested in art and media, there are specific things that you can do to make sure that everybody's interests are accommodated.
To help you understand which home updates are essential for an art and media-centered family, here's a list of some of the most important.
A Smart System
Though smart systems were first introduced to popular culture almost five years ago, you'd be surprised at how many families still don't have one. Whether you're using the Amazon Alexa, Google Home, or another type of smart system, your life will definitely become easier after installation. Smart systems are also not limited to specific rooms, allowing you to install them throughout your house so that everyone in your family has equal access.
A smart system allows you to select music, listen to the news, find out about the weather, make phone calls, and countless other things without having to pick up a single device. They're also a good security measure. You can turn lights on or off, lock your doors, and arm your security system even when you're not home.
A Home Cinema System
In a world where streaming services bring you some of the most popular movies soon after they come out, there's no need to go to the movie theater. Though home cinemas used to be a status symbol of pure luxury even just a few years ago, they're actually quite affordable in 2020. Home cinemas systems typically pair a stellar sound system with an incredible flat screen TV or projector set up to provide you with an immersive theater experience. If you want to have the perfect food for the occasion, you can even invest in a popcorn machine to go with your cinema.
Photo by David Charlez Designs
A Soundproof Room
If you have a family filled with musicians, it makes sense that you would want a dedicated room for people to practice their instruments in. However, even if there's a single dedicated room in the house for music, the noise can easily spread to the rest of the house. These days, though, it's fairly simple to soundproof your music room. This can be a great way to allow family members to not have to worry about how much noise they are making while playing music. You can even find tutorials of how to set the room up for ideal acoustics. Because the sounds won't be heard, you can be as loud as they want.
Photo by Bruce Palmer Design Studio
Your Security System
Security systems are always changing, so it's recommended that you take the time to update yours. If you are a family that has a lot of expensive art or equipment in your house, there is a higher chance that somebody will try and steal some of it to sell. For this reason, you should make sure that your house is always protected with advanced technology.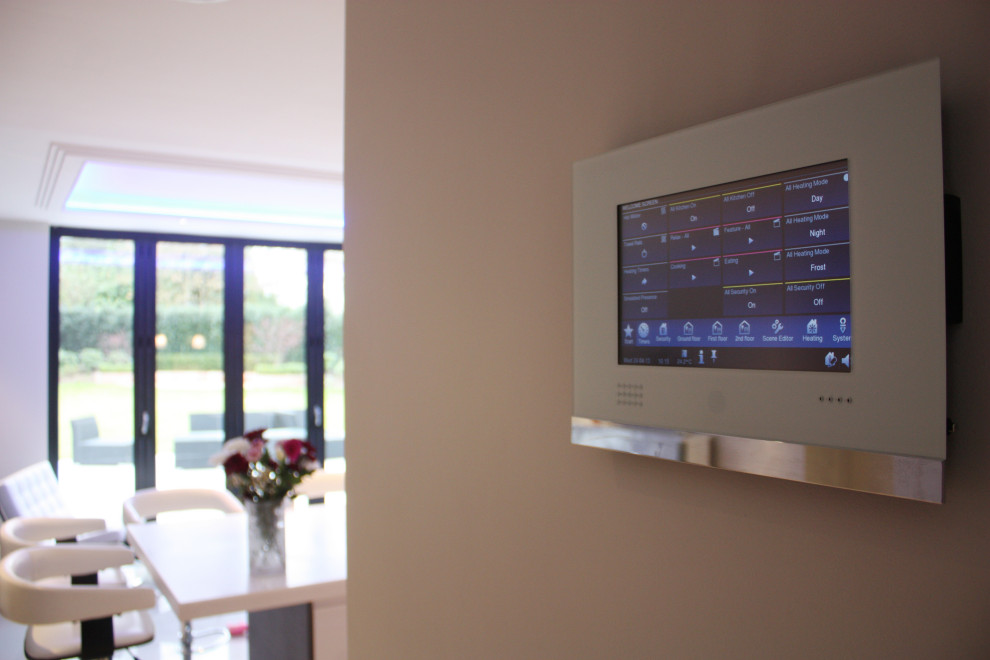 We live in a world where many activities that were once restricted to professionals or the very rich are perfectly accessible now. If you and your family members are interested in media and art, you can equip your home to suit those hobbies. Figure out what exactly your family needs, and do some research on how to equip your home for it.
Author Bio
Anita is a freelance writer from Denver, CO. She studied at Colorado State University, and now writes articles about health, business, family and finance. A mother of two, she enjoys traveling with her family whenever she isn't writing. You can follow her on Twitter @anitaginsburg.