If you are lucky enough to have a home with access to the outdoors – don't waste the space. Many people with patios and backyards leave them unused for half of the year or more. It's easy for backyards like this to get neglected, especially if you live in an area with four seasons, where winter makes being outside less appealing.
Take advantage of this extra room by making your patio an extension of your home. By incorporating a few minor changes, you can create an oasis to read, meditate, or enjoy time with friends and family. Here are some tips and tricks to help you make a chic alfresco room you'll love spending time in.
Outdoor Decor
Choosing a rug is a great way to center the design of your space and pull patterns and colors together. It's also a great way to hide ugly concrete or brickwork that needs some love. There are tons of gorgeous rugs available online that are also safe to be kept outside.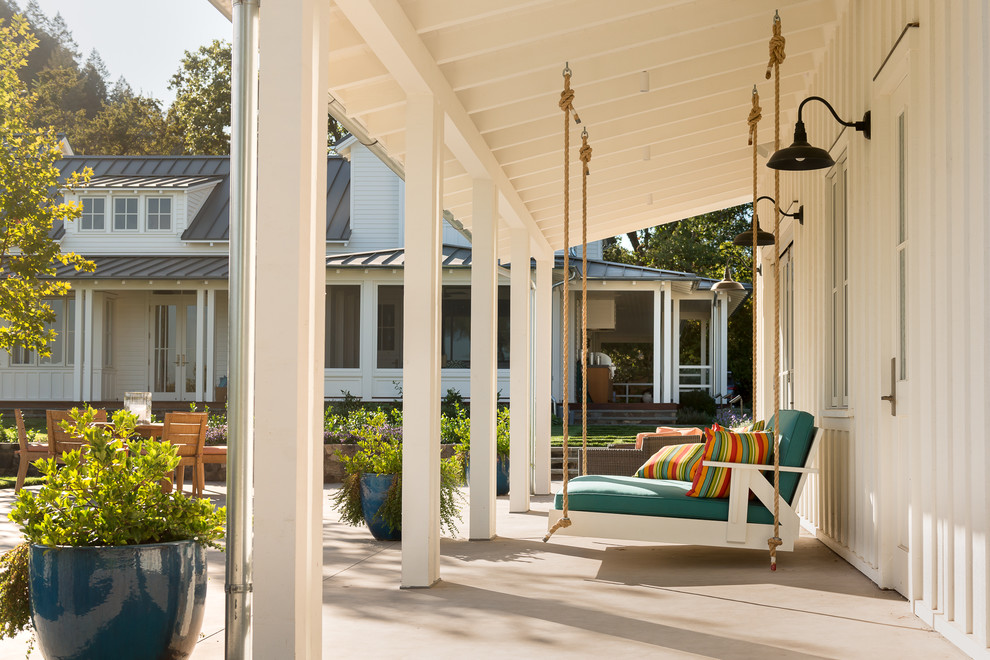 Photo by Moller Architecture, Inc.
Other weatherproof fabrics can be pulled in, like cushions and drapes, to add pops of color. As a bonus, oversized floor cushions can also create extra seating for entertaining, and drapes or curtains can create privacy from close neighbors.
Believe it or not, you can buy or create your own outdoor-friendly artwork. A canvas is easily waterproofed, which will protect it from harsh weather. Potted plants in colorful containers are another inexpensive and easy way to make the area feel lush.
Focus On Comfort
It's essential to make your patio visually appealing and a cozy place where you actually want to spend time. Think about your favorite indoor room. What makes it unique, draws you to it, and makes you want to spend time there? What makes an outdoor room feel like part of your home? Does it have an oversized, comfortable couch? A warm, sunny spot? While you may not be dealing with the elements indoors, you can take those favorite things you love about your home and bring them to the exterior.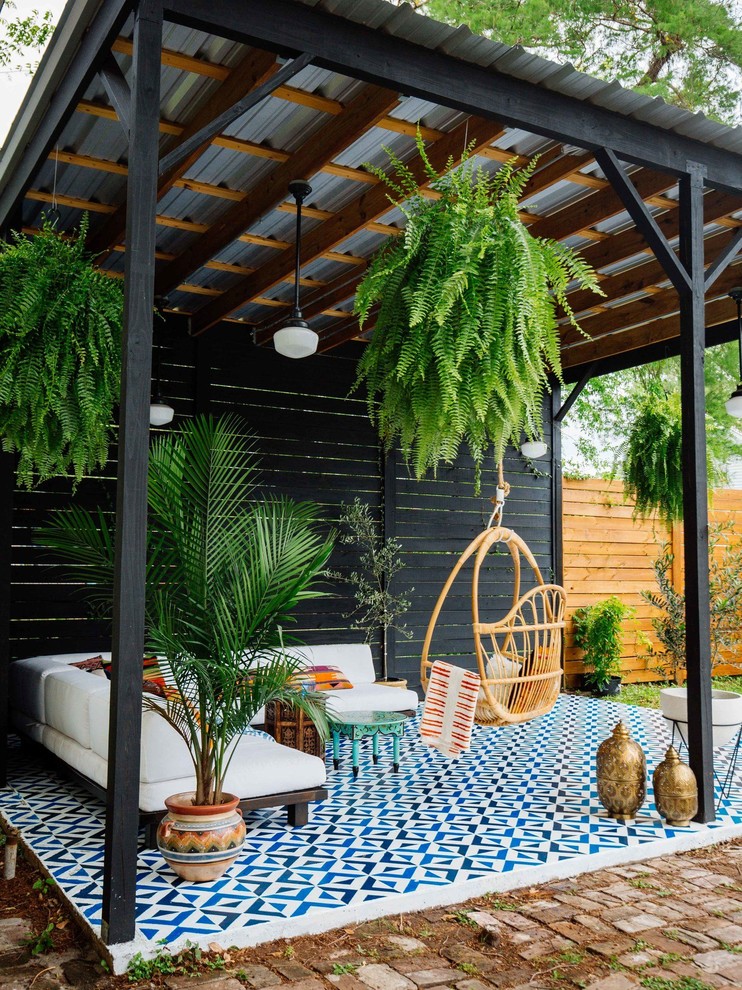 The key is finding the right pieces that fit your style and needs. If you're going to invest in outdoor furniture, make sure it's a piece that you are actually going to use. You don't want to spend money only to have it end up in next year's yard sale. You don't need to invest in boring, traditional lawn furniture. There are tons of bright, colorful, and fun options to make your new patio relaxing and chic. With advances in patio furniture design, it's possible to get a plush and stylish piece of furniture that is also waterproof and sunproof.
If you live in an area that gets cold, investing in an outdoor heater is the way to go. These can be turned on and off and provide ambient heat (and light) to keep your backyard enjoyable on cold evenings when you're not ready to head indoors yet. This can also be accomplished with a firepit or cozy chiminea. Have a handy basket filled with soft blankets that your friends and family can snuggle up with on a crisp night.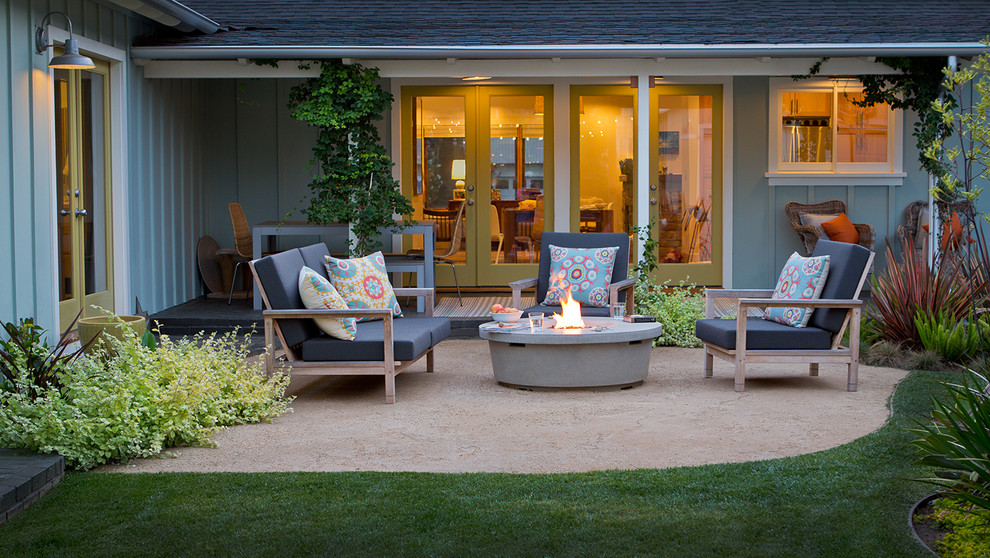 Add Lights and Sound
When creating an oasis of your own, you can do plenty of things to make your garden more restful and inviting. One of the best things about being outdoors is the sights and sounds. From bees buzzing to the gentle sound of rain, nature creates a calming atmosphere. You can emphasize these elements by incorporating sound and lighting.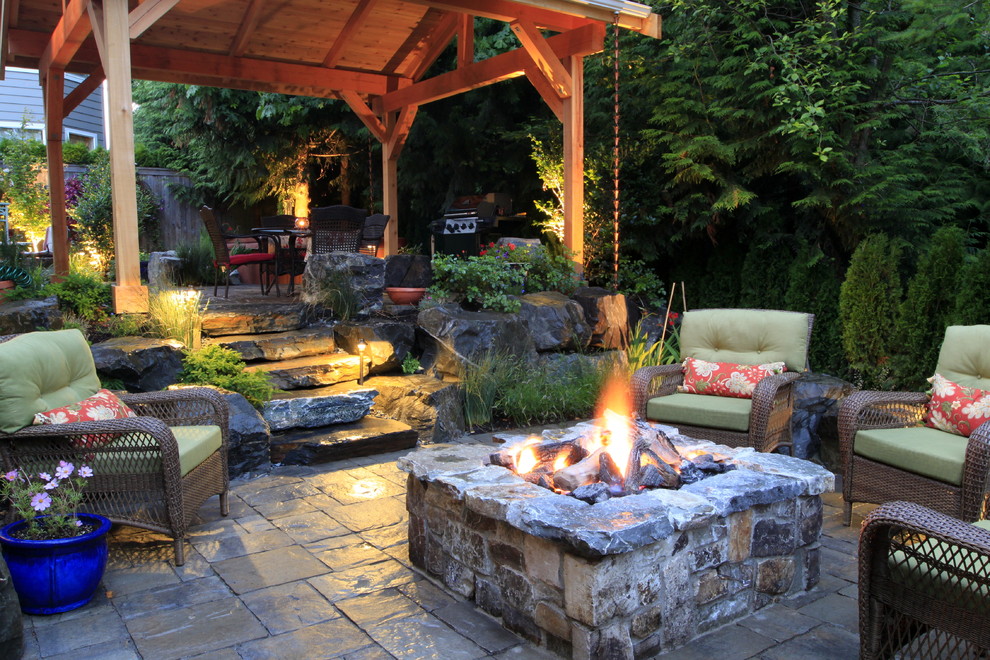 Photo by Alderwood Landscape Architecture and Construction
Any true oasis has the element of water, and it's not hard to accomplish in your backyard. It can be as simple as an elegant birdbath, which requires no electricity and may lure local songbirds. A permanent installation like a built-in pond with live freshwater aquarium plants or a temporary feature like a fountain are options for creating sound and movement, depending on your preferred budget.
Waterproof speakers will allow you to play relaxing music in your backyard. A small, portable device or a fancy system can be as inexpensive or as expensive as you want.
The relaxing sounds of water and music are a great way to add a calm and peaceful atmosphere to your patio.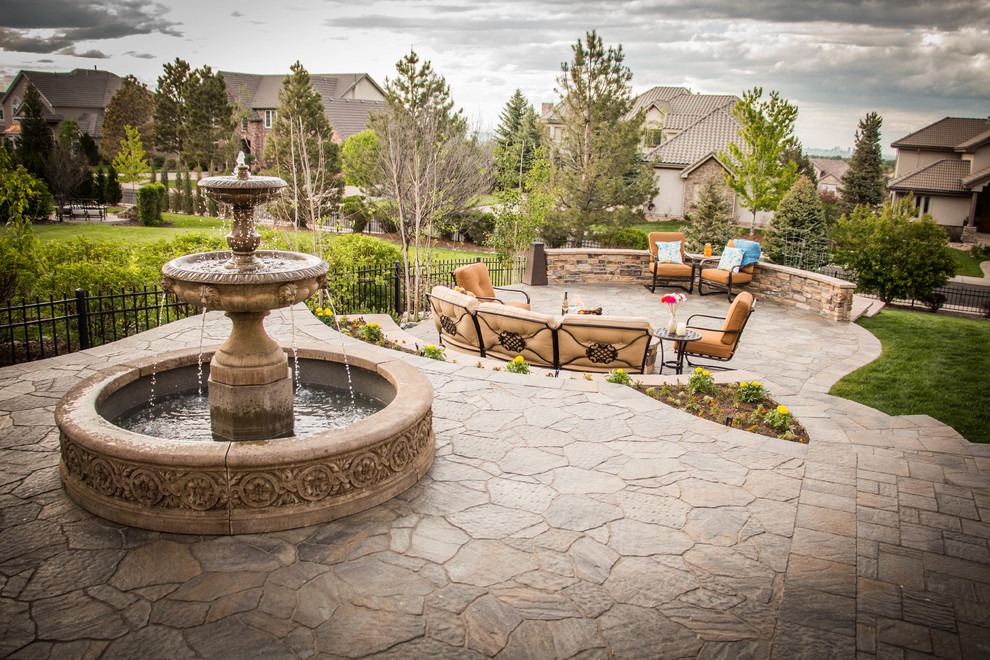 Photo by Elite Landscape & Outdoor Living
Lighting can significantly add visual interest to your space and help create that relaxing atmosphere. It also allows you to see your way around. Here are some ways to light up your patio:
Solar lights are an easy, cost-effective way to illuminate walkways and steps.
Motion-activated lights will help save money when not in use.
Some people like incorporating string lights to enjoy the outdoors without giving up the ambiance of sitting under the stars. These create a romantic atmosphere for holiday parties or backyard picnics with friends.
Other people like to incorporate candles or upgrade to professionally installed landscape lighting (just ensure you have a fire extinguisher handy).
When in doubt, you can call in a professional to install elegant landscape lighting around your garden.
You'll be amazed at how a little bit of thoughtfully chosen lighting adds to the ambiance of your garden.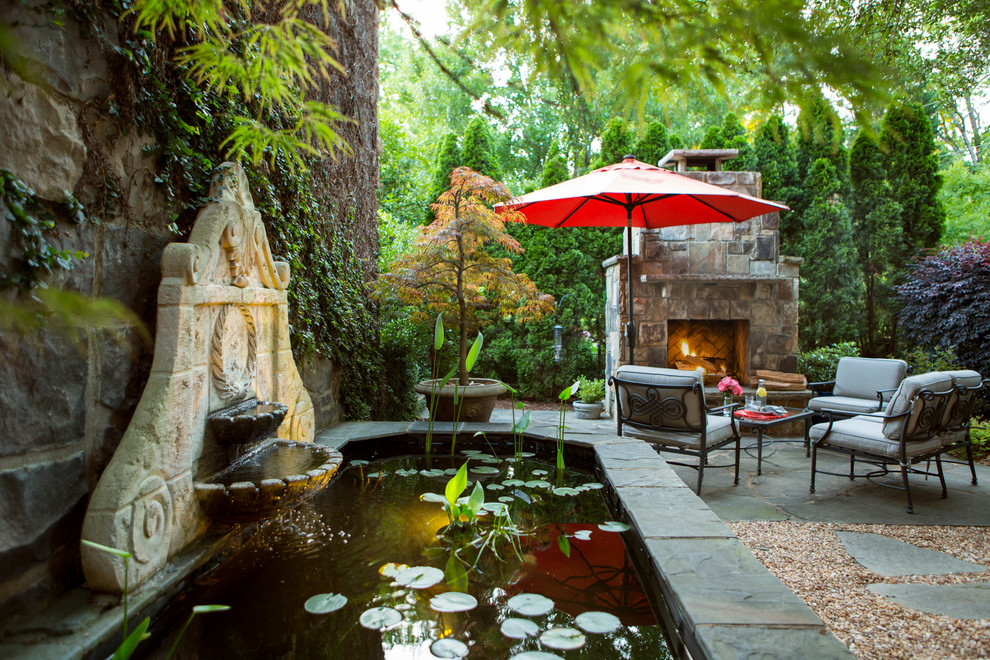 Photo by Keystone Building Group
Make it Yours
With some design and planning, you can transform your backyard into a new living paradise, no matter your style. With a little effort and a plan focused on your personal needs,  your patio can be as chic as every other part of your home and a great way to enjoy the open air year-round. You're well on the way to enjoying the beauty of your own backyard.