Everyone could use a little extra living space in their homes, but building an addition is not always in the budget. Fortunately, the extra space you need can be had for very little cost by expanding living space into your backyard.
Decide Why You Need Space
Before you even begin, decide what you want to use the space for. This will help you decide on which landscaping, additions, or other changes you might need. For example, you might be looking to add some storage, create a studio for your work or hobbies, or set up a place to entertain guests. From there, you'll be able to design an appropriate space.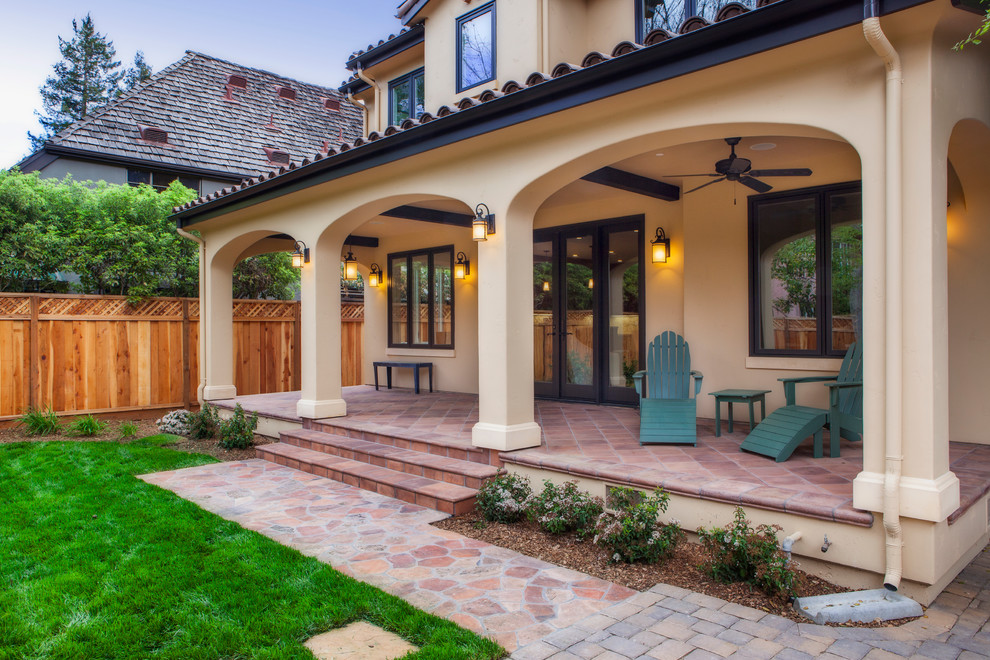 Photo by James Crist Builders, Inc.
Turn Patios Into an Outdoor Room
If your home already has a covered deck or patio, creating an outdoor room is easy. This is especially true if you have sliding glass doors. You can simply enclose that space with screens. You could also enclose it with windows to create a sunroom. Sunrooms are especially nice for people who love plants as they can double as a greenhouse. You can even turn your existing patio into an outdoor kitchen.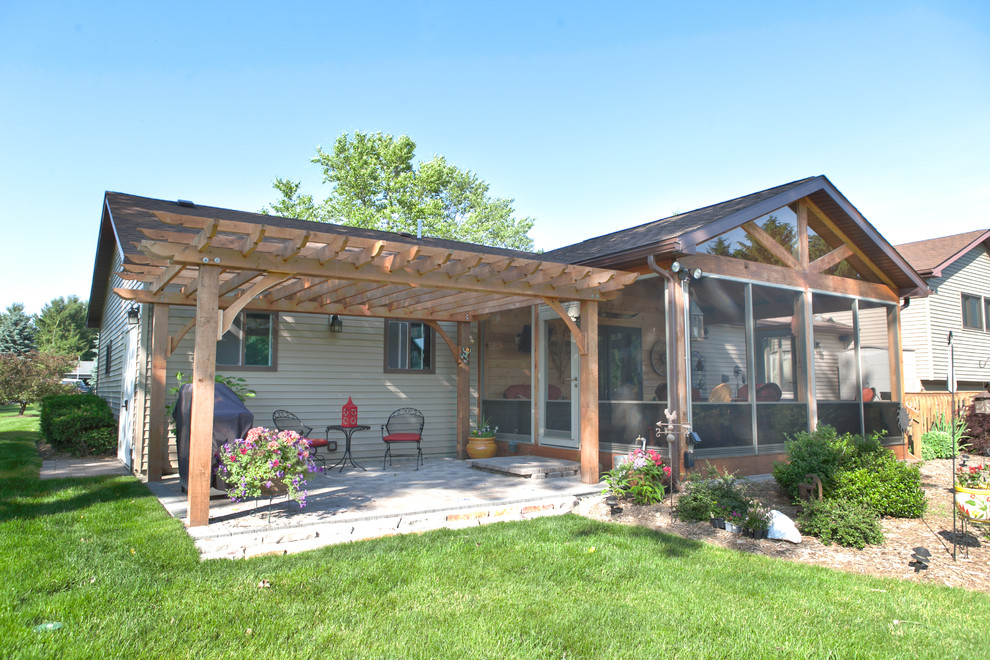 Photo by Advance Design Studio, Ltd.
If you don't already have a patio or if your current patio is cracked or unattractive, pavers installation could be a good idea. Pavers are an attractive outdoor flooring option. While they may take longer to install than a concrete slab, they're very durable and low maintenance. Because a paver patio is made of multiple pieces rather than one slab, it's more flexible in areas where the ground regularly expands and contracts due to seasonal changes.
Install Outdoor Fireplaces
Building an outdoor fireplace is something a handy homeowner can do themselves. You can find plans online, and an outdoor fireplace can create a year-round gathering place for friends and family. It can also double as a brick oven and grill for outdoor cooking. Add comfortable outdoor furniture and a sunshade, and you'll have a cozy outdoor space that is useful for most of the year.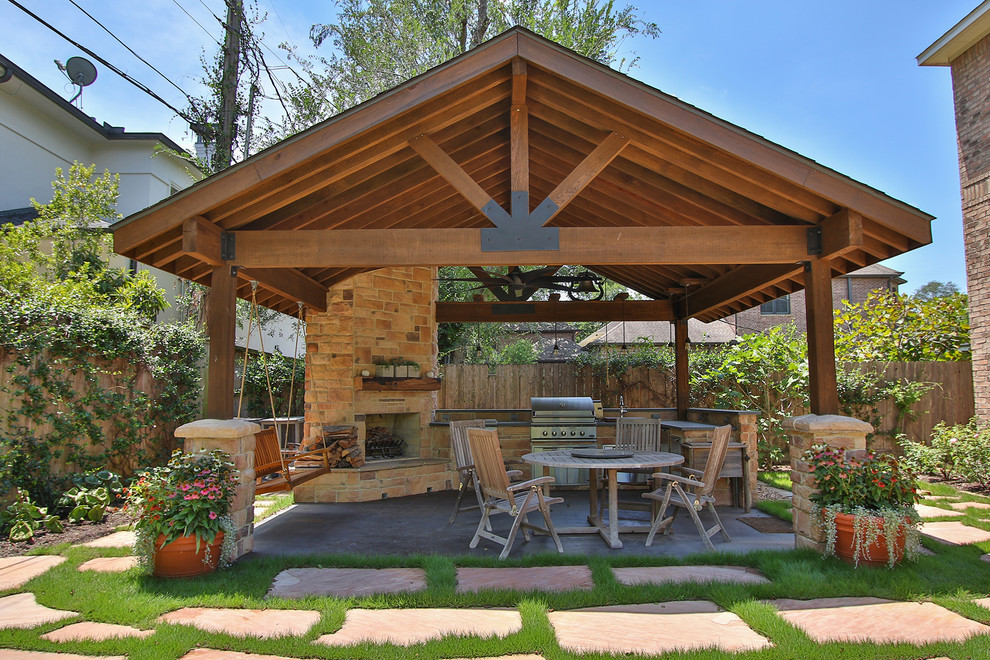 Photo by Remodelers of Houston
Add Inexpensive Buildings and Trailers
If you want something more protected from the elements, you can move a small trailer or a large shed into your backyard. While this can be more of an investment than other changes in the backyard, it will likely be much less expensive than an addition.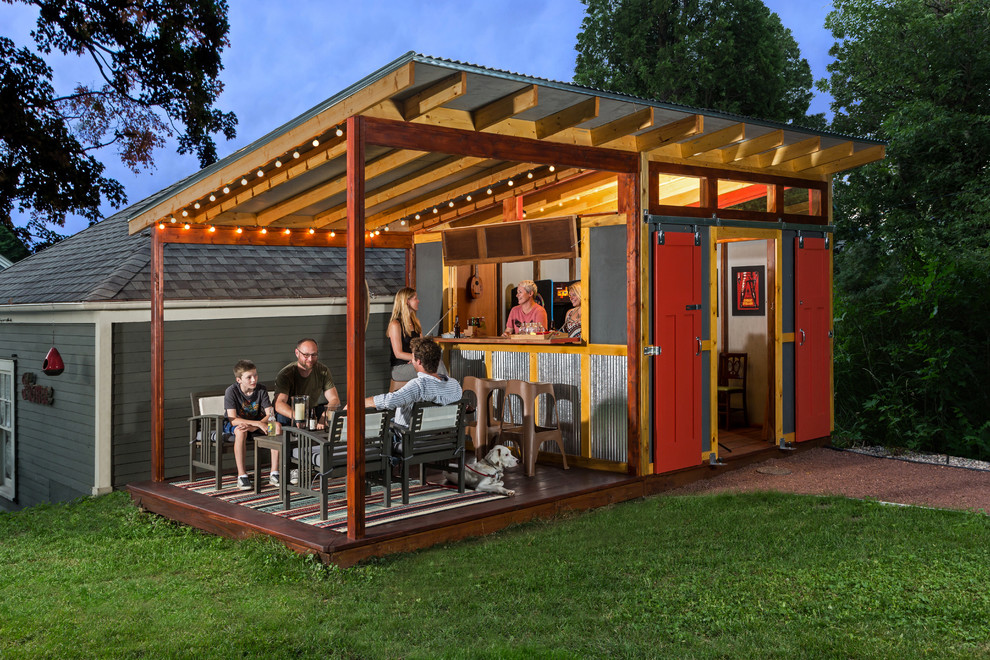 Photo by Edmunds Studios Photography, Inc.
Keep in mind that a backyard building may require permits, so check with your local zoning authority. Also, if you need it to have electricity for heating, cooling, or other functions, you'll need to either install solar or run electricity out to it. You may also want to install plumbing depending on your intended use.
Converting a shed or a trailer can create a very private space in your backyard. Done right, this very attractive option can even serve as a rental unit or a guest room.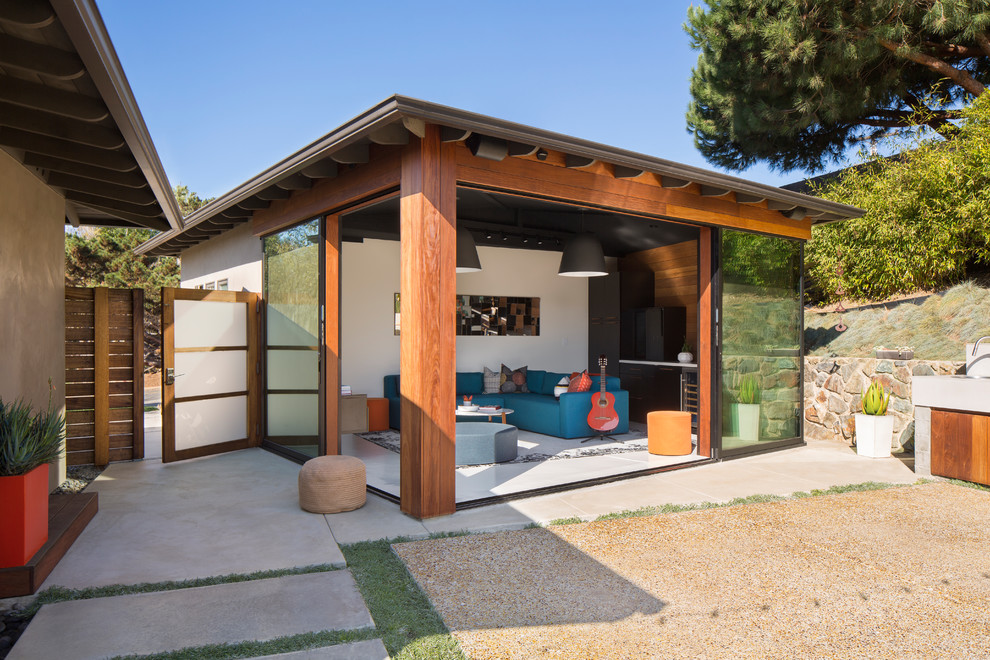 Whatever you decide, expanding your living space out into the backyard can be relatively simple and inexpensive. Keep these tips in mind as you look at ways to increase the usefulness of your backyard.
Author Bio
Anita is a freelance writer from Denver, CO. She studied at Colorado State University, and now writes articles about health, business, family and finance. A mother of two, she enjoys traveling with her family whenever she isn't writing. You can follow her on Twitter @anitaginsburg.