Homeowners of our nation can't get enough when it comes to decks. Based on our experience, Aussies treat this renovation more than an outdoor room. It's not just an add-on, but an integral part of the house. More than extra space, decks add value to the lives of the occupants. It must look great and must function well. Here are a few deck design ideas that deliver. May these help you build a deck that suits your taste and lifestyle.
Backyard entertainer
Here's a stylish and well-planned alfresco area which provides hours of relaxation and entertainment, all in your own backyard. There's a serving bar, in case you want to serve your guests with Bellini or a Curacao Punch.
This party deck is covered, so it's protected from the harsh weather and elements. In this case, it's okay to use a cushioned sofa set. You are free to create an outdoor space that's as comfy as the indoor rooms.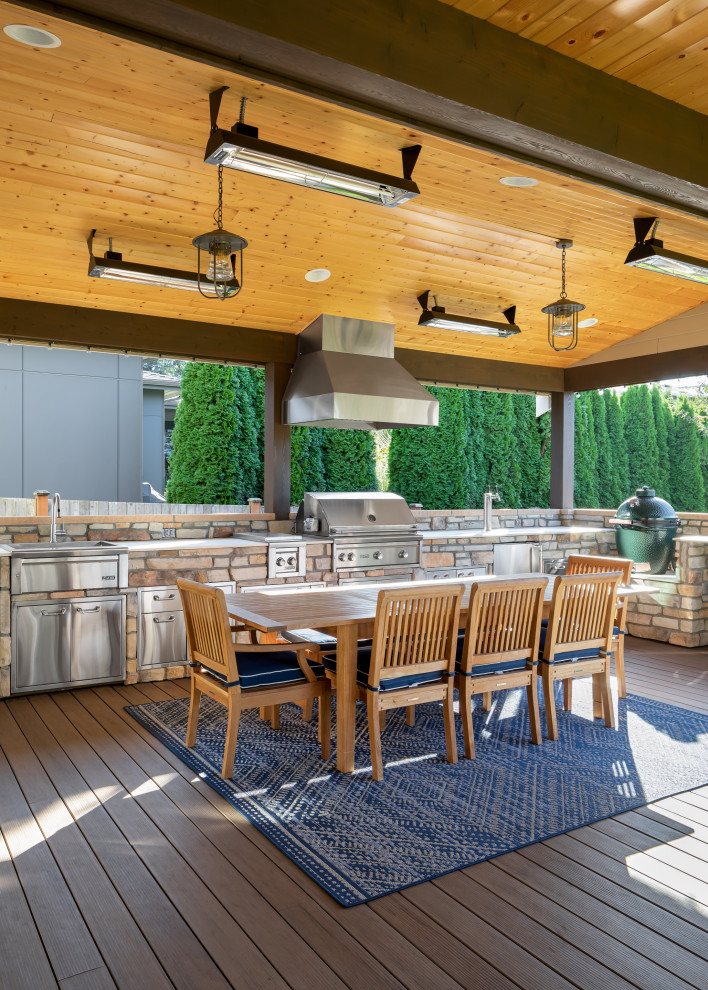 Photo by H2D Architecture + Design
We also adore the greenery that surrounds the area. Apart from beautifying the elevated deck, it secures it and makes it more private.
Vertical gardening
Some homeowners refuse to place potted plants on their decks because they don't want their decks to rot. They don't want nasty dirt and moulds hidden under the pot to ruin their deck.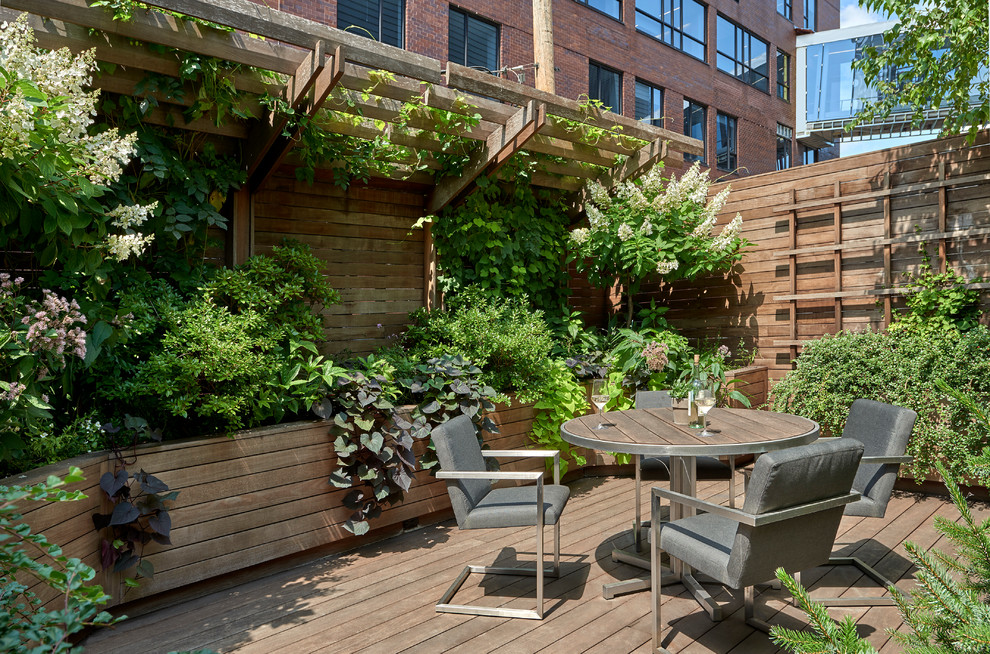 In cases like this, we recommend vertical gardening. This way, the plants will never touch the deck and the excess water won't seep in the wood. The deck remains in pristine condition and the plants thrive — a win-win for everyone.
Morning bliss
If you like to stare at the skies and everything around you when you wake up, then connect your deck to your bedroom. Here's a deck off the master bedroom. It's super wide that the homeowner can do exercises like yoga and pilates here. It's also perfect for reading a book, drinking tea and coffee, or meditating.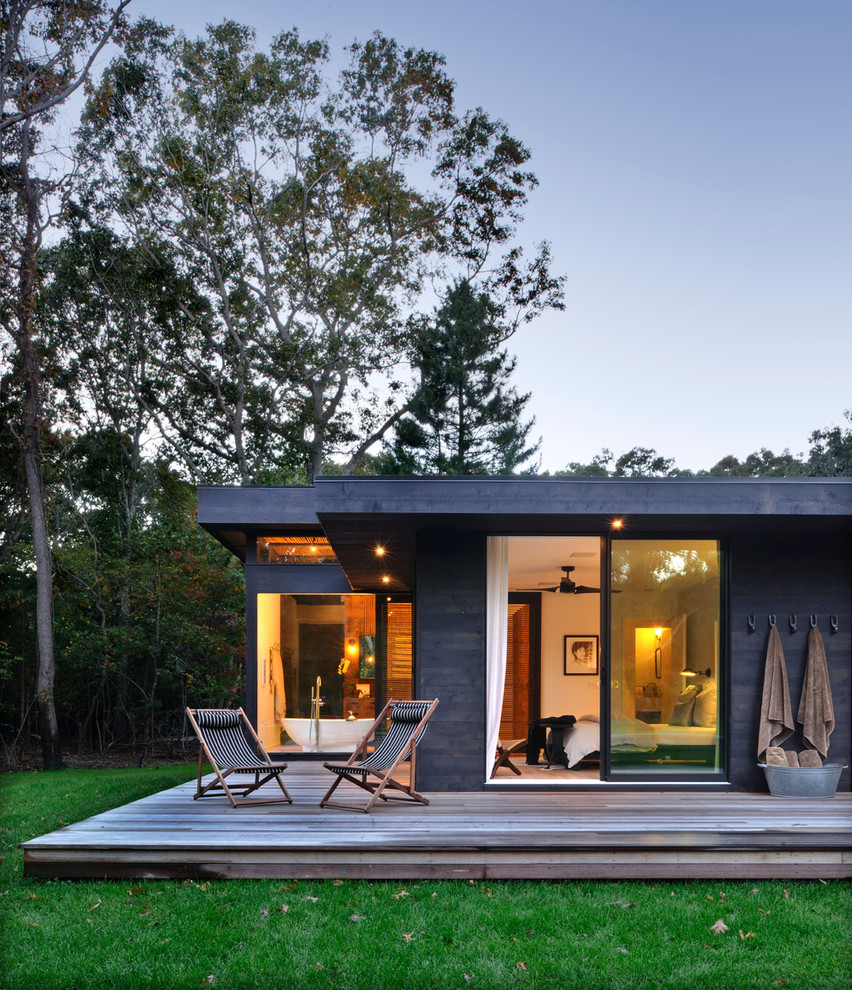 Photo by Bates Masi Architects LLC
Tree-hugger
Don't cut the tree that blocks the way. Build your deck around it. It's one way to integrate your home to the backyard. (It's good for the environment too!). Kindly seek for an arborist's advice before doing this. You want to give the tree enough room to grow. An arborist can tell you how much space the tree needs.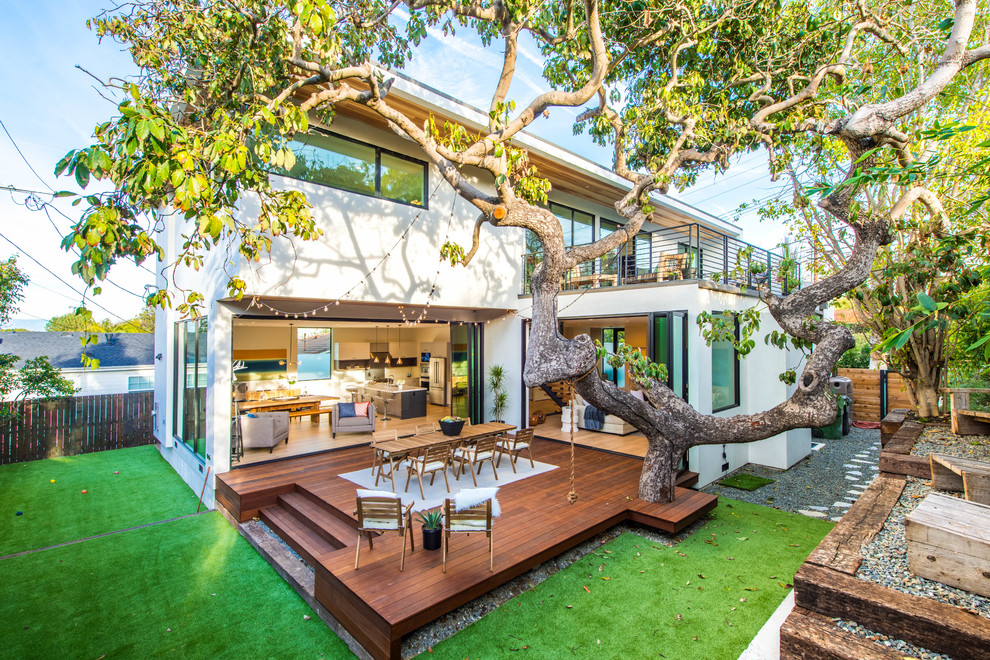 Summer-ready
An outdoor pool makes your backyard fun, inviting, and functional. Build a deck next to it to create a usable space perfect for relaxing and entertaining. Here's one that features luxury and function. It looks like a private oasis of someone on vacation.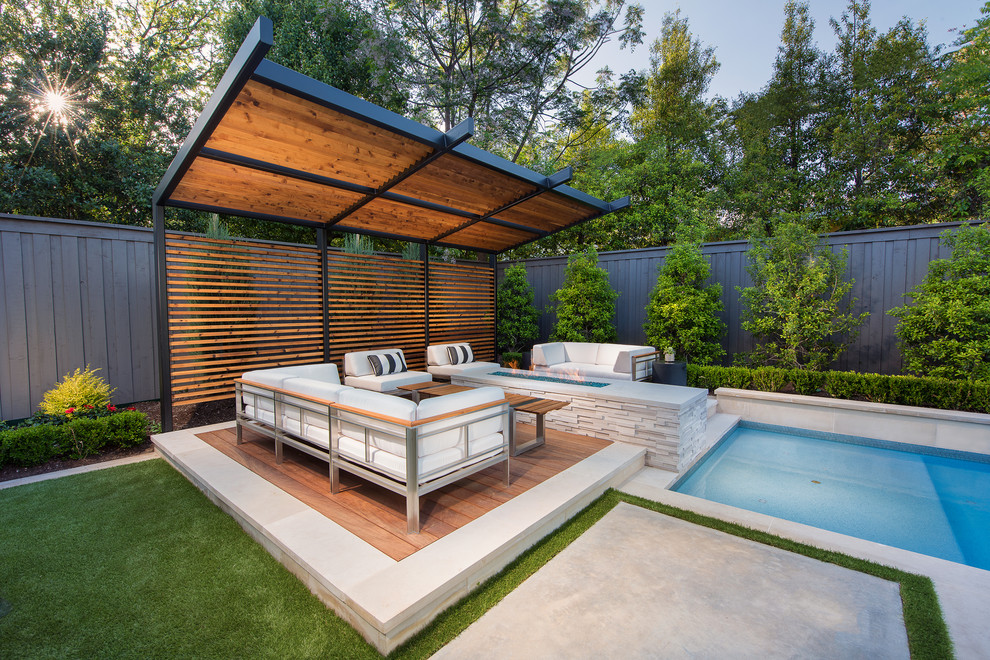 Photo by Southwest Fence & Deck
When building your pool deck, never settle for less. Always opt for high-quality materials that will withstand high levels of moisture and strong sunlight.
Mix and match
Combine timber decks with other paving materials like the white outdoor tiles shown here. It works especially for homeowners who want a contemporary or modern outdoor area. To enhance the look, grow plants in built-in planters or create a built-in bench seating.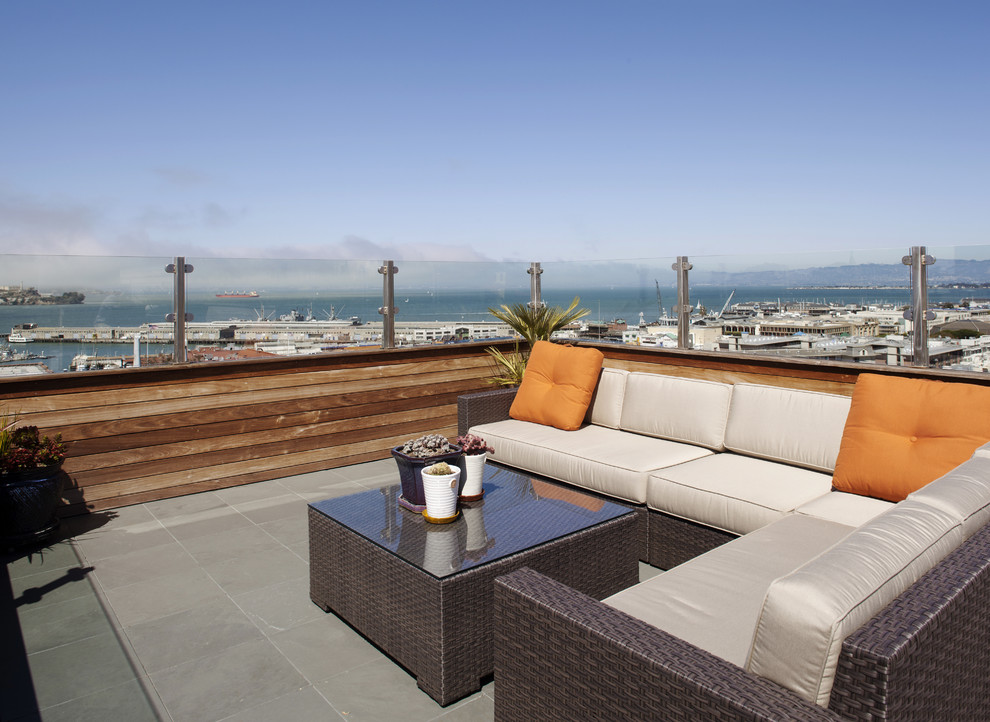 Exclusive dining
Want to dine with nature? Plan your deck and station a set of outdoor dining tables in a spot that's not too far from the house. Here, the deck surrounds the house and leads you to the small area that is exclusive for dining.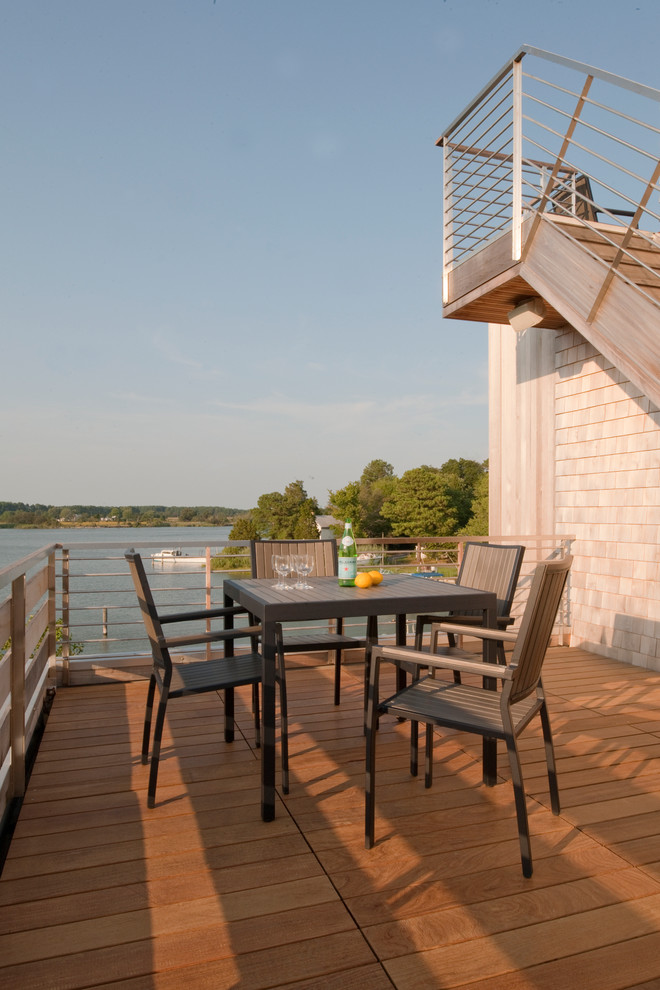 Destination: Garden
Explore your backyard when you make your deck a garden path that leads to an outdoor entertaining area. Here, there's a deck surrounded by the forest. The deck looks like the entrance to the Garden of Eden.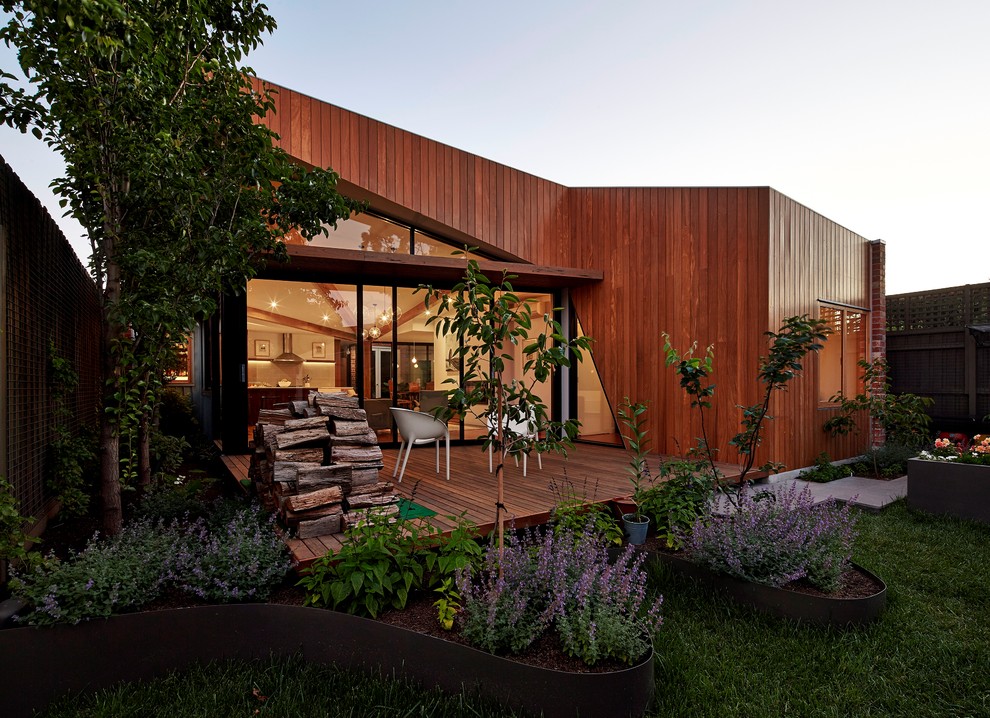 Photo by Simon Whibley Architecture
Under a pergola
Yes, you can protect your deck using a pergola. Here, the runners above the pergola provide some shade and privacy to the structure. It creates a shady area that's great for relaxing. It's a pleasant outdoor haven for all seasons.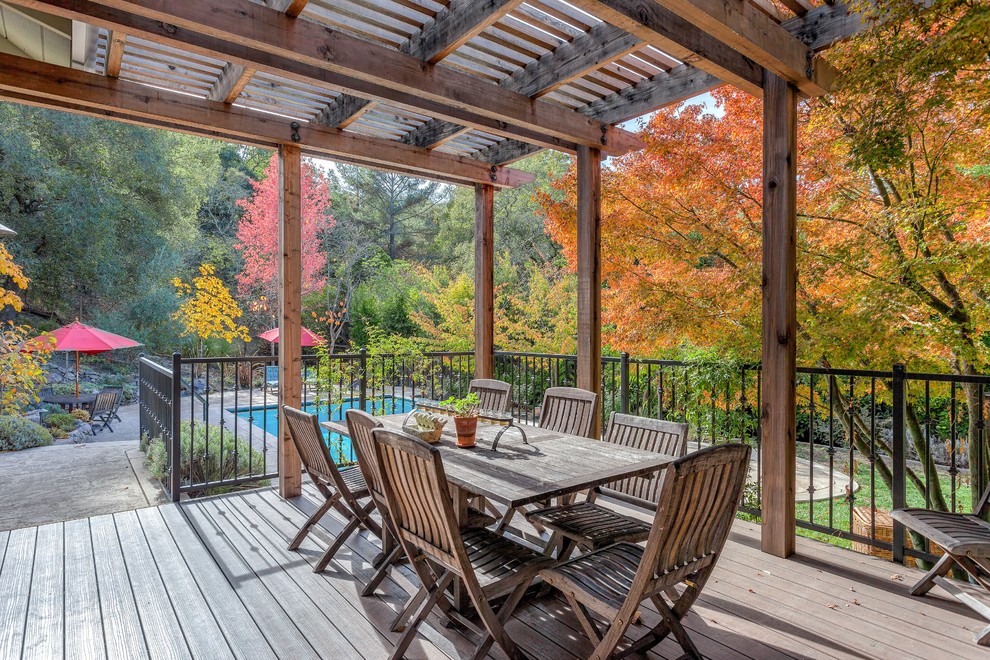 Photo by Diamond Construction Inc.