When choosing a color scheme for your living room, there are multiple design elements to keep in mind. Here's a list of primary considerations to account for when you work towards creating a harmonious color scheme for your main living space.
Work Around Permanent Design Elements
The colors on some surfaces in your living room can be changed relatively easily, and others can't easily be transformed. For example, it's simple to change out the colors on your walls by repainting them or applying wallpaper.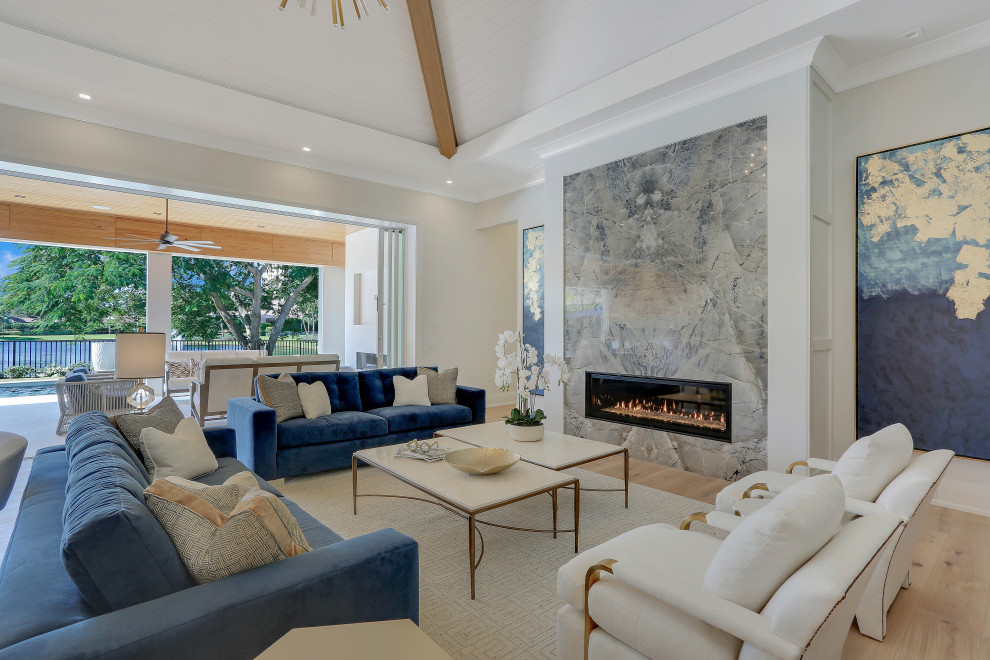 However, if you have a design element such as a stone or tile fireplace surround, the colors on the surround aren't so easy to change; you're stuck with them unless you're planning to do a complete remodel to replace this design element. In that case, you'd want to match your paint colors and other furnishings to the colors present in the fireplace surround. The colors you choose don't have to match the existing structures precisely, but it's ideal if you can choose colors that visually complement the ones already present in the living space.
Choose a Neutral Color, a Secondary Color, and an Accent Color
There are no set-in-stone rules on what colors you should use when choosing a color scheme for your living room. However, interior designers frequently follow a formula for choosing harmonious living room color combinations.
First, they choose a neutral color like a gray or beige to use for about 60 percent of the room's surfaces and furnishings. Perhaps you might like to see examples of the types of neutral colors that would be ideal for this component of your living room design; if so, you can get a feel for the most popular neutral shades of linen beige, mushroom gray, charcoal gray and rich brown by browsing this selection of sectional couch furnishings. This dominant color would be the ideal choice for your sofa and other large furniture pieces as well as the paint for your living room walls.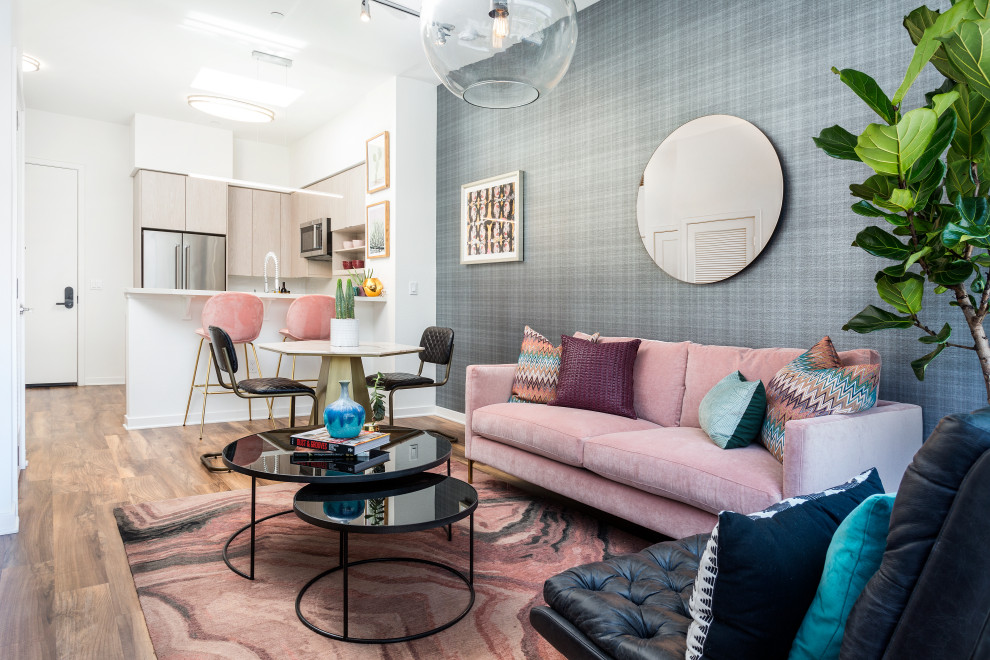 Photo by Christian Brothers Flooring & Interiors, Inc.
Second, interior designers will typically choose a more eye-catching secondary color to use for about 30 percent of the room's accent pieces. This color could possibly be used in a few substantial areas of the room like the area rugs and window coverings. You could also consider using it as one of your paint trim colors.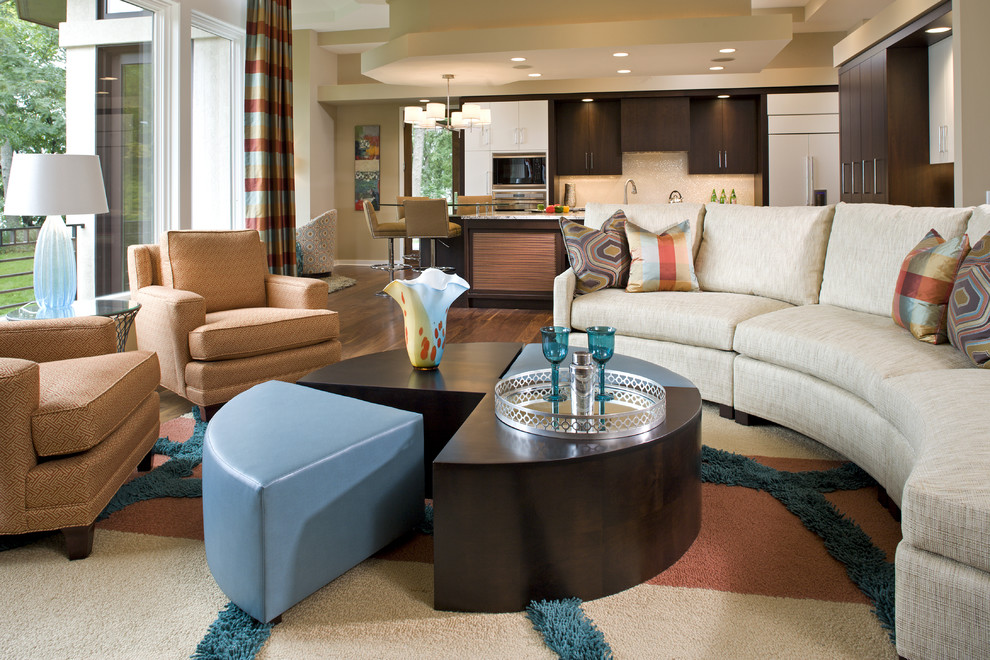 Photo by Eminent Interior Design
Lastly, interior designers will usually choose the brightest or most attention-grabbing "pop" of color to use as an accent color in the final design scheme. About 10 percent of the room's accessories will be selected in this color. You can frequently find the accent color being used in throw pillows on the couches and chairs. The accent color could also potentially make appearances in the paint trim colors, wall art, light fixtures, curtain tiebacks or other accessories. It is generally a good idea to include this color in replaceable elements so that you can easily switch up your accent color when your style changes.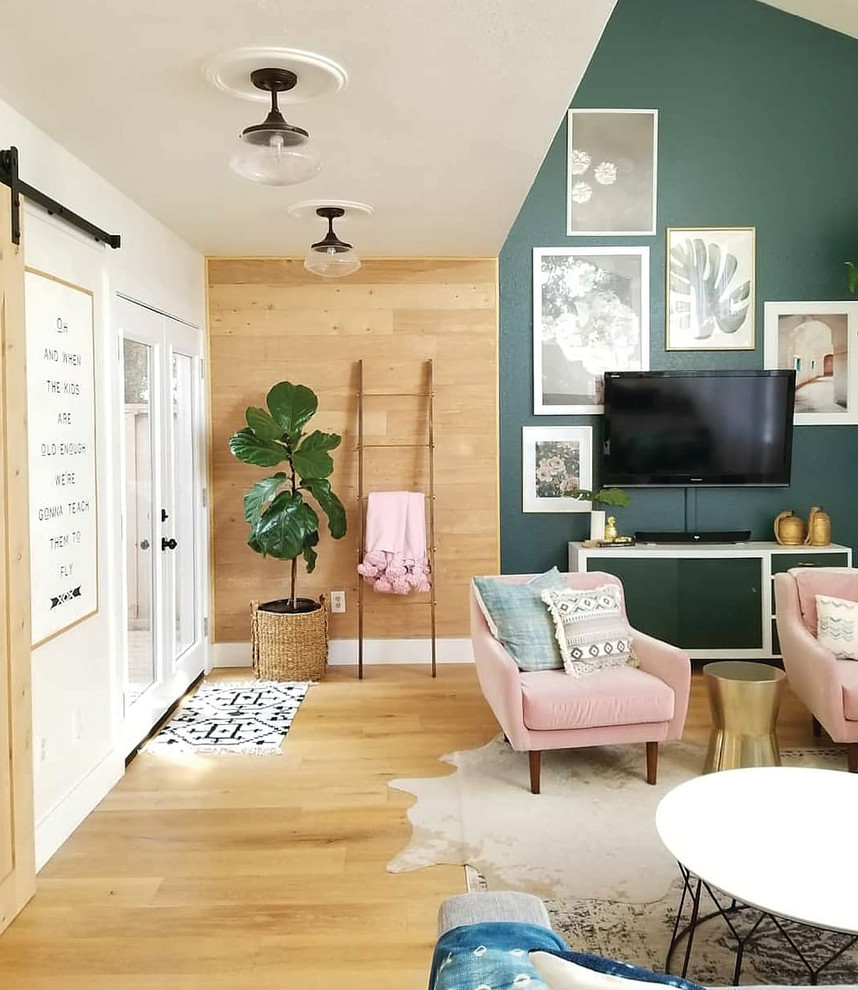 Remember the Importance of Lighting
The colors of surfaces in your living room could look dramatically different depending on the type of lighting you choose. For example, the colors on walls, fabrics and wallpapers can appear more yellowish or grayish under fluorescent lighting than they would appear when viewed in natural light. For that reason, you'll want to consider making an effort to view all fabric swatches and paint samples under the actual lights present in your living room as you make your final color selections.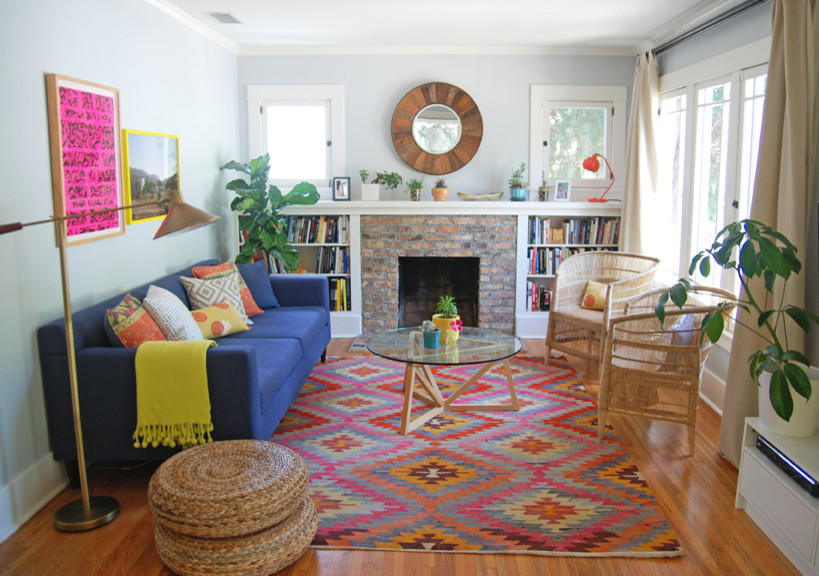 These are the most important things to consider when you're choosing a color palette for your living room. If you follow all these suggestions, the end result is likely to be a visually pleasing color scheme that suits your style and taste.
Author Bio
Meghan Belnap is a freelance writer who enjoys spending time with her family. She loves being outdoors and exploring new opportunities whenever they arise. Meghan finds happiness in researching new topics that help to expand her horizons. You can often find her buried in a good book or out looking for an adventure. You can connect with her on Facebook right here and Twitter right here.