When it's cold outside, there's nothing like the soothing warmth and relaxing glow that a fireplace provides. If your home doesn't currently have a fireplace, the good news is that there are several different options available. These options give you the flexibility to decide how much you want to spend, how much work you want to do, and how much you want to change your home.
Vented Gas Fireplace
To avoid having to track down firewood to keep your fire going, a gas fireplace is one of your best options. Gas fireplaces offer ease of use, exceptional heat production, and a low operating cost. A vented gas fireplace most closely resembles a traditional wood-burning fireplace because you are still mixing outside air with fuel to create fire. Since a vented fireplace does require a vent, installation can be somewhat invasive.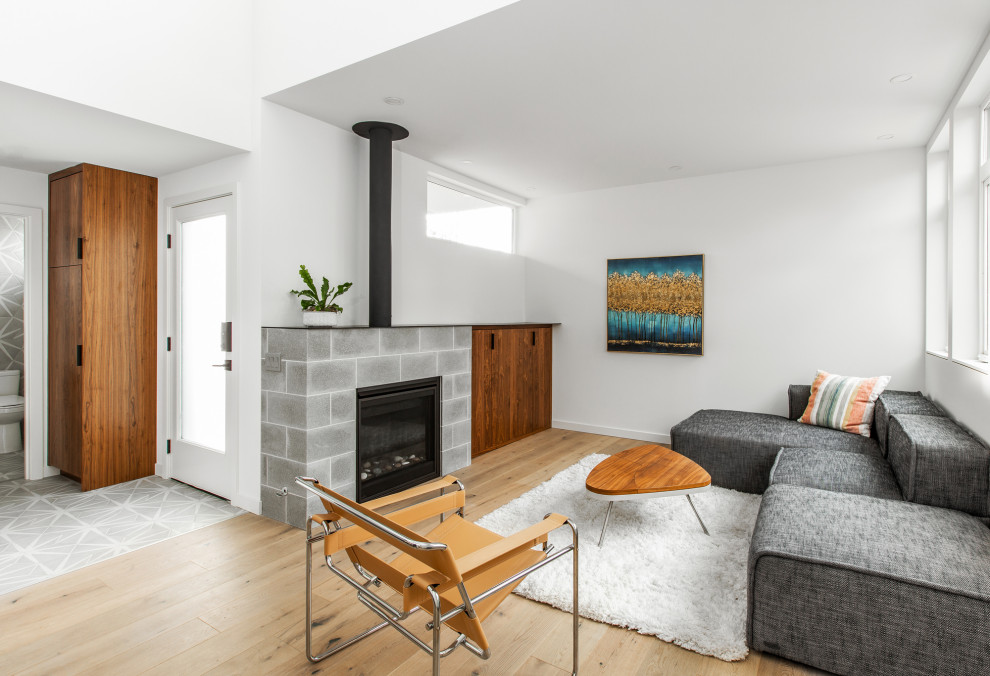 Ventless Gas Fireplace
If you want to be able to quickly install a gas fireplace without putting a large hole in the exterior of your home, a ventless gas fireplace is for you. These units use specialized vent free gas fireplace logs to help the natural gas or propane burn more efficiently. Since the combustion is more complete, there is a much lower risk of harmful byproducts, meaning that you can enjoy the beauty of a real fire without the hassle of a vent. Plus, since installation is fairly straightforward, these units tend to be much less expensive.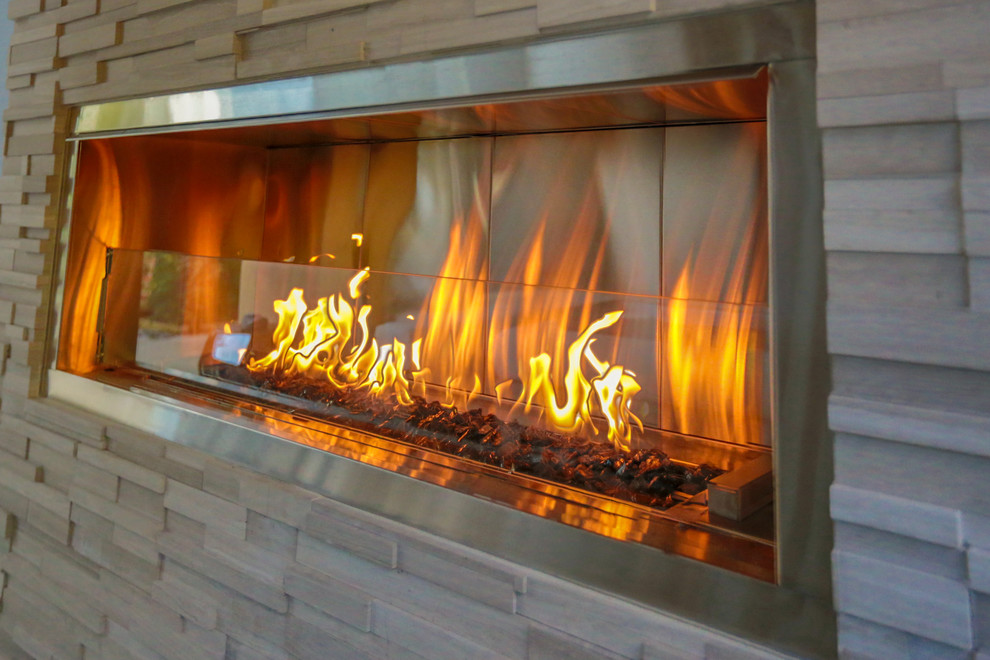 Photo by Timberline Patio Covers
Wood-Burning Fireplace
When it comes to nostalgia and heat output, it's hard to beat a wood-burning fireplace. Depending on the application for the fireplace, you can find different units in a variety of styles. A closed fireplace can provide efficient heating for an entire home with the right accessories, while an open-face fireplace can heat a single room quite well and provide plenty of opportunities to roast marshmallows over an open flame. If you choose to install a wood-burning fireplace, it's important to have it inspected annually to help prevent a chimney fire.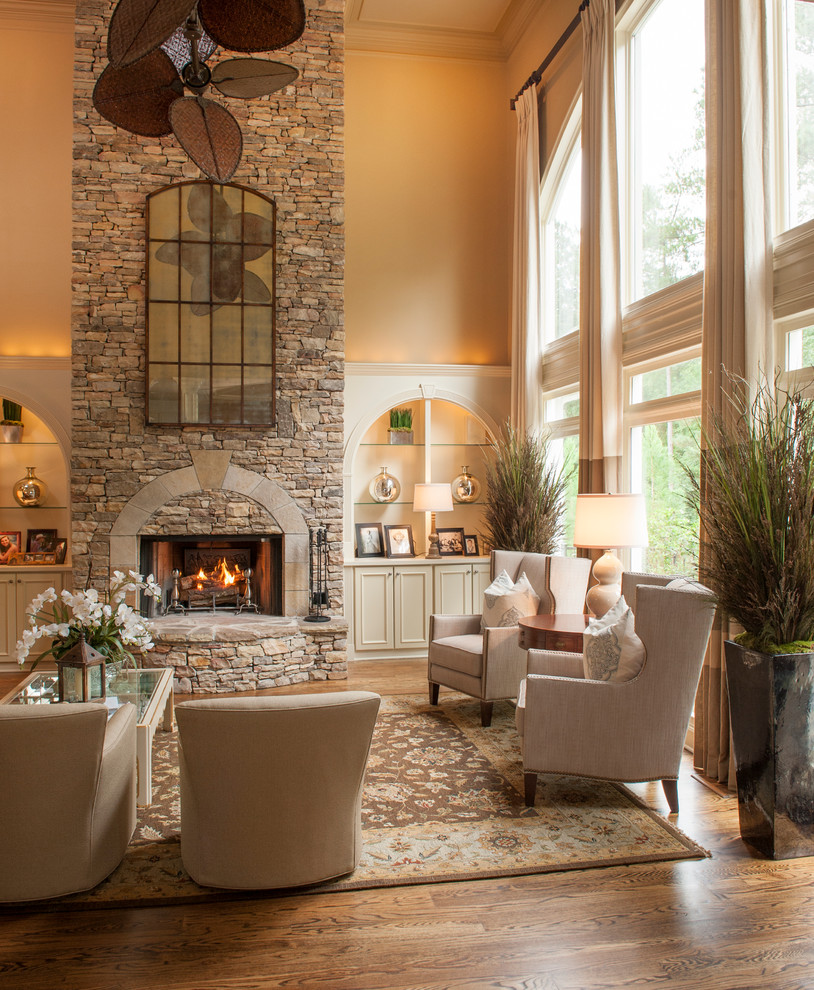 Electric Fireplace
If all you're looking for is heat, an electric fireplace provides an adequate substitute for other types of fireplaces. The good news is that electric fireplaces have come a long way since they first became popular in the 1950s. Today's electric fireplaces feature realistic-looking flames and targeted heat vents to help make the most of the energy input. While electric fireplaces add a great aesthetic to any room, they aren't the most efficient method to heat more than a small room.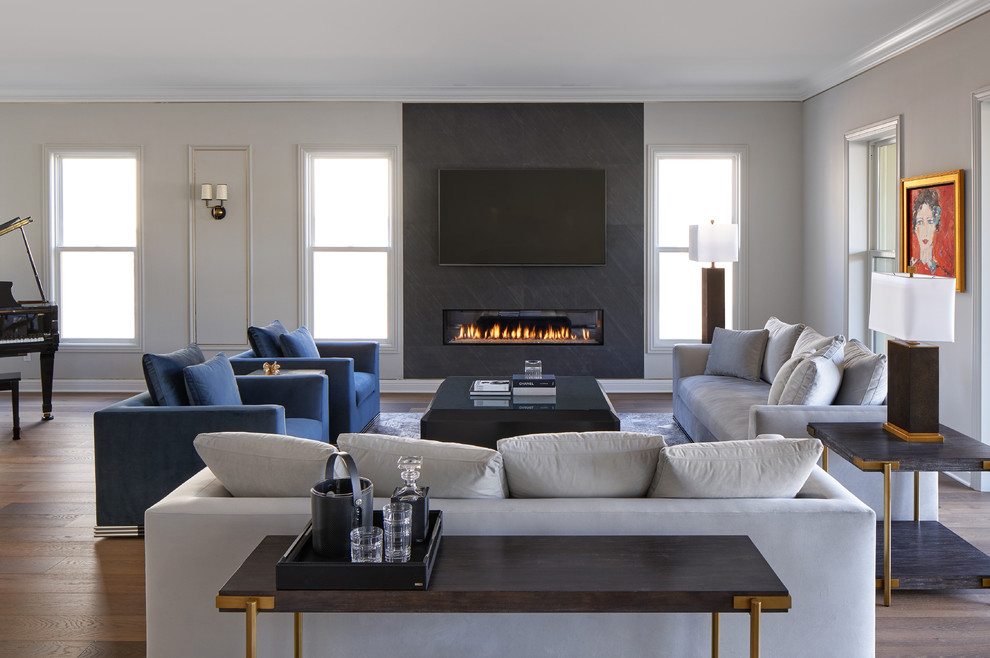 Photo by GAVIN GREEN HOME DESIGN LLC
Whether you're installing a gas, electric, or wood-burning fireplace, it's always important to choose a professional to complete the installation. After all, when you're talking about a fireplace, you're dealing with significant amounts of heat that could be dangerous if the fireplace isn't installed correctly. Make sure to take a look at reviews for local fireplace contractors so that you can be confident in the quality of installation that you receive.