While sleek, modern and minimalist has been on-trend for a while, there's just something about the cozy bohemian style that makes a home feel warm and lived-in. A bohemian home features lots of calming yet fun decor pieces, cushioned furniture and soft lighting. A common style for frequent world travelers, the bohemian look is actually carefully crafted by each person who chooses to decorate that way. If you're considering the bohemian style in your home, here are some tips to guide you through your decorating process.
Boho doesn't mean grungy or cluttered.
While the bohemian style is known for its use of lots of materials in a small space, that doesn't mean your spaces should feel grungy, dirty or cluttered. It does take a bit to master the bohemian style in a way that doesn't give off these vibes, so you should definitely start small as you embark on your boho decorating journey.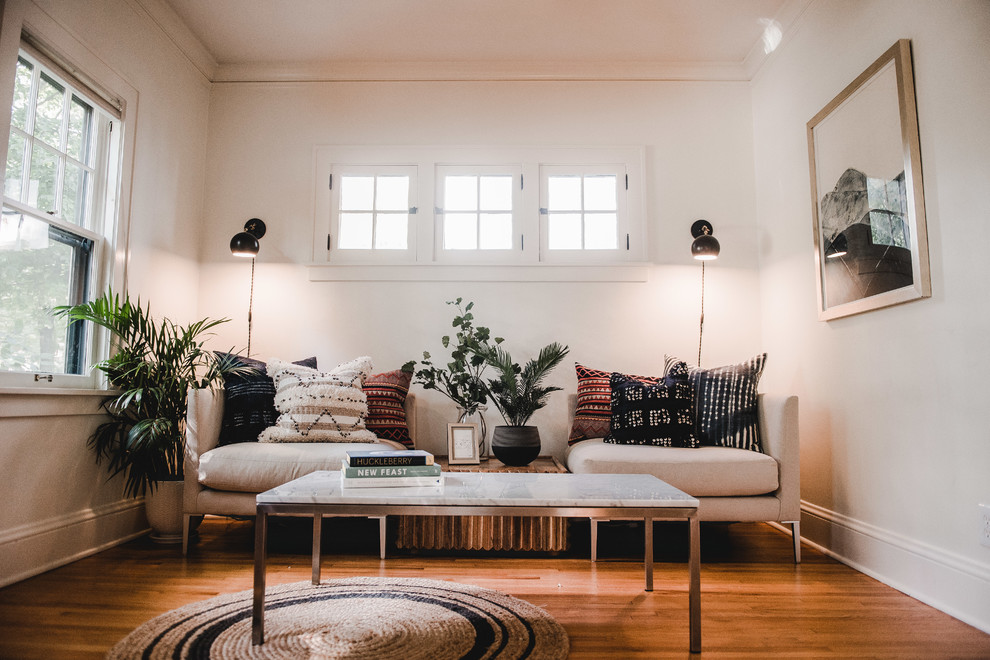 Photo by Prospect Refuge Studio
Incorporate the colors first.
One of the easiest ways you can establish a boho style in your home is by incorporating the most common colors with it. The bohemian style is known for its warm, earthy colors and deep jewel tones. Incorporating these colors first can really go a long way to making your home feel bohemian. Whether you install dark-colored kitchen cabinets or add some garnet throw pillows to your couch, color is really how your space can appear bohemian. This is especially true if you're on the fence about the style. Adding these small pieces, such as throw pillows or blankets, can give you time to decide if you really like how the colors look in your space.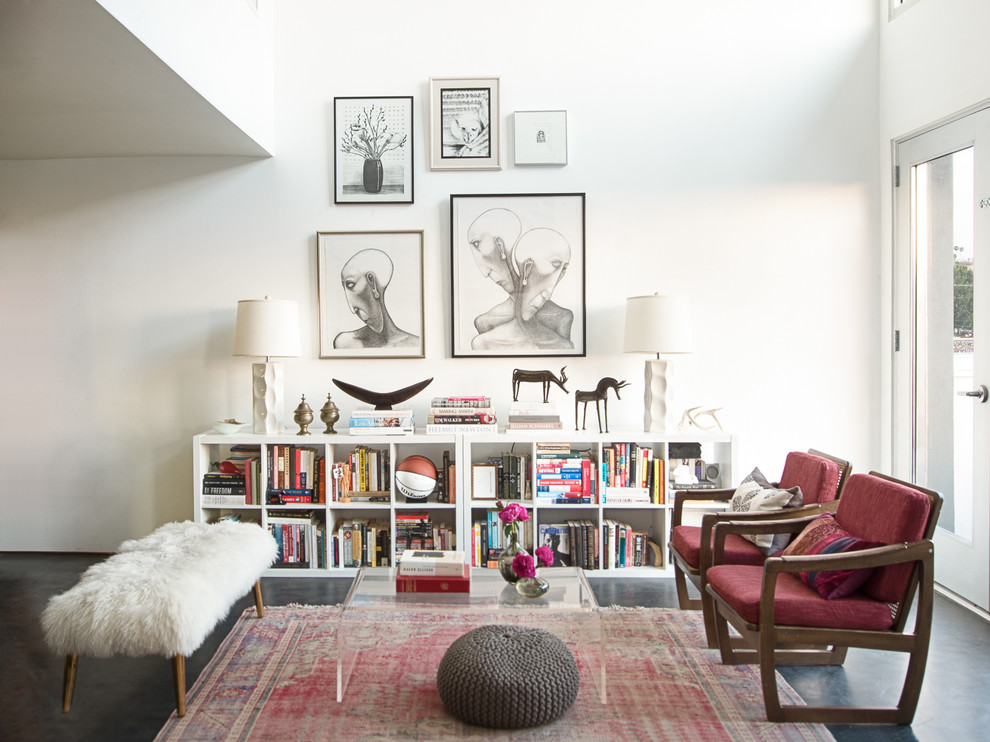 Photo by Breeze Giannasio Interiors
Think global.
Boho is for travelers – people who like to enjoy different aspects of cultures around the world. With the bohemian style, you have free rein to incorporate pieces from different cultures into your design. Whether it's wall art, a fun bookend or even the fabric of a lampshade, bring in textures, colors and patterns from cultures all around the world. Brought back lots of souvenirs? Use them in your decor. It gives your decor a very personal feel. Each piece you showcase probably has an interesting story behind it. Place it on a bookshelf, the corner of your desk or use it as a centerpiece on your coffee table.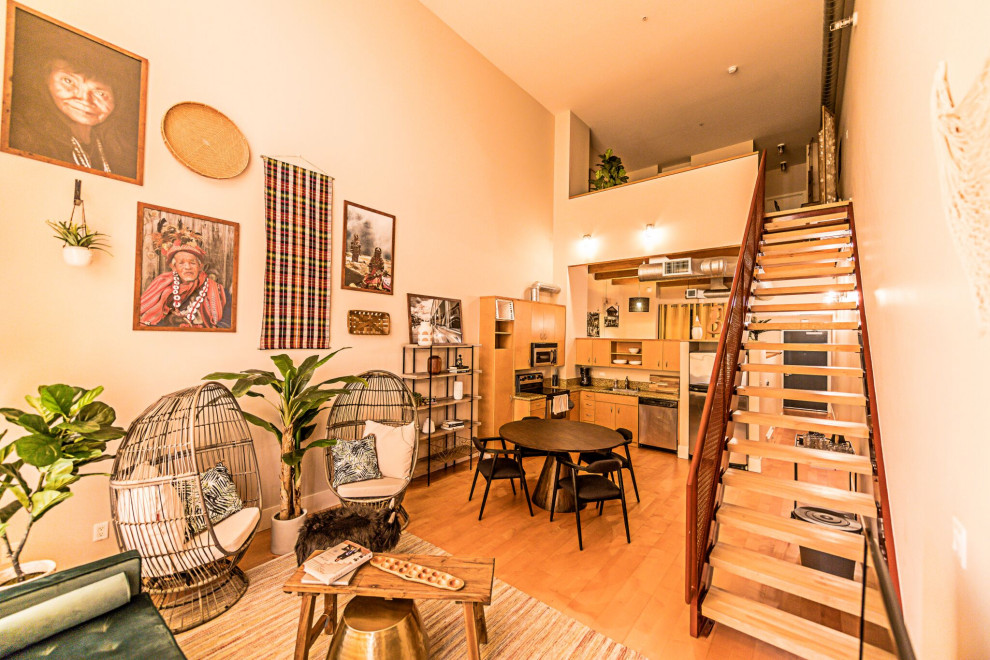 Yes, still use neutrals.
Neutrals are a large part of the bohemian style. While you might think this isn't the case (since boho is full of deep, rich colors), neutrals actually have a very important purpose in the boho style: balance. Neutrals help to balance out all the color you'll use, so it's important to sprinkle them around your design. Keep the white cabinets in your bathroom and go for a bold mandala bath rug as a way to incorporate your bohemian style. A colorful shower curtain is great, too.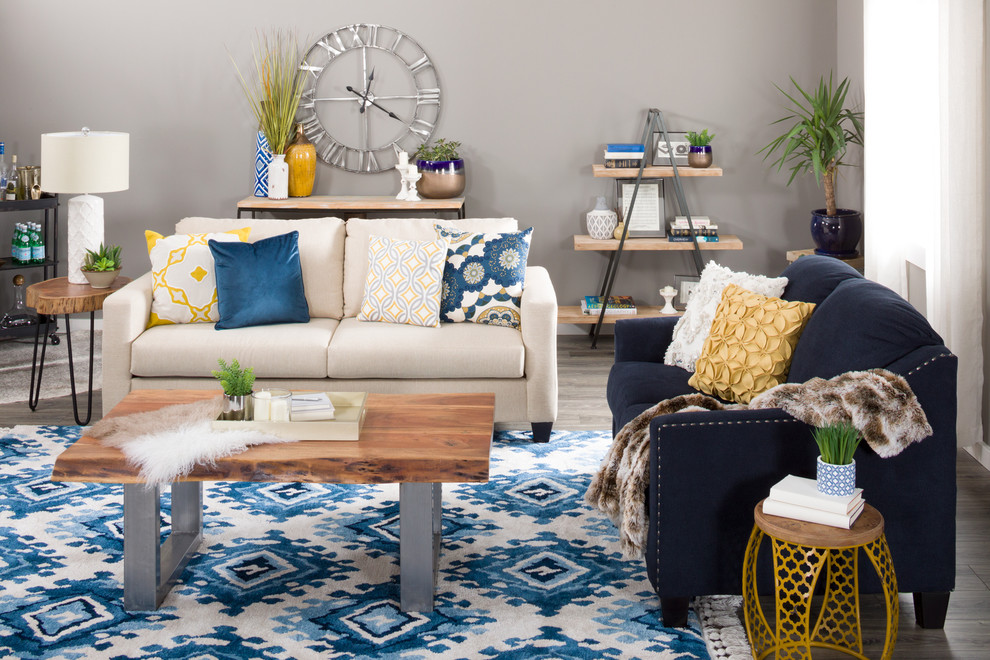 Photo by American Furniture Warehouse
Mix it up.
Bohemian is great because what might appear mismatched at first glance is actually very well put together. When you incorporate different colors and textures, you can have a fun and creative space. The key is complementary items. Each of the textures, patterns and colors you use should complement each other. Balance out deep, wooden bookshelves with macrame wall art, and add some gold metal accents to a glass-topped end table.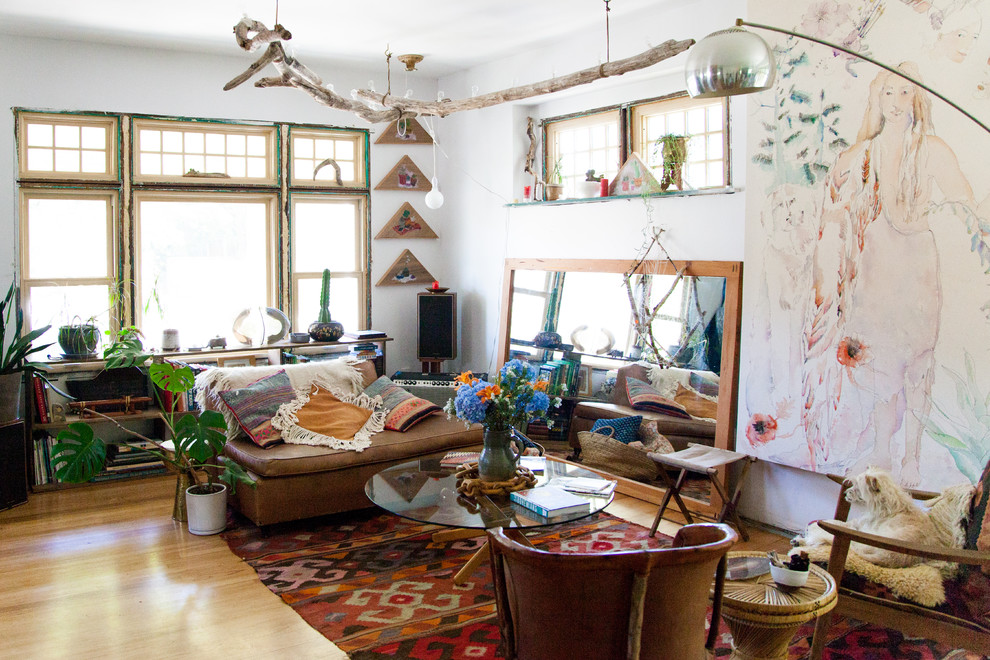 Photo by Ellie Lillstrom Photography
Think vintage.
While many more department stores are jumping on the bohemian bandwagon, the most authentic boho spaces are filled with antique, vintage pieces found from different locations. Thrift stores, antique shops and yard sales are perfect places to score beautiful bohemian pieces. Go in with a plan. Some of those spaces can feel very overwhelming if you don't know what you're looking for. While it might be tempting to try and "go with the flow" for your decor pieces, in reality, you'll find yourself quickly overwhelmed and anxious as you look through these places. Some locations are filled with lots of different items, all piled together in ways that could take hours to look through. Go into each space with the base item or category you're looking for (i.e., area rug or accent chair). That will help you spot the area to browse.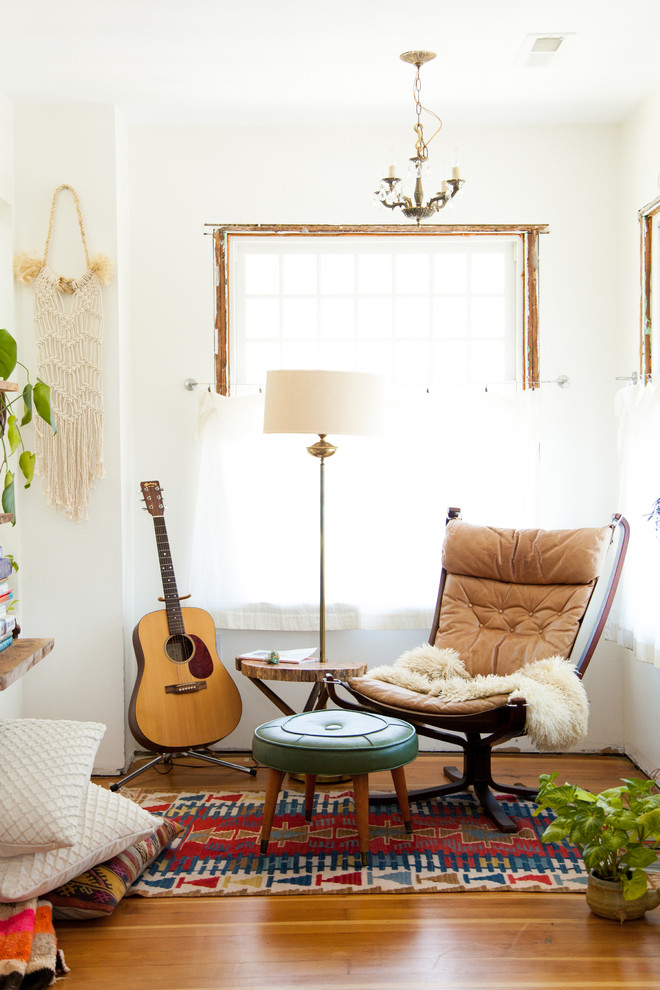 Photo by Ellie Lillstrom Photography
Go for art.
A bohemian space is filled with pieces of art. Don't hesitate to add that beautiful, handmade oil painting to your cart. The more art you can showcase in a bohemian space, the better. Photography, pottery and even wooden carvings all make for perfect art pieces to incorporate into your bohemian space. Layer them in fun ways to really make a bold boho statement.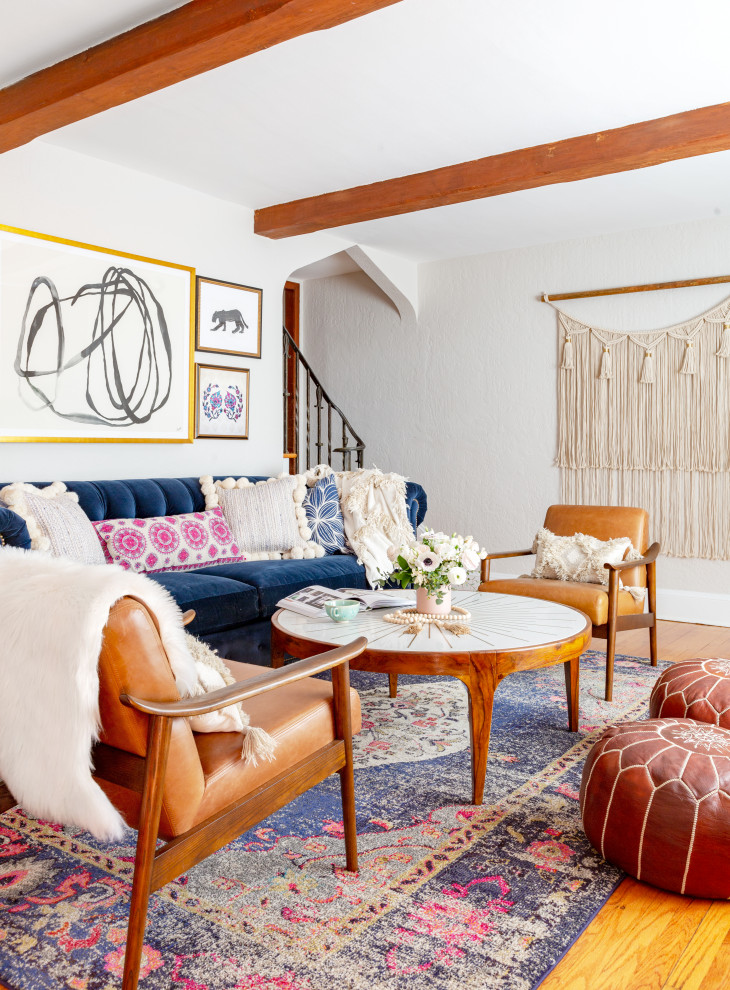 Photo by Danielle Rose Design Co.
Bring on the green.
Greenery is an essential part of the bohemian style. Plants not only look great in your boho space, but their roots are essential in purifying the air from harmful toxins. In a space that can appear musty if you're not careful, having lots of plants around can help keep your space fresh and clean! Plus, the planters you use double as decor.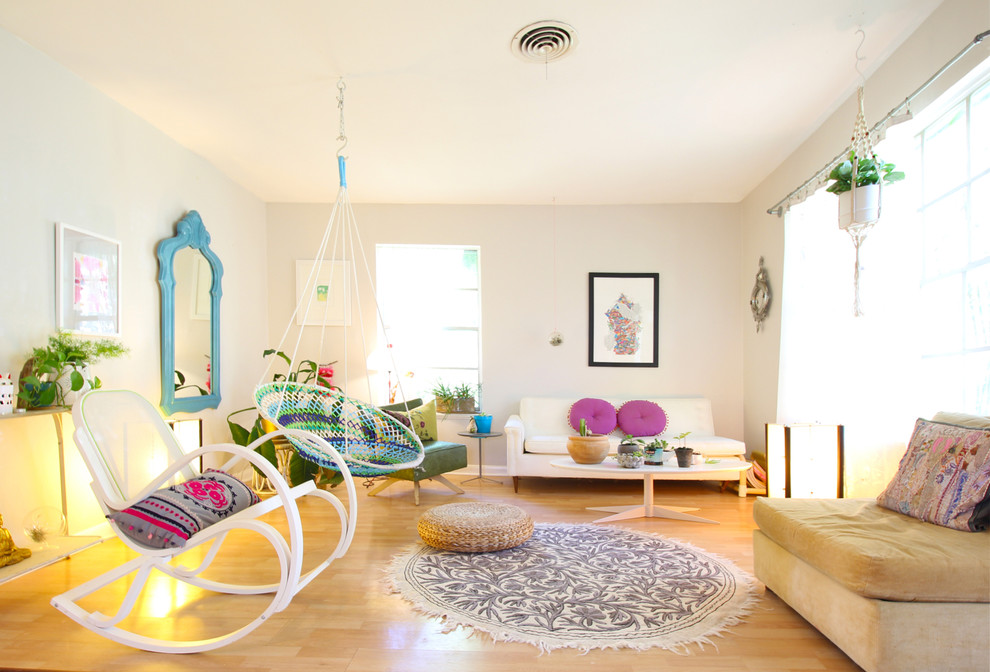 Bright lights? Not so much.
Rather than pale, white light, you should introduce warmer yellowed lights into your bohemian space. Of course, lots of natural light is always a must for any space, regardless of decorating style, but the warm and cozy feeling of a bohemian space is only achieved when using soft, yellowed lights. Some vintage Edison lights are perfect in boho spaces. If you're really looking to make the space authentically bohemian, vintage metal lanterns and lots of candles are perfect.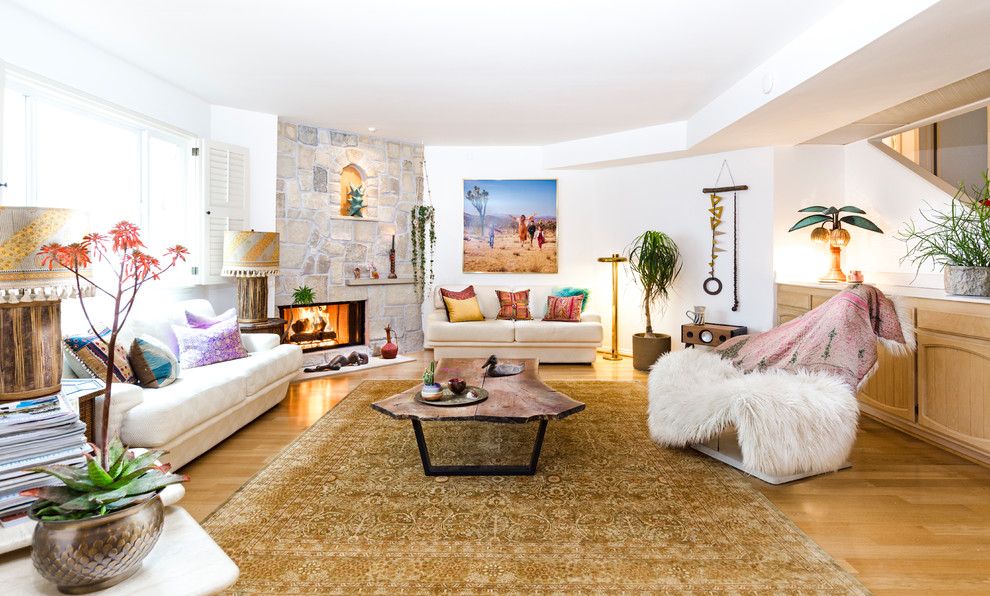 Photo by Touch Interiors by Bronwyn Poole
Use the floor.
Use your floor to guide you in your bohemian decorating. Oversized, cushioned floor pillows, soft area rugs with intricate patterns and wide furniture are great guides for setting up the layout of your rooms. Create interesting layouts that continue to give off a bohemian feel through each space.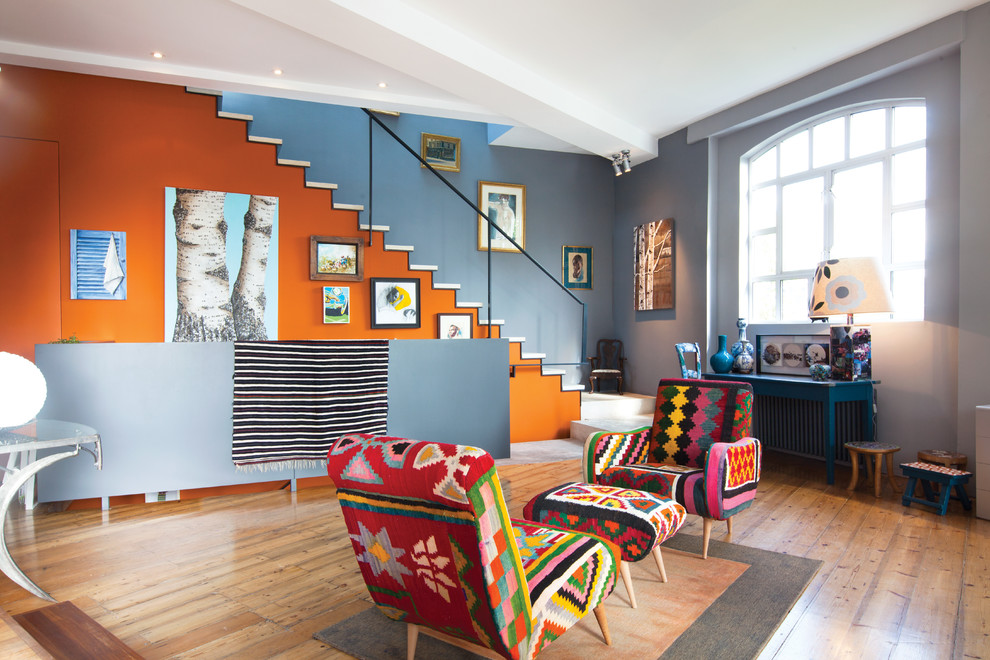 A bohemian decorating style has lots of interesting facets. From colorful jewel tones to woodsy accents, the cozy feel of a boho space is both warm and inviting. With just a few simple tricks, your space can feel bohemian in no time!