With spring right around the corner, now is the time to plan out your decor for the season. You'll want to snatch up the perfect decor pieces as soon as possible because, before you know it, spring will be here and the selection of items left may be difficult to incorporate into a fresh design. Here are some great spring decor ideas that will help you freshen up your home.
1. Sleek Paint:
A new coat of paint is perfect for a spring redesign. After a while, paint can start to look dull and dreary, especially as it's exposed to sunlight, scuff marks and overall wear and tear. A fresh coat of sleek paint will make your walls look brand new. You should always go with a neutral paint color because it will match well with any other colors you incorporate over the seasons.
2. New Cabinets:
In your kitchen and bathrooms, install some bright white cabinets. White is the perfect color for spring. They will look so fresh and clean for the season. Make sure to include some handy storage features in them to reorganize your current setup.
3. Soft Pastels:
If you're incorporating classic spring shades into your design, keep it soft. Spring is about new, fresh and bright – but not too bright. You don't want to have to wear sunglasses while sitting on your couch. Keeping the pastels soft and somewhat muted will actually help to bring them out when set against other neutrals. Try to stick with one or two additional pastels instead of laying out the entire pastel rainbow.
4. Flowers Everywhere:
When you think of spring, flowers always come to mind. Incorporating florals into each room of your home is one of the many ways you can make the space fresh for the season. Whether it's a small vase with some fresh flowers in it, a wallpaper with a floral design or even a throw blanket tossed over the back of the couch or at the foot of your bed, adding those small floral details will really go a long way in making your home feel fresh.
5. Woodsy and Natural:
Bamboo, oak and cherry are great woods to use in your spring decor. They will contrast and complement the clean spring pastels. Bring in a new coffee table, end tables or some accent furniture pieces to bring some new materials into the mix.
6. Don't Forget the Bathroom:
Your bathroom deserves some love, too! Replacing the towels with spring colors or patterns, installing some new bathroom cabinets or even removing the old square mirror and putting in a newer, trendy round mirror can really revitalize your bathroom – perfect for spring.
7. Bold Statement Pieces:
A bright red kitchen island mixed in with some pinks and sage greens can actually make your kitchen feel more like spring. It reminds you of a picnic. Adding bold statement pieces to your decor can give the space a lively feel. In a season that is typically associated with new beginnings and a fresh start, a bold decor piece can do just that.
8. A Simple Centerpiece:
Whether you place it on your dining room table or your kitchen island, a simple centerpiece can make the room feel fresh – especially if you include florals. However, if you're allergic to flowers or don't have the time to tend to them, you can create one with a couple of painted vases on a wooden tray. Looking for a practical solution? Consider using a large wooden cutting board and placing a variety of bowls and decorative containers on it with the items you use most – coasters, remotes, etc. For your kitchen, include the French press, a jar of oats and a decorative dish towel. You'd be surprised how those practical objects can actually serve as decor pieces for your space.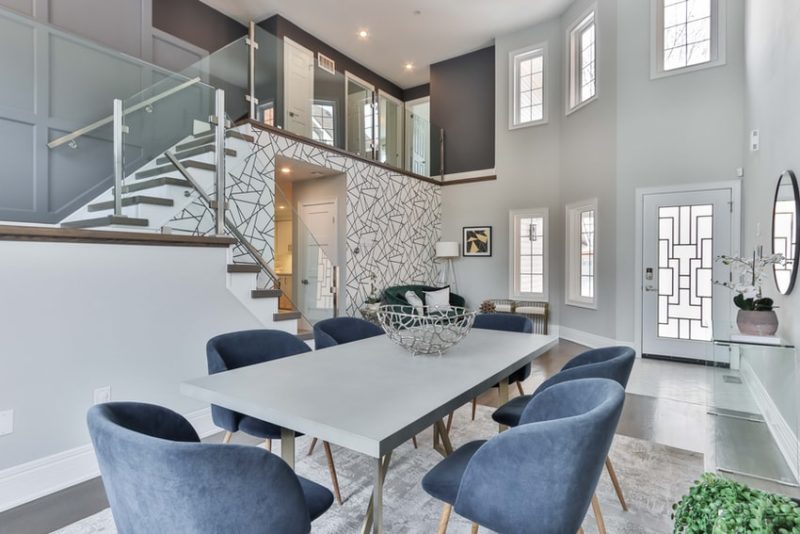 9. New Curtains:
One of the most overlooked aspects of decor is the curtains. Curtains are a great way to usher in seasonal style. With so many patterns, colors and weights, you can switch out curtains for every season. Go for a simple two-toned stripe if you've already got a lot of patterns and items in your space, or incorporate a busier floral pattern if your room is full of neutral solids. Make sure to switch out the curtain rod, too.
10. Add a Rug:
An area rug is a great option for fresh decor. A plush area rug in your living room, dining area or bedroom can make the space feel like spring. Choose one with a floral pattern or with a fun bohemian mixture of colors. It'll really bring a fresh, fun look to any space you place it.
11. Create a Rainbow:
While you might think of pastels as the colors of spring, a rainbow pattern is also delightfully spring-y. You can create a fun rainbow with throw pillows, glassware and your bath towels. You don't have to use typical ROYGBIV colors, either. Feel free to mix it up with some softer shades or darker hues.
12. Keep Things Open But Organized:
Spring cleaning is real – but it doesn't have to be boring! Bring in some new, decorative organizing totes and containers to make some sense of your current mess (don't stress – we all have one!). Whether it's wire baskets, wooden crates or mustard yellow canvas totes, you can keep your items organized while making your home feel open. Don't want to use storage organizers? Consider open shelving. It's a great solution to making your space feel fresh and new. Especially if you've bought any new dishes or other decor pieces. You can show them off with open shelving.
13. Use Contrast:
Make colors feel bolder and brighter with contrast. It's a perfect way to really show off any patterns. Offset any dark colors you're using with bright, bold patterns and colors. Contrast is one of the many ways you can really make a room pop. You'll be surprised at how beautiful a room can be when you use contrast.