Want to decorate a large wall but don't know where to begin? It's not uncommon to have one or two blank walls that leave you a little confused. It's hard to figure out what to do with those barren spaces, but you do know that they drive you mad. Do not consider it to be a vast, bare area that must be covered instead, consider it a blank canvas waiting to be filled.
There is an opportunity here. If you want to fill that empty wall with something that is both beautiful and shows off your style, you need to make sure it also goes with everything else in the area. Make your wall decor dreams a reality by not letting fear stand in your way. In order to help you ace decorating large empty walls, there are fantastic reviews sites like OveReview that reviews many products such as stylish home decors that will help you embellish your walls without spending too much. Here is the rounded-up of simple and stylish decor ideas for your living room.
A Large Piece Of Art
If you have an empty wall, display one piece of art or an architectural piece. This is likely to be the simplest solution to fill a large space. It is not necessary to pay a lot for large-scale art to hang on your walls. With a small space, you can opt for an oversized painting or photograph that will draw attention and set the tone. You can add color with a vivid abstract piece in a minimalist space or add black and white into a minimalist space.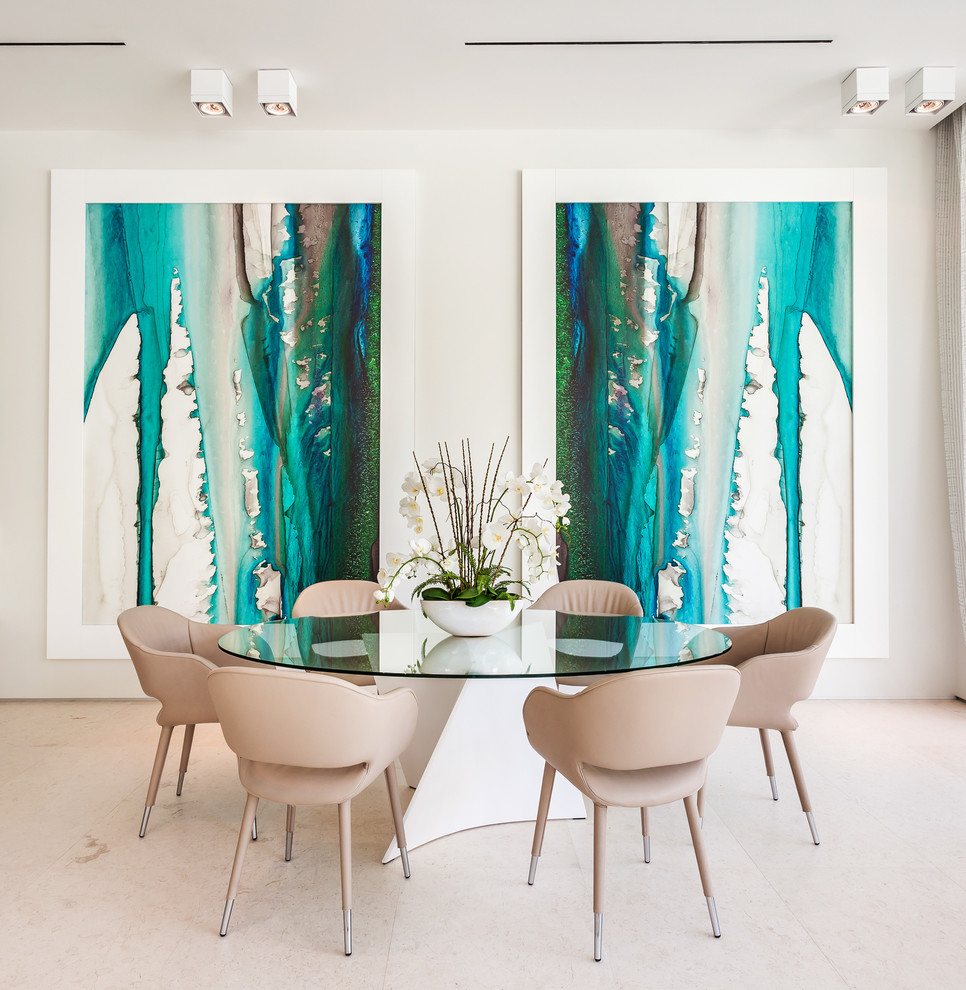 Photo by Sofia Joelsson Design
Statement Mirrors
If you want an inexpensive and stylish way to decorate a blank wall in your living room or dining room without using any artwork, consider the unique look of a sculptural mirror. Reflecting light from a mirror provides a great deal of light to the room, but they also create the impression of a big space in a small room. Make a statement with a mirror that has a fun shape with a bold design. It will feel more like a sculpture on the wall, and it'll look great too! Another way to decorate big blank walls is to hang an oversized mirror, which is a great way to layer styles and create layered looks.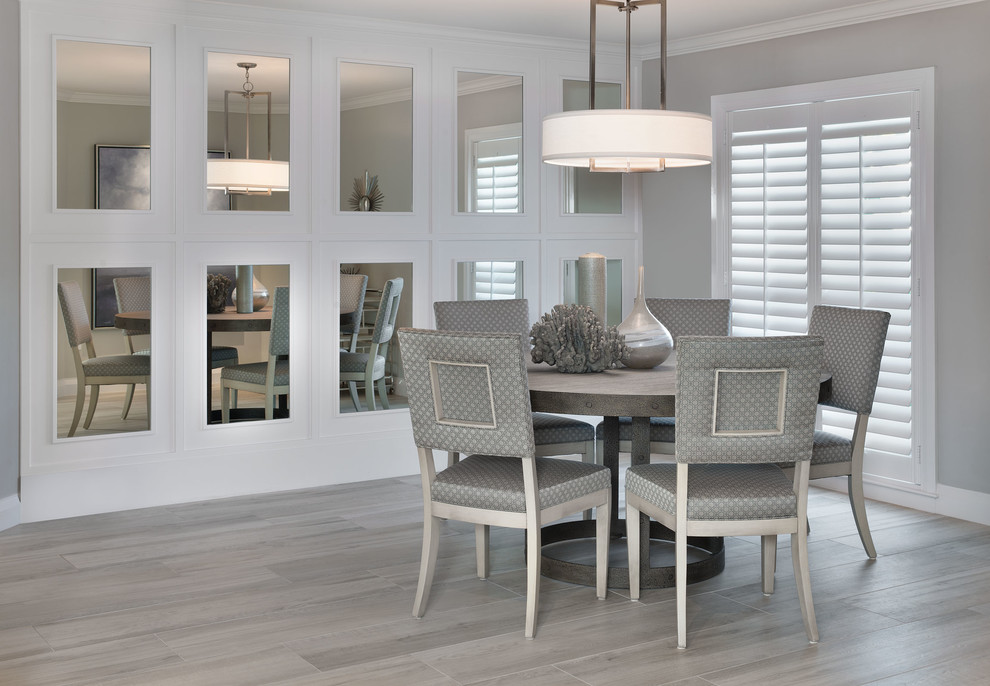 Gallery Wall
In order to avoid spending a lot of money on artwork, you can use a gallery wall to create a wall of art that can serve as a larger work at a fraction of the cost. A few ways and a lot of options can make these totally yours. It is possible to choose artwork or prints with a similar theme and frame.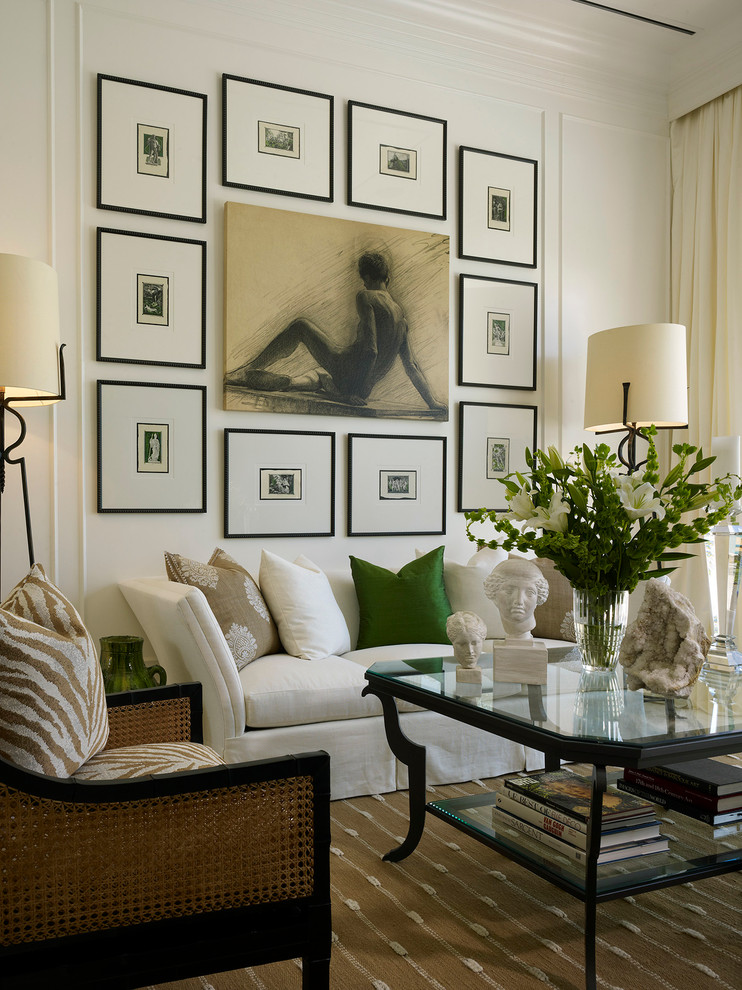 Photo by Diamond Custom Homes, Inc.
Graffiti Wall
You might want to use that blank wall to showcase your artistic skills if you really want to make a statement. It is also possible to hire someone to paint or sketch a design on the wall of your choice. It's possible to get graffiti mural wallpaper as another option.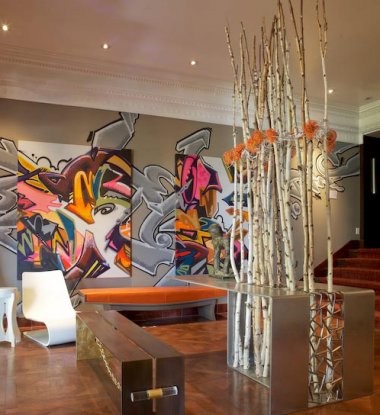 Bookcase System
There are times when art and other hanging decor is just not enough to fill entire wall lengths in a This may be the case for you, so when you consider a bookcase, whether it's a series of floor-to-ceiling built-ins or tall bookshelves, make sure they coordinate. The look of your favorite books and objects will become a point of interest in your home when displayed into cool vignettes. Living room decor ideas can't get much better than this one, which combines style and function perfectly.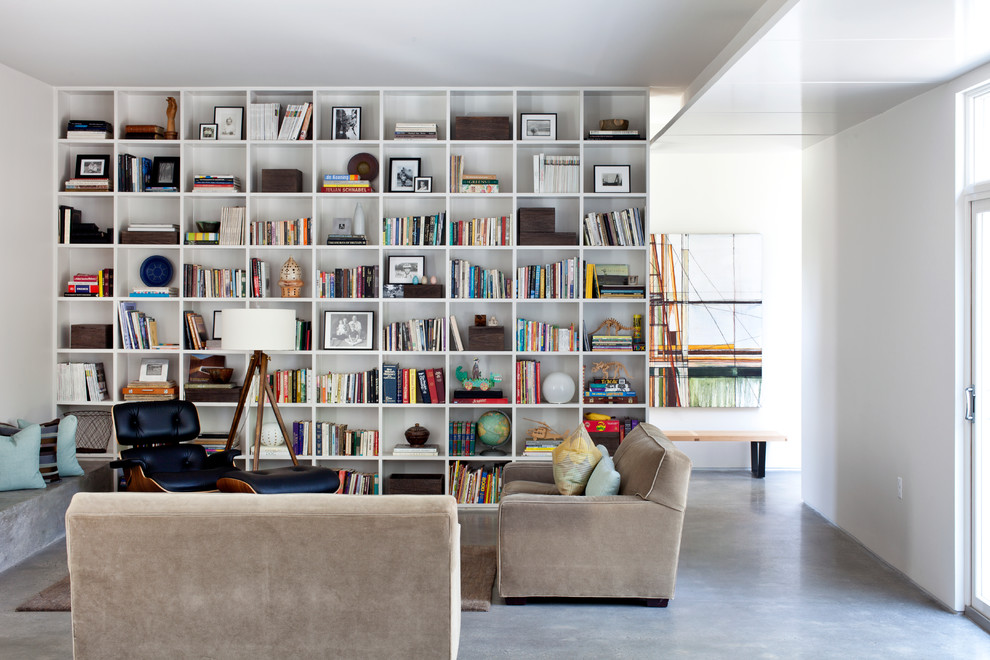 Photo by Herron Horton Architects, Inc.
Showcase A Fabric
It is a very effective and fast way to cover a large expanse on your wall by hanging a beautiful blanket, quilt, or tapestry. Tapestries and wall hangings can add color and texture to a neutral space, in addition to creating a sense of softness. If you have vintage scarves or other pretty textiles, you may want to frame them. As a bonus, you can take these with you when it's time to move to a new place, unlike framed paintings.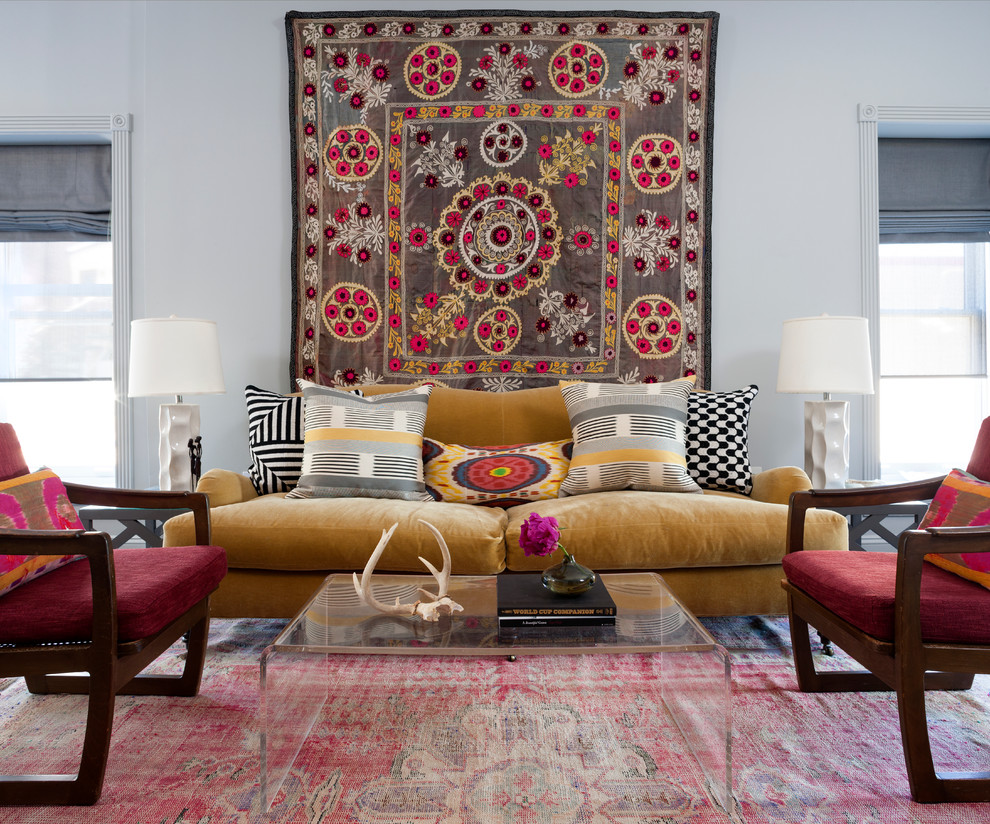 Photo by Breeze Giannasio Interiors
Removable Wallpaper
Surely you don't need to hang anything? Using some awesome removable wallpaper, you can use the entire wall as a feature! It is mindblowing as to the sheer number of beautiful patterns you can obtain today. All you need to do is measure your wall, order your rolls, and hang them up!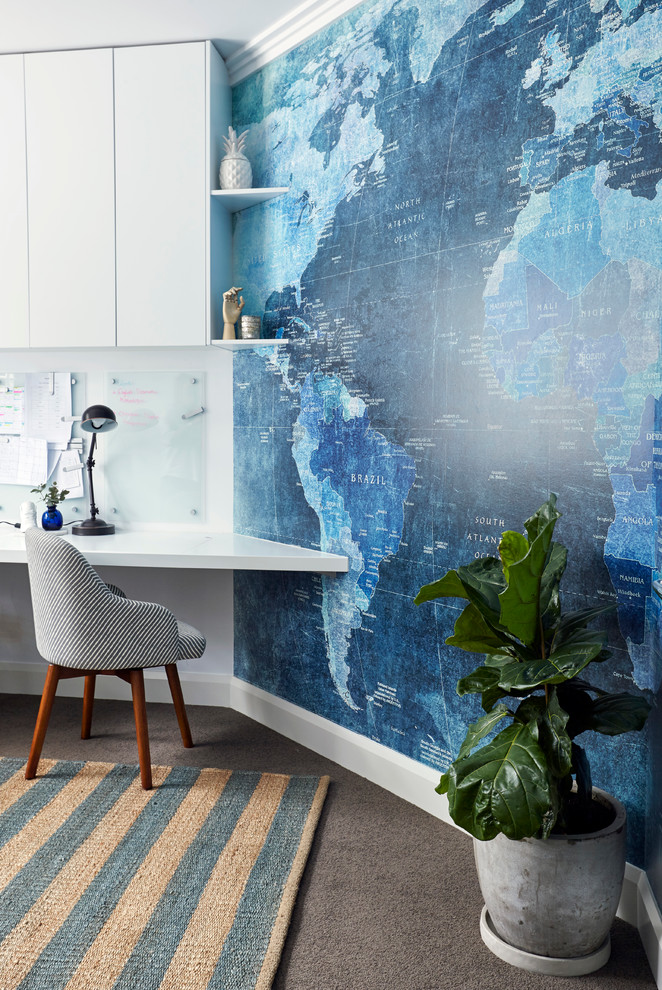 Go Greener
Window boxes don't have to be the only place to keep plants. Planters mounted on the wall or hanging from the ceiling can add a bit of greenery and nature to your space. In case you don't like water that much, you can opt for a high-quality artificial plant (and no one will know the difference). It is also possible to add interest to a wall area with a tall potted plant since it is one of the easiest ways to do so. You can also place your favorite type of greenery right next to a piece of large-scale wall art for added value.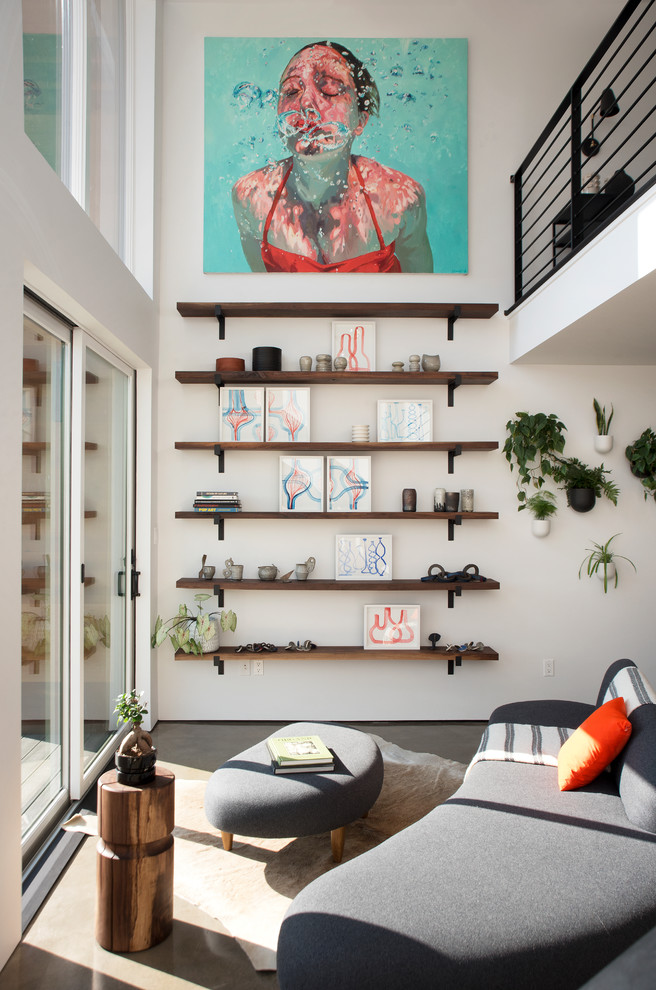 Floating Shelves
We like to create artful displays on floating shelves as one of our favorite ideas for blank walls. To create visual interest and to showcase your personal style, instead of hanging wall art, learn a few large art prints and mix in small objects and tiny plants on the shelves. Avoid stuffing your shelves so that they look cluttered.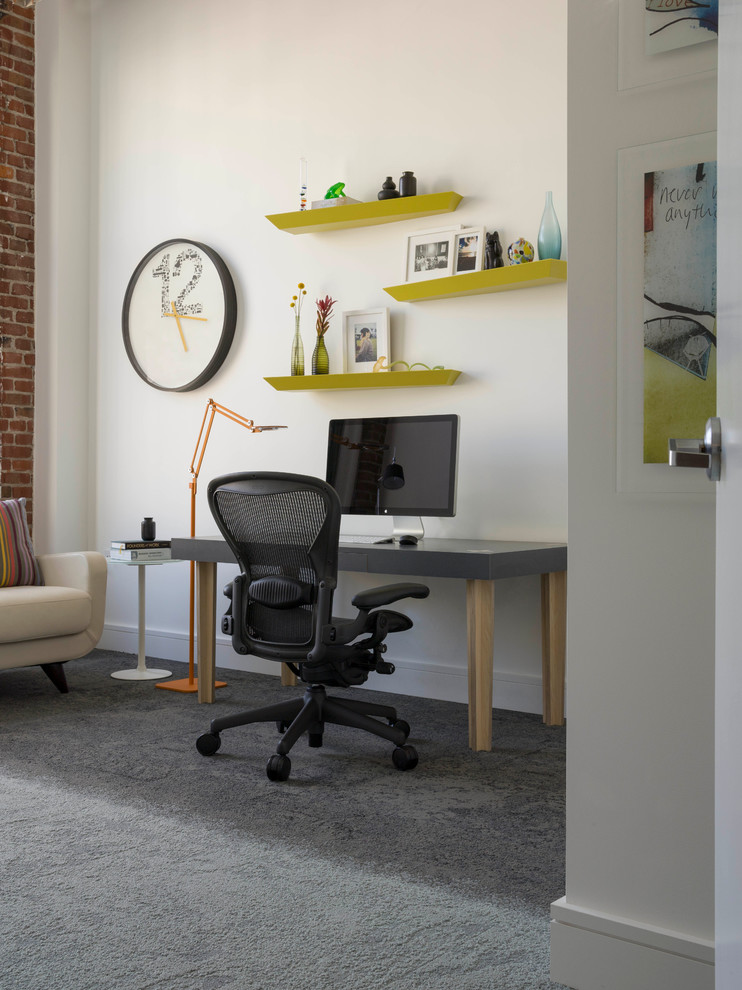 Photo by Jennifer Gustafson Interior Design
Printed Photos
It's not wrong to display your favorite photos in frames or on the refrigerator, but you can add the perfect amount of personal flair to your interior by displaying them in an interesting way. You can use this in your dining room as a design inspiration to arrange a collection of photos in a Pinterest-friendly manner. With just a little work, you can implement this project into an ampersand or spell out your initials.