Whether you enjoy meals with just your family or you frequently host dinners for friends, your dining room is the central place for everyone to relax. It's the place where you make memories, take photos, and of course, enjoy your food! If you want to make sure that this space offers a chic sense of style while lighting up your event, consider the different chandelier options that are available.
After taking a look at the existing decor, the size of your space, and the number of lumens and watts you need to set the mood, explore these different chandelier options that could be right for you.
Shabby Chic
For dining rooms that are a little more casual, shabby chic chandeliers could be the perfect choice. This style of chandelier is relaxed enough to fit in with the space, but it's also elegant enough to feel appropriate for more special occasions. The shabby chic style includes found and refurbished items, like Edwardian-era lighting style with modern bulbs and a unique paint job.
Because this type of chandelier has multiple bulbs, they can get very bright. Install a dimmer switch that will ensure smaller parties feel more intimate.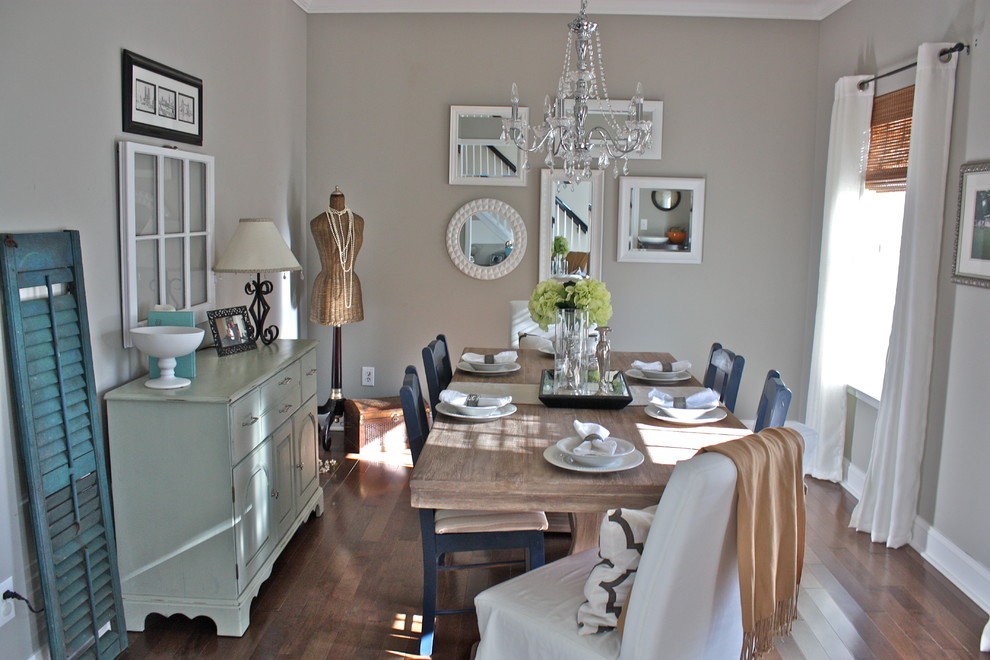 Minimalist Branch
A sleek branch-style chandelier is the ideal choice for any home that has minimalist vibes. If your decor is full of Scandinavian or mid-century modern decor, this type of chandelier will fit in and create a focal point for your dining room. Whether you opt for two, three, or five arms, you can find designs in a number of metallic finishes that come with a chandelier cord kit to guarantee that the cord color and ceiling mount match the branched design.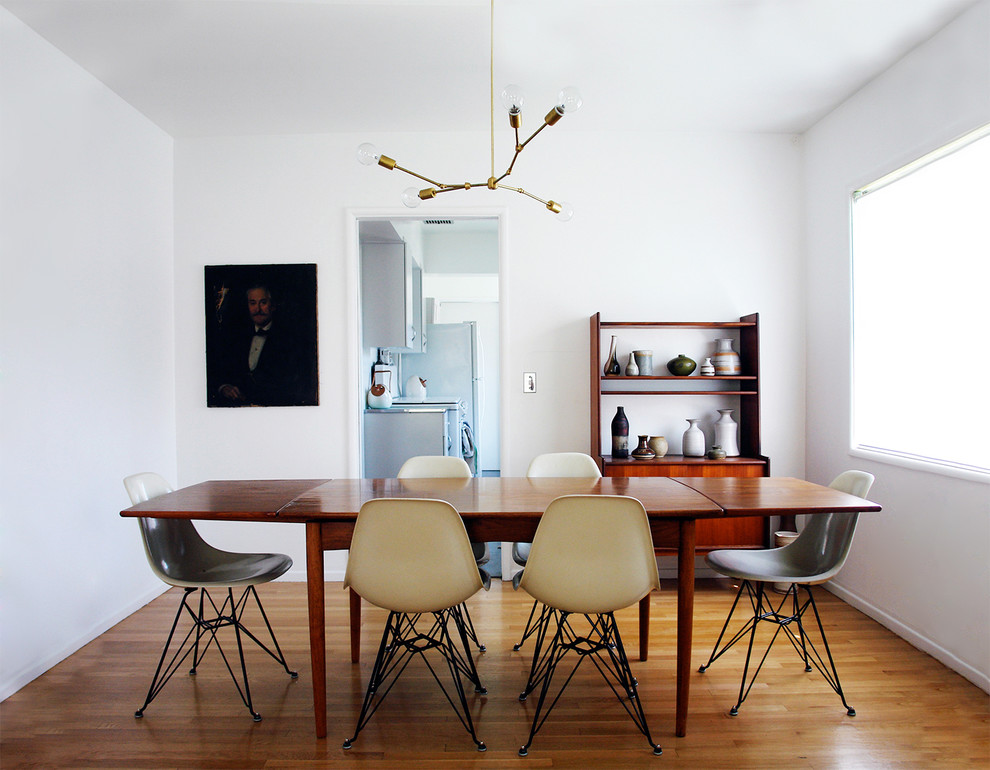 Industrial
Just because you have an industrial aesthetic, doesn't mean you can't create luxury interior design. When simplicity and a rugged aesthetic are what you crave, create an industrial look with an angular stainless steel chandelier. Instead of branches or candelabras, opt for a geometric design with bright light bulbs placed in its angles.
If you don't have a flush ceiling mount or do not want to hardwire your fixtures, you can always use matching stainless steel hooks to create an unusual design with the cord as it snakes over the ceiling and down the walls to a plug.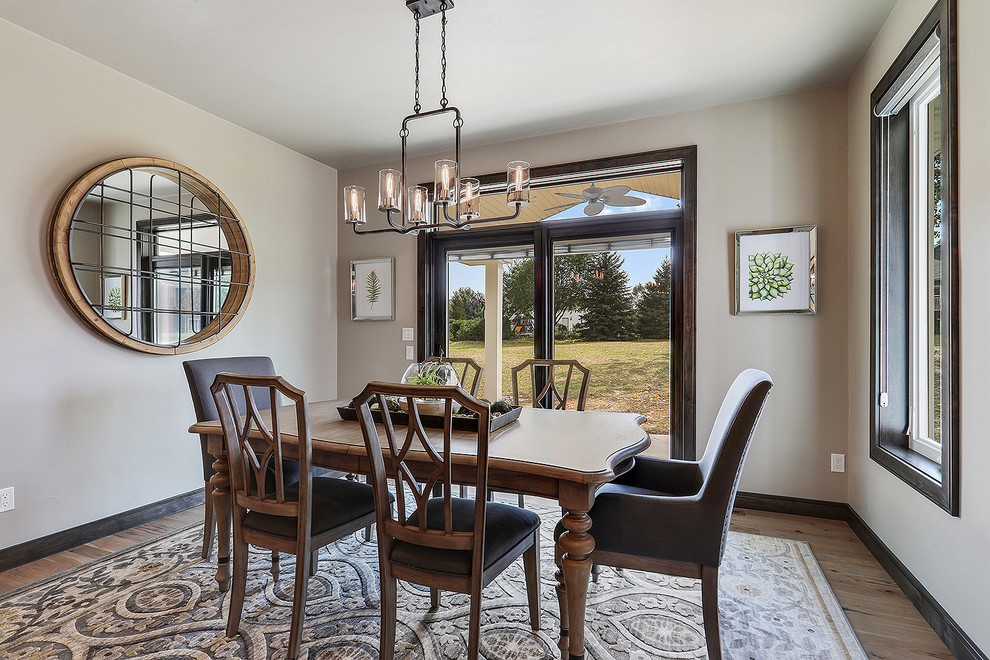 Photo by Alair Homes Green Bay
Vintage Warehouse Look
The vintage warehouse look is all about bright retro colors and rounded shapes. Choose accent colors that match your cabinets or dining room chairs when you select oversized red, blue, or turquoise shades to cover single bulbs. You can DIY the shades onto rewired bulbs and hang them from the ceiling with some silver chain. When you choose to go this route, you're giving your dining room a functional makeover and peppering your personality throughout the space.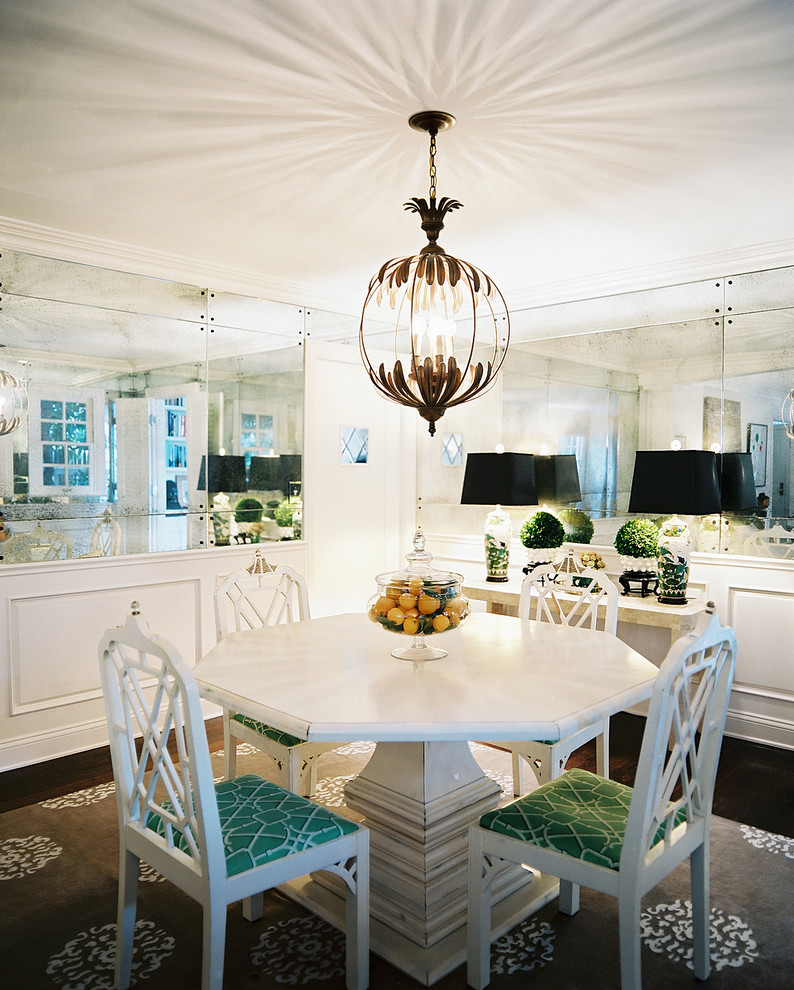 Photo by Hillary Thomas Designs
Avant-Garde
Your home might be full of unique odds and ends that all somehow still work together. You're constantly experimenting with new and unusual ideas to make the space your own. Well, it's time you did the same with your chandelier and switched up your lighting. Instead of a more traditional chandelier, consider a one-of-a-kind chandelier composed of an LED tube installed into a nautical rope that you can weave and position into any waving shape over your dining table.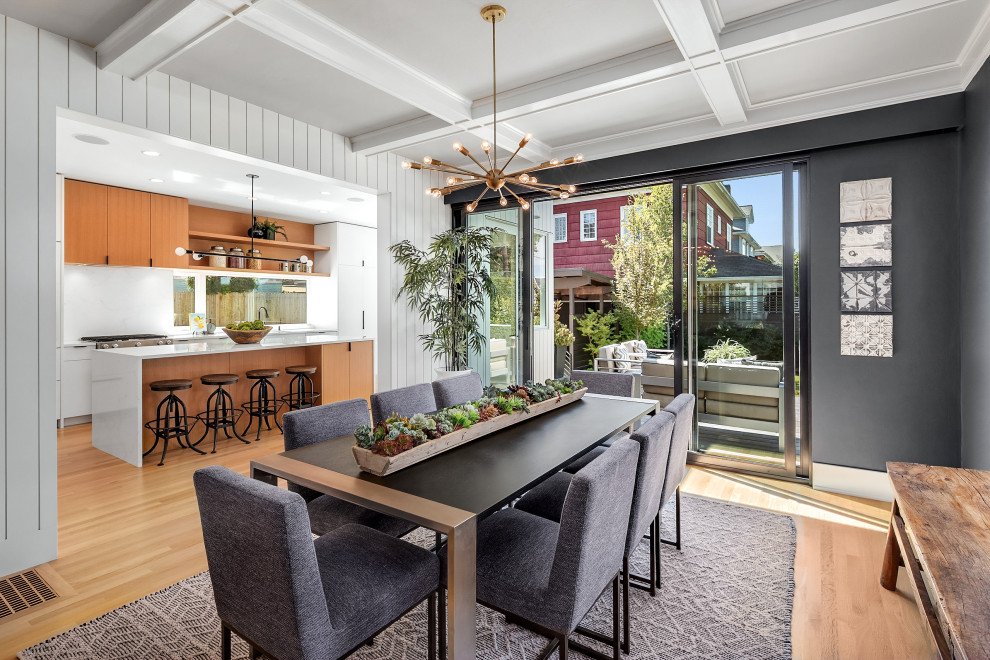 Mid-Century Modern
Mid-century modern lighting trends are one of the most stable choices for your dining room decor. They're unique, but still general enough to blend with nearly any style. A mid-century modern chandelier can work with rustic, retro, industrial, and even minimalist decor. These style chandeliers usually have multiple branches and they tend to be angular in design — lots of straight lines and geometric shapes. You'll find that brass or polished copper are most common, but there are plenty of raw metal options that can be refinished with colorful paint.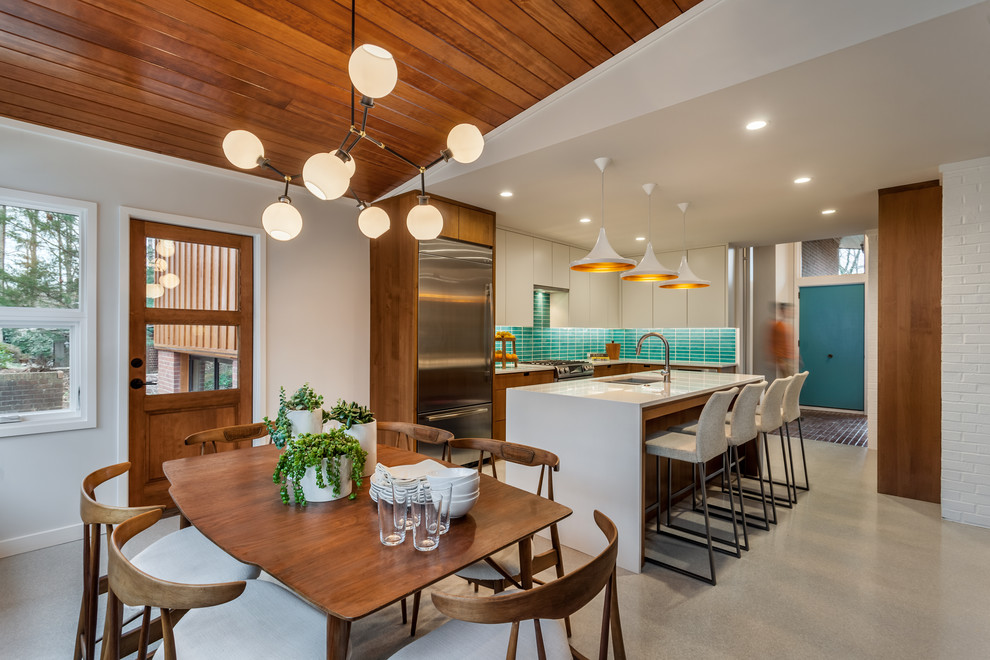 Photo by Tindall Architecture Workshop
Rustic Styles
Rustic decor presents so many opportunities for your dining room chandelier. From wood beads to antlers, you can do nearly anything! Opt for a "cottagecore" aesthetic to amp up the charm, or a hunting lodge style to play with natural elements. You can incorporate wood, bone, and so much more into your lighting design.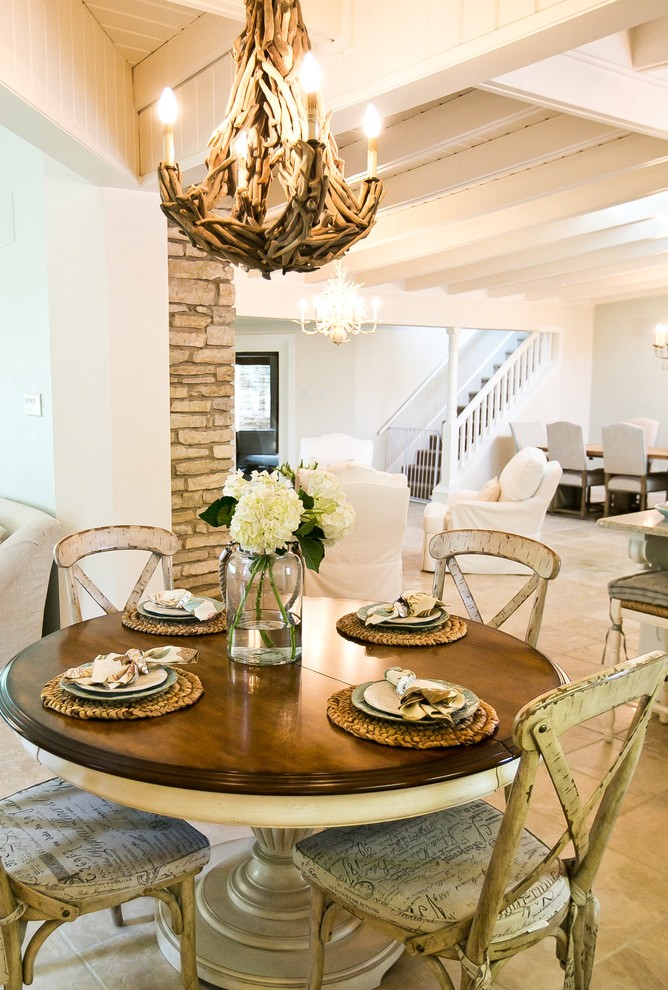 Photo by Robin Gonzales Interiors
Glass
Glass always exudes a modern, sophisticated energy — no matter how it's used. Whether you integrate glass globe shades onto a metal candelabra chandelier or you trap your Edison bulbs inside of a geometric glass cage, you're diffusing the light in your space through an additional element and creating a softer glow that's usually associated with candlelight. Don't forget to decide whether you want completely clear glass for more light or frosted glass for even more light diffusion.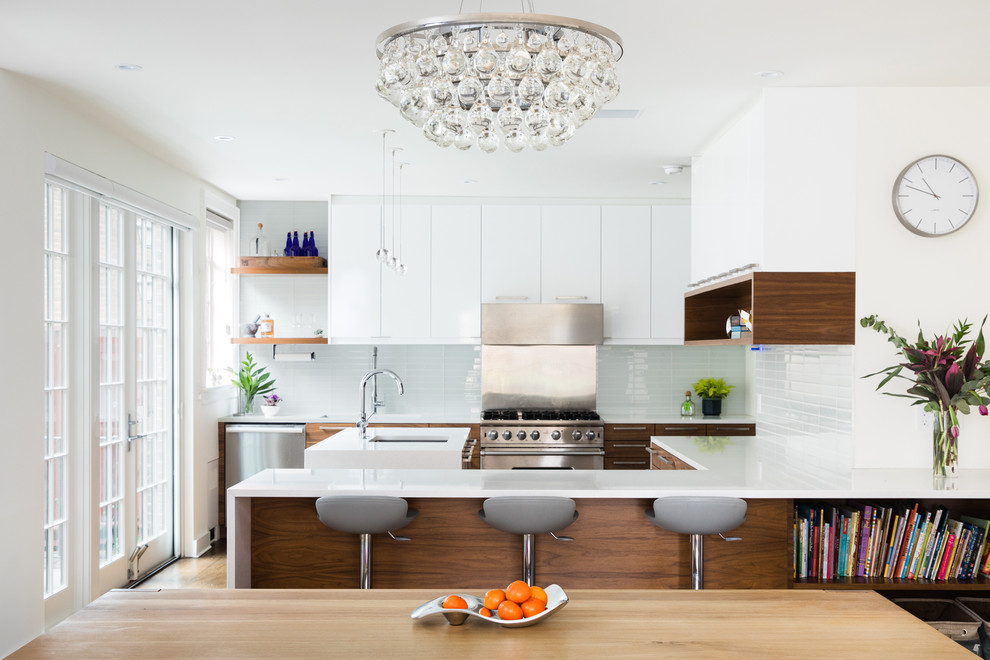 Photo by Sonya Lee Architect llc
Start Experimenting
Depending on where you want to take your interior decor, you have a lot of lighting options for your dining room. It may take a bit of experimentation to find exactly what you like, but playing around with PhotoShop or image manipulation can help you see what your chandelier will look like in the existing space. Swap several styles in and out to decide what you like best.