We all like to be comfortable in our home, whether we live in a big house or a small apartment. Coziness can make us feel relaxed, warm, and comfortable and we all deserve a home that would be a place where we can escape from the work, crowd, and stress. You can decorate your bedroom the way it would make you sleep and rest well and be always ready for everyday challenges. Or, you can add some furniture to your living room and make it homey for you or your family. Let's give some ideas on home decoration that could be helpful.
Invest in a good bed for your bedroom
Just like the title says, a good bed can give you a restful night of good sleep and can provide you with positive energy. A lavish, comfortable bed with big and soft pillows is perfect for anyone, whether you live with your partner or alone. Your bedroom can be completely minimalistic, with just one double-size bed, closet, and a small bedside table. Of course, some decoration is allowed, like some nice curtains, carpet or a lamp to give you a discrete light while reading at evenings for example. Some bedroom ideas can help you decide what is best for you. Just keep it bright, simple, and some life into it by adding a couple of framed pictures of you with your loved ones.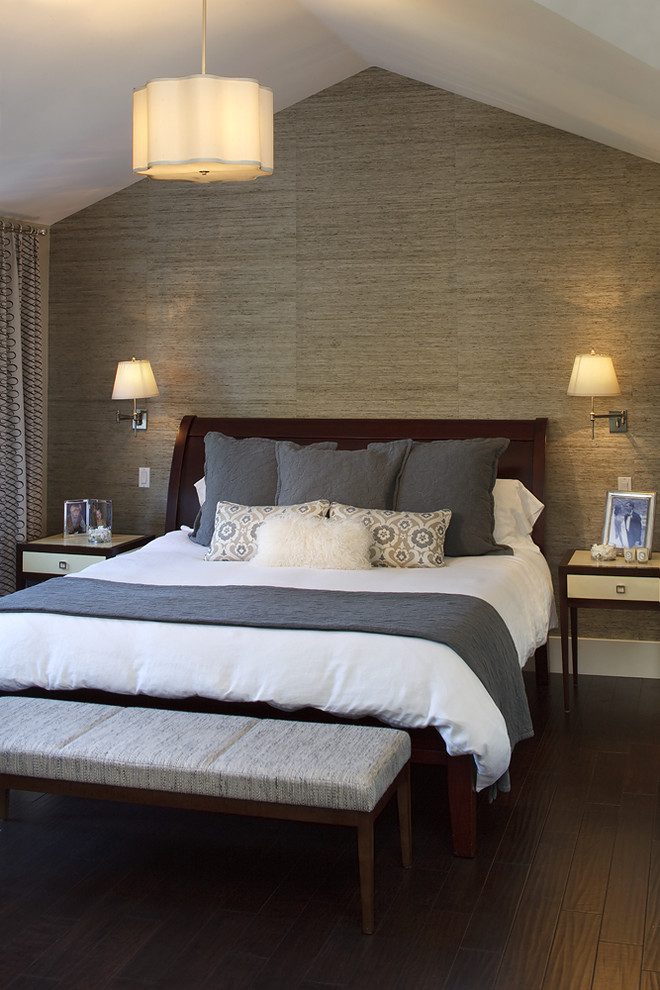 Cozy sofas for your living room
You can decorate a basic living room and make it look very warm and home-like, especially for the winter season. First, think about the colors that would dominate your space. Choose those that make you feel comfortable. People usually choose beige or pastels, but some darker or more bold shades can do well too if they are combined well with the furniture and decorations. A big sofa is a perfect piece of furniture to be a central part of your living room. People usually like to sprawl while reading or watching TV there. Pillows and blankets can be added both for being decorative and practical since you can use them on cold days. You can have a small fireplace in front of your sofa, where the whole family can gather and enjoy. A bookshelf with some decorative plants and rustic vases can be a final touch to this corner of your home.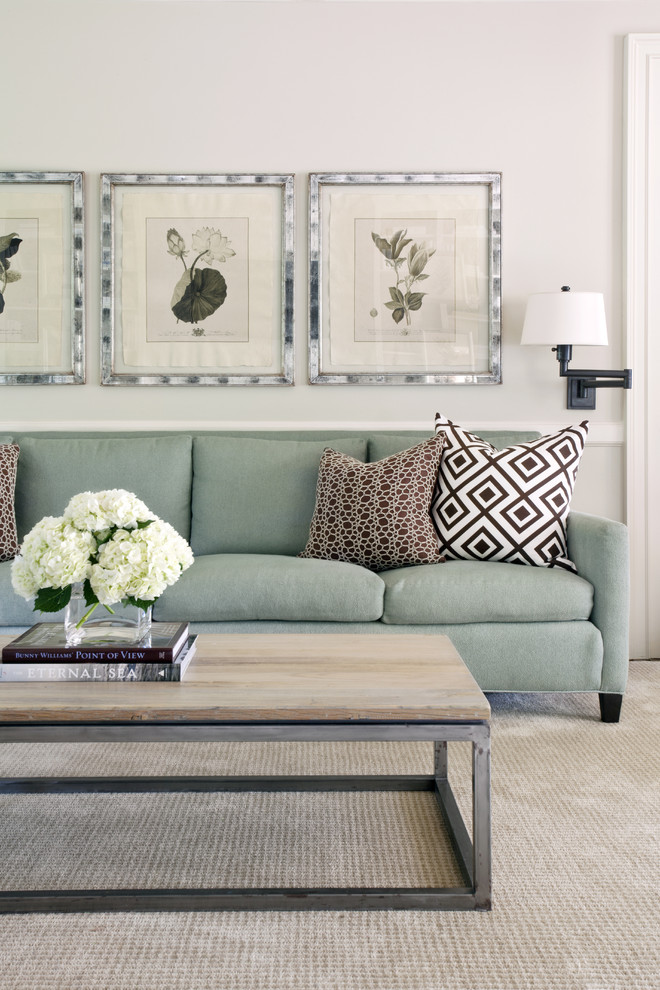 Photo by Tobi Fairley Interior Design
Lazy bags for more comfort
If you are a relaxed person who enjoys family or friends gatherings, then you will need some extra chairs in your home. Everybody likes lazy bags so why not have several of them around your sofa and use them instead of regular chairs. They are very popular so nowadays you can even choose between different colors, designs, and materials. For example, beanbags offer chairs of different materials and sizes. Some of them can be used outdoors or for the pool. There are some specially designed for kids and also a small collection for your pets. Everybody can find something for themselves.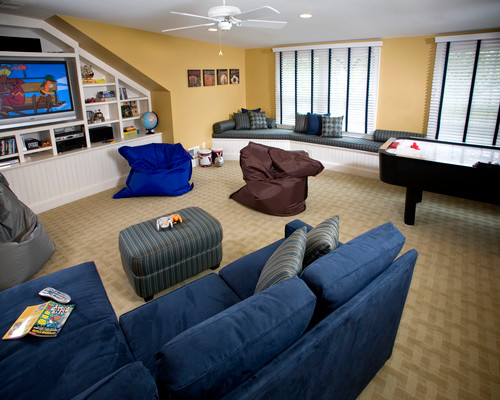 Photo by JRML Associates, Inc.
A personal kitchen bar
There are some ideas, not every person considers since they seem expensive or not very practical. However, to add some creativity to this article, let's consider the idea of recycling your old cabinet and making a home bar. It can be done in some corner of your kitchen where it is the most appropriate. If you already have a counter in your kitchen, then all you need is an old closet that can be painted or polished if needed. You can place it below the counter and fill it with drinks and unique bottles or glasses. It can be practical and decorative at the same time, and the best thing is that it's not very expensive since you're recycling. A couple of bar stools and one wall in bold green or dark blue color can make the ambiance dim just like in some old rustic bars. Of course, you can look for different ideas to match your taste.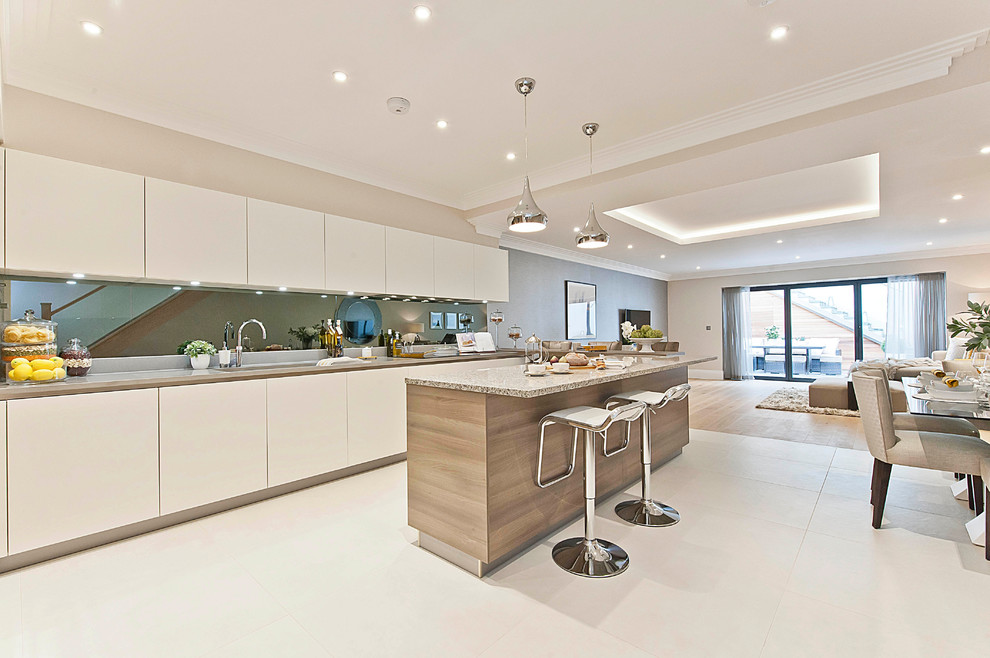 Decorating a home can be very enjoyable. One should have an idea of things they want to have in their home since a complete decoration can be somewhat expensive. Stick to the basics and invest in stuff that would pay off. Make your space light and comfortable and focus on those parts of your home where you spend most of your time. Whether it is going to be a big bed or a nice sofa, make sure it is something that makes you enjoy it. Bring on some details though, to make your home unique and welcoming for others as well, like some comfy lazy bags or similar pieces of furniture. Express your creativity and try to use something that would otherwise go to waste like an old closet or some old vase. This way in your home will always be something new and unique for an affordable price.