The dining room is one of the most important spaces in your home. Whether you want to enjoy mealtime with your family or celebrate a special occasion with your friends, the dining room is the place for it. Often, it's the only area in a home where the entire family gets together after a tiring day.
Yet, when it comes to decorating your house, the dining area is often neglected. You can always throw in a regal dining table and matching chair and call it a day. But considering that it's a space where you want to spend time and bond with your loved ones, you need to make it cozy and inviting.
The idea is to design a dining room that makes everyone feel relaxed and at home. It's also a great place to showcase your taste in art and fashion. And the good news is that decorating your dining area doesn't have to cost a bomb.
In this blog, we've outlined a few simple home decor tips to turn your dining room into a sanctuary of comfort and warmth. Let's take a look.
1. Focus on the Furniture
The first step is to choose the right furniture for your dining room. From dining tables and chairs to hutch cabinets and couches – there's a wide array of furniture you can use in the dining room. But it's essential to keep in mind that you shouldn't clutter the space with too many statement pieces.
While you might feel tempted to choose a showstopping dining table, it'll leave little room for changing the decor in the future. Instead, it's always a good idea to choose a neutral table made using natural materials, such as wood or glass.
This will give you ample scope to experiment with the decor whenever you want without feeling the compulsion to replace the furniture. If you're looking for sturdy and durable furniture for your dining room, you could browse the entire collection at Only Oak Furniture (https://www.onlyoakfurniture.co.uk/) for some inspiration.
When it comes to dining chairs, you've got more of a leeway. Spice up the decor with mismatched chairs or add a couch along the longer side of the table. Play with different colors and textures on the upholstery to give some character to the dining area.
It's just as essential to make room for storage in the dining space. A wall-mounted bar cabinet or simple hutch cabinet might be just what you need to flaunt your stellar crockery collection.
2. Add Comfort with Color
As a ground rule, you should choose warm hues, such as yellow and orange, for the walls to make the dining room more welcoming. If your dining area isn't too big, you could also use neutral shades, such as beige and white, to create an illusion of space.
Make sure the colors complement the furniture and overall decor of your home. If you're tired of staring at blank walls, you could even consider creating a feature wall with some statement wallpaper or simple textures. Or you could simply paint stripes on one of the walls to break the monotony.
3. Experiment with Wall Art
While you don't have to dress up every wall, it's a good idea to hang a statement painting or wall accent on the dominant wall of your dining room. It can be just the conversation starter you need for all those dinner parties with your friends. Also, it's a great way to showcase your personal style with aplomb.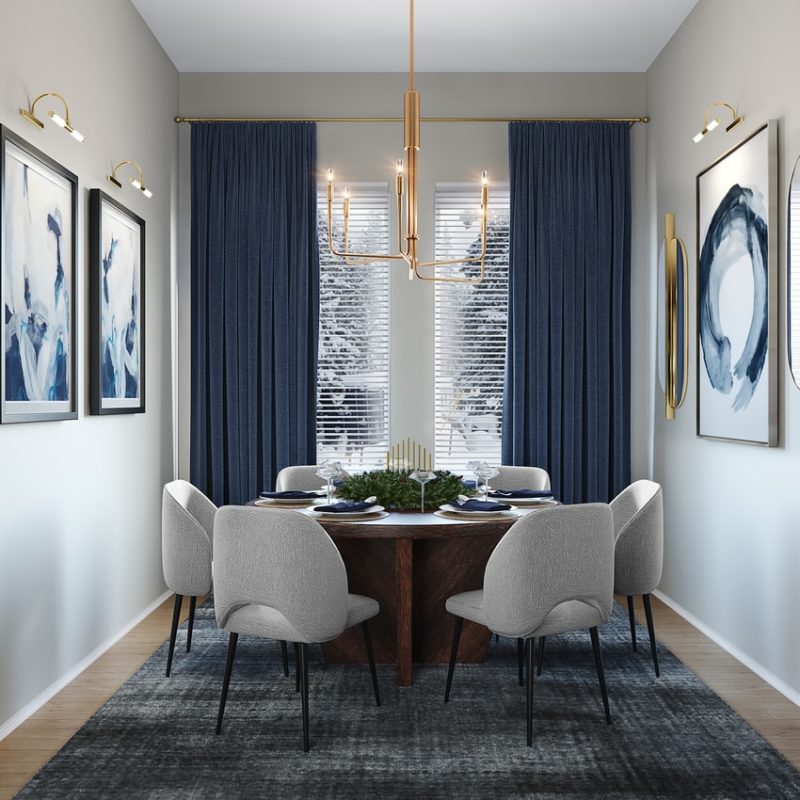 It's also a good idea to mount a few frame pictures of your family on the wall. It can go a long way to make the space homely and help you reminisce fond memories with your family members. It's particularly useful if your family keeps busy and only manages to get together for one meal of the day.
4. Breathe Life into the Decor
Break the monotony of wooden furniture and accessories with a few indoor plants. A splash of green is always a treat for the eyes and even offers a plethora of therapeutic benefits for your mind. Make sure you choose the right plants that can survive in your area's climate.
Moreover, unless your dining room receives plenty of sunlight, make sure you choose plants that can survive in low-light conditions. If maintaining indoor plants seems like too much of a hassle, consider keeping a statement vase with fresh flowers on your dining table. Make sure you regularly replace the flowers.
What interior design trends and tips have you followed to decorate your dining room? Share your recommendations in the comments section below.