If you have an espresso Machine and ask where you want to put it in your kitchen, this essay will be good for you. If you are an espresso lover, then you are definitely a fan of designing a special coffee corner in your home! This trend has increased recently in many homes. Where a corner is allocated in the kitchen or in the living room to arrange various coffee necessities, such as an espresso Machine, coffee jars, a number of cups and cups, in addition to the various flavors of coffee. Some add to the department a variety of other hot drinks, and perhaps some sweets at the time of the get-together.
Where Should You Put Your Espresso Machine in Your Kitchen?
In fact, you do not need to be an expert or specialist to design the decor of the coffee corner in your home, you can create a wonderful corner with simple touches. Just settle on the appropriate space and buy a suitable unit to carry coffee supplies as well as some distinctive wall panels for coffee lovers, and you can also use some wooden shelves to hang cups and cups and choose distinctive packages to fill them with sugar and flavors. And you can continue reading with us to learn more inspiring coffee corner decor ideas.

Do you have a large space in your home that you want to use? So, there is nothing better than making a coffee corner in it. In fact, owners of large areas are lucky in this case. You can simply bring a suitable size kitchen cabinet and place it in the corner you want, or even a rectangular table. You will also have a great opportunity to put as many cups as you want, an espresso Machine and the rest of the tools. Vintage-style coffee corner.
In fact, many of us still have a great love for everything that is inspired by vintage styles, or as we call it Vintage. It makes us feel like we're going back in time, or that we're sitting in our grandparents' homes. So, if you want to implement this style, you only need to look for a cabinet in an antique style, or you can implement it at any carpenter. And use colors that convey a measure of nostalgia, such as light blue, for example. Bohemian style coffee corner undefined.
How to design a coffee corner at home with ease
Personally, I am a fan of the bohemian style, especially if it includes many colors. So, if you are a fan of it like me, all you have to do is prepare a suitable table in a small size, for coffee purposes. And you can decorate this corner with some plants, pictures and wall frames.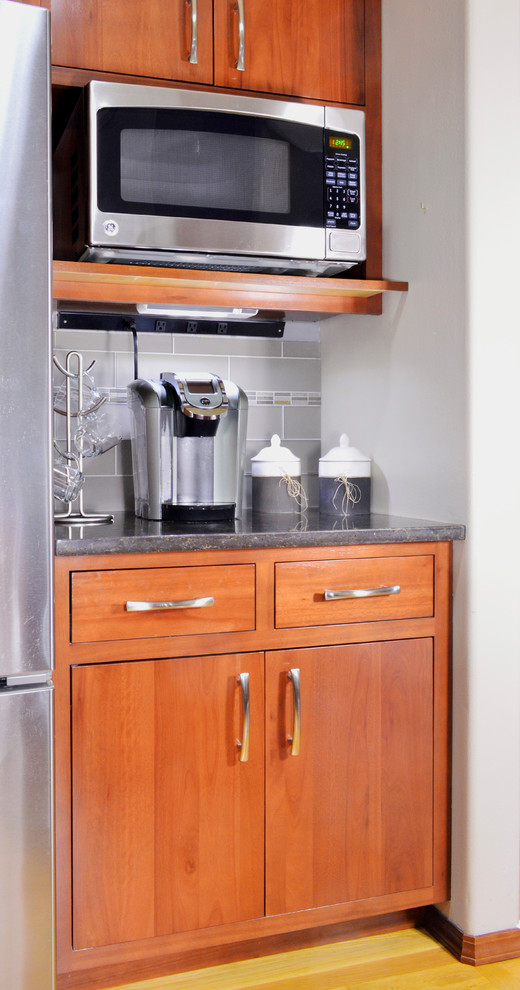 If you are a coffee lover, you know very well how to design a coffee corner at home with ease so that you wake up and make a cup of coffee, and even take a coffee break in the middle of the day. If your life depends on having more than one cup of coffee a day, why not prepare a coffee corner at home. Here is a collection of incredibly creative and wonderful home décor ideas that coffee lovers can draw inspiration from.
The coffee corner at home can help you achieve a welcome for guests or simply make a cup of coffee every morning, it makes you feel like there is a small cafe in your home, many ways can be used to prepare the coffee corner in different places in the house to wake up and enjoy a cup of coffee. You simply need a set of items such as coffee cups, an espresso Machine, preferably an automatic mechanism, and the design options are limitless until you design the coffee corner that is suitable for your needs in terms of space and design.
Coffee cart in the coffee corner at home
One of the practical options when designing the coffee corner is the coffee cart. It is a mobile and rolling cart for easy access and use at all times. It is an ideal element, especially for small spaces.
Synthetic an espresso Machine
One of the easiest ways to help prepare a cup of coffee in a short time is the artificial espresso Machine and try to follow the steps of preparing the coffee.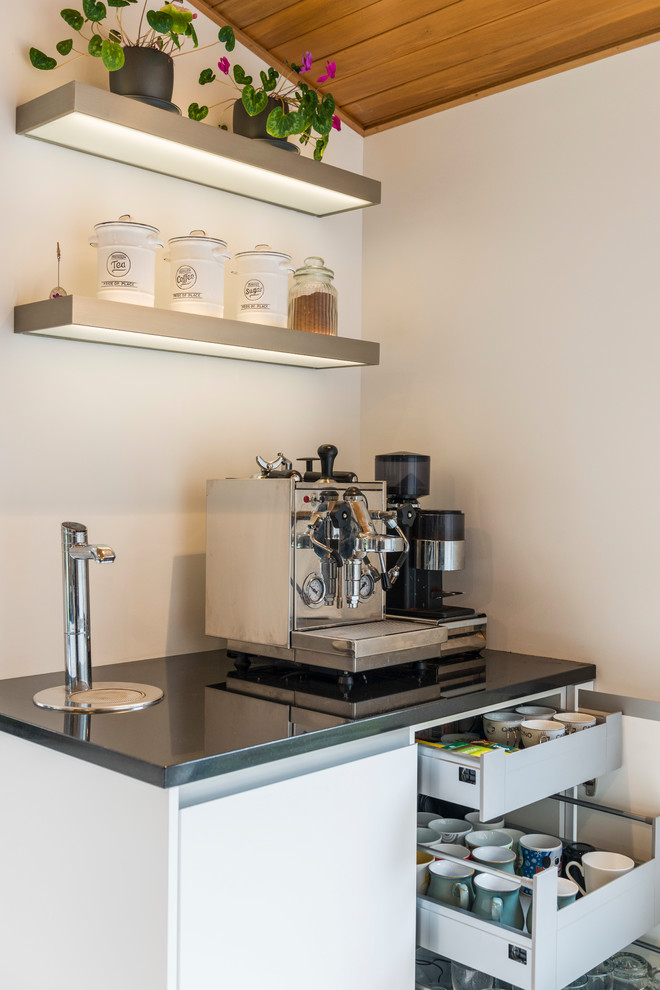 Photo by Palazzo Kitchens & Appliances
Colored shelves
If you have wood shelves, you can recycle them and use them to make colorful shelves to put coffee cups on them and store the necessary items with coffee. You can try to hang double shelves to get additional storage space.
Define a zone in your kitchen
If you have an unused area in the kitchen, you can use it and take advantage of it to get rid of the clutter that occurs in the kitchen. You will notice that the design is simple and makes your kitchen area better.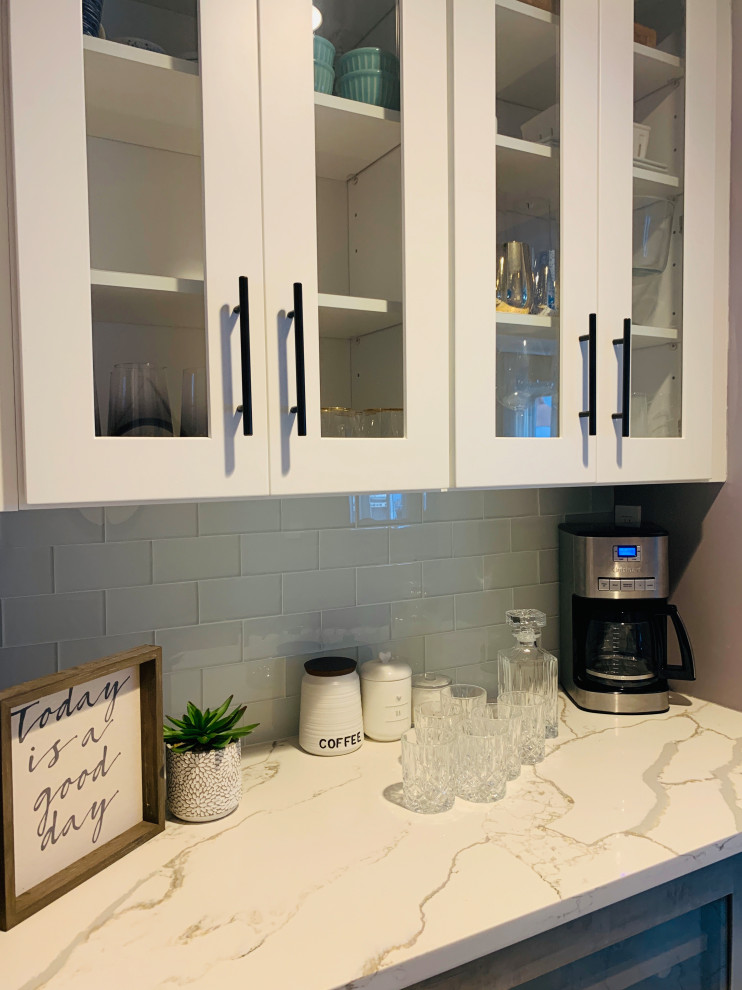 A rustic touch in the coffee corner
You can add a rustic touch in the coffee corner when preparing a cup of morning coffee to a whole new level. You can use wood shelves because it gives the effect of a rustic coffee corner.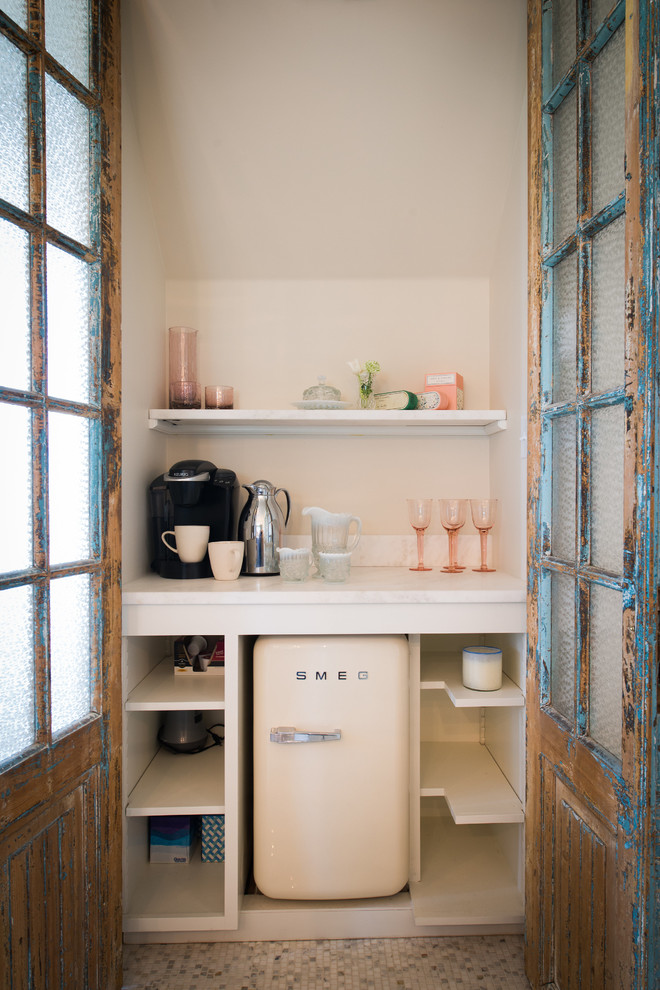 Photo by Tallulah & Bird LLC, Interior Design
The blackboard
You can put a large blackboard at the top of the coffee corner to write the number of cups of coffee you need daily and mark the place of the coffee corner at home.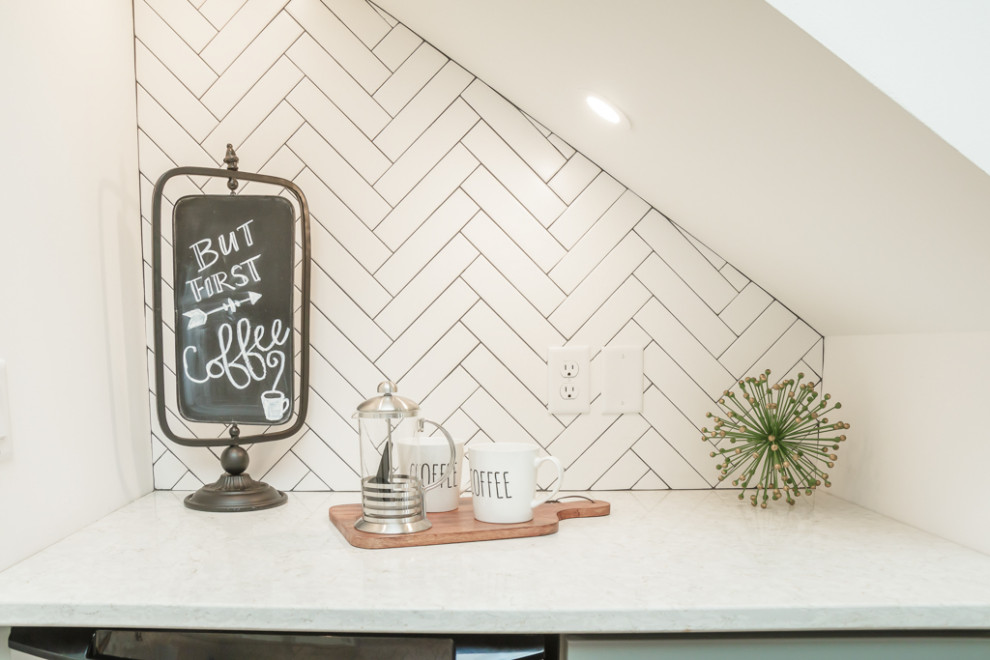 Decorate your kitchen
You can put the coffee corner in a corner inside the kitchen to define the work area. It is an aesthetic and practical space at the same time. It can be highlighted by placing the blackboard above on which you can write your favorite messages with white shelves.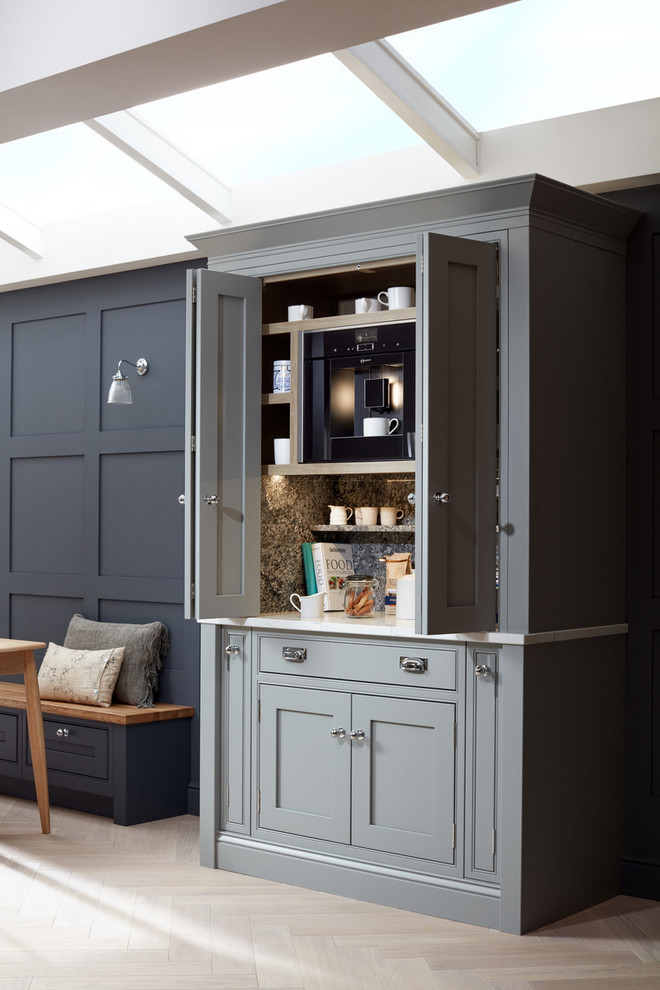 Beautiful anywhere
Simple and functional, the coffee shelves are a piece of furniture and provide a truly personalized corner for your favorite beverage. Put sugar bowls, sugar bowls, tea utensils and cake serving utensils to create an elegant and romantic atmosphere in the coffee corner.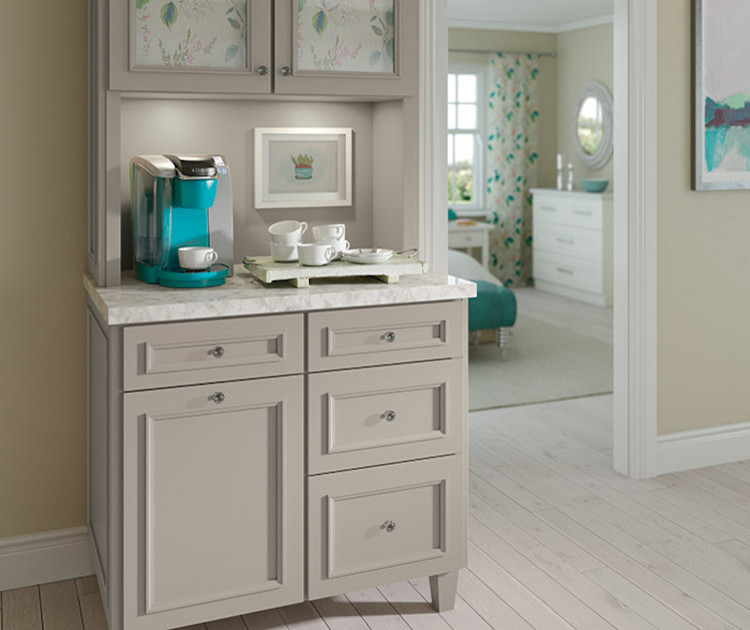 Photo by Maschka's Building Center, LLC
Wood recycling
You can recycle your existing wood panels and old furniture pieces to give them life. For example, renovate a sideboard and turn it into a coffee corner and to complete the look you can hang some old wooden pieces on the walls and put antiques on the shelves.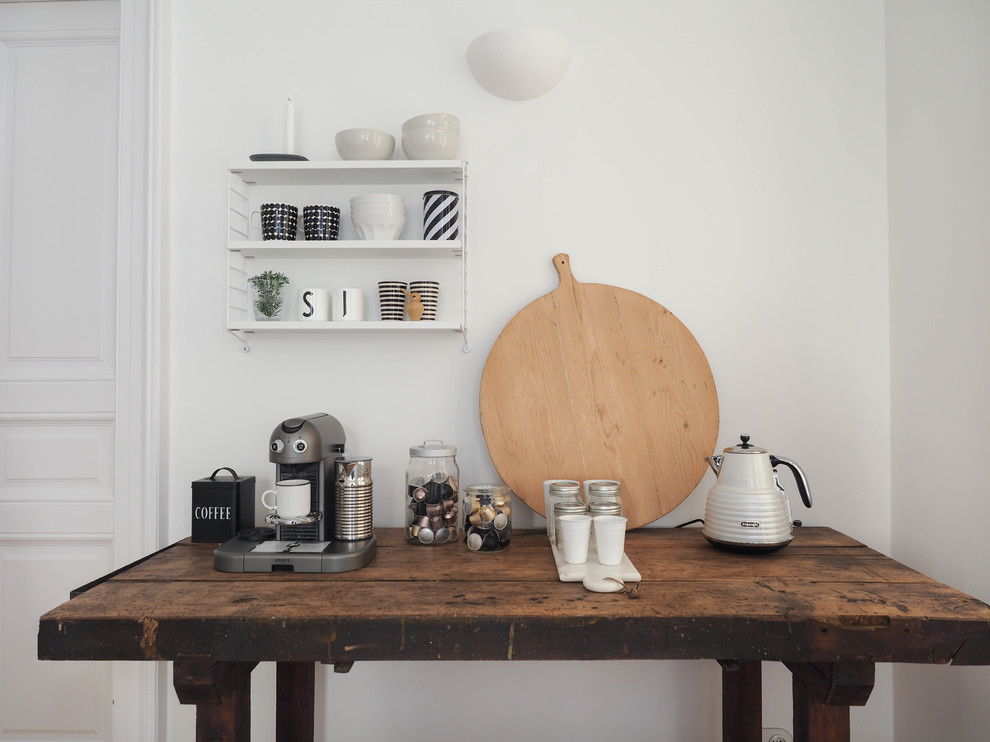 The ideal location for the coffee corner is the dining room:
The location of the thali coffee corner at home can be the dining room, especially if you want to have coffee after eating.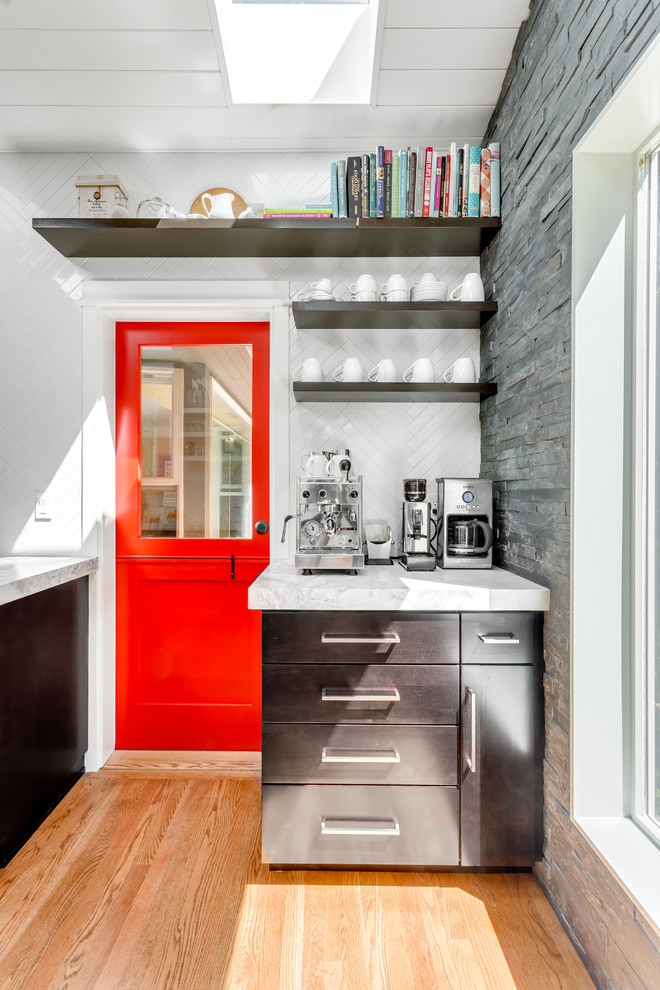 Preparing the place for hot drinks
You can place a drawer in the corner to put hot drinks above and it is always better to use old items such as a coffee grinder and an old alarm clock as a kind of accessory that gives an antique look to the coffee corner.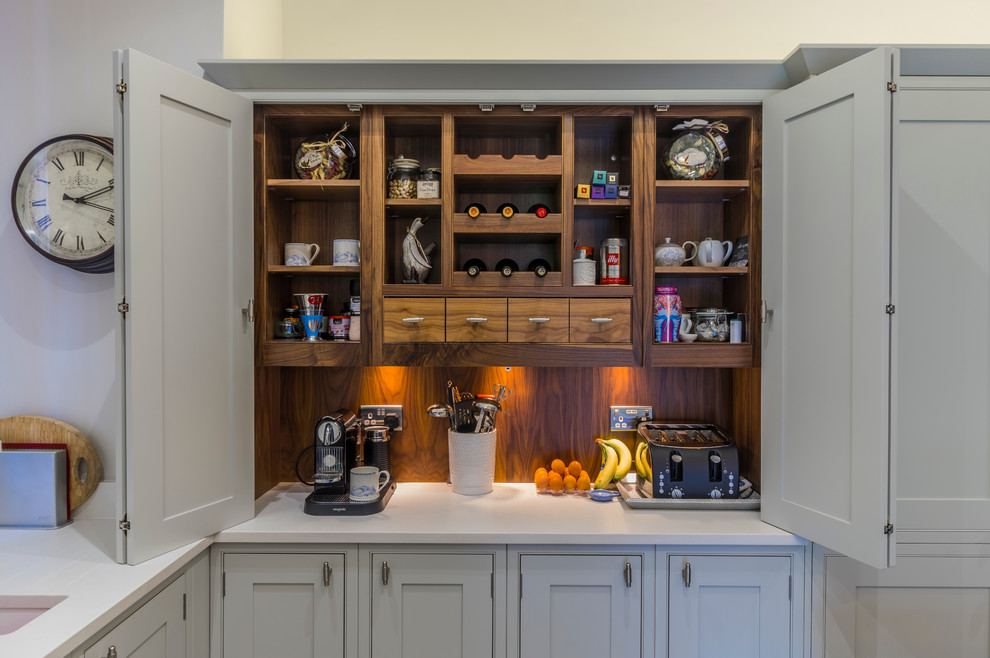 Show true colors
Why not use a simple cupboard to place a different beverage maker. You can put the closet in any room in the house.
Storage place
Do you have an old cupboard like a wardrobe, why not make it the focal point in the design of your coffee corner and store the pieces of Chinese dishes inside, especially those pieces that you use in preparing coffee cups, and don't forget to put shelves and simple air lamps to give a different decorative touch?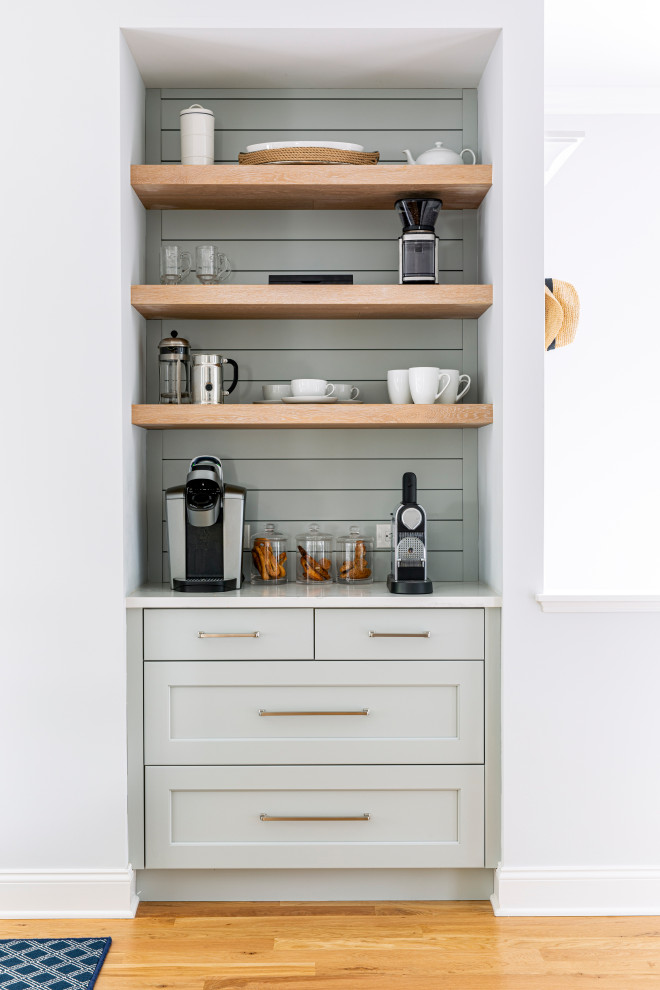 Follow the simplicity
When designing a coffee corner at home, it should be minimalist in order to be able to turn any corner of the house into a favorite coffee corner. For example, installing a beautiful piece of wood and placing espresso Machine, coffee cups, sugars and a beautiful frame to make it more beautiful.