Are you thinking of remodeling your kitchen? If yes, how much attention are you giving to the type of kitchen sink you will use? You may already have an idea of what you want. But, you are finding it hard to choose because of the many options.
There are so many colors, textures, and types that would look great in your kitchen. It helps to have some ideas or pointers when starting. This is what we will be sharing with you in our article.
Type of Material
The type of material for your kitchen sink should satisfy several factors. The sink must be durable, beautiful, and easy to clean.
The budget has a big role to play. But, it helps to look at it as a long-term investment. Spending a little more now could save you from having to replace the sink in the near future.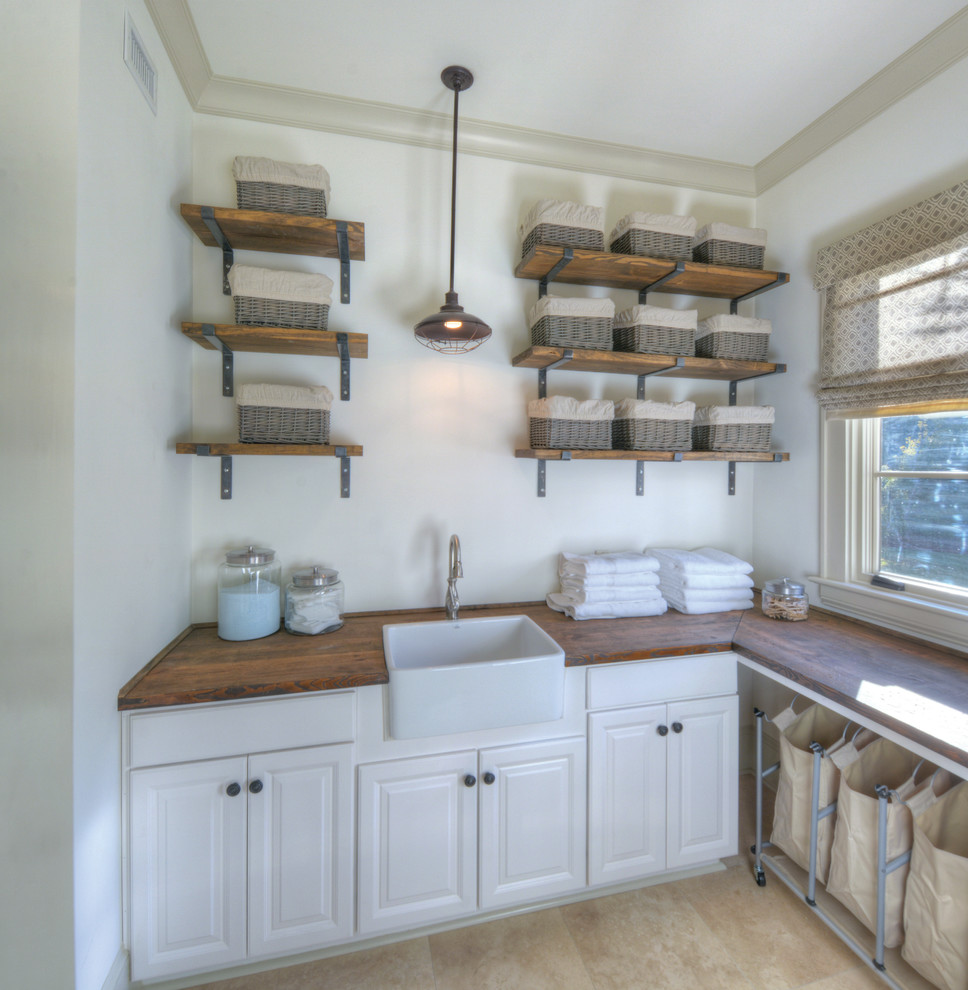 Photo by Georgia Coast Design & Construction
Do you have a leaning towards a particular material? Some people gravitate towards metallic surfaces. For them, stainless kitchen sinks would be the best option. Cleaning them is easy and the kitchen will look fantastic. But you have to be careful about scratching and water spot formation.
If you are looking for durability without compromising on style, fireclay sinks are worth exploring. The glazing technique ensures the final product is tough. The sinks will also not chip, stain, or crack.
There are tons of other options, including granite, porcelain, copper, and natural stone. You can also find materials that offer heat resistance. Such sinks can stand temperatures of up to 535 degrees Fahrenheit without any damage.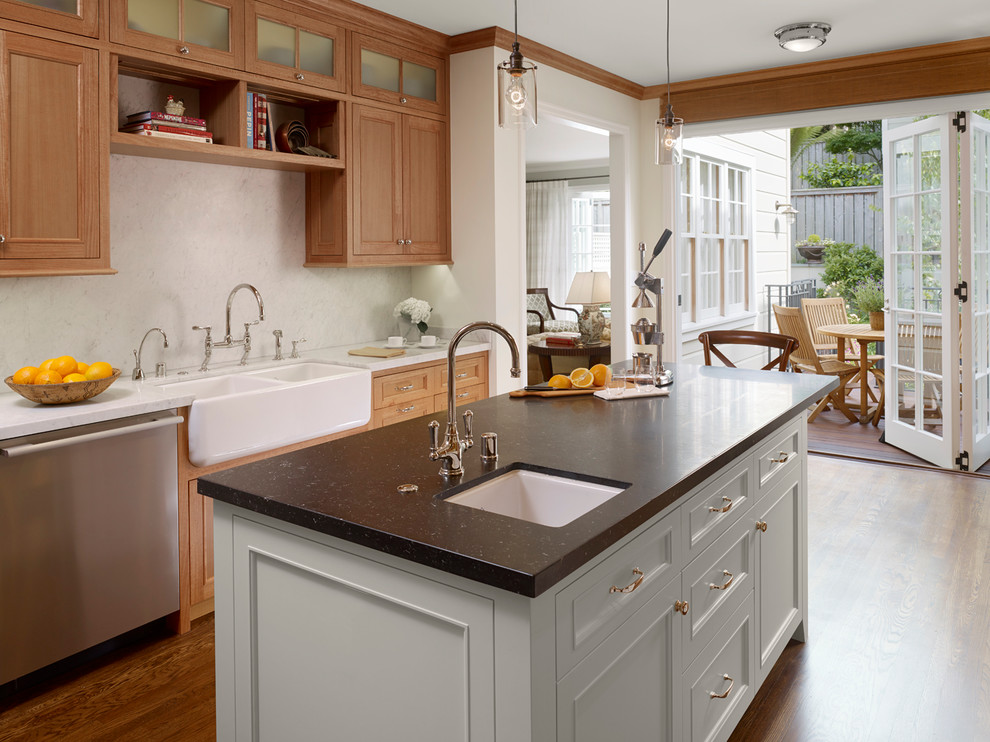 If you want to incorporate some colors, it may restrict you from the material you choose. Fireclay kitchen sinks, for example, are common in white or off-white. Some manufacturers do provide additional colors, so you will need to shop around.
Porcelain comes in a wide range of colors, but they are quite fragile. They will scuff, stain, or chip if you are not careful.
Learn About the Different Mounting Options
Consider the mounting options.
Self-rimming or overmount kitchen sinks extend slightly above the counter. You can also refer to them as drop-in or recessed sinks. They are easier to install and will accommodate most faucets. The disadvantage is they can require a little more maintenance.  You have to ensure that dirt or debris does not collect on the exposed edge.
Undermount sinks work well for heavier material like fireclay. The mounting sits flush with the counter, resulting in a more seamless look. You will need to have non-porous materials like marble or granite countertops.
Do note, installing under-mount sinks can be a bit challenging and more costly. You may, for example, need to reinforce the countertops for additional support. Leave the job to the experts. Only take on the job as a DIY if you have the experience.
Apron front or farmhouse sinks sit underneath the countertop with the front-facing side exposed. Many traditional and contemporary kitchens have this type.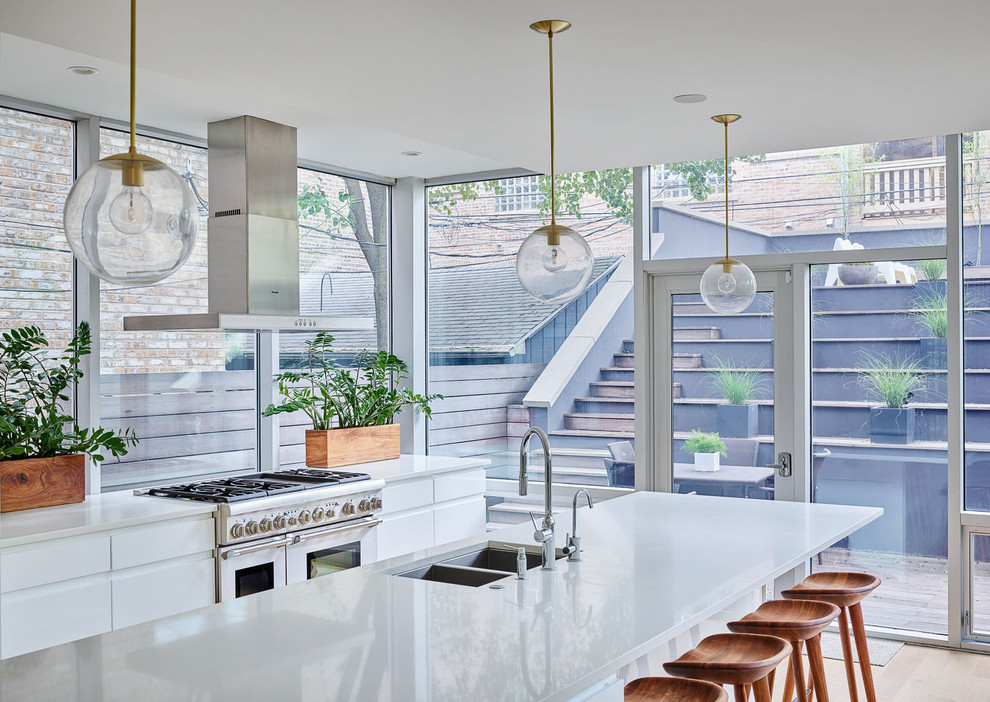 What Kind of Functionality Do You Want?
When considering the best sink, think about the functionality you want out of it.
Workstation sinks have a lot of features that give multiple uses. Use them as prep stations and for cleaning up.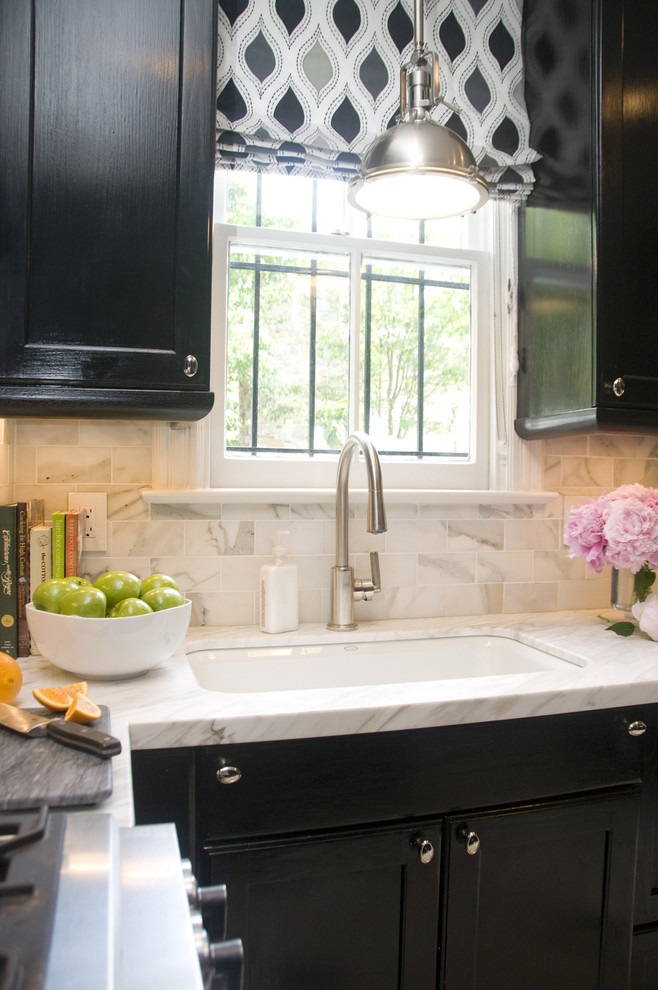 Photo by Zoe Feldman Design, Inc.
You can get those with inserts, cutting boards, colanders, and drying racks. The advantage is it allows you to centralize everything within one space.
Also, decide whether you want a double or single bowl sink. Take note of how much counter space you have when making this decision. Single bowl sinks tend to be a bit bigger and can accommodate pots and pans.
Double bowls are ideal for food preparation so that you do not mix everything in a single bowl. They are also more convenient if you wash dishes by hand because you can separate the items.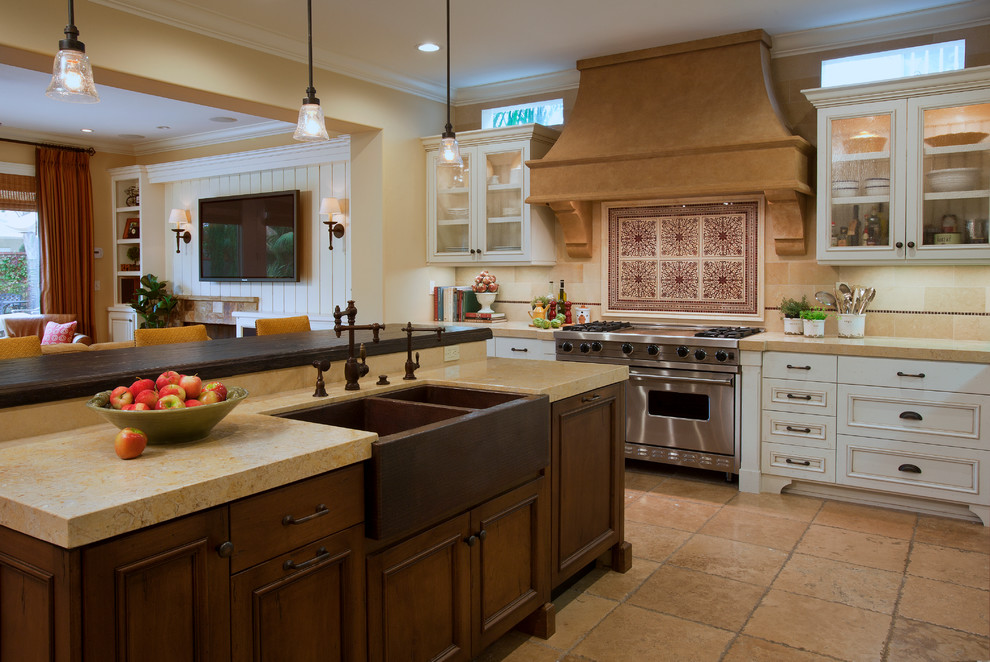 Photo by Cindy Smetana Interiors
It also helps to factor in accessibility for those with special needs. Let us take the example of a sink that can accommodate someone who uses a wheelchair. Reversible racks at the bottom allow for height customization. Such sinks are also ideal in the case that you want little kids to help with cleaning up.
Design
Do not be afraid to explore the different designs available. Handcrafted sinks allow you to customize the design as you wish.
Some designers are incorporating linear and abstract designs for more unique looks. You may also find some variations in the more traditional sinks.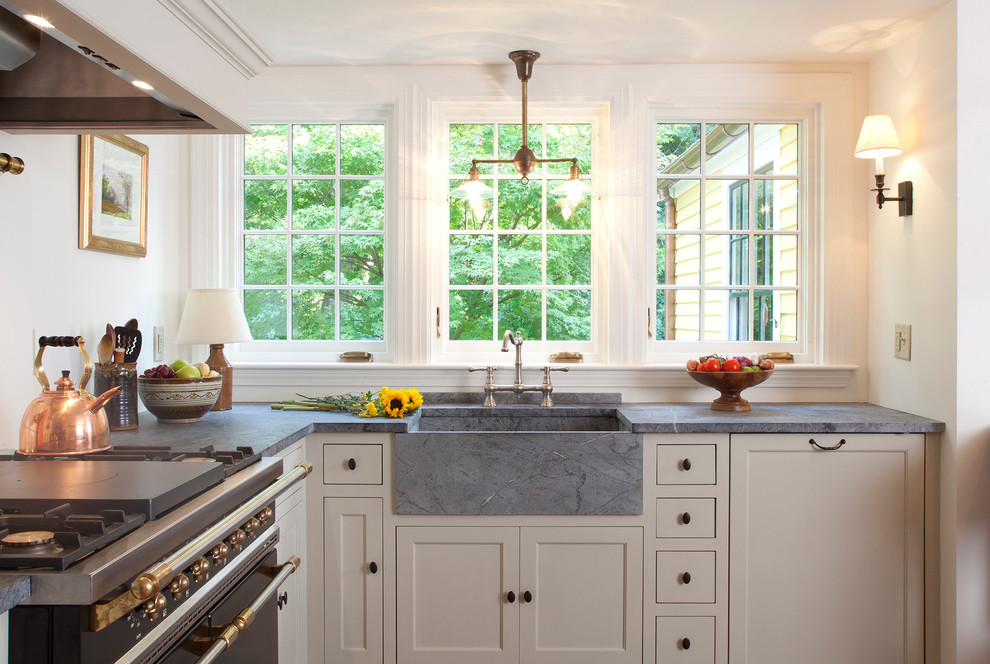 Photo by Frank Shirley Architects
Farmhouse sinks, for example, tend to have an apron front with rounded corners. But, it is now possible to find some more contemporary designs featuring sharper edges. Others even have slopes in the basin so that food and liquids drain away as you are cleaning.
Another emerging trend is integrated sinks. They will resemble the countertop giving a more seamless look to your kitchen space. If the countertop is quartz, the manufacturer can curve out the sink from the same material.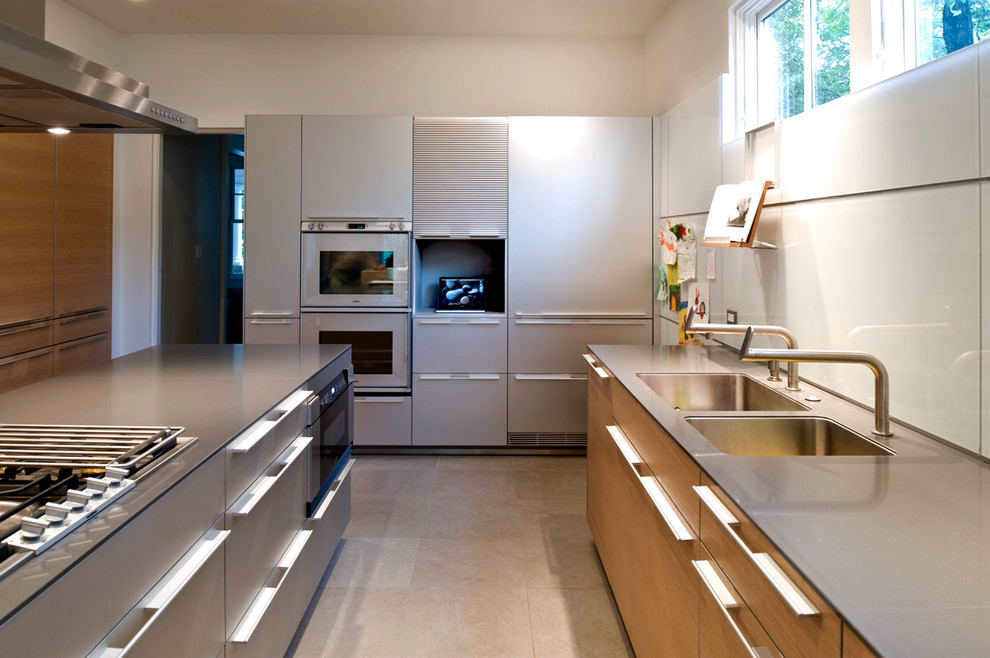 Photo by Hamilton Snowber Architects
Decide on the size you want using the width as a guide. Many fall within the typical range of 24 to 36 inches. Look up the kitchen dimensions and placement countertop when deciding. A huge kitchen with a tiny sink may throw off the balance you would want to achieve. It all comes down to having the right proportions in mind.
It also helps to think about the location. Corner sinks, for example, are excellent for any unused corner space. You can go for L or U-shaped ones depending on the configuration you want. Square and round sinks can work where you do not have too much space. You may, however, have to compromise on having a drainboard.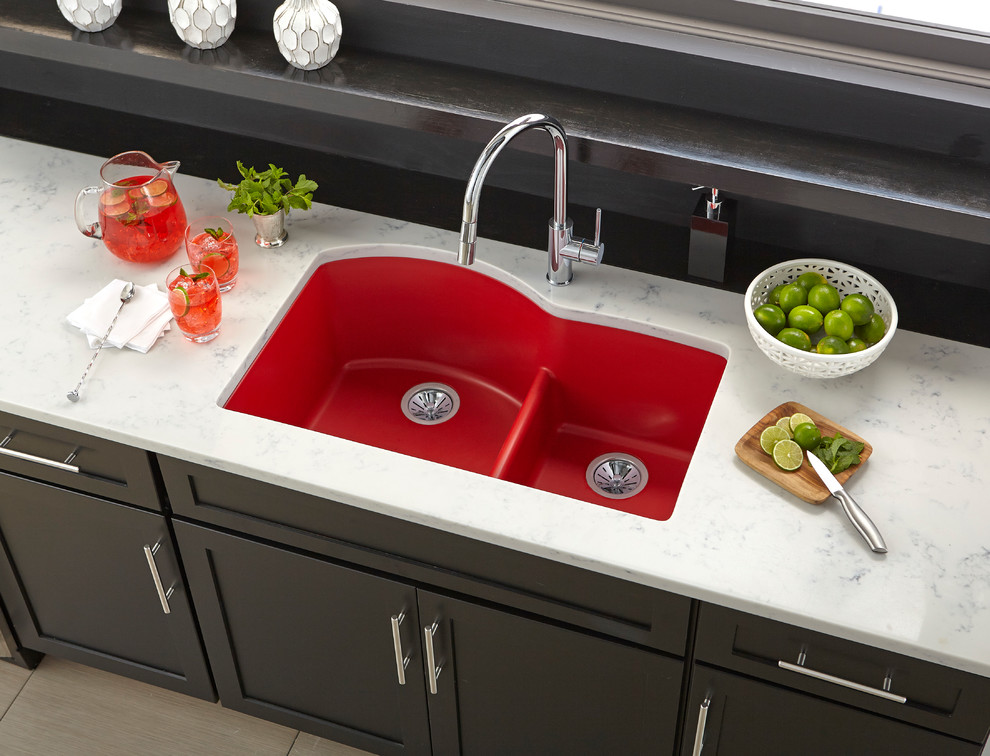 Consider the depth when choosing the best sink. Very deep sinks will require a lot of cabinet space. A good example is the Farmhouse sink that resembles a small tub.  Such may not be very comfortable for people with short stature.  If you use the sink for long, you may find it uncomfortable for your back.
Final Thoughts
Stylish kitchen sinks can have a big impact on your kitchen remodeling. Please take note of the factors we have highlighted in our article when shopping.
Buy a material that is durable so that you get long-term usage.
Also, let the experts do the installation for you to avoid any mistakes.  Good luck with your remodeling.