Do you have a passion for vintage or antiques and you want to bring that vibe into your own home? You may not have the budget for a complete transformation, but instead, you want to incorporate certain things to make it more vintage. Keep on reading to find out how to give a vintage vibe in your home. You can also include antique pieces in a room or maybe incorporate certain vintage accessories throughout the space.
You can also start collecting vintage pieces by taking often visits to the thrift or antique stores. For online alternatives, Etsy, Craigslist or Vinterior are great shops to find antiques or vintage pieces.
No matter how you want to do it, decide on a theme first. Think of what vibe are you looking for? Is it 50s or maybe 20s? Once you have a clear picture of what you want, it'll be easier for you. Plus you will know exactly what to look for when visiting the stores.
Repurposing old things
Take a look in your attic or garage and search for things you can repurpose or upcycle to give it a vintage feel. You could also ask your mom or grandma for unwanted things. There's nothing a little bit of paint or vintage fabric can do.
Looking for some inspiration? Check out this article to find out 50 creative ways to upcycle or repurpose your old items.
Vintage Rugs
Rugs are one of the best things you can add to your home for a vintage vibe. Keep in mind that a nice antique rug takes time to find. And, sometimes this can be the most expensive item from your home. Therefore, if you are on a hunt for a good bargain, make sure you take frequent trips to charity shops, flea markets, vintage fairs, car boot sales, and other craft markets.
You should also look for online vintage rug auction, which is a substantial resource for beautiful pieces at reasonable prices.
Old Light Fixtures
You can immediately tell whether a home is vintage-inspired or not by the light fixtures. If your existing fixtures are tedious and basic, then you should definitely consider changing them. Think about adding an elegant chandelier, rustic lamp or maybe a funky lampshade that will automatically give the space a vintage flair.
It's all about the accents
It can be anything from colorful accessories to a statement piece of furniture or even an accent wall. The latter is easily doable out of brick, plaster, wallpaper or wood paneling. Another alternative is vintage trunks which are not only attractive accents but are also very versatile. You can use them in numerous ways – coffee table, side table, bedside table, just to name a few.
If you are looking for wall accents, display a selection of mirrors and/or mismatched photo frames exposing vintage fabrics.
Put everything on display
Bring all the trinkets out! Vintage is all about having everything out on display. If you've inherited some vintage china or vases from your grandma, now it's the perfect occasion to bring them out from the dark. You even can group certain things together (vintage jars, old bottles, glasses) to create a simple yet stunning decor.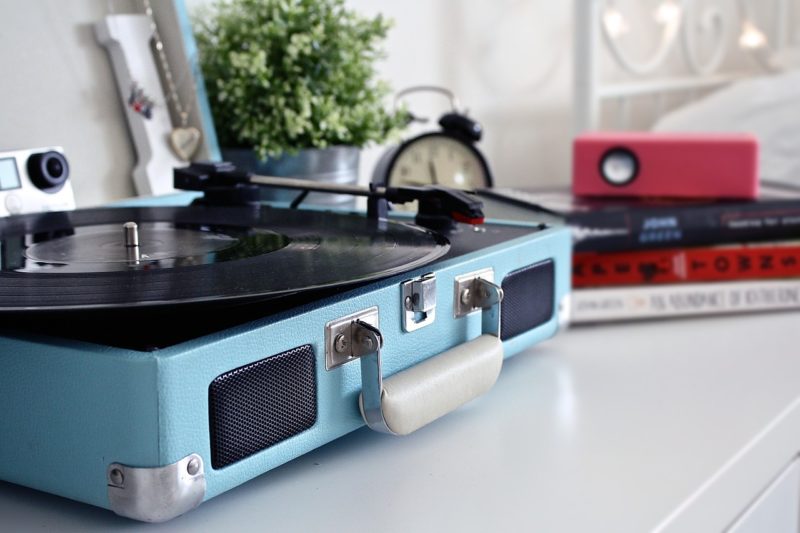 Curtains
Another way to add that vintage feel to your home is with curtains. But, not just any curtains will do the trick! Look for all the funky retro patterns and colorful fabrics. Remember, with vintage, it's all in the patterns and accessories that will make all the finishing touches. A great idea is to use a vintage thread spool as a curtain tie back.
Take often trips to the local thrift stores and second-hand shops. You can also source stunning vintage curtains on eBay. Just be patient and check in every day.  Remember to look for Barkcloth or Fiberglass when it comes to materials. These are the two most well-known vintage curtain fabrics.
Rustic Furniture
When it comes to furnishing a vintage-inspired home, acquire a one-of-a-kind piece. In order to achieve that, you will have to take a lot of trips to second-hand shops or chasing for bargains online.
If you are on a lower budget, your best bet is visiting car boot sales. Don't just go locally, vintage fanatics travel the world to find unique pieces. Of course, this doesn't mean that you have to travel miles away, but you should definitely think to expand your search area.
Before you purchase a "so-called" vintage piece, be very cautious about scams. Unfortunately, there are many pieces that aren't vintage, but people sell them as such. Use this article to help you identify antique pieces of furniture.
Here are some classic characteristics to look for, when perusing for vintage furniture:
Hardwood materials
Imperfections
Look for signs of deterioration
Here are a few things you can acquire for your home to make it more vintage:
large armoires
brass table lamps
an old library card catalog
a used piano – if you have the finances, of course. They are a gorgeous addition to your home and functional too.
velvet chairs – they are excellent retro-style accents
vintage trunks and lots more.
Wall Arts
Wall decorations are the easiest and cheapest way to bring vintage into your home. You can play around with different pieces, such as:
Photo frames
Jewelry
Mirrors
Vintage posters
Antique clock
Vintage fabrics
Collage of photos
If you are out of ideas, go through Pinterest and search for "vintage wall art". You will be bombarded with tons and tons of ideas, plenty to choose from.
There's no rule to follow when it comes to decorations, especially vintage decorations. Start collecting all those unique pieces and hang them on the wall. Some people like to purchase two identical items and then hang them diagonally on the wall.
You can also create a photo display wall in different shapes where you can add vintage frames or hanging lights to create something unique.