Nothing makes a home comfier than a toasty fire in a lovely fireplace. If your fireplace isn't looking its best, then you should make the necessary upgrades as soon as possible. The perfect layout and an attractive design can make your fireplace the focal point of your living room. Here's how to pull it off.
Build a Gorgeous Mantle
The mantle above the fireplace is what gives the entire area its unique look. This is the most dominant feature, and it will determine your fireplace's character. If you're not satisfied with your living room, the mantle is the first place to consider making a change. There are tons of options available, from subtle and rustic to flashy and modern. Take a look around and find the mantle that best matches the aesthetics of the room.
Photo by Lisa Wolfe Design, Ltd
Install Striking New Tiles
When a fireplace looks old and haggard, it's often faded and discolored tiles that are the culprit. Installing new tiles might be a large-scale renovation, but it will have a massive impact on your fireplace's overall look. There are all sorts of options as far as materials go, from stately limestone to daring, colorful ceramics. Bricks are a great choice for certain living rooms, while grey-toned mosaics are better in others. It all depends on your tastes and the general feel of the space.
Photo by Interiors Joan and Associates
Add Some Artwork
A bit of art of the mantle helps attract attention and makes the fireplace the centerpiece of the room. Any style or medium will do the trick as long as the piece successfully catches the eye. This is a chance to put your personality into your home. Whether you're into modern sculpture or impressionist painting, you can find the artwork that belongs above your mantle.
Buy a Stylish Screen
Nothing takes away from the grandeur of a fireplace like a nasty or rusty screen. Buying a new, snazzy-looking screen is a cheap and easy way to rejuvenate your fireplace. A simple screen will do the trick, but there are all sorts of chic options on the market. Some screens have the appearance of natural twigs, allowing you to give your fireplace an attractive woodsy feel.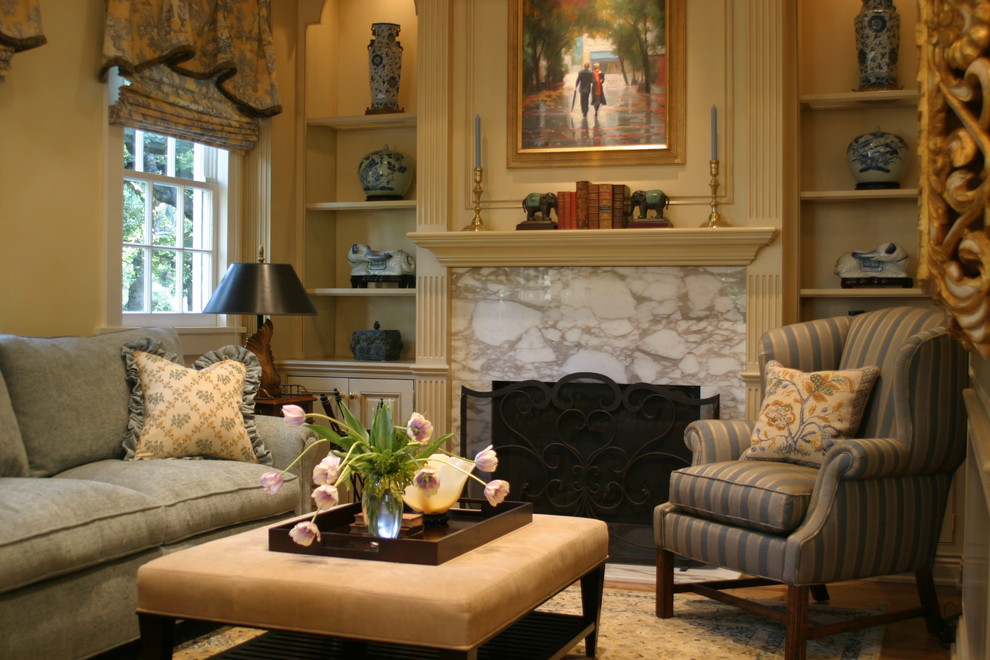 Photo by Reaume Construction & Design
In a world where televisions have long claimed the center stage, it's time to let fireplaces regain their status as the proper focal point of a living room. By taking the simple steps outlined above, you can make your fireplace truly dazzle.