Modern home designs offer a new perspective on life and stay up with the trends. These designs emphasize the basics of creating living spaces.
House owners should use modern house design ideas while constructing or remodeling the interior. Size, functionality, color scheme, furniture design, and ornamental elements are all important. It may feel difficult in the beginning to know where to begin when faced with so many possibilities.
Remember that today's interior trends rely on the axiom that "less is more" in their approach. That's why to choose your priorities first and find out how you want your home to look. Keeping a brief note of the design might help you clarify what you want.
What Exactly Is Modern Design?
Modern home design features clean lines, geometric shapes, and a minimal color palette. Modern houses show the popularity of mid-1950s architecture and interior design.
Metal, glass, and steel are no-nonsense materials in modern dwellings. Modern design, including furniture, is minimalistic. As a practical interior design style, it stresses the link between form and function!!
Features of a Modern Home's Interior
1. Be Inventive With the Backsplash Tile and Kitchen Island
When it comes to kitchen cabinet colors, contrasting backsplashes of any kind look best. The colorful kitchen backsplash tile, in general, has been trendier in recent years. Using backsplashes is a great way to bring color to a kitchen that has a neutral color palette.
Also, having a modern kitchen island is a great place for family and friends to meet. Whether you are cooking or dining, an L-shaped island can accommodate your needs. Modern materials, such as steel, marble, and concrete, can be included in the island's color and design.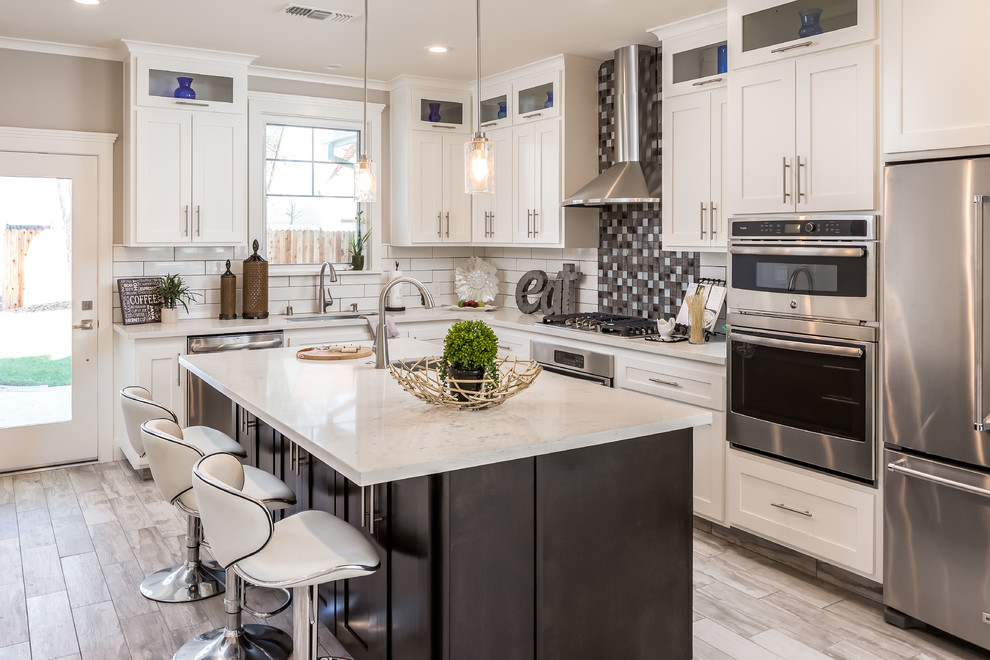 Photo by Rich Lonardo Photography
There are a variety of ways to use a modern kitchen island that include seating and open storage.
Use an island with strong geometric edges to provide depth to the kitchen if you want to avoid a simple design. The background cabinet doors with backsplash tile will add more beauty to your modern-looking kitchen.
2. Modern Bathroom Interiors With Backsplash Tile
Marble, natural stone, patterned porcelain, and terrazzo are modern bathroom flooring options. Then comes the crunch eye-catching taps, shower heads, tile for the shower, etc. may update a bathroom's appearance.
For a classic, sumptuous look, go for luxury vinyl tile flooring. A more luxurious look may be achieved by using larger tiles with fewer grout lines.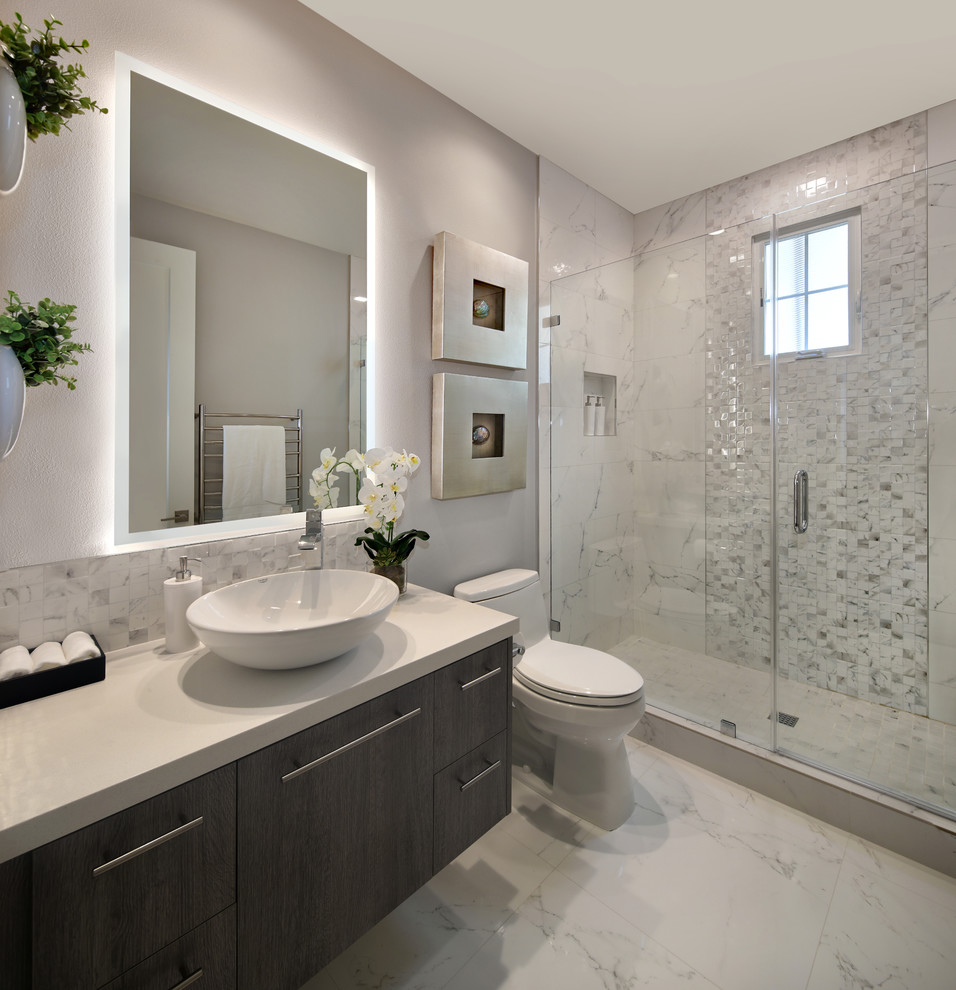 Photo by International Custom Designs
If you want a brightly colored bathroom, this is the style for you. Transform your bathroom into a tropical haven with a Miami-inspired renovation. To brighten up a dull bathroom, use a color scheme full of bright, playful tones.
To get things started, paint the bathroom walls in a unique color-block pattern. On huge panels and arches, use bright hues like bubblegum pink, minty green, ocean blue, or soft coral.
3. Enhance the Industrial Elements
Its modern interior design blends both industrial and natural elements into its design. Exposed beams and several other substructures are commonplace in modern architecture.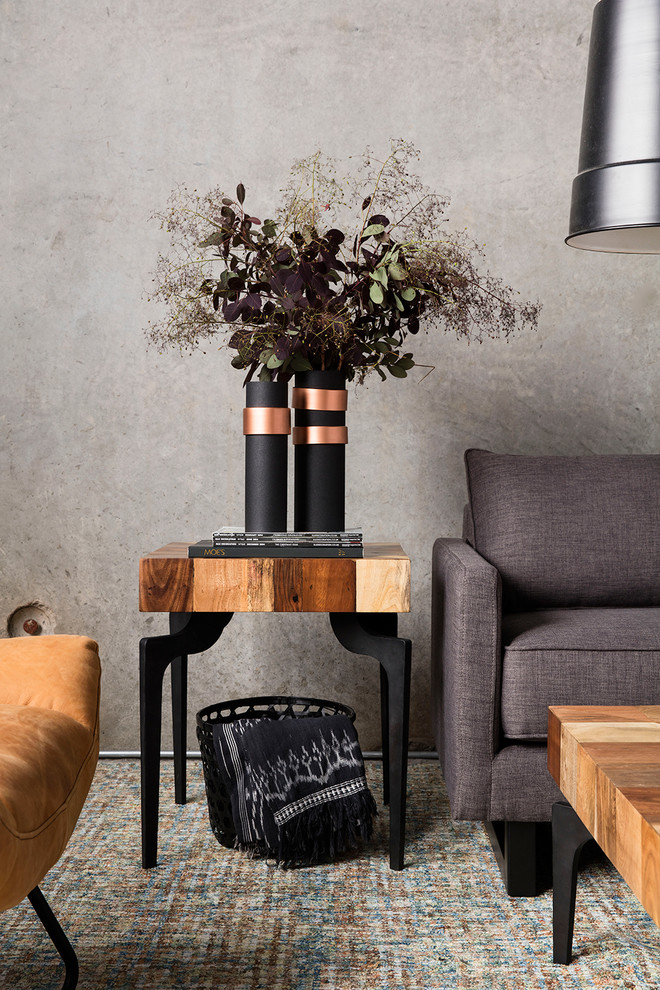 Modern houses may have an industrial atmosphere by combining steel, concrete, and glass with wood and stone. Modern furniture and exposed stone will spruce up a dull space.
4. Modern Artwork
Modernist artists abandoned traditional realism for bright colors and unusual forms. Cubism, Fauvism, and abstract art are early modernist responses to industrialization.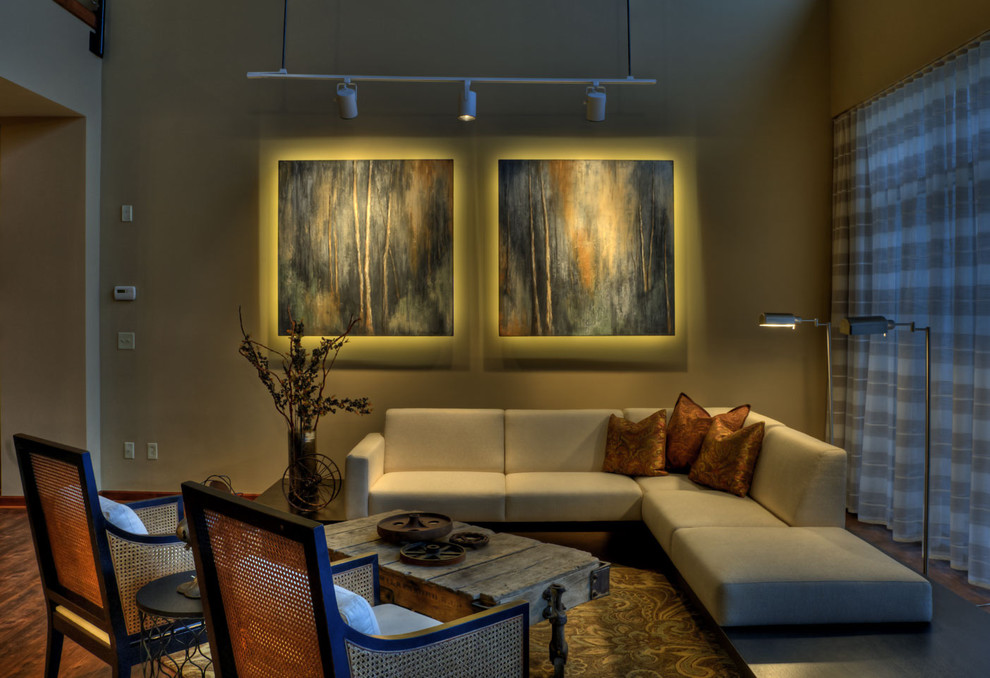 Photo by Interior Trends Inc. Design & Remodeling
An eye-catching focal point for any room is a huge work of art with a little frame or none at all. Avoid a gallery wall layout since it will detract from the modernist feel of a large expanse of wall space.
5. Traditional
In several of our thoughts, the contrast between old and contemporary home design appears. Traditional-modern interior design may provide stunning results in the house, though.
European inspiration gives traditional modern design sumptuous furnishings. Room expansions are painted in deep, rich hues and precisely aligned.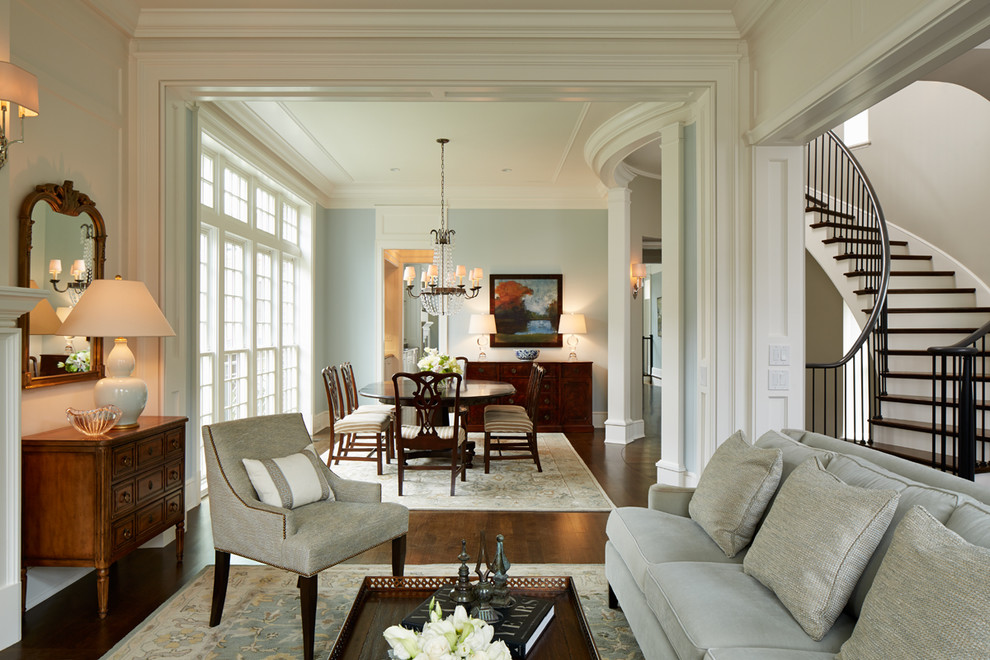 One thing defines classic modern interior design. Use hardwood furniture to obtain the elegant look you want.
6. An Open Floor Plan
An open floor plan makes your home more social while retaining privacy. Popular open floor plans include a kitchen with backsplashes, a dining area, and a living room in a lofty space. It's easier to go through an area when there aren't any obstructions like doors or walls that slow you down.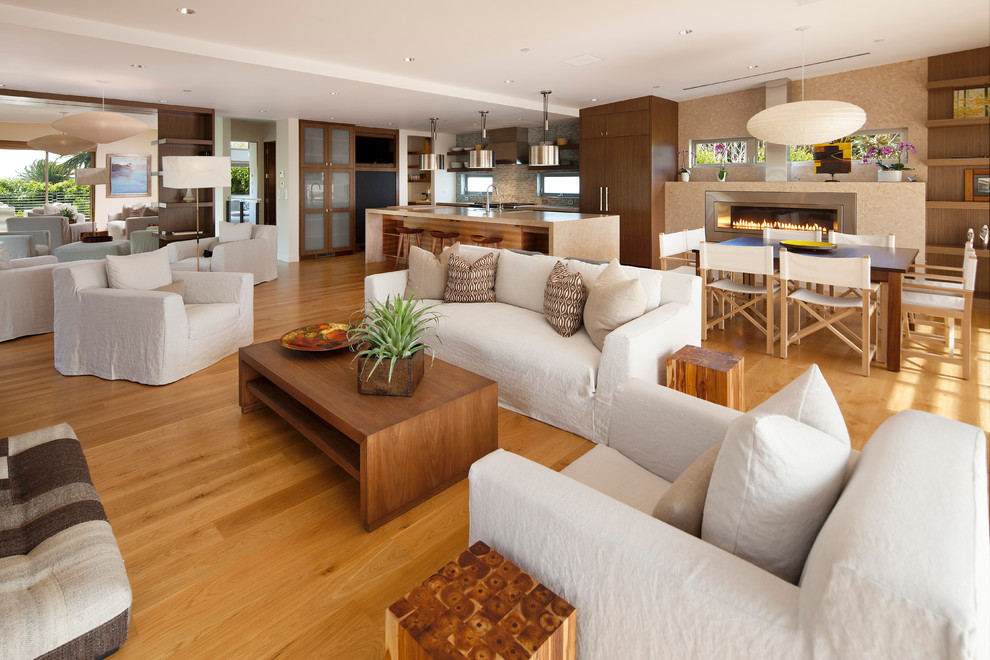 Photo by Maienza – Wilson Architecture + Interiors
7. Concrete Floors Create a Stylish Look
If you want to give your house a more modern design, consider laying concrete tiles on the floors. Concrete floors replicate ceramic tile or natural stone while giving your home an industrial flair. Concrete's clean lines complement vibrant furniture and lighting.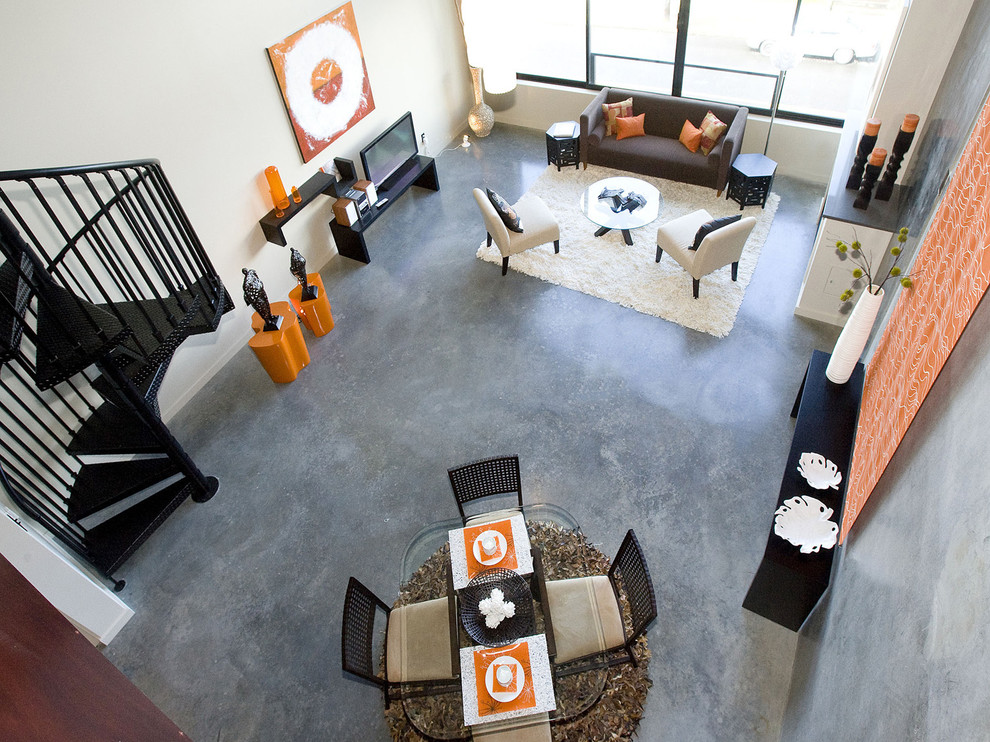 Photo by Pangaea Interior Design, Portland, OR
8. Add a New Level
Adding a mezzanine or balcony to a tall room adds height, visual connection, and uniqueness to the home.
A glass balcony in the children's room on the first level overlooks the kitchen, dining room, and main living space. But you can create a home office on the second-floor balcony above the dining table.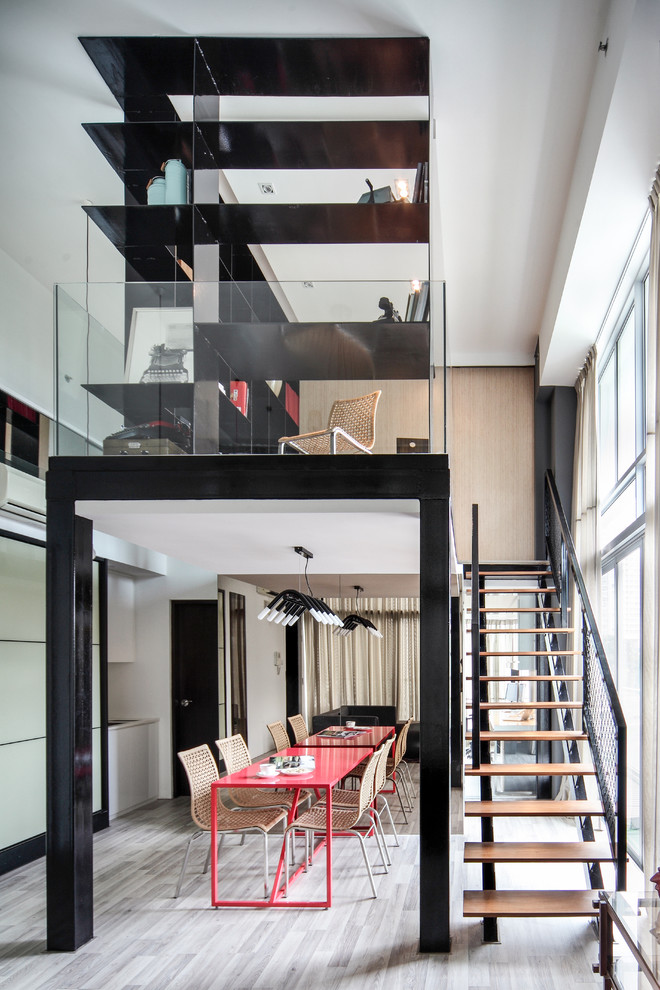 Photo by DISTINCTidENTITY Pte Ltd
Everyone may have their own area while still being together thanks to this fun design. One parent can work upstairs while the other cooks and the kids play and still see each other.
9. Oversized Windows Let in the Sun's Rays
Large windows allow it lighter and make your home seem cleaner and more seamless. Huge windows without coverings or draperies may make a space seem more expensive.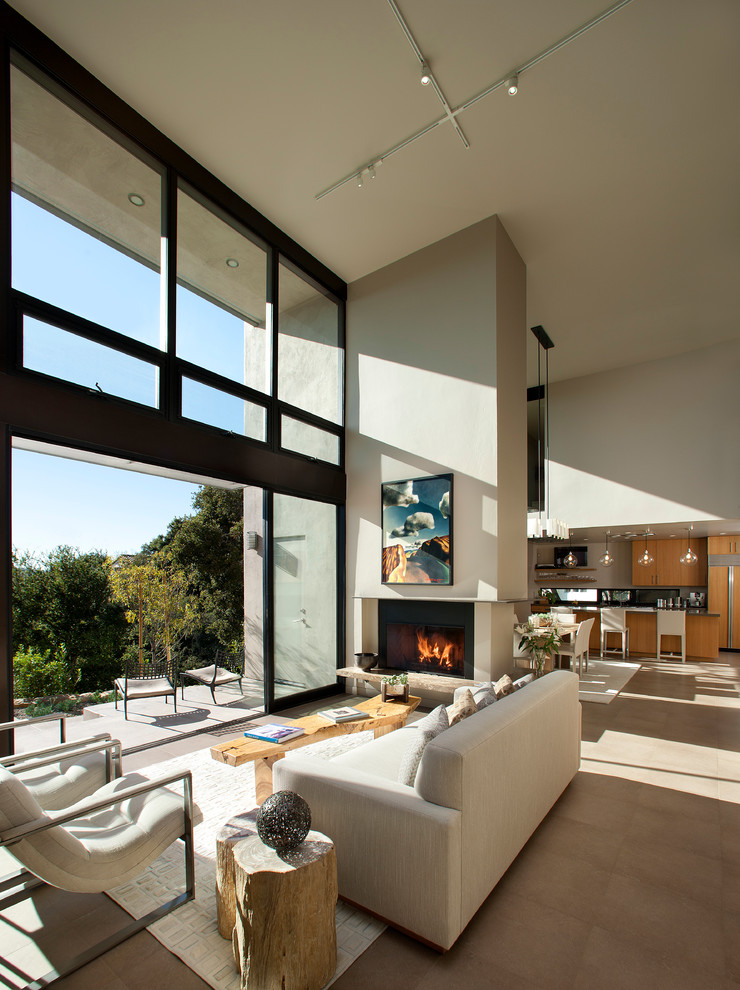 Large windows of varied sizes and shapes may draw attention away from artwork or colorful wallpaper and toward the outside. Natural features may readily be included by effectively employing windows in a house.
10. With Built-in Shelves, You May Add Dimension to Your Room
Modern homes have a strong emphasis on vertical space use. Built-in shelves save space and provide storage for modern homes. For a modern look, paint these shelves beige, brown, gray, or light green.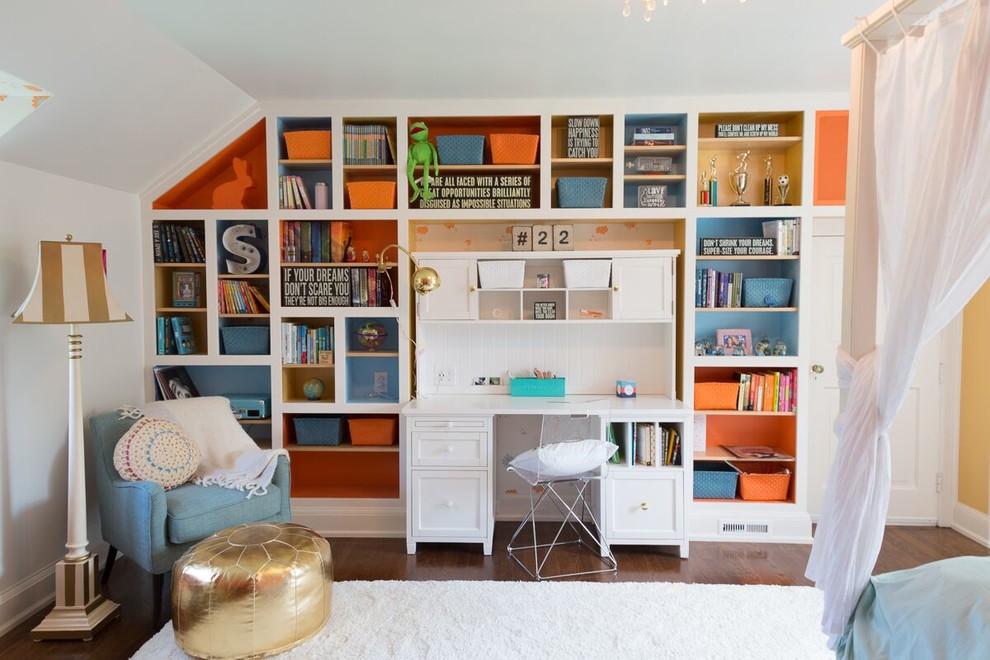 Photo by James McCoy Carpentry LLC
11. Intricate Color Play
All contemporary home design examples feature walls painted in a variety of colors. Traditional and French country homes have bright main wall colors. But minimalist and Scandinavian contemporary interiors are darker or softer.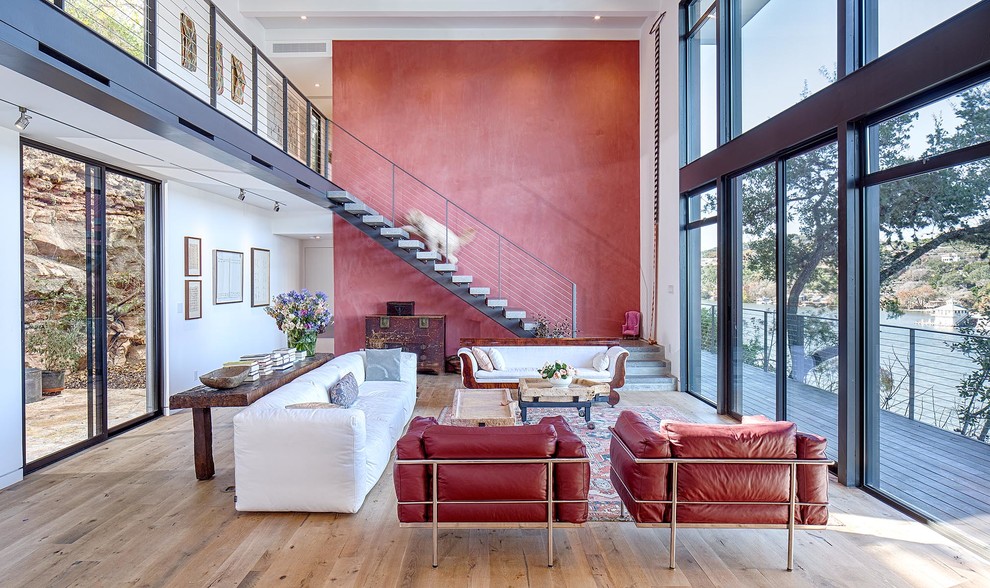 There are several wallpaper options, however, most modern interiors use paint. Neutral walls aren't associated with modern design and décor.
Pops of color from furniture and art can liven up even the most minimalist of dwellings with neutral gray walls.
Final Words
Modern interior design features sleek structural components, skipping curves, and layered artificial lighting. The balance of clean lines and subtle elegance will give you the feel of a beautifully designed modern home.
Making choices and implementing one's contemporary interior design requires significant judgment calls. To sum it up, if you are setting up a room with contemporary interior design and décor, go with what feels right to you and trust your instincts.