Imagine your outdoor haven exuding elegance and a cozy atmosphere, adorned with stylish and functional furniture. What a delightful way to begin or conclude your day, right? You can unwind alone, listen to music, engage in stretching and yoga, or host social gatherings with family and friends. And, of course, never forget the delicious and mouth-watering food to enhance the mood and make the get-togethers more vibrant and lively.
Organizing your veranda or patio can be a delightfully exciting process. Mix and match your style preferences until you achieve your ideal setup. From simple but stylish pieces or lavish items with intricate interiors,  whatever pleases you that conveys a welcoming vibe to whoever enters the area, implies a stunning patio setting.
Outdoor Furniture
Sturdy furniture is loved by people who prefer staying often in their courtyards or patios. These items are known to withstand inconsistent weather conditions. You can test how well they are built, and the durability of the materials used, once they are exposed to heavy rain or under extreme heat paired with high moisture levels.
1. Choosing the Perfect Piece
More often the first to tick on your outdoor space bucket list are furniture that will stand out and be eye-catching for everyone.  Aside from convenience, it must also go with our fashion taste, something that may reflect our passion and character.
When faced with different materials, know the benefits of each one and select which one is more advantageous to you.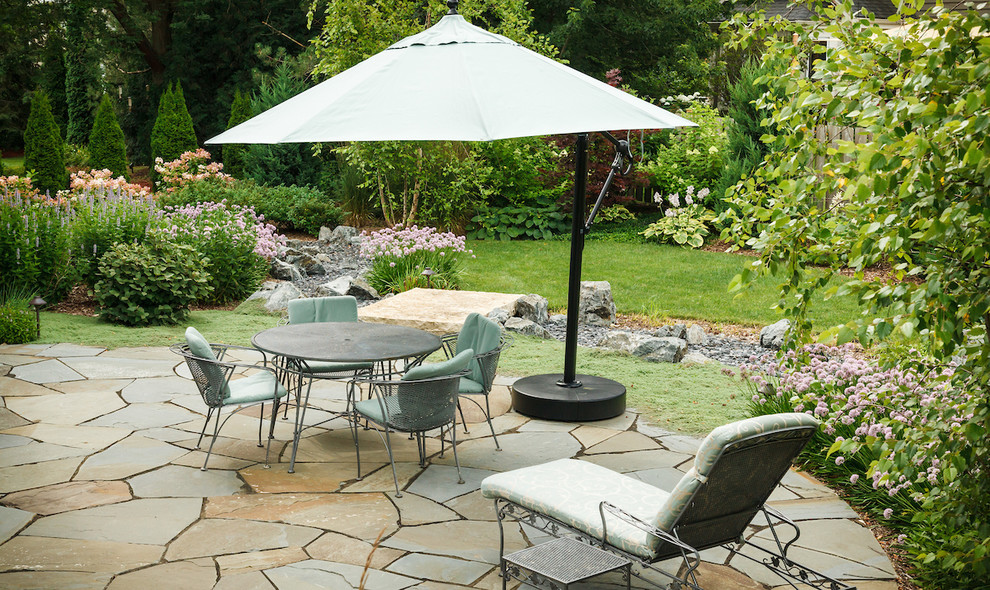 For aluminum pieces, they are lightweight and resistant to corrosion. Aluminum items can withstand extreme weather conditions without causing damage or requiring intensive maintenance. These items also balance the appeal and touch together with other pieces in the room like glass, leather, and many others.
The wood coming from the Tectona grandis tree which is commonly called teak wood is an excellent choice due to its enduring nature, attractive appearance, and inherent resistance to various problems like rotting or decay. It shows its lovely silver-gray patina over time, giving your patio additional charm.
Consider furniture made from synthetic wicker if you want the appearance of natural wicker without the upkeep. It has a timeless, classic appeal and is waterproof and easy to clean.
2. Investigating Different Styles and Materials
There are many different patio furniture styles from traditional bamboo to modern metal finishings. Choose the furniture that blends in with the layout and natural look of the space as you arrange your ideal outdoor setting. You can browse the selection of patio furniture at respected furniture stores to get ideas of the style and accessories you will incorporate.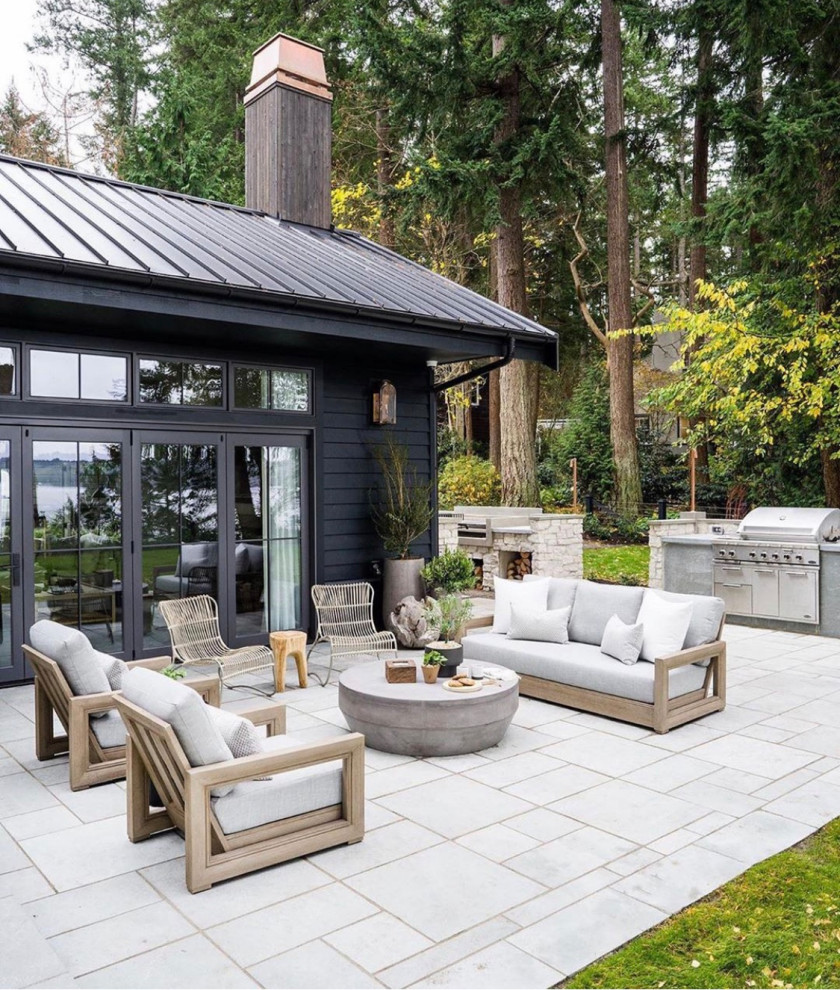 Photo by Dana Webber Design Group
Al Fresco Dining
A beautiful and functional dining set is a need if you enjoy open-air dining.
1. Choose the Perfect Patio Dining Set
Determine the typical number of guests to determine the seating capacity you should look for.
Much better to favor weather-resistant and simple-to-manage outdoor dining sets to concentrate on comfort during a happy mealtime. Find superior patio furniture online or have a fruitful stroll around Houston Texas furniture stores that propose diverse layouts and designs.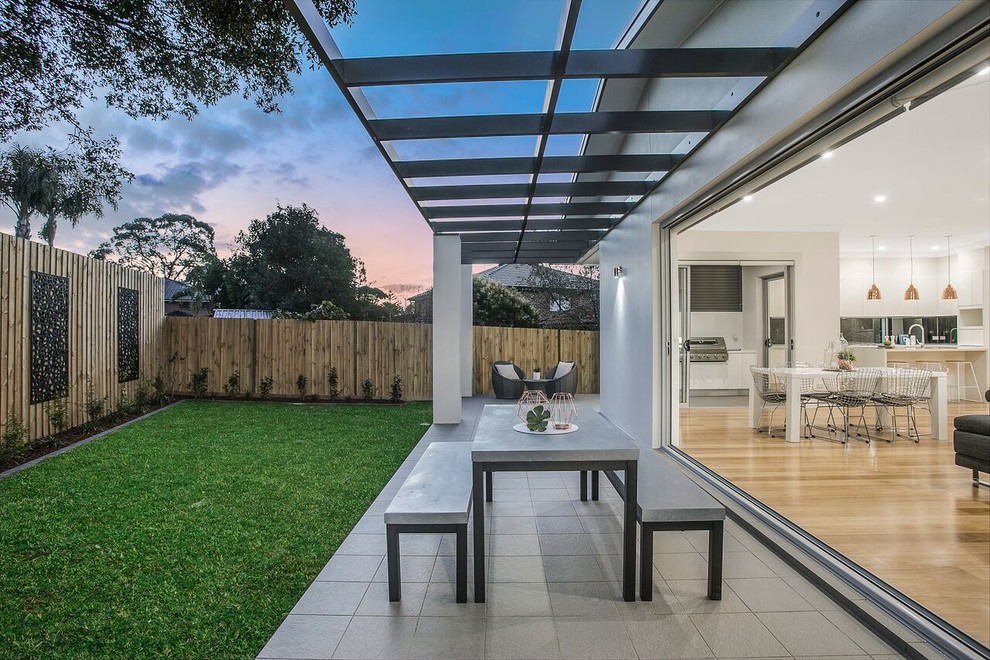 Photo by Homes On Trend – Property Styling
2. Measure Patio Size
Get the exact dimensions of your veranda or installation site so that you do not regret getting the wrong dining set. If you want to maximize a constricted space, an adjustable table or one with extension capabilities is a better choice.
You can display more than 1 table for a spacious area, depending on your preferred dining setup, whether it be a dinner buffet, plated style, or have another table set up for coffee and desserts.
3. Improved Dining Experience
When planning social gatherings, explore integrating an umbrella for shade to protect you either from the heat or unforeseen rain, lazy Susans and classy or minimalist dining setups, and ambient lighting to lift the atmosphere further and the whole eating experience.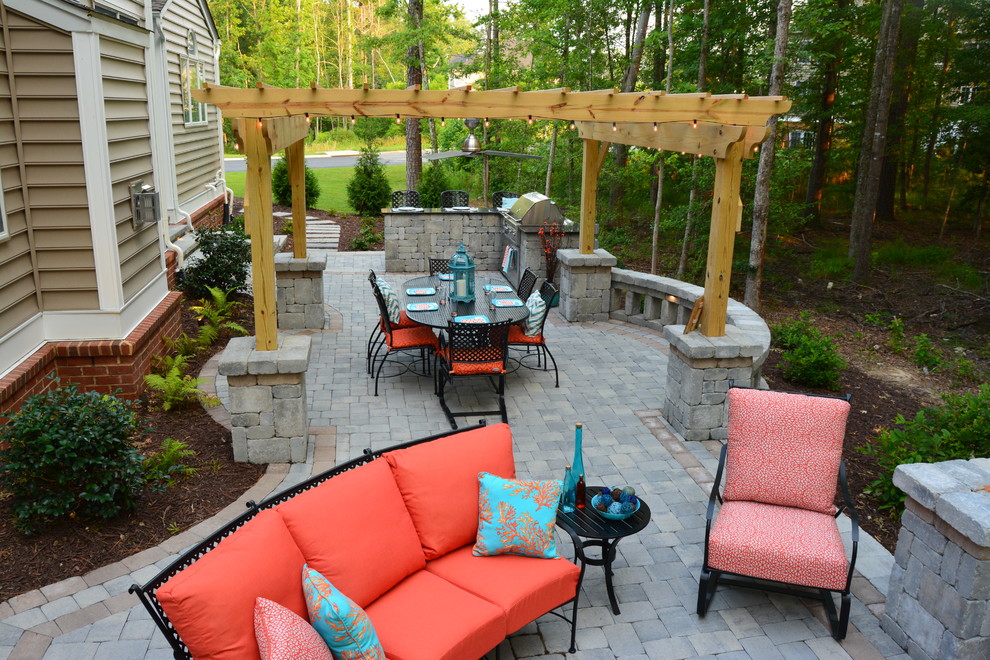 You may also experiment with contemporary furniture options that bring out your sophisticated character. Something that goes with your dining sets with a solid physique and neat designs.
Lounge and Relaxation
1. Relaxing Lounge Area
A nice, comfy seating option like soft sofas, sectionals, and our lounge chairs to curl up or stretch yourself and take full advantage of your patio.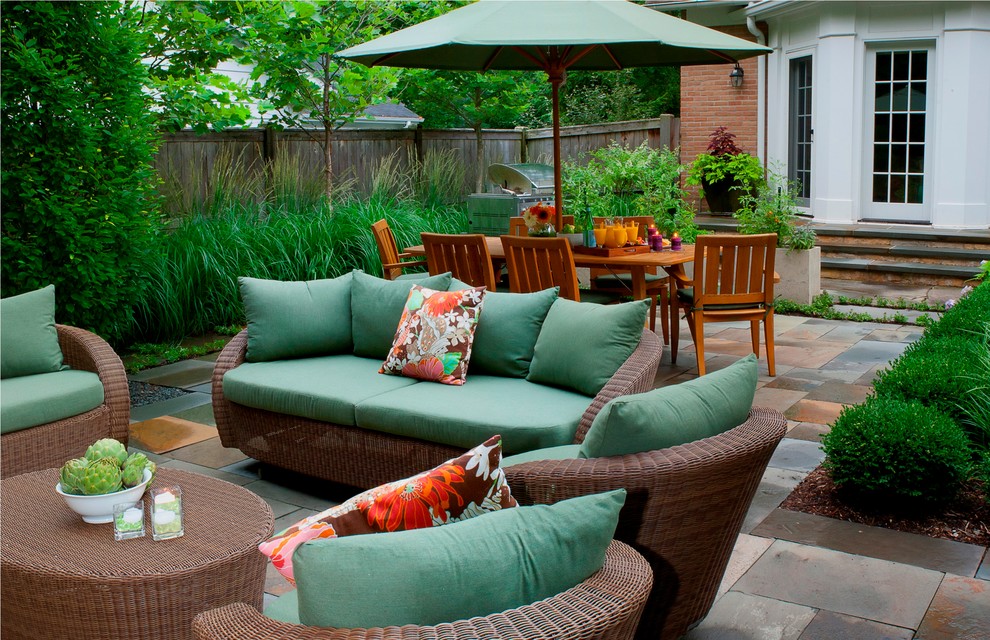 Photo by Architectural Gardens, Inc
Depending on your taste and available space, you can select from deep-seated sectional sofas to plush lounge chairs with supple cushions and weatherproof fabrics.
2. Rugs and Side Tables
Put inside tables for holding interesting books or magazines to browse or display a selection of inviting drinks and ornamental objects. They too are cute for your aromatic coffee and little treats or finger goodies to snack on. With fluffy, oriental rugs, from large to small to sit on or simply add warmth and texture.
3. Chic Modern Furnishings
Transform your lovely place into a contemporary haven by adding tasteful furnishings consisting of smooth and curvy contours. Utilize premium materials like metal, glass, or resin to attract effortless coolness to any room's natural vibe.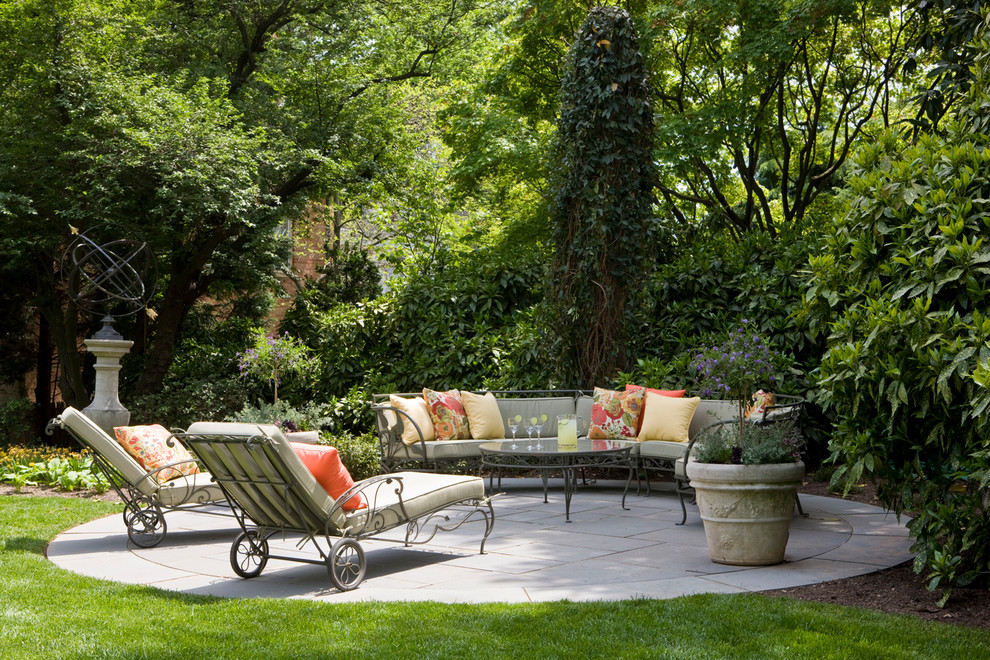 Photo by Jones & Boer Architects, Inc.
4. Sophisticated Simplicity
Incorporate minimalistic designs with refined pieces, breathing life into a modern space. For convenience's sake, choose those that allow versatile placements and consider modular furnishings that you can rearrange and switch in any season or occasion you wish to hold.
5. Trendy Touches
To give your spaces a polished, trendy look, how nice and attractive fashionable accessories are like abstract sculptures, geometric planters, or statement lighting fixtures?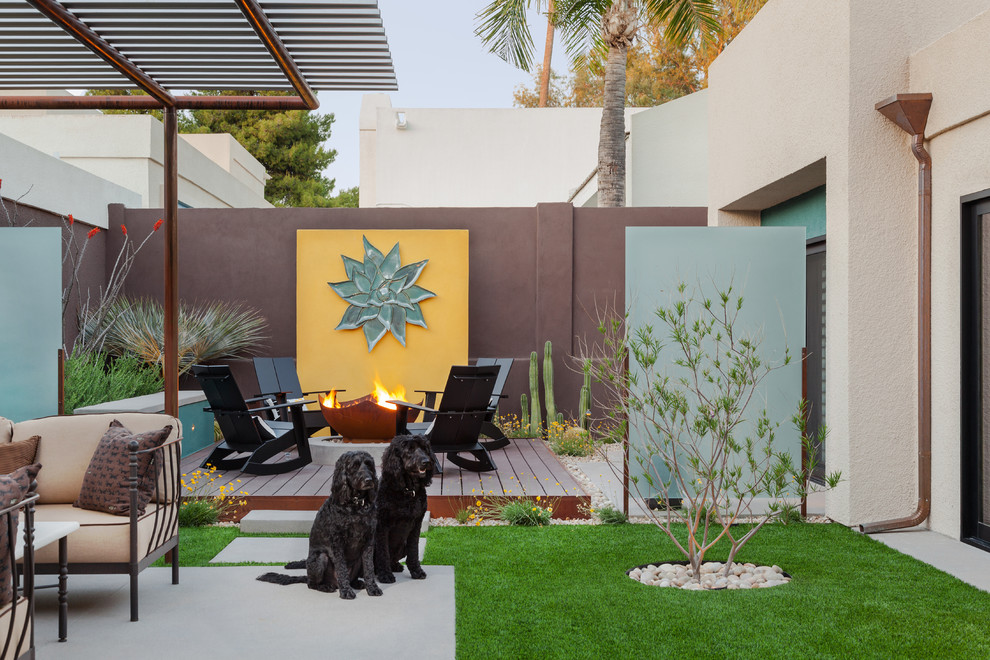 Photo by The Design Laboratory
Enhance With Accessories
Incorporate accessories that blend color, texture, and functionality to enhance your veranda.
1. Outdoor Pillows to Add Color and Texture
Vibrant and intricately designed pillows add texture to your patio's makeover. A great option is acrylic woven fabrics because they are more fade-resistant and withstand outdoors.  Mix and match patterns and textures to create an inviting and visually appealing outdoor seating area.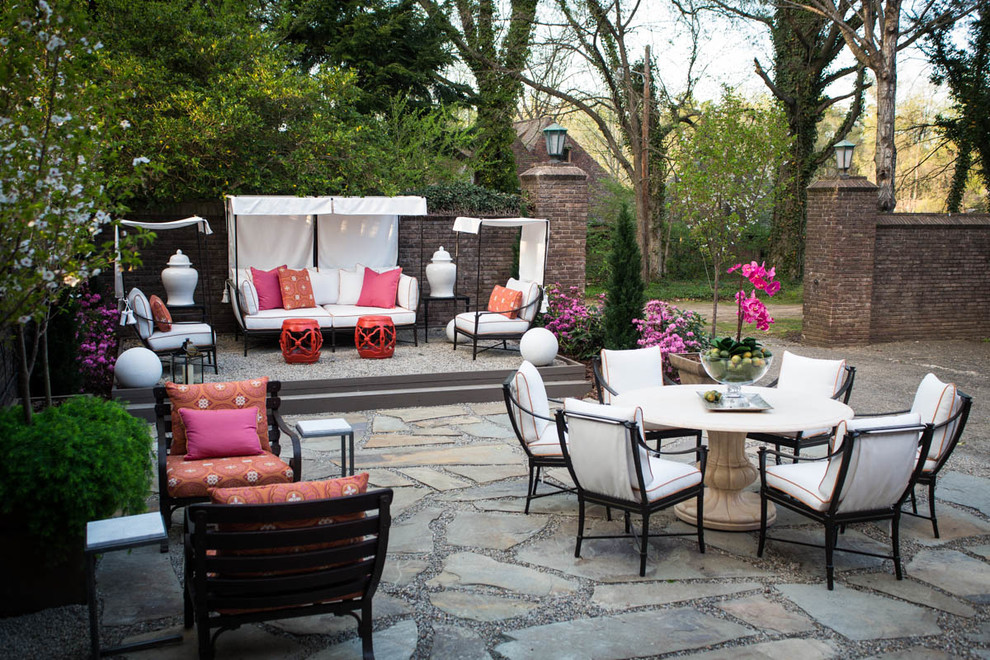 Soft cushions and vibrant pillows not only make your patio couch more comfortable but also give the area a splash of color and personality.
2. Elegant Shade Options
Patio umbrellas enhance the beauty of your outside space while also providing shade and sun protection. Select an umbrella that matches your decor and the patio furniture you have.
For the most flexibility, use products with adjustable heights and tilting mechanisms. To change the angle and direction of the shade as the sun moves during the day. If you look for versatile shading with tilt and rotation features, there are plenty out there to discover.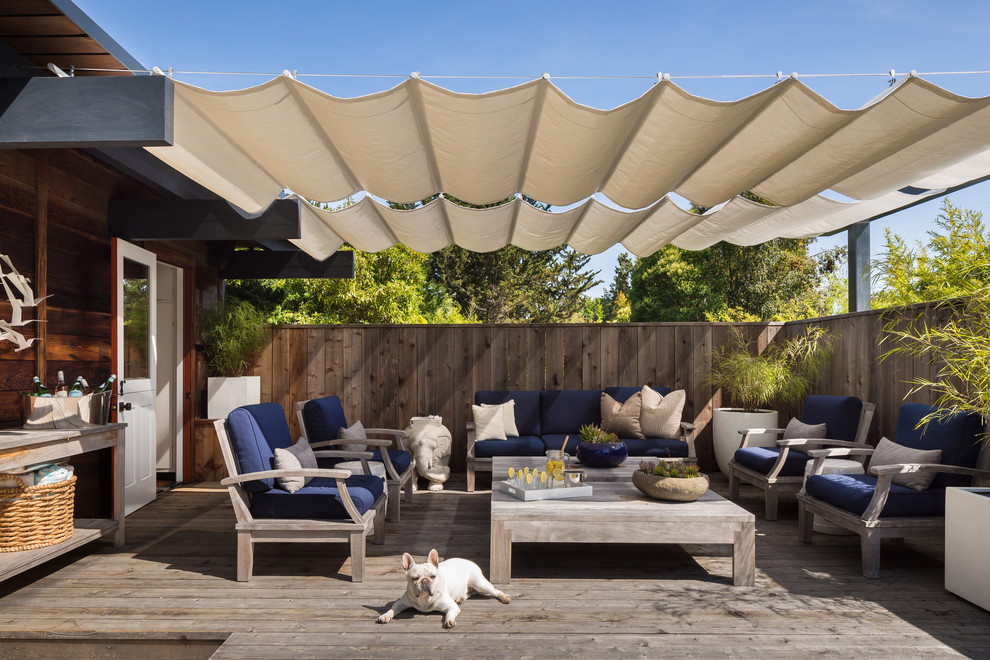 But for those who prioritize long-term solutions, a retractable awning is definitely one you should not overlook. These awnings have easy adjustments for increased shade coverage as well as easy storage when you don't need them. Another alternative can be a pergola structure for your outdoor living area that makes an excellent stand-out piece.
The good thing about the different shade options is, they are customizable, and climbing plants can be placed or retractable coverings
3. Stylish Outdoor Lamps to Illuminate Your Patio
And let's not forget one more addition to sum up a spectacular patio! The lamps! You may transform your favorite lounge into a spectacular exterior.
Create a magical atmosphere in your beloved courtyard with just one simple addition! The inviting lamps have the power to make all the difference in setting up and amazingly welcome everyone who comes.
Looking for your options? Go for versatile string lights as they are malleable enough to cast charming glows when draped over patios or hung above tables in trends or patterns.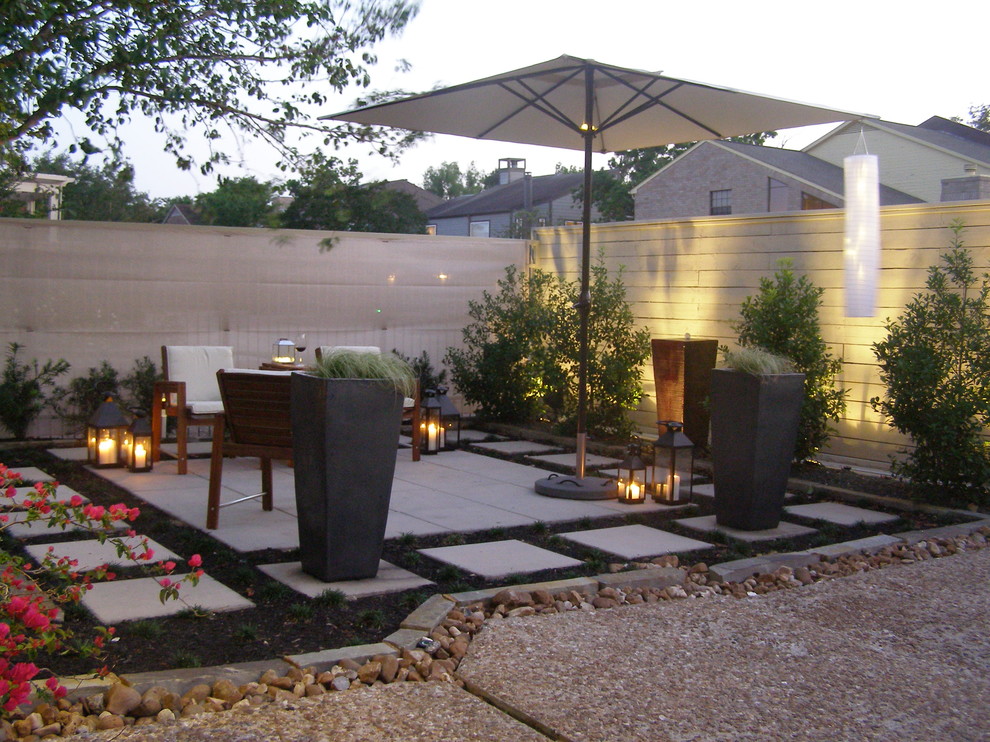 Don't forget about hanging lanterns since they can add nice touches and cast illuminations throughout yard spaces. They demonstrate elegance through their diverse range of designs from minimalism to classic or even Moroccan-inspired.
Solar-powered outdoor lamps are also great if you want to go eco-friendly. A fantastic alternative for illuminating patios while saving electricity and cutting extra costs.
Maximizing Storage and Organization
To be sure you maintain the peaceful and enjoyable outdoor fun keep the space free of clutter. A neat and tidy space makes it look bigger and calmer.
1. Shelving Units
One practical solution is acquiring robust storage bins or cabinets using materials that can endure external hazards during unforeseen rainfall or heat from the sun. These units offer suitable options for storing essentials like gardening equipment, toiletries, and outdoor pillows in an organized manner.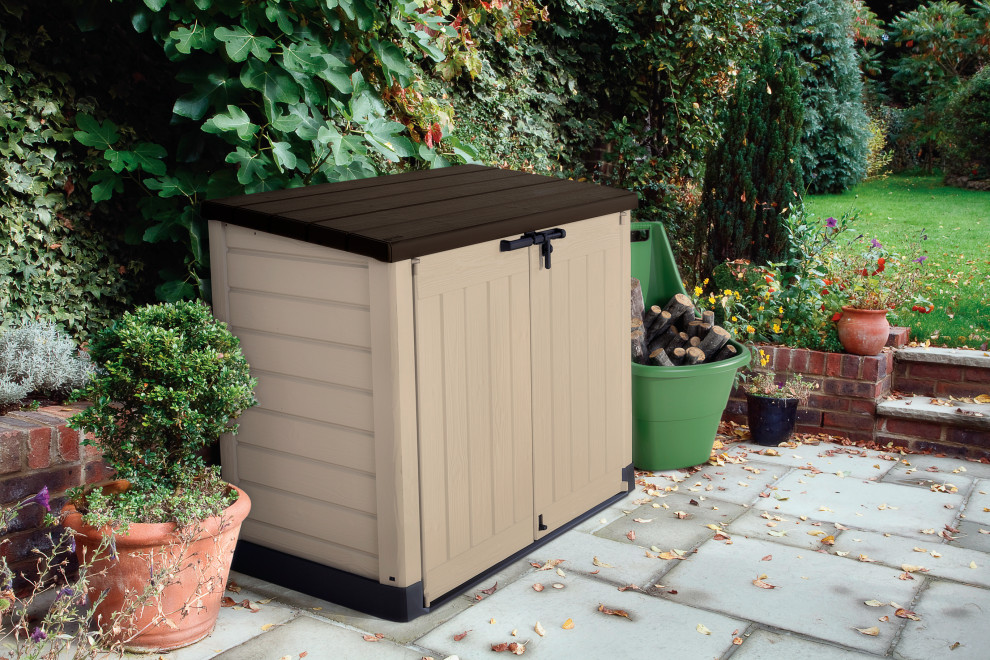 Moreover, putting up shelves or cupboards on your patio enables full organization while showcasing decorative pieces like those locally made.
2. Maximizing Space With Benches and Deck Boxes
Having trouble thinking about practical outdoor seating options? Why not take a closer look at benches & deck boxes?
They are very practical and adaptable chunks in your courtyard. These clever benches and boxes not only provide extra seating but also feature plenty of storage space for blankets, gardening tools, or children's toys.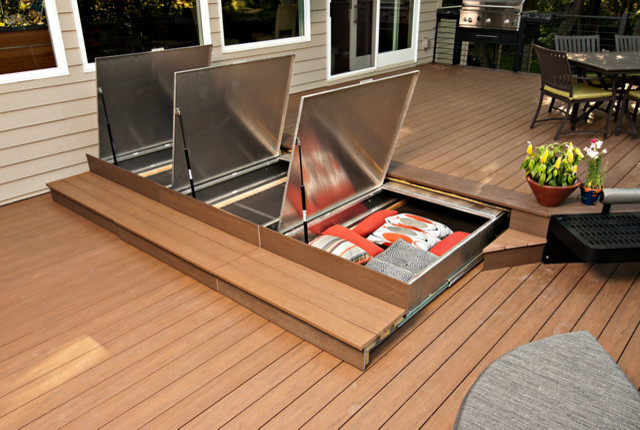 Photo by Structural Dimensions, Inc.
Be mindful when shopping for them noting some functional applications like integrated waterproofing for added durability during rainy periods, alongside safety issues such as locks.
Nurturing Nature in Your Outdoor Retreat
Forever wanting an escape fortified with natural elements? It's possible by incorporating nature within your very own garden retreat!
1. Include Greens in Your Patio Design
Create a green sanctuary beginning with collecting decorative greens that go along with your aesthetic through colors or shapes. Arrange them all over the patio and you will be surprised this will give depth & life to vital areas acting as an anchor for your eyes.
The right type of planter with plants of differing heights creates a perfect backdrop.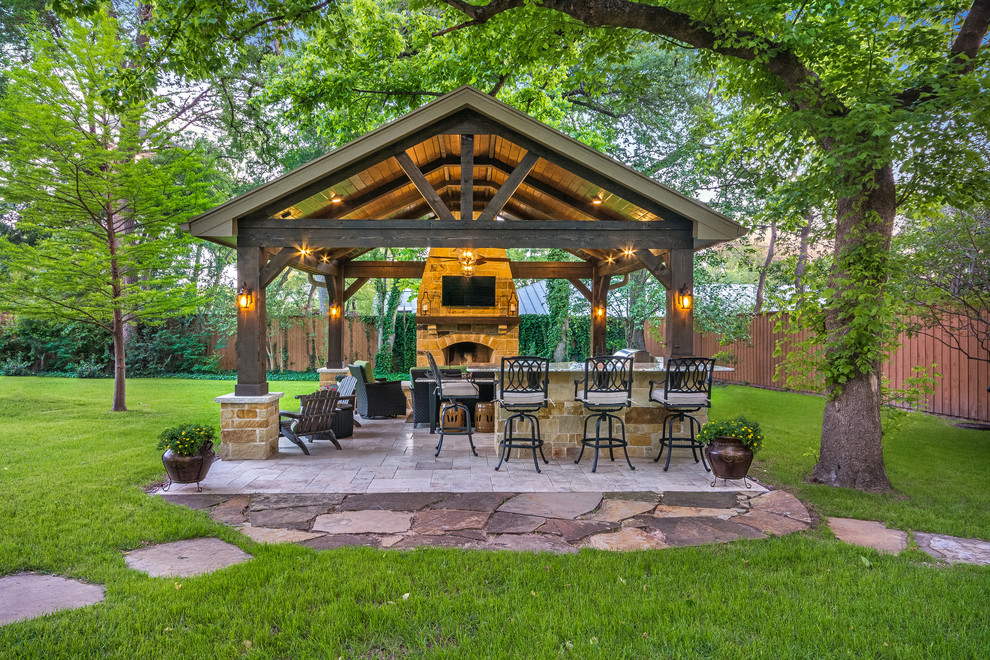 Photo by TCP Custom Outdoor Living
Bring your patio retreat full circle by matching your planters and pots with the rest of your layout.
2 Build Hanging Plants for Limited Space
Though we face spatial limitations, don't lose heart! Be thrilled and challenge yourself to bring out the creativity in you!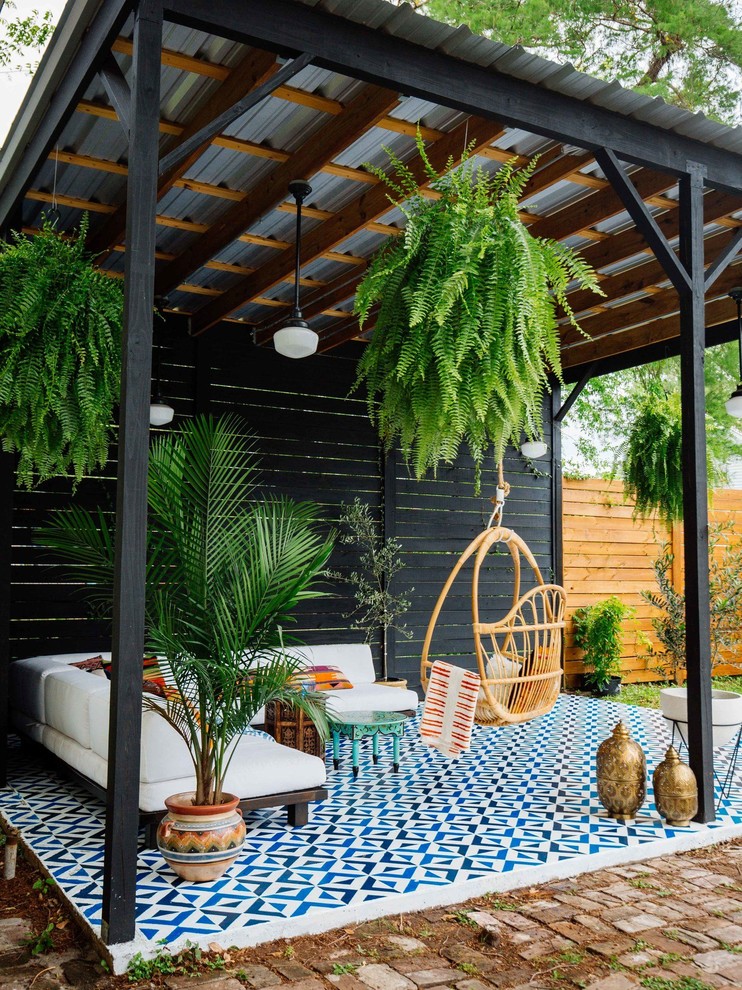 Explore your love of flora by creating a colorful hanging garden. Many free-standing vertical garden inspirations are available or merely suspending plants or aromatic herbs on walls or borders around you. Add foliage without sacrificing crucial floor rooms for entertainment activities like having a chit-chat with friends or guests to come over.
3. Include Fire Pits or Patio Heater
As nature turns cooler, you need to find ways to stay warm while you bask in the tranquility of nature.  Fire pits or convenient patio heaters are an ideal solution, allowing more time outside! This scenario is totally loved by kids!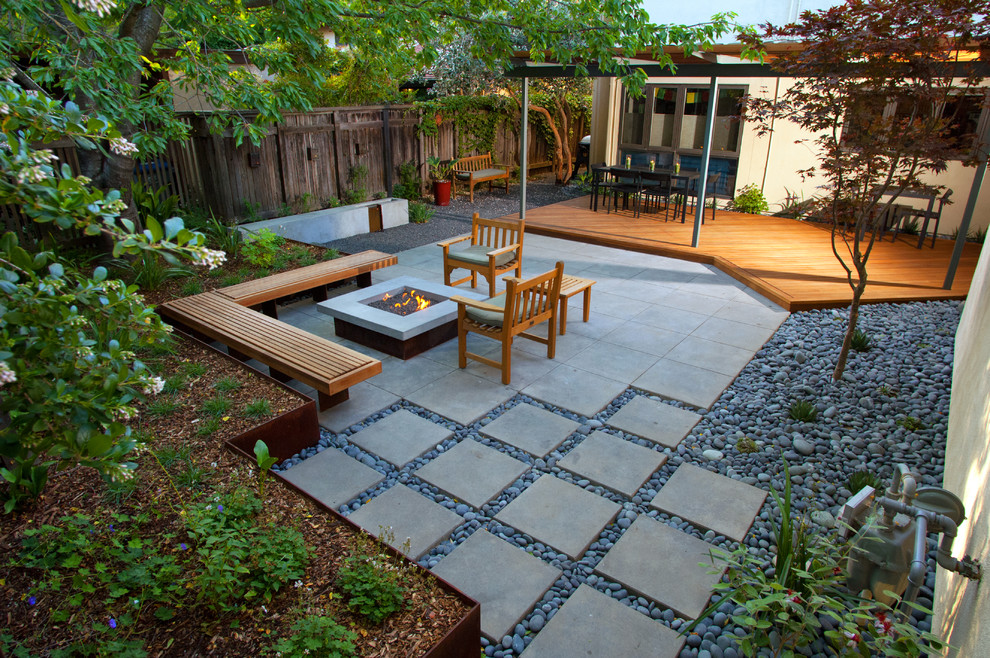 To further set a totally inviting mood, soft lightings like string lights, decorative lanterns, and pathway lighting are perfect!
Conclusion
Using the right patio furniture can revive the atmosphere and bring new colors to your outdoor escape. Smoothly combine a dash of style and colors and turn it welcoming through appropriate fixtures.
For sure everyone who works on their patio meticulously plans its arrangements. Basically, it is based on essential factors such as the size of the available space, or what furniture can supplement your designs. Making certain they are durable and aesthetically pleasing and incorporating weather-resistant material to endure extreme weather conditions.
In Houston, Texas reputable furniture vendors deliver premium quality items to afford you simple luxury within natural scenery. Savor treasured times with family or friends in this unmatched setting.