Embracing the aesthetics of the forties and fifties in your kitchen doesn't have to come at the cost of modern conveniences. A simple kitchen makeover can combine the bold colors and chrome fittings of the past with the clean, sleek, and durable features of the present.
Add A Touch Of Retro
Retro kitchens are defined by their eye-catching color schemes. On the other hand, modern kitchens usually stick to two neutral colors. The best approach to mixing these looks and finding colors that work together is to use a bright, bold color as a highlight for walls, utensils, containers, and countertops, combined with a more neutral color for cabinet installations and shelving. The chrome and cherry red tables and chairs might be too much of a commitment to the period for everyone, but neutral or white furniture set with chrome legs can stay in keeping with the theme while making concessions to the more muted color schemes of a modern kitchen.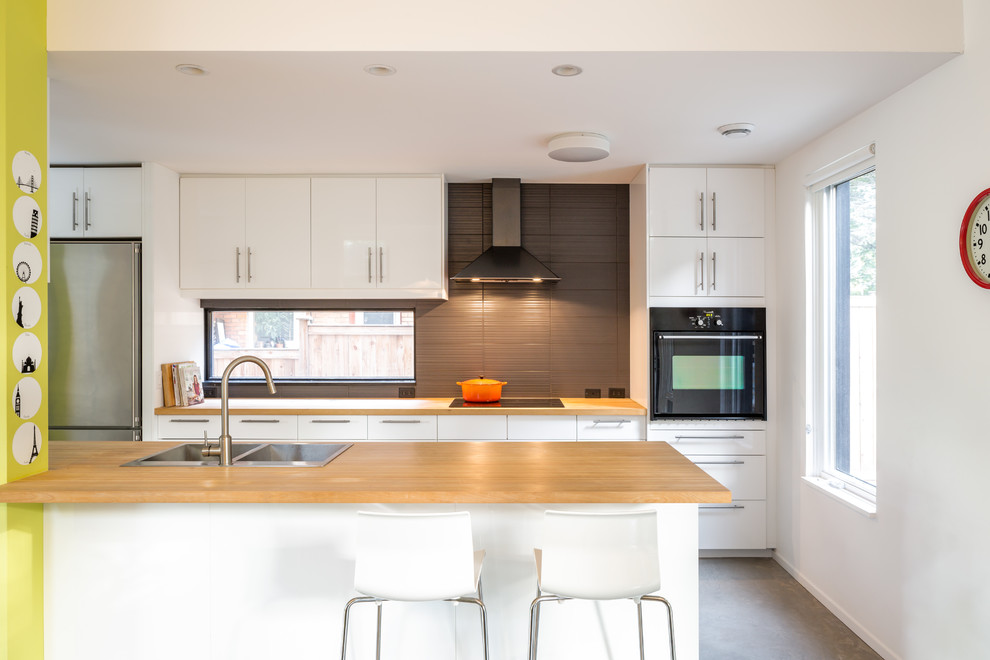 Photo by John Donkin Architect Inc.
Appliances Set The Tone
If you want to give your Las Vegas kitchen a retro feel, your appliances are a good place to start. Look at any kitchen from the fifties and you will find no shortage of shiny chrome, from the oven and range to the refrigerator and dishwasher. You might have some luck finding some genuine period appliances, and appliances were built to last back then, but you don't have to go without the features of more modern appliances if you don't want to. The retro kitchen look is in fashion at the moment, and there are plenty of retro appliances available today that ape the look of the fifties.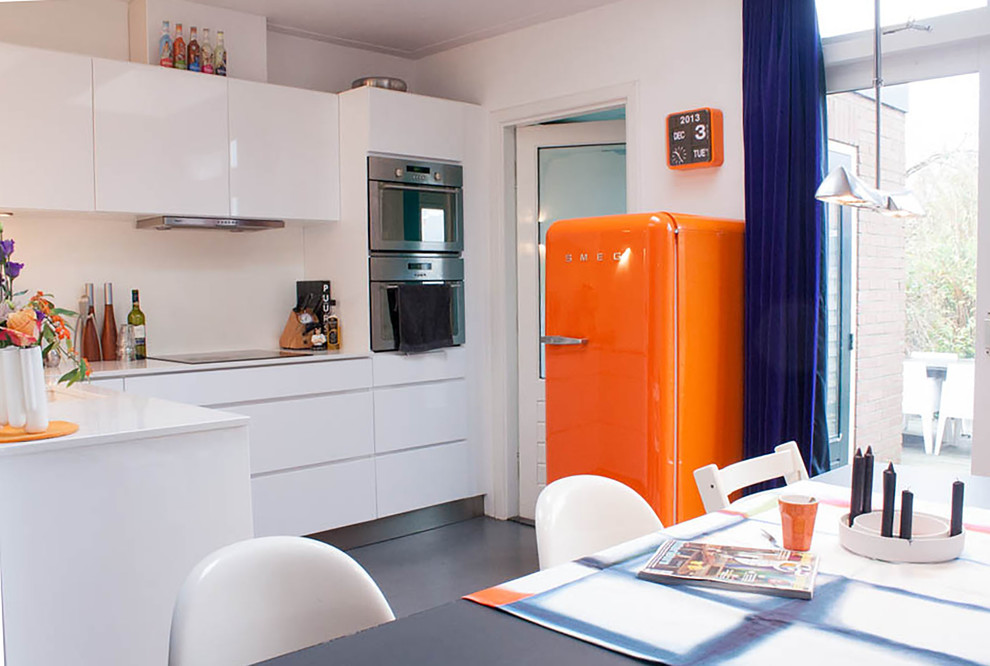 Be Creative With Your Backsplash
Doubling down on the chrome furnishings is always an option for recreating the retro look when it comes to picking out a backsplash for your two-tone kitchen, but don't be afraid to get more creative. Pearly white tiling can make a great contrast against a brightly colored wall or conversely, tiling with a bold and sunny color can offset the neutral tones of less colorful wall color choices.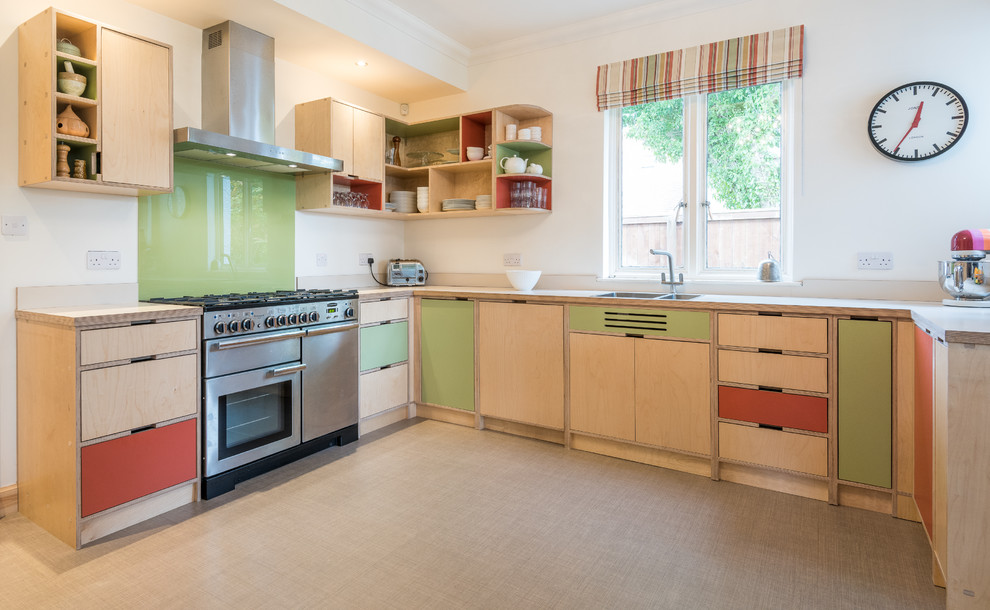 Accentuate Modern Colors
For a retro Las Vegas kitchen that really combines the retro look with modern designs rather than simply recreating a fifties kitchen, you may not want to commit to bright colors across the board. Instead, you can use your bolder color choices as accents for a more neutral color scheme, such as pairing a vibrant red kettle and toaster with a simple grey or beige countertop. You can learn about color psychology to find out the best options for your kitchen.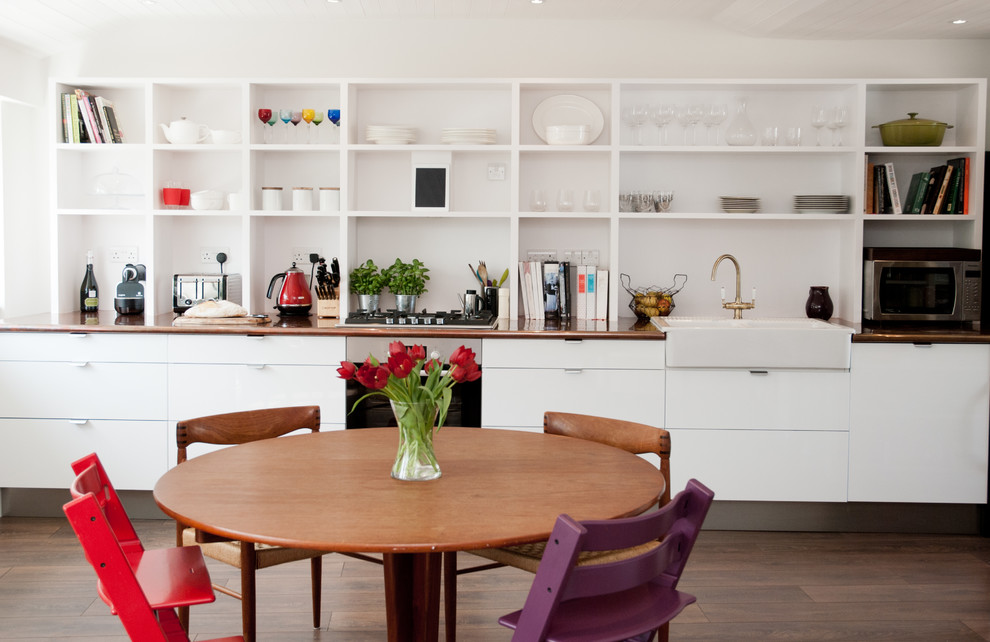 Experiment With Cabinets
Fifties cabinets were typically quite minimalist with simple, basic designs. These were usually colored with pale or pastel blues, yellows, pinks, and white, but don't let that stop you from going with a darker, more modern finish. Dark paint or varnish can give your kitchen a sleek, modern feel to offset the retro vibes.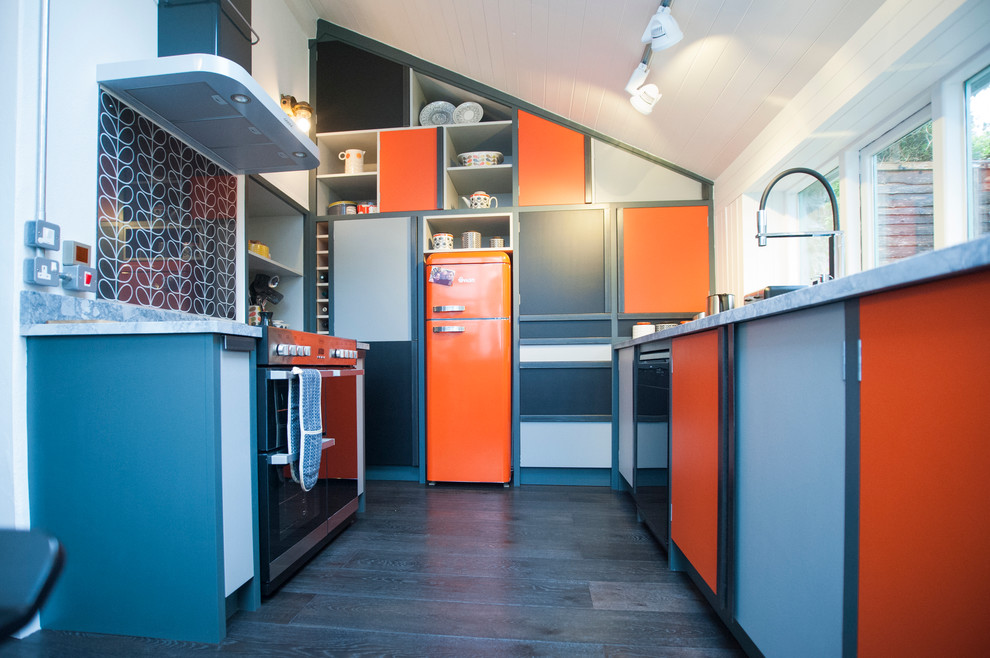 Photo by George Robinson Kitchens
Don't Forget About Guests
A kitchen is for entertaining visitors as well as cooking meals. A wraparound counter or island breakfast counter doesn't just provide a convenient spot to sit down and grab a snack or have breakfast in the morning. They also give your guests a place to sit and keep you company while you cook, instead of getting in your way as you move around the kitchen.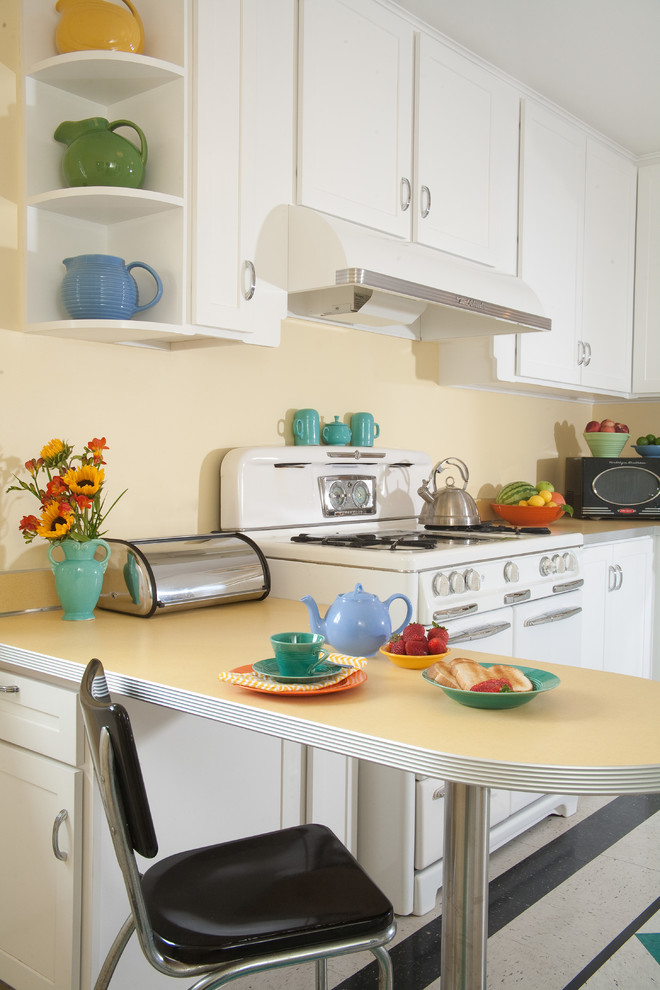 Photo by Margie Grace – Grace Design Associates
Countertops Matter Too
Fifties countertops were usually made from laminate materials, which could crack and peel over time with wear. This is definitely an area where you can introduce some of the improvements of more modern kitchen choices.
Marble and quartz are great choices for recreating the gleaming white kitchen countertops of the fifties. Besides matching the look, they are also highly durable and heat resistant, ensuring they survive any cooking or baking endeavor without a blemish.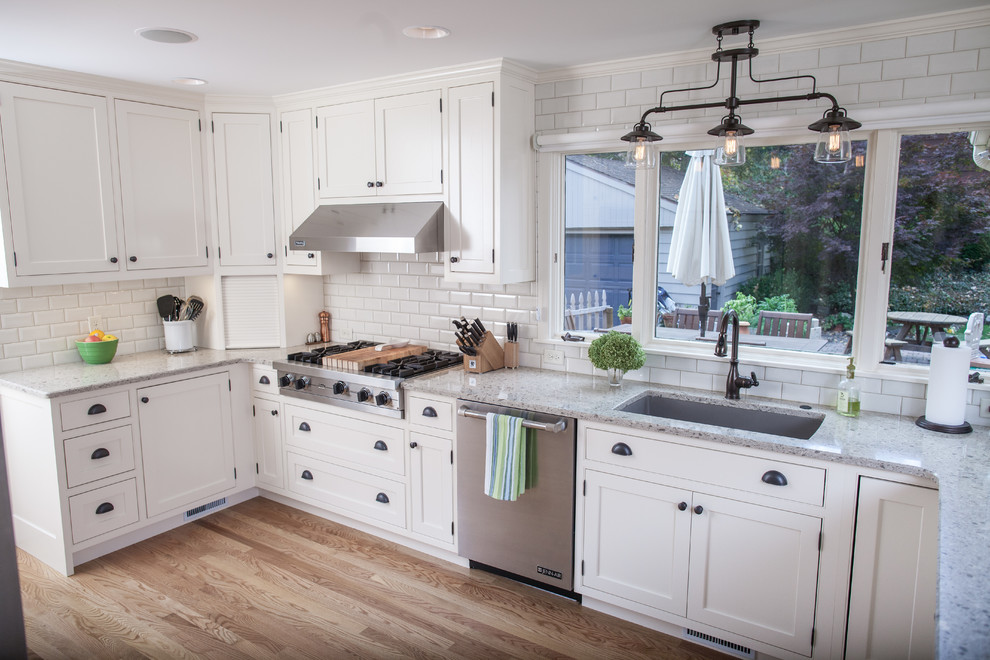 The Devil Is In The Details
It is often the little things that can really sell the design of your kitchen, such as swapping out the modern cabinet handles with simple brass fittings that match the understated designs of kitchen cabinets in that era. Throughout the kitchen furnishings, try to stick to the clean, angular lines that were popular in the period.
It is a different story when it comes to the smaller, countertop appliances like kettles, toasters, coffee machines, and microwaves though. These smaller devices tended to be squat and bulbous in a vintage kitchen, and this can work as a highlight against the simplicity and square shape of cabinets.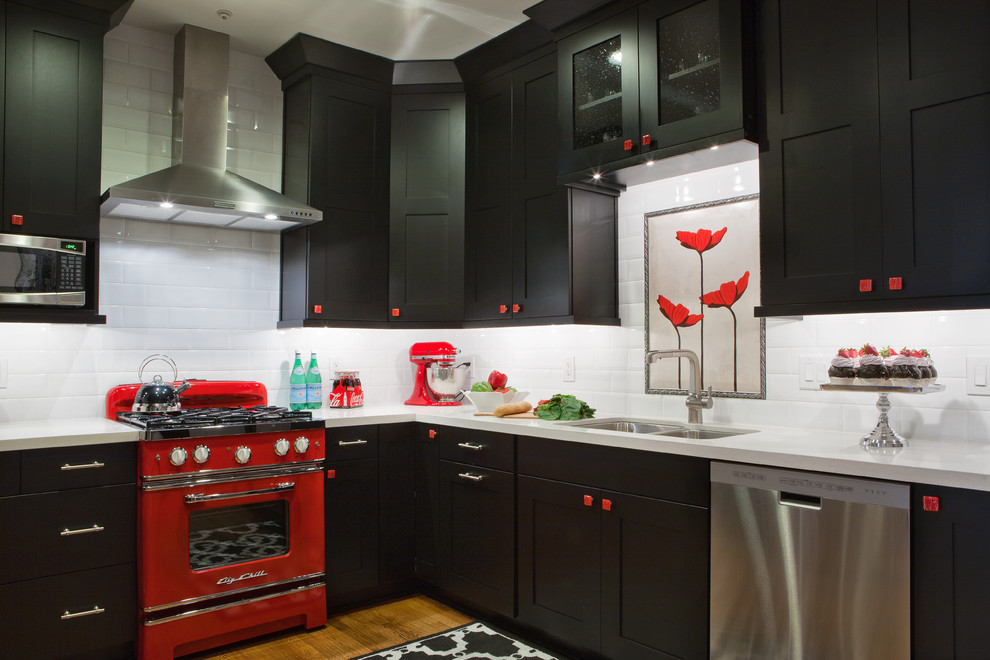 Photo by Highland Design Gallery
Exposed piping is a common feature of fifties kitchens, but this doesn't mesh well with more modern kitchen elements, as well as being a pain to keep clean. Introducing a chrome range hood, taps and sink can provide some of that rustic feel without the inconvenience.
And whatever you do, don't forget that classic checkerboard flooring! No retro-styled kitchen is complete without it.
Conclusion
Use these tips to plan out your perfect retro kitchen. For help and advice with creating your dream kitchen that will last a lifetime,  you can always contact experts and local contractors.