"I'm so fed up of my kitchen. Everything looks so disorganized."
"I wish my kitchen is as organized as the one I saw in the magazine I read."
"I try to keep my kitchen organized, but I have not mastered it, so it is always a big struggle for me."
"There can't be a perfectly organized kitchen. It's an idea that only exists in pictures, movies, documentaries, and adverts."
Does any of the above statements sound like you? Well, it's very possible to have an organized kitchen; you only need the right tools. That is, you only need the right kitchen cabinet organizers. That's why this article was prepared. You'd learn, in this brief kitchen cabinet organizers overview, how to use simple cabinet organizers to give your kitchen a perfect look, and make it easy to use all the time.
1. Label Jars, Cups and Containers
It may not strike you as a good idea until you try it out. You can keep items that make your kitchen clumsy in jars and containers, label them accordingly, and keep them in a specific cabinet. That way, it will be easier for you to rid your kitchen off little items that cause a bit of an eyesore. It will also help you access ingredients, spices and other things quickly and easily.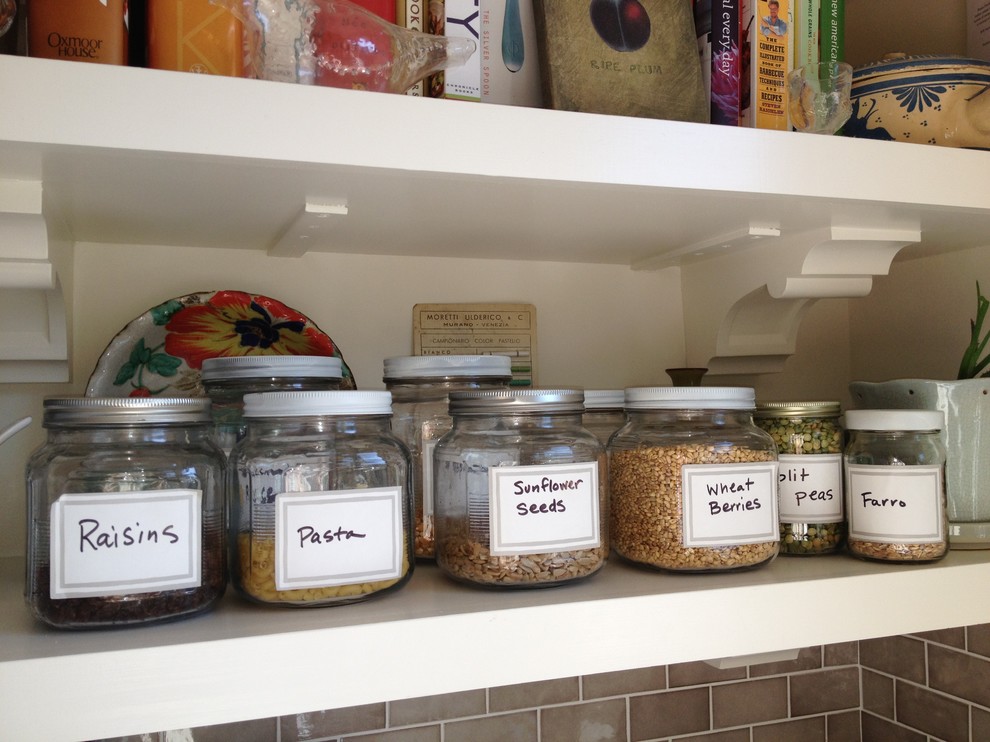 2. Hang Utensils Behind the Cabinet doors
This is one simple thing that can make a lot of difference in your kitchen. Rather than having your utensils scattered everywhere, which may even cause you to be tired of looking for utensils while cooking, hang them behind cabinet doors. You don't need the services of a furniture maker to hang your utensils. Simply use screws to drill the cabinets a little, and hang the utensils on them. Very simple, right?
3. Try to Use a Pull-Out Storage Cabinet
A pull-out storage can help you to be faster with whatever you're doing in the kitchen. Imagine if you had to completely bring out a storage to pick an item from it, you may even forget to put it back in place. On the other hand, when you pull out a storage and pick what you want, you will easily remember to push the storage back in, and that way, you'll be able to deal with even the smallest level of clumsiness.
4. Organize Your Plates in a Rack
This method has been used for many years, but it still works magic. Keeping your plates in a rack does not only enhance the organization of your kitchen, but it also prevents the plates from damage. There are different kinds of rack depending on what appeals to you. Go to a store to purchase one, and fix all your plates in it.
Photo by Philip Clayton-Thompson
5. Use a Vertical Storage Rack
Vertical storage racks are very helpful, especially for keeping your spices. This way, you'd be able to easily spot, access and organize your spices or any other item you keep in the rack. If you don't have it installed in your kitchen already, you should get one, and you'll be surprised how much magic it works.
Photo by Falken Reynolds Interiors
6. Specify Cabinets for Different Items
One way to keep your kitchen clean and organized is to have specific items in specific storages. For example, if you drink coffee a lot, keep your coffee, the coffee cups, the heater and every other thing you use for coffee in a single cabinet. You can also specify cabinets for electrical gadgets like blenders, bread toasters, electric kettles, rice boilers, and so on. Keeping items this way can help keep you in control of your kitchen.
Photo by Hughes Developments
7. Create a Station for Cleaning
Cleaning is one activity that will never end in the kitchen, or even generally, in the home. So, it will make a lot of sense to have a specific place where you keep your cleaning equipment. That way, you'll be able to quickly and easily access them, especially in the event of an emergency like when something slippery spills on the ground.
Photo by MasterBrand Cabinets, Inc.
Keeping your kitchen neat and organized is not a herculean task as some have thought it to be. Get the right kitchen cabinet organizers, even the ones which are very simple, and you'll be surprised how organized and attractive your kitchen can be.