When renovating your kitchen, you may want to give it a specific aesthetic or style. Whether you enjoy cooking or eating in the kitchen, one way to boost your experience is to evoke a nostalgic feeling in the room. Taking your kitchen decor back in time is a great way to create a sense of nostalgia that makes it fun to prepare meals. Classic restaurants are known for having a cozy atmosphere that also managed to pull off a modern vibe for the time. Giving your kitchen a makeover is easy when you incorporate these elements that make it feel like stepping into a bygone decade. Choose retro appliances, install classic flooring, incorporate bright colors, and use vintage serving ware. By following these tips, your kitchen will feel like a classic restaurant.
Choose Retro Appliances
Every kitchen needs a working stove, refrigerator and oven that all are made using a similar style. You can often pick out matching sets of models that all use the same type of design elements. Look for appliances that have rounded lines that evoke a sense of comfort. Whether you go with stainless steel or a more vintage color is up to how far you want to take your classic restaurant theme.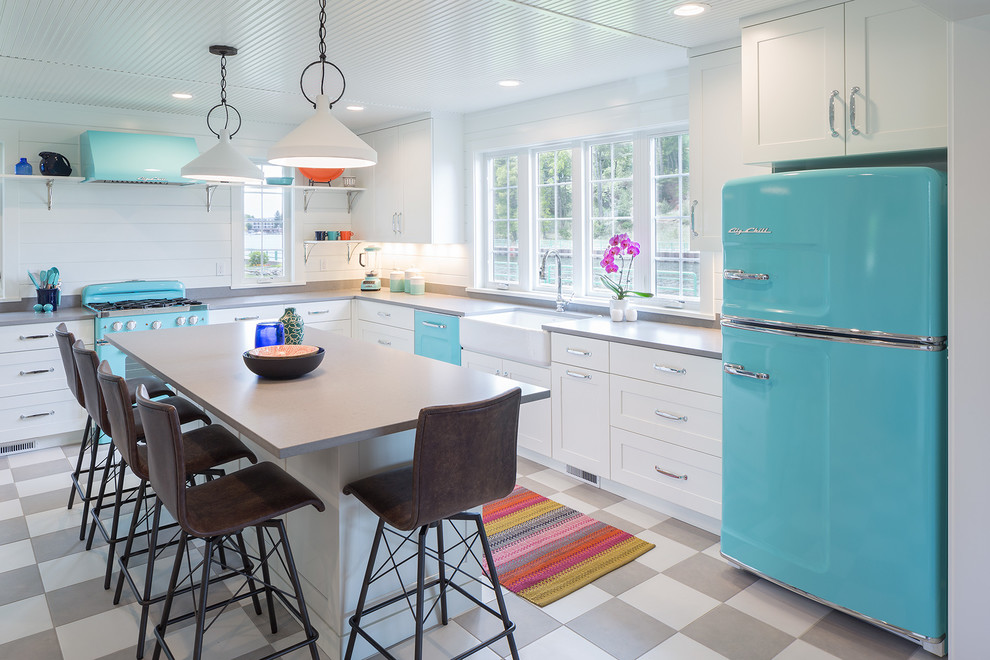 Install Classic Flooring
The right type of flooring for your kitchen should harken back to the days when building materials were meant to last. Dairy brick is one of the hottest flooring options for kitchens. Not only is it made to withstand hot temperatures and heavy blows, but dairy brick repairs can quickly restore older floors so that they continue to last for many more years.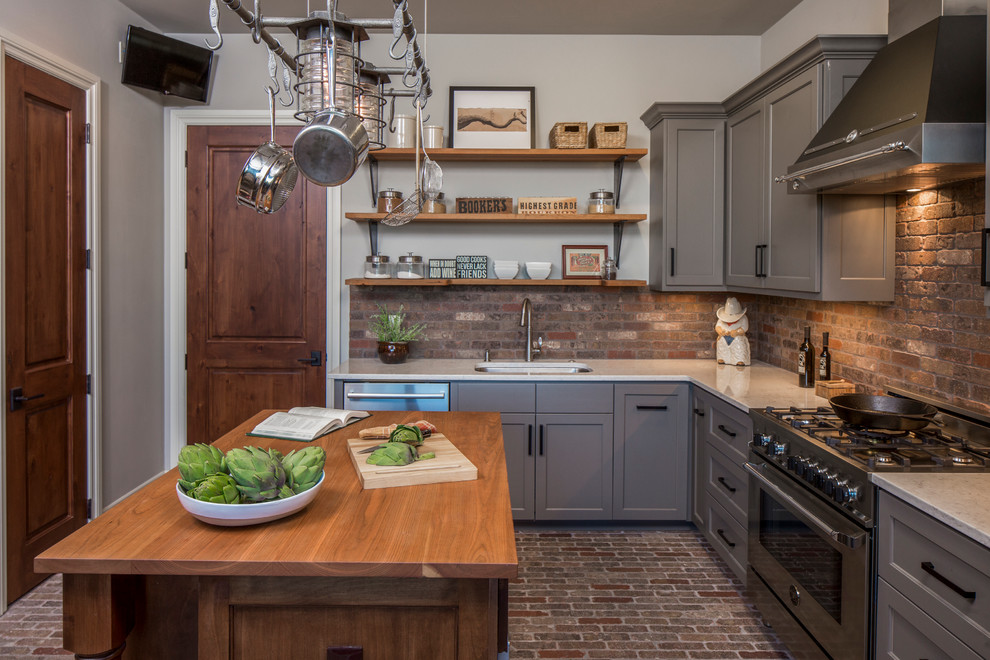 Photo by Dawn Hearn Interior Design
Incorporate Bright Colors
Kitchens should feel airy and cheerful. Avoid the temptation to make everything the same neutral colors. Instead, focus on creating the look you want by adding some bright colors where you can. For instance, installing a bright red countertop can make your kitchen feel more like a diner, or you can install brightly colored art work on the wall to give the space more energy.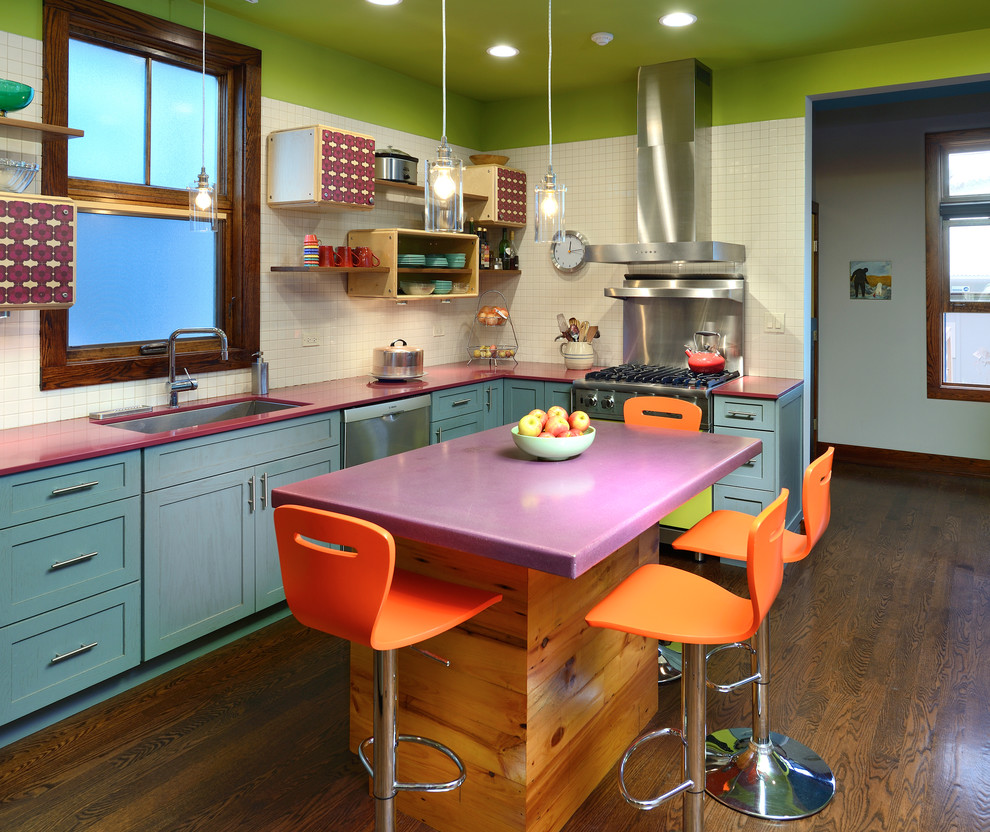 Photo by Michael Lipman Photography
Finish Up with Vintage Serving Ware
The right dishes and accessories can help you lock in the classic restaurant style that you want in your kitchen. Classic restaurants often choose basic white plates and bowls that highlight the food without complicating the decor. You can also use stainless steel bowls, cream-colored crockery and silverware with simple patterns to emphasize your desire to keep things classic. Keep in mind that some serving ware can also serve as decor. A beautiful butter dish and salt and pepper shakers help to bring the kitchen design to the table.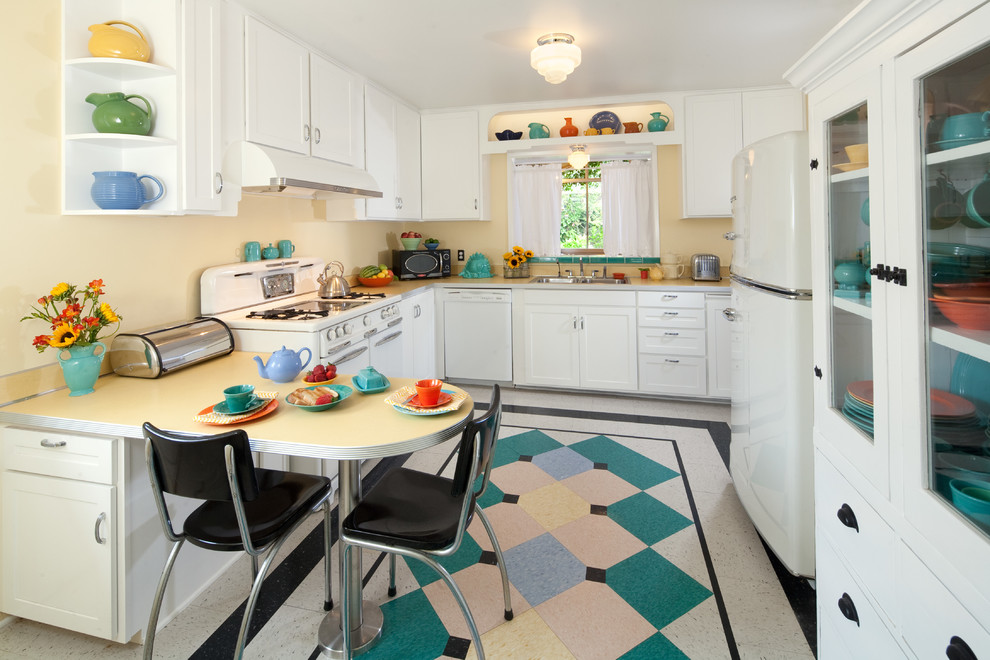 Photo by Margie Grace – Grace Design Associates
Classic restaurant kitchen designs should always reflect high quality materials that stand the test of time. Back then, restaurant owners viewed their kitchen as a reflection of their fine taste in decor and the culinary arts. Once your kitchen is designed, you'll love stepping into a place that makes you feel the joy of cooking for others.
Author Bio
Brooke Chaplan is a freelance writer and blogger. She lives and works out of her home in Los Lunas, New Mexico. She loves the outdoors and spends most of her time hiking, biking, and gardening. For more information, contact Brooke via Facebook at facebook.com/brooke.chaplan or Twitter @BrookeChaplan