The kitchen is one of the most important spaces in your home. It's the place you make all your meals, so your kitchen should not only be functional but pleasant to look at. As the open concept design continues to dominate the interior design world, kitchens are now meant to be both functional and beautiful. One of the reigning design aesthetics for kitchens is a minimalist design. Low on clutter and high on function, this practical design is perfect for those who like clean, simple aesthetics. If you're considering renovating your kitchen to follow a minimalist design, here are some ideas that will have you starting your reno right away!
1. Color Code:
Using one or two colors throughout your kitchen design is the mark of a minimalist design. Choose a base color and then work from there! Use shaker-style white cabinets and a white tile backsplash with white countertops to not only have a monochrome color palette, but also create a clean-looking kitchen. Because white is such a sharp kitchen color, it's important you keep all your cabinets, countertops and backsplash clean. White shows a lot more stains, grime and scratches than other colors, but the hassle is worth it for a Pinterest-worthy kitchen!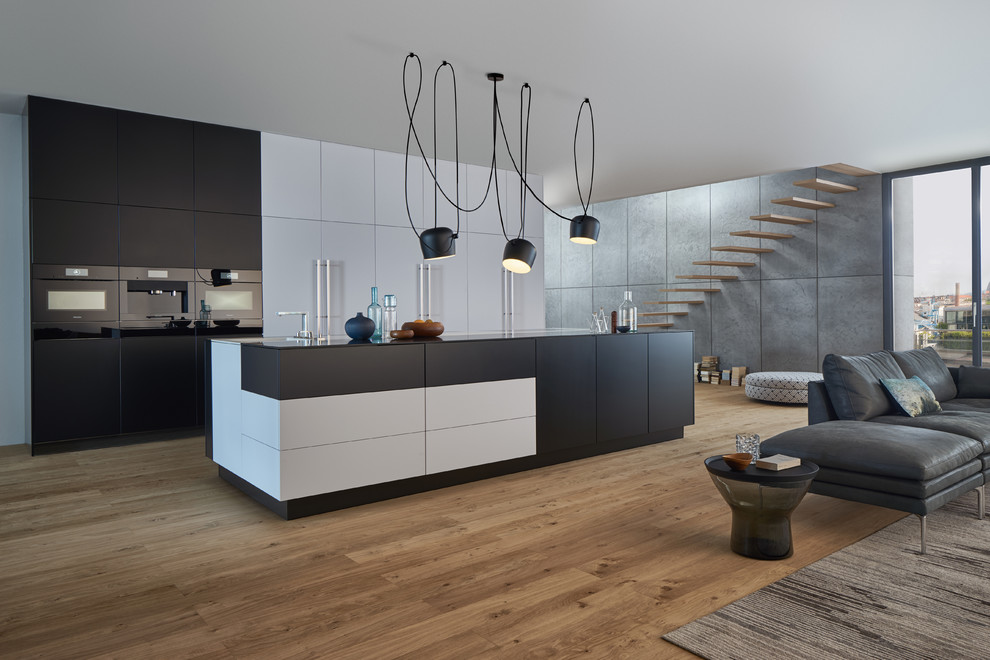 Photo by Leicht Westchester-Greenwich
2. Hide the Wires:
Wires can make kitchens feel cramped and cluttered. By installing hidden hardware features into your kitchen, you can remove those wires and make your entire kitchen appear seamless. Your appliances will appear to work by magic! You'll want to make sure it's done right, though, so consider hiring a professional to take care of properly hiding the wires for you.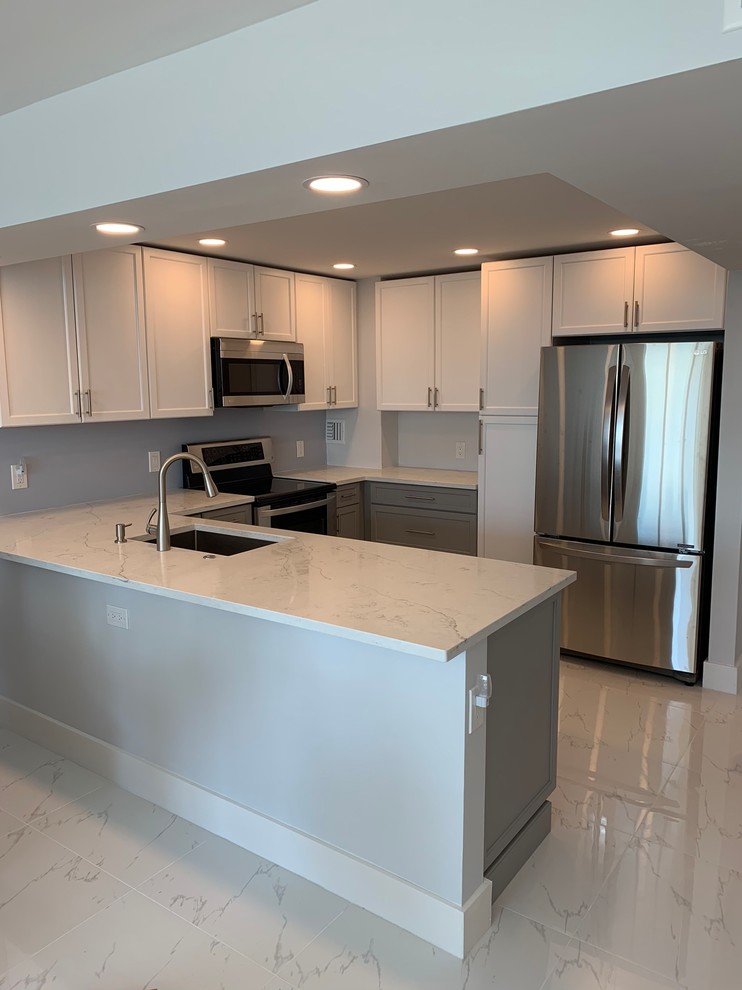 Photo by ROSE ARCHITECTURE AND CONSTRUCTION
3. Save the Bold for the Floor:
If you're looking for a place in your kitchen to introduce a pattern, why not the floor? This way, you can keep the counters, backsplash and cabinets clean and minimal. Whatever you choose for your kitchen floor, think practical and easy-to-clean! You can use painter's tape to stencil out a criss-cross pattern or lay floor tiles out in a unique way to make an interesting and bold flooring effect. It's important to base your pattern off the number of tiles you're going to use on your floor, so if that stresses you out, another flooring such as vinyl or hardwood might be the way to go!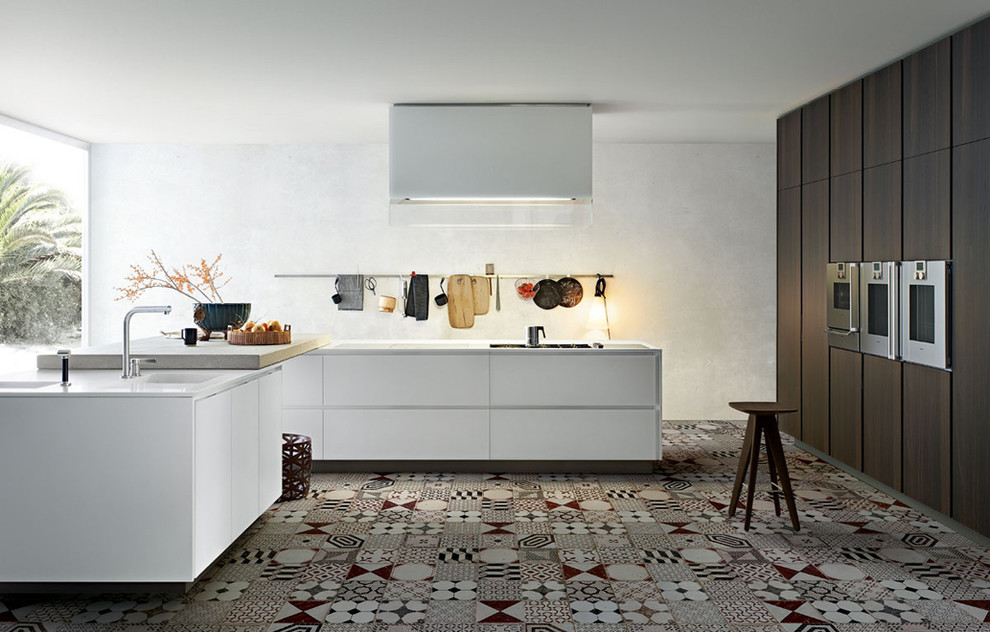 Photo by Stephen Neall Interiors
4. Float the Shelves:
Instead of hiding all your plates and other dishes in cabinets, consider using open shelves. Your dishware suddenly becomes decor when you opt for floating shelves. Plus, you can save money on cabinets! Remember to dust and clean all your dishes and small decor you put on those shelves at least once a week so they don't get dirty.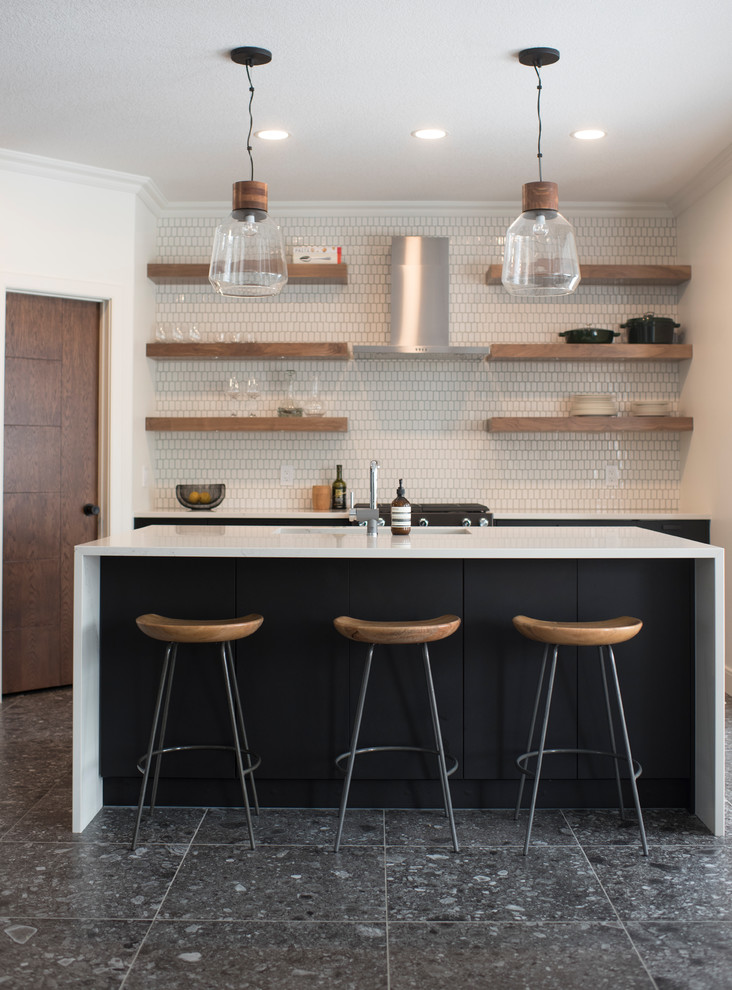 Photo by Ministry of Interiors
5. Coordinate Your Dishware:
Buy your dishware as sets instead of individual pieces. This will help you keep a complementary color pattern throughout your kitchen. When you put place settings on your kitchen island or breakfast table, they will look cohesive with coordinated dishware. Try to go for muted, neutral colors as well to keep things light and airy.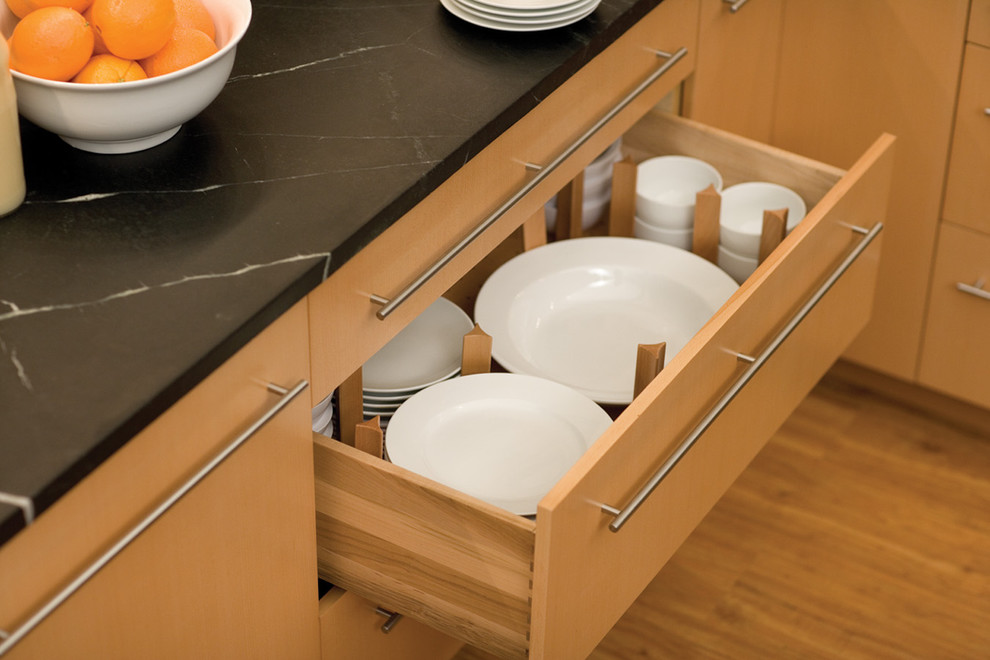 Photo by Dura Supreme Cabinetry
6. Keep It Natural:
Using natural elements in your kitchen such as wood or florals is a great way to incorporate minimalism. These elements make things feel rustic and embrace the outdoors. There are tons of ways you can do this: butcher block countertops, wooden cabinets, wooden bar stools or even wooden dishes. Use floral patterns on the backsplash or floor tiles, and don't forget a bouquet or two of flowers and a small plant to place on the counters.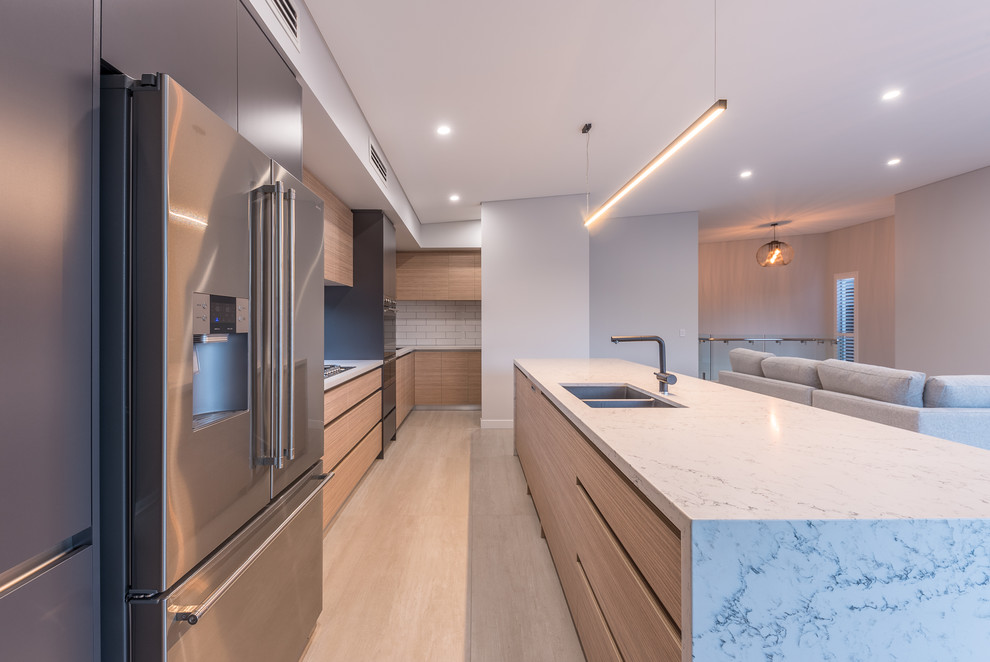 Photo by The Anderson Projects
7. Make the Most of Your Walls:
The walls in your kitchen don't have to feel left out. Try to think of unique ways to incorporate simple design features to them. Consider adding some minimalist word art, a statement oil painting or even a hanging herb garden. A herb garden is a great option because it gives you something practical to add to your kitchen that also looks great. There are tons of ways you can DIY your own hanging herb garden that will ensure it melds with your kitchen decor.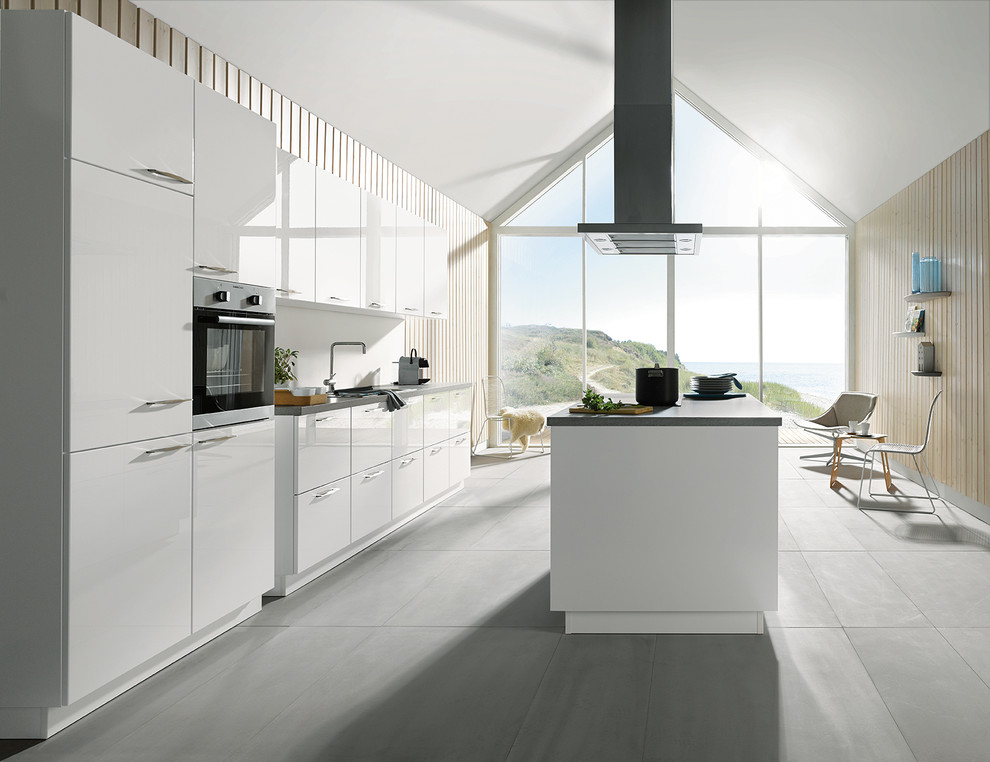 8. Hide Your Appliances:
Hidden appliances are all the rage these days. Your fridge can blend seamlessly with your cabinets by having the doors match your hardware, and you can hide the vent hood behind a large marble slab. Place your oven under your kitchen island, with the stovetop tucked away near a corner countertop. Hiding your appliances will help you keep the minimalist aesthetic going, and your guests will love the innovation behind it.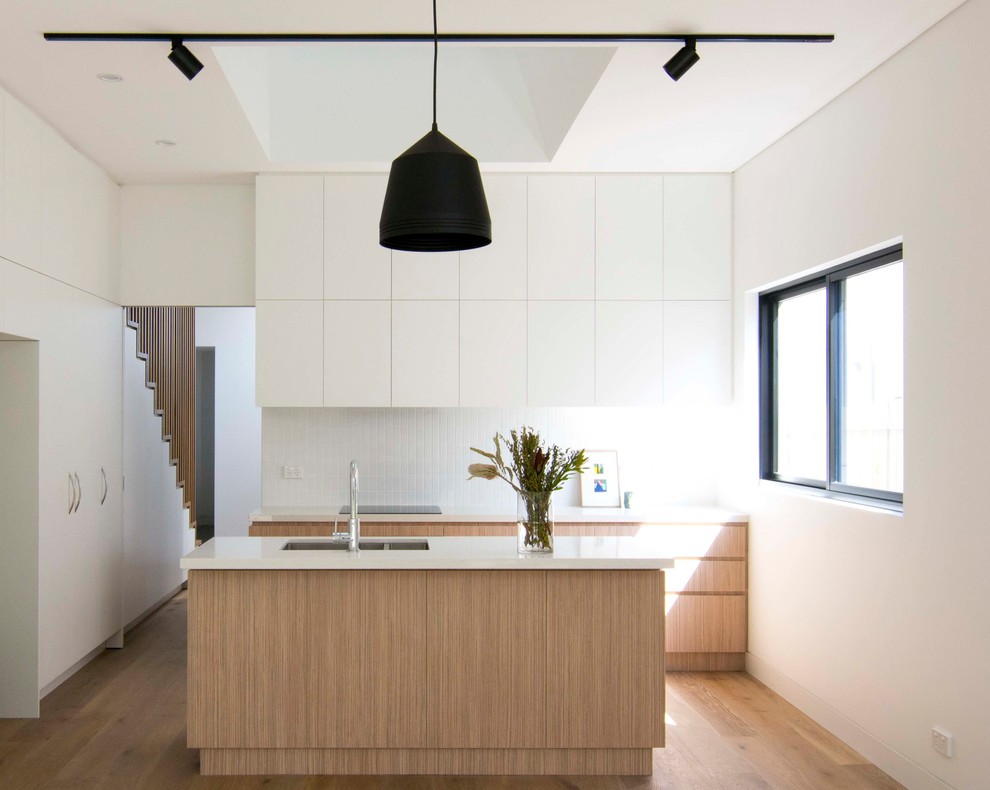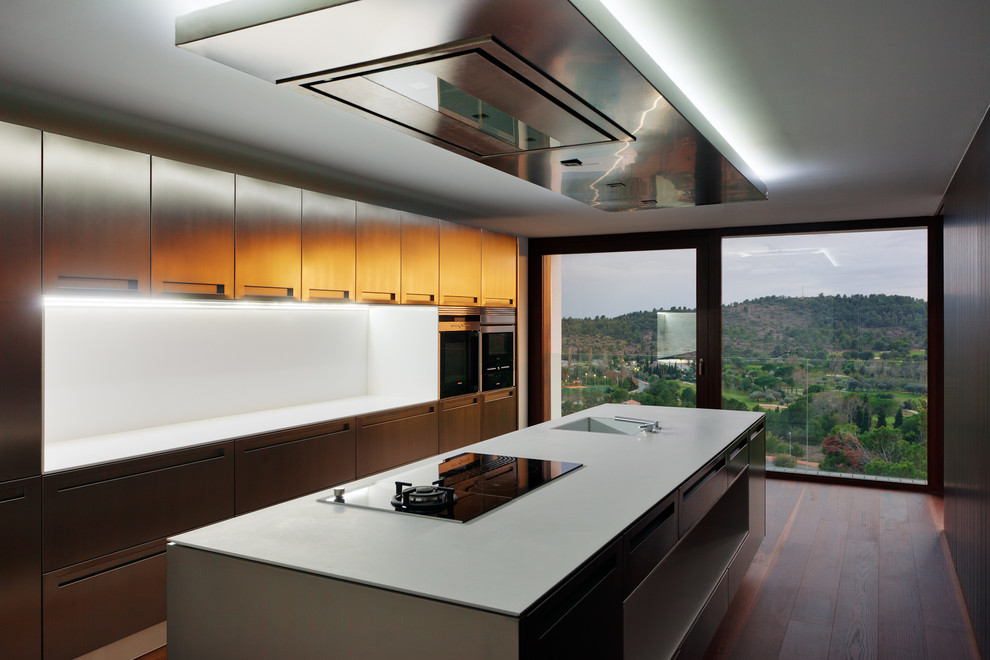 9. Keep the Sink Center:
Minimalism isn't just about using a small amount of things. It's also about symmetry! Having a symmetrical kitchen is an important part of creating a dream cooking space. By placing the sink in the center – either on the kitchen island or on the back counter – you've created a nice, symmetrical space.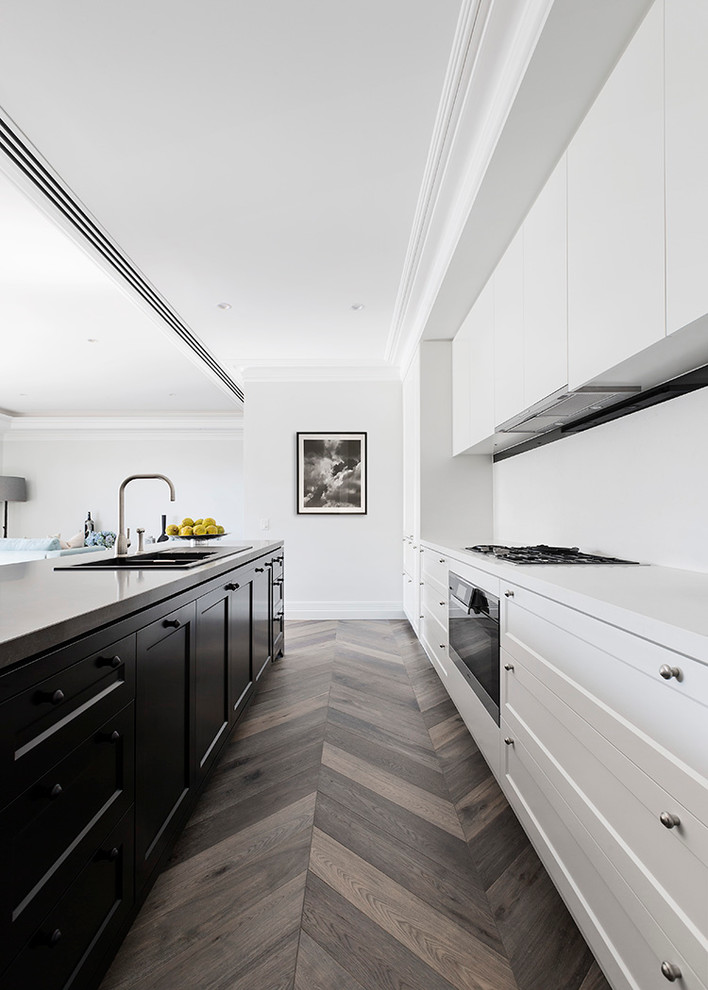 Photo by The English Tapware Company
10. Upgrade Your Appliances:
Just because you're going for a minimalist kitchen doesn't mean you have to skimp on quality appliances. Chances are your appliances are due for an upgrade, so head to your local appliance store and search for stainless steel or all black appliances. White appliances appear outdated, so try to avoid those. However, a retro, antique stove can be a unique piece to add to your kitchen. Just make sure to have it restored properly to go with the rest of your kitchen. A stove is typically a focal point of a kitchen, so the rest of your kitchen should go with it. Try to avoid using sleek grays with a retro white stove or fridge. Instead, use black cabinets, butcher block countertops and a white tile floor.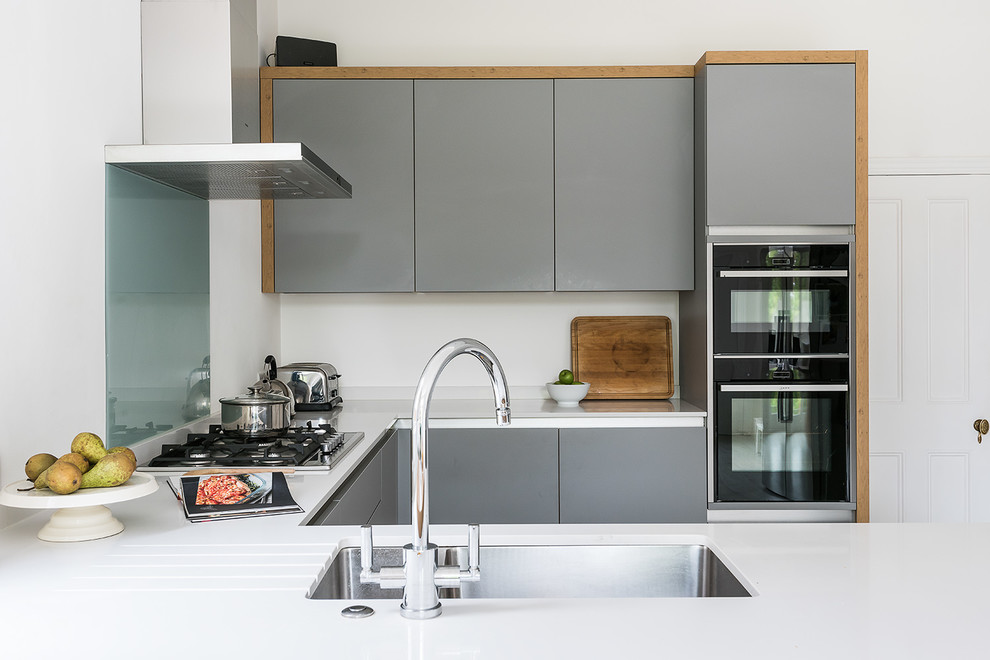 Photo by Veronica Rodriguez Interior Photography
For many homeowners, the kitchen has become the central space of the home. Your minimalist kitchen should prioritize function, but appear stylish and seamless with the rest of your home. With a few simple tricks, you can have the minimalist kitchen of your dreams!