So you have decided it's time to make your kitchen family friendly. Use this simple guide to cover all the bases when planning the kitchen's design. Before long, your kitchen will be a more than just a place to cook: it will be a place for the family to live and grow together.
Family Friendly Materials
With kids in your kitchen, it's likely that there will be more than a few spills. Choosing a material that is stain resistant absorbent will help deal with this.
Another thing to consider when selecting your countertops is hygiene. Quartz is completely sealed, meaning it does not absorb any dirt or filth, and does not harbour any dangerous bacteria. Steel is very easy to clean, meaning it won't not foster bacteria unless you let it. Either of these materials is a clean, safe choice for your kitchen.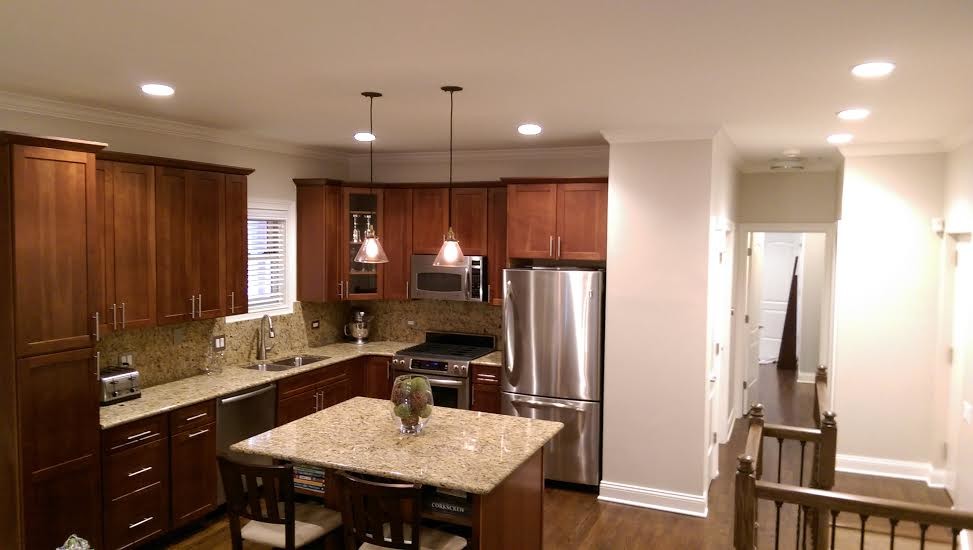 Modern Kitchen by Orland Park Kitchen & Bath Remodelers Peak Construction & Remodeling, Inc.
For more information, try this guide from Modern Worktops on how to choosing hygienic worktop materials.
Child Safety
A kitchen is home to many sharp and dangerous implements. It also has other kitchen hazards such as wires and plumbing – all things that children need to be kept away from in order to avoid potential disaster.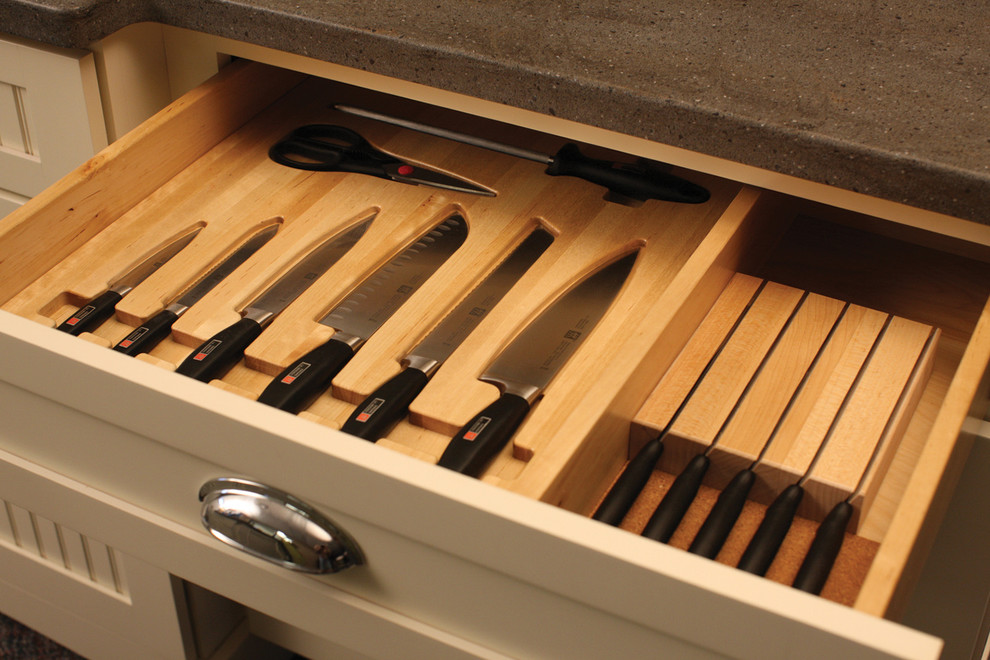 Traditional Kitchen by Howard Lake Cabinets & Cabinetry Dura Supreme Cabinetry
To keep kids out of cupboards, simple child safety locks should suffice. As long as you keep track of where everything dangerous is you can safely secure it in a cupboard without having to worry about a child finding it. You can also use child safety locks on unsafe areas like below the sink.
For a child safety solution without investing in locks, try storing dangerous or breakable items in higher up cupboards or drawers. This way children will only be able to reach them when they are older and hopefully less accident prone.
Family Layout
Family friendly doesn't have to mean ugly. These family friendly kitchen design ideas prove that a family kitchen can still be spacious, modern and chic.
To get a family friendly but stylish layout, try installing a kitchen island. Kitchen islands are the perfect places for teaching your children to cook and bonding with your family while dinner is prepared.
image source: howdens.com
Have a small kitchen? Here are some great ideas for putting in a breakfast bar instead for all of the benefits of a kitchen island in a smaller space.
Another idea for a family kitchen layout is to have an eat-in kitchen. With the dining table and cooking area in close proximity, the whole family can be together from the start of the cooking process until the end of the clearing up.
No room for a dining table? Here are some brilliant ideas for adding a breakfast nook to your kitchen. You should consider a breakfast nook even if you do have a large kitchen, since when the kids are in bed or in another room, it doubles up as a great place to have a romantic dinner with your partner.
Storage
If you are worried about the extra space remodelling your kitchen may take up, think about storing your food in a pantry. Here are some useful pantry storage ideas for your kitchen.
With the right design, even the smallest pantry can make all the difference.
image source: notjustahousewife.net