If you feel like you belong to the 20s, 30s and 40s, then you need to incorporate art deco interior design into your home! A style that became apparent in the earlier years of the 20th century, art deco was born through progressive growth and dazzling change across the western world after the struggles of WWI. Instead of Edwardian light tones, florals and frills, now streamline curves, scalloped edges and dramatic jagged edges, mimicking the shape of skyscrapers, emerged.
From scalloped headboards, gold galore ornaments, striking marble wallpapers and 'sunrise' shaped décor, it won't be long until you feel like you've stepped back in time to this exciting period in history!
Choose art deco gold accessories
If you want to bring glamour into your art deco home, then celebrating metallic tones is key. Choose items that ooze old movie star styles such as golden curtain rails, decorative sunrise-shaped mirrors, jaguar and monkey sculptures, tropical lamps and angular coffee tables! By just choosing a few gold items here and there, you will easily incorporate vintage style into your home without having to do any diy tasks (a great art deco interior-design tip for people who hate decorating)!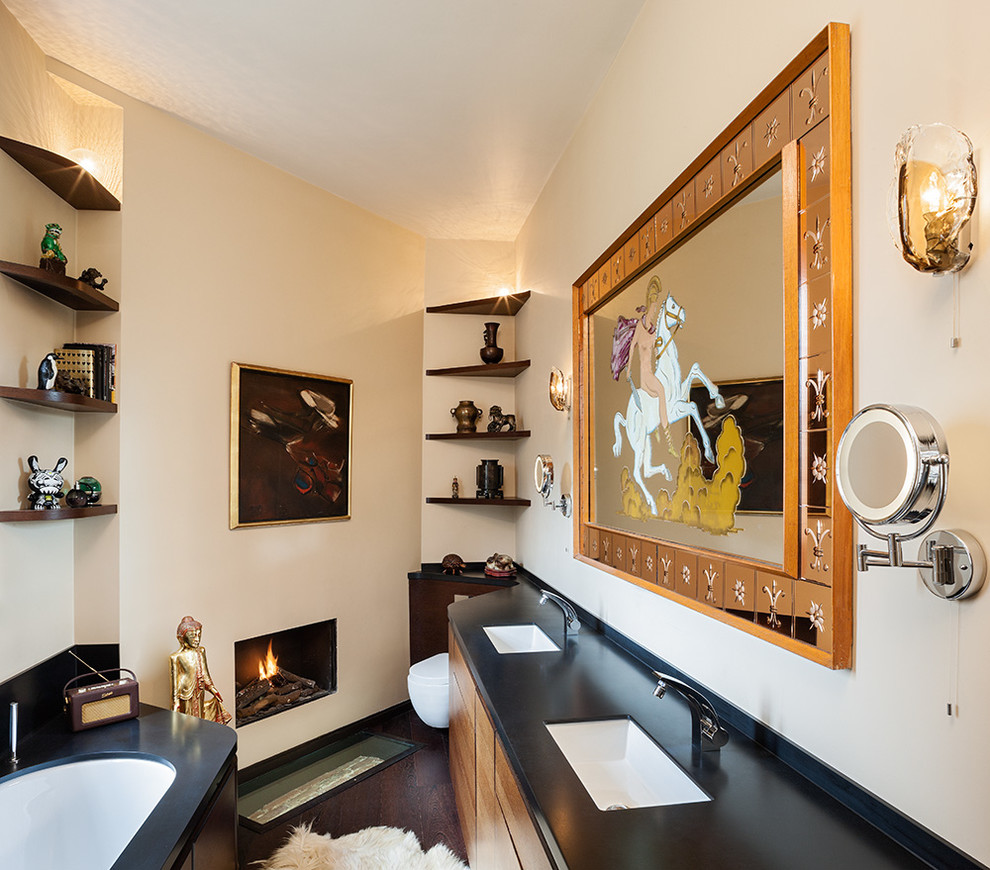 When choosing golden decor, the bolder, the better! Place these beautiful, antique-style items around the room and choose furniture with brassy gold accents, such as brass couch legs or a gold lamp, to mirror the stunning golden décor around them.
Go big with art deco wallpaper
If you really want to make a big impression and let people know straight away that your home is designed around 'art deco' style, then choose a striking 1920s inspired wallpaper. With striking gold colors paired with sharp geometric patterns and luxurious marbles, an art deco wall mural is the statement you need if you want your home to scream "luxury!" And as always, use the colors in the wallpaper to inspire the rest of the room. We adore the connection between this green marble effect wallpaper with the forest-green cushions and throw. Not forgetting the grey curtains and bedding that look perfect with the grey geode patterns – utterly stunning!
Photo by Wallsauce.com
If gold is a bit too much for you, why not opt for this more subtle, early art deco-style wallpaper? We adore the Charles Rennie Mackintosh-inspired flower pattern in this floral wallpaper. Flowers not only symbolize love, but they bring a sense of the outdoors in – great for a bedroom space. And the soothing tones of teal, duck-egg blue and beige are so calming and reassuring.
Photo by Wallsauce.com
Light up the room with art deco lighting
One thing that is always present in art deco interior design is beautiful lighting. Wall scones that look like the shape of the Empire State Building, oversized golden lampshades, or even a bronze-based lamp that has been sculpted into the shape of a 1920s flapper, are all that you expect in a vintage home!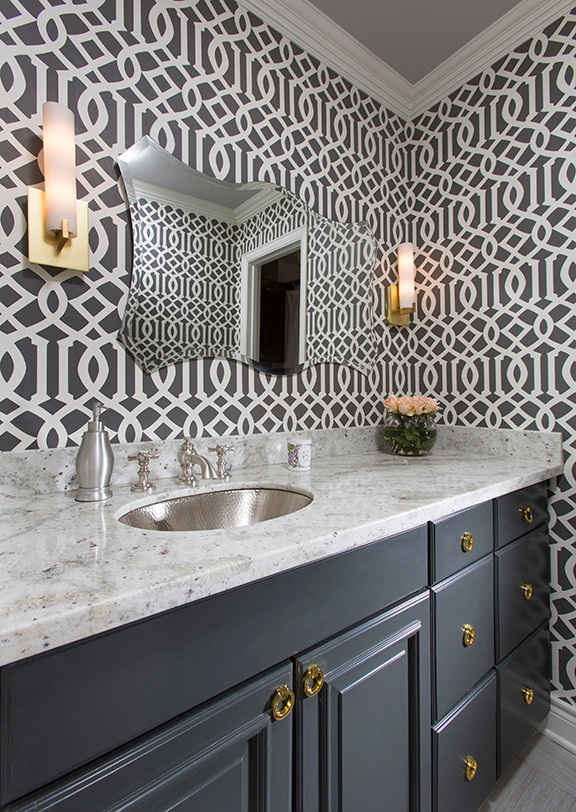 Photo by Apark Design Studio LLC.
But to avoid making your home more like a museum than a cool, retro pad, carefully match these antique items with modern furniture. Choose an antique lamp, but place it on a sleek, modern table. Select an elaborate art deco light feature above your dining table, but make sure the table and chairs mirror more of a minimalist, on-trend look.
Sleep like a movie star with an art deco bed
There is something SO art deco when it comes to a velvet upholstered scalloped or pleated headboard. The finger form of this grey 1930s style bed reminds us of the shape of the famous Chrysler Building as it slowly grows higher at the peak! Paired with modern white walls and furniture, here is modern art deco design at its best: the bed is obviously a striking vintage feature but it blends so beautifully into this current room.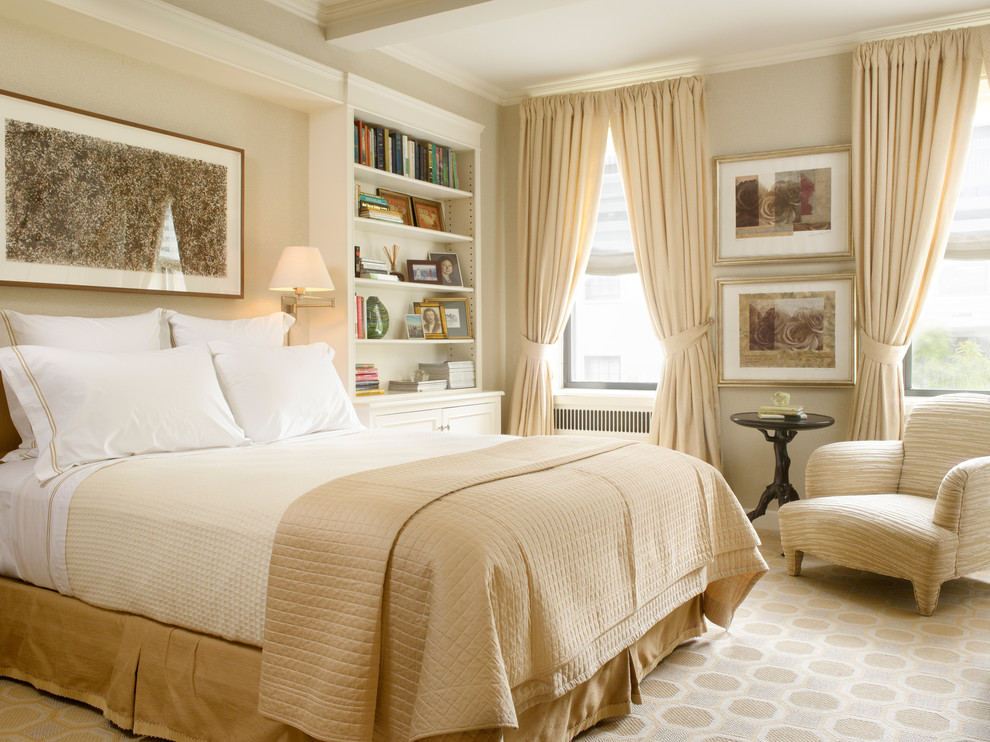 Photo by Gridley + Graves Photographers
As well as shell-inspired headboards, the famous 'sunrise sunburst' shape was a popular choice when it came to beds during this iconic time. As well as a glamorous time for some, the art deco period was also a time of anxiety after WWI. It represented a time of new beginnings which the very famous sunrise design stands for. So why not choose a bed with a circle or sun beams headboard?
When you start planning your art deco home or room, think carefully about these beautiful ideas. But remember, less is more – pair those vintage items with modern pieces.
Author Bio
Amy Hillary is a freelance writer as well as the Content Creator at Wallsauce.com. Her work consists of creating website content, writing blogs as well as product descriptions. Her most popular topic focuses are interior design, lifestyle and retail.