Swimming is fun but some people can be hesitant to dive into outdoor pools. If you are someone who fancies indoor swimming pools and looking for some incredible ideas, you have landed at the right place.
Indoor swimming facilities have been popular for decades. They not only offer the luxury to swim in privacy at your preferred hours but you don't need to worry about the outdoor weather. You can enjoy it at any time of the day and every season of the year is good enough for a swim.
One of the biggest perks of indoor pools is that you don't have to deal with blockages caused by leaves, pods, and plant debris. We have compiled a list of incredible indoor pool designs for homes on a budget.
1- Basement Swimming Pool
An underground swimming pool can be your perfect salvage. That's because the basement swimming pool has a concrete floor and there are no weight limitations. The basic designs such as round and rectangular swimming pools work really well in the basements.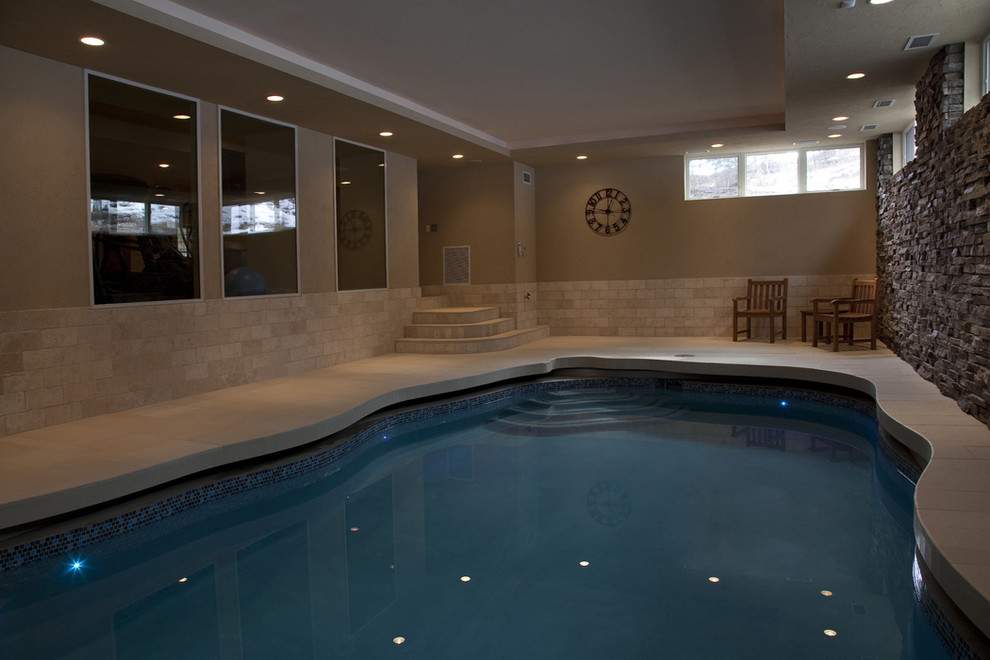 Photo by Gryboski Builders Inc.
Undisturbed by the outside world, basement pools are less expensive to install and very easy to maintain. You can make the area more stylish and serene with a rhythmic light system that changes the color and ambiance of the pool. It could be your next favorite spot for late-night pool parties.
2- Indoor Lap Pool
Lap pools are particularly designed to provide space for long laps. If you have been worrying about a lack of space in your home but still want an amazing indoor pool, consider installing an indoor lap pool stretching from wall to window. You don't need huge empty floor spaces.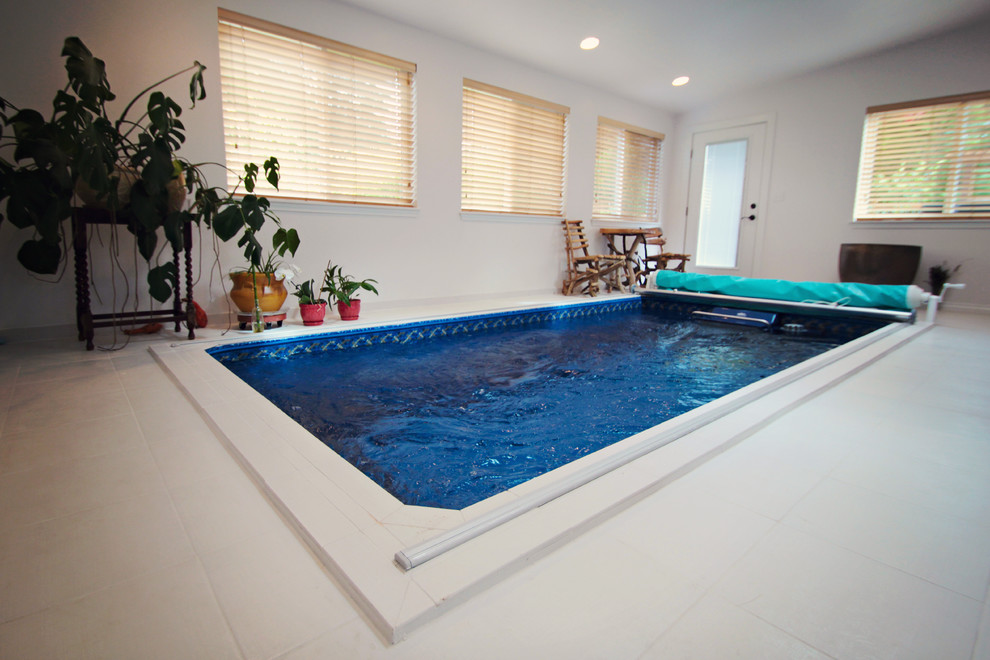 Photo by Williams Contracting, Inc.
The slim and long design can be accommodated in almost every home but make sure that you are hiring experienced installation contractors. Any installation mistakes can lead to leakage and humidity issues which translate to serious financial losses.
3- Sleek Pool By The Glass Window
A sleek pool by the glass window can add opulence to your home. It gives you the best of both worlds as you can enjoy the comfort and safety indoors while enjoying the scenic views outside. It is an ideal place to soak yourself and enjoy the natural beauty stretching by the windows.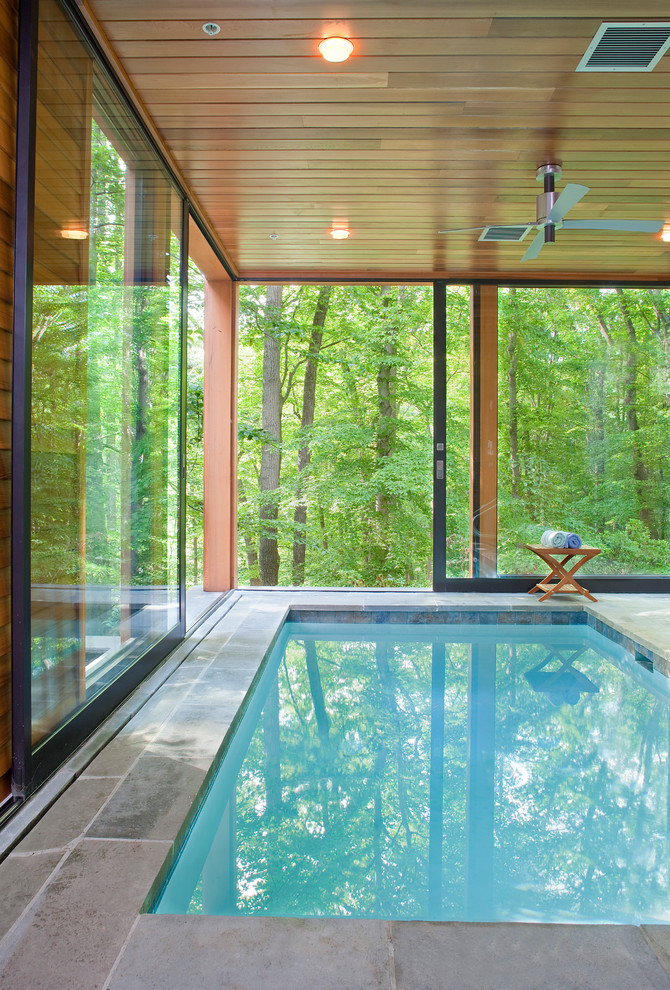 Pair up the beauty with elegant wall décor and rustic bare beams to make impressive designs. Install a retractable glass door to increase the functionality of the indoor pool. Go for blue-colored tiles for the pool floor and walls and you will not want to get out of the pool.
4- A Spa Pool
Did you know your indoor pool can give you a spa-like experience at home? Making the right choices at the designing stage can bring the best out of your investment. Instead of basic lounge chairs, get a daybed for luxurious spa beds. Colorful tiles, iconic gold pillars, Moroccon pendants, and some painterly details on the ceilings, all make up the perfect spa pool for your weekends.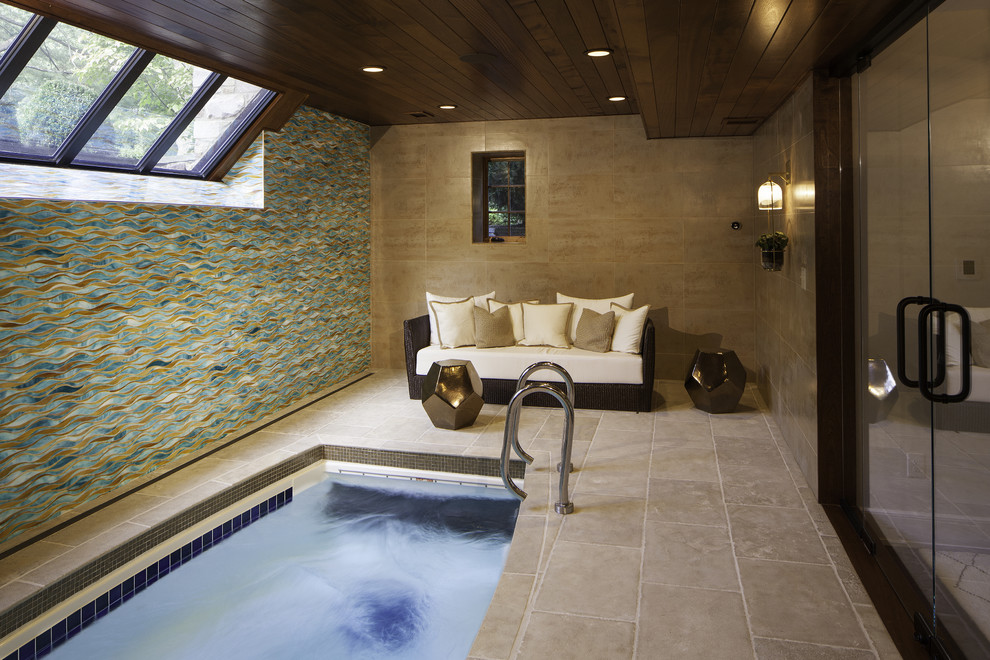 Photo by Dubinett Architects, llc.
5- Indoor Pool With Landscapes
If you want to level up the game of indoor pools, opt for a design with the landscape. Pick a shape that works well with the available floor space and decorate the landscaping with plants and soil.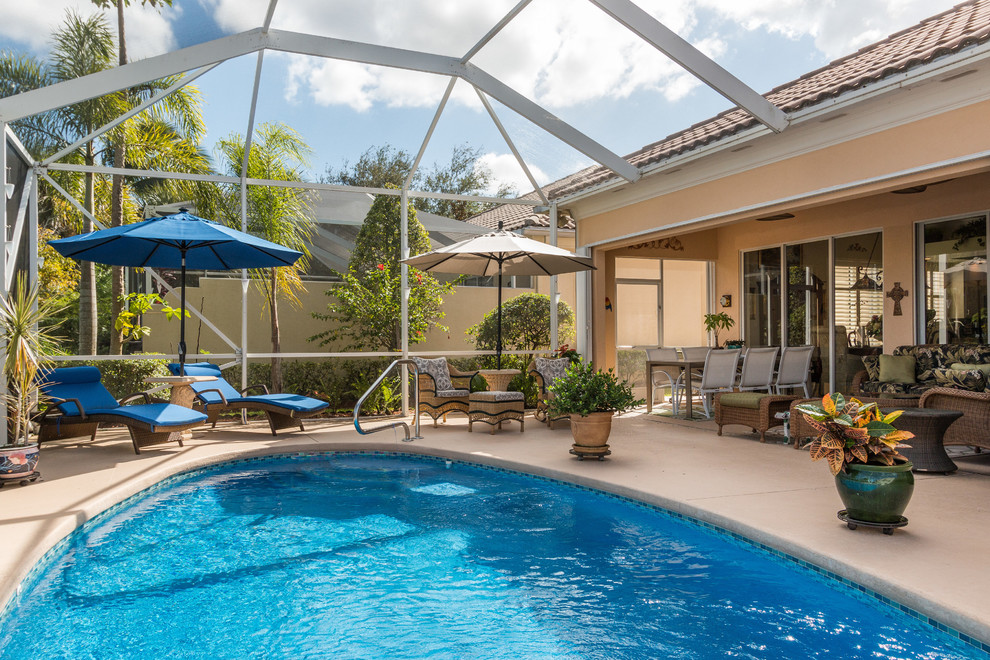 Photo by Alice Dunn Design, LLC
If you are thinking about the fallen leaves and plant parts, you can add landscaping inside a screen. It creates another room full of greenery. You cannot resist the luxurious opulence of the indoor pool paired with lush green plants. Fake plants can also serve the purpose well leaving you out of the maintenance hassle.
6- Painted Ceilings
Looking for cheap indoor pool ideas? Painting is your best bet. Experiment with the ceiling paint to create a unique and personal space! Gold-painted ceilings and arches can make any pool look and feel incredible. Playing around with the ceiling design and its acoustics has the potential to transform the swimming experience for you and your loved ones. You can channel your artistic vibes through a statement ceiling.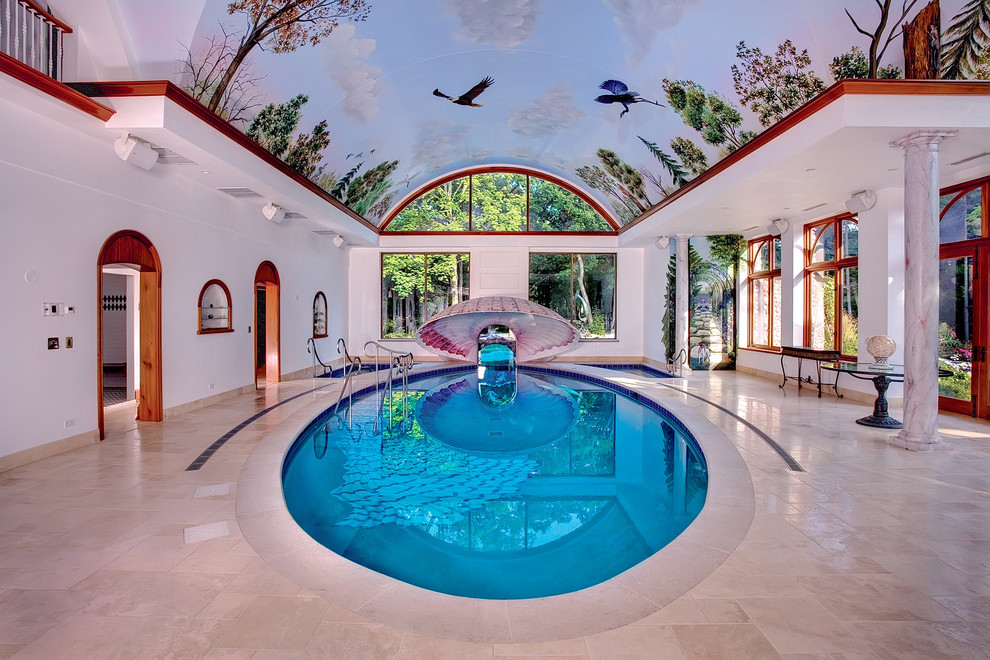 Cover the ceiling with cloud paintings and you can enjoy the scenic views without putting yourself at the mercy of sun rays.
7- Pool With Water Features
Your indoor pool can be as interesting (if not more!) as your outdoor pool. Amp up the game by adding amazing water features. Moving water engages us, it's soothing to hear and beautiful to look at. Consult a professional to install a waterfall or water feature for the water on-water experience.
Factor in the architectural style of your home before choosing between different styles of water features. Some of the most popular ones are fountains, rain curtains, and water walls. Rocks and boulders can also be used to mimic waterfalls in the indoor pool. Scones and bubblers can also add drama to your indoor swimming experience.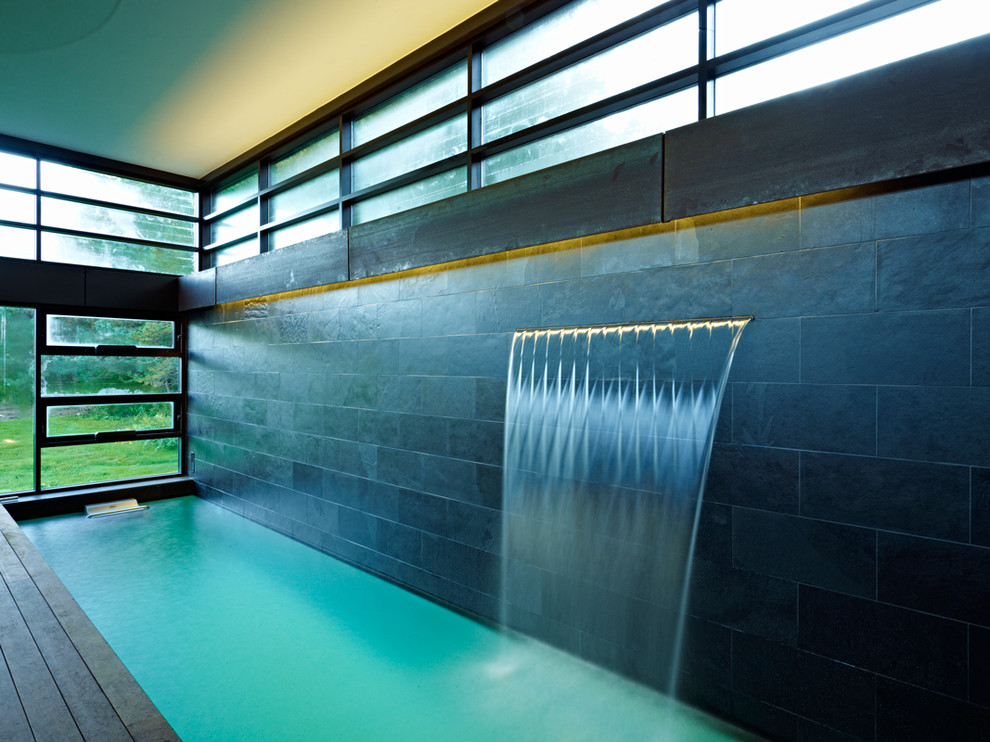 Photo by Sustain Design Architects Inc.
A scupper is a spout or slot that is attached to the pool wall. You can pick between the water flow styles of the trough, sheet, and chute. One of the most mesmerizing water features is sheer descent. Appearing as a thin sheet of glass, the water drops or forms an arc. Pick your favorite features.
8- Country Chic Design
You can create an aesthetically appealing and easy-to-maintain indoor pool by opting for country chic design. Install a wall art that can handle splashing and high moisture environments. Statement-making décor on walls can free up the usable space on the floor providing you a stylish place for pool parties.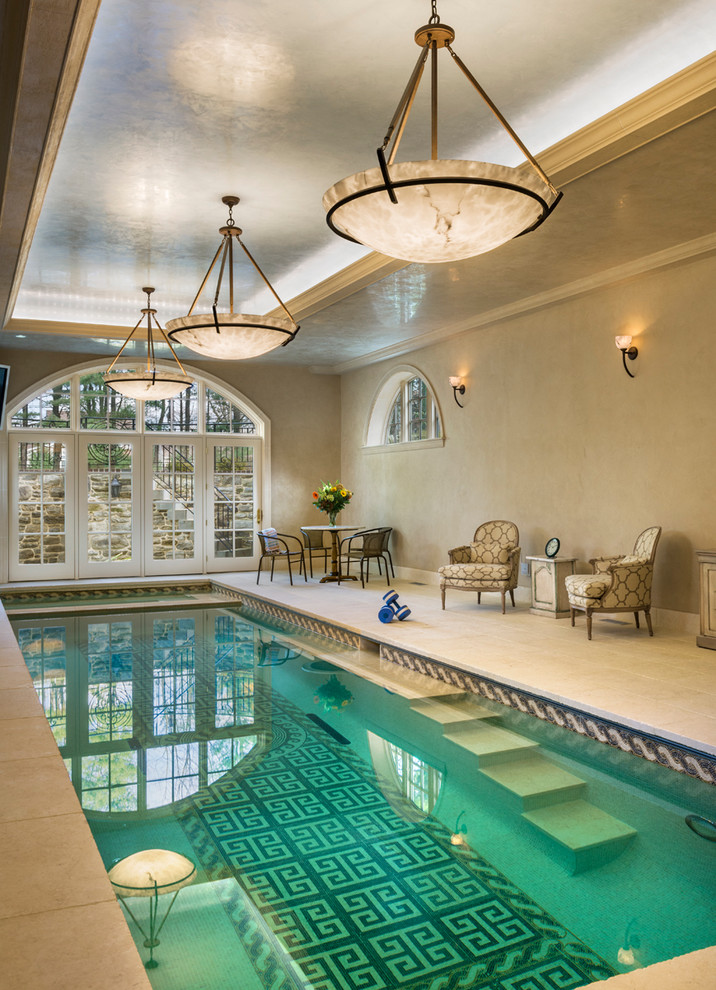 Photo by Archer & Buchanan Architecture, Ltd.
The temperature-controlled waters in residential indoor swimming pools are a luxury you should not miss. Get in touch with the best-known swimming pool contractors to create a comfortable and lovely indoor for years to come.
How Much Does It Cost To Put In An Indoor Pool?
The national average cost for installing an indoor swimming pool is around $95,000. If there is an existing structure with few constructions and improvement needs, the cost can be as low as $15000. The cost varies depending on the square footage and the amenities you need to be installed but the average cost per square foot ranges anywhere between $125-$200.
For these new designs you can hire an experienced contractor. HighFive List can help you in hiring the right company.