Bringing a new baby home is one of the most exciting (and stressful) times in a new parent's life – and once your baby starts moving around the house, you may quickly see potential dangers that your exploring baby may encounter. You can make the transition easier by preparing your home in advance for the arrival of your new little family member, either through home renovation projects or simple fixes that make your home safer for a crawling baby.
Install safety devices.
Babies learn and develop quickly, so it's important to know when to expect them to start scooting, crawling, and exploring more. Babies begin to move around on their own as early as six months old, so before that happens, it's important to get ready for your curious and mobile baby.
Photo by HSP Houston Stair Parts
The U.S. Consumer Product Safety Commission has a list of 12 safety devices recommended for homes with young children. These additions are largely inexpensive measures that will add a significant level of protection for your tiny explorers. Consider cabinet safety latches and locks to keep your babies from reaching dangerous objects stored at floor level, such as cleaning products under sinks. Other recommendations include adding safety gates on stairways to prevent falls, outlet covers or plates to prevent electrocution, corner bumpers on sharp furniture edges, wall anchors on heavy items such as TVs or free-standing cabinets, window netting or guards to prevent falls, and more.
Replace windows and window coverings.
One of the CPSC's recommendations for safety devices is the addition of cordless window coverings. Hanging window cords pose one of the most significant dangers to young children (and pets) as they can become entangled, causing injury or death. An alternative option to replacement is to contact the Window Covering Safety Council (800-506-4636 or WindowCoverings.org for a free repair kit that can allow you to convert older window coverings to make them safer.
Installing new windows—ones that open from the top to the bottom—can help prevent falls, as can installing window guards that limit openings to four inches or less. Ensure the windows have an emergency release to allow for escape in case of fire. The National Safety Council also suggests considering landscaping around high windows that can help soften a fall. Shrubs or wood chips are good choices.
Prevent illness from toxicity.
When you're prepping your home for your new baby, you might be remodeling a room or two to make them functional and personal for your new family addition. Choose paints, flooring, sealants, and other materials that are rated for non-toxicity. An exploring baby is very tactile, learning by touching, feeling, and yes, even tasting the materials around her. Avoid the short- and long-term health issues that can arise from the volatile organic compounds (VOCs) present in some building and decorating materials. VOCs can cause cold- and flu-like symptoms such as nose and throat irritation, headaches and dizziness, nausea, and fatigue. VOCs have been linked to cancer as well as damage to kidneys and liver. The good news is there are plenty of non-toxic paints, stains, sealers, and thinners on the market for when you're ready to finish the baby's room.
Protect your baby from burns.
An exploring baby might figure out how to open a bathtub faucet, so install a temperature guard on your hot water heater to ensure the water can't exceed a certain temperature – maximum recommended is 120 degrees Fahrenheit. Keep small appliances unplugged when you're not using them, and keep cords wrapped up and out of reach of curious hands. Make sure you have working smoke detectors on every level of your home, and have at least one easily-accessible, working fire extinguisher on hand.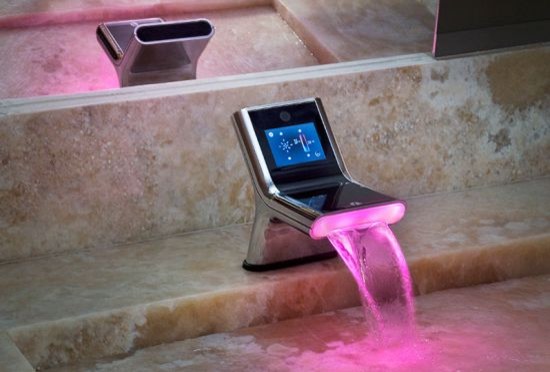 Photo by bornrich.org
Prep your pets.
A new baby is a big change not only for you but for your pets as well. Dogs can adjust to a new family member by first learning the baby's scent—bring home a blanket or piece of clothing for the dog to sniff before bringing home the baby. Be present in the room with babies and pets for the first few meetings, and when your baby starts to crawl, keep an eye out for tail-pulling and grabbing that may upset a pet and cause scratches or bites.
Photo by Melanie Stewart Design
Keep safety gates in doorways leading to areas where a kitty's litter box is housed.
The cat will be able to hop the fence, but your baby will be prevented from unhealthy exploration. Keep the baby's room door closed to keep animals out of the room, and use baby monitors to keep eyes and ears on the baby and to ensure no four-footed curiosity-seeker has broken in. Regularly sweep or vacuum floors to keep pet hair and dander to a minimum.
A crawling baby is a curious one, and understanding that your baby wants to get to know everything about his new world is key. Paying attention to these safety areas can ensure he has a safe and comfortable environment to be a little explorer.