By default, windows and doors are not the stylish parts of any room. Their job is about function and purpose over decoration and eye-pleasing art. Invite windows and doors into the home decor layout. A splash of color, plant life, decorative trimming, or artistic stencils can add an inspiring and beauty touch to these pedestrian objects. Pump up the volume using suggestions that will beautify both windows and doors.
Dab of Color
Painting windows and doors a different color will invite positive emotions every time you pass by. For doors, a coat of paint on the entry door signals the first impression leading into the home interior's presentation. A new color on interior doors, garage doors, and patio doors can brighten or balance in the room depending on the shade. Meanwhile, paint interior or exterior window frames a contrasting color for a visual pop that turns heads. You can use these kind of color splashes to guide the viewer's eye. Play visually with the paintings or wall hangings in your home, and you can make a space that has a visual logic. Therefore, it will be pleasant to move through and look at. It can help your home feel more like a complete space, rather than a set of disconnected rooms.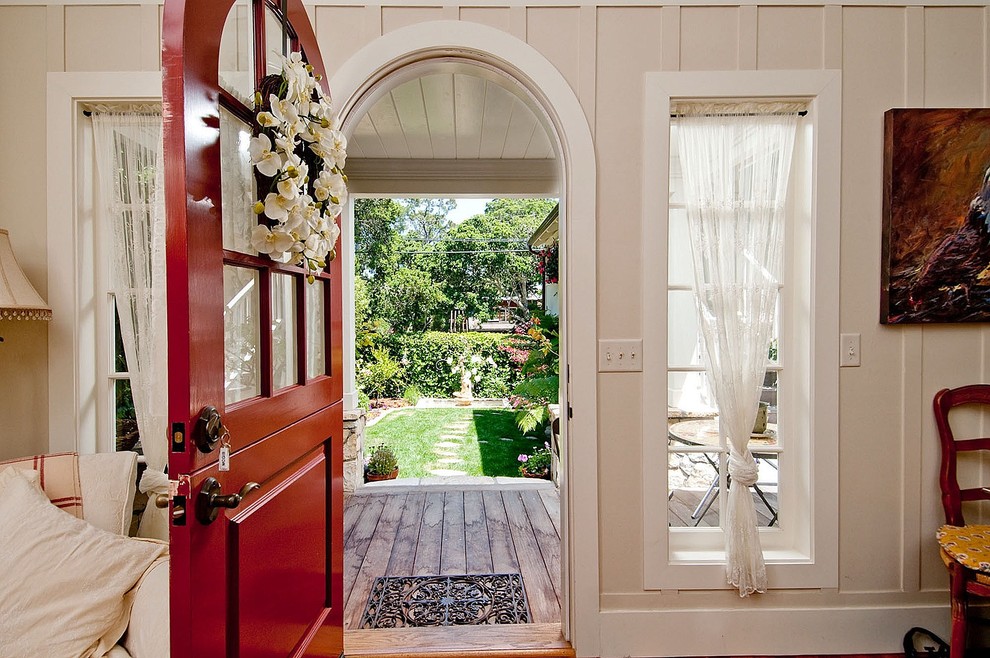 Photo by Debra Campbell Design
Fresh Flowers
Flowers offer a lifelike, yet warm and cozy atmosphere in any room, patio, or porch. Flowers in vases work best for entry doors, helping to create the scene that complements the fresh paint job. For windows, add flowerboxes to the exterior or interior windows where sunlight is brightest for planting a new or existing garden. An alternative is installing window sills for decorative flower pots filled with flowers. Additionally, use year-round wreaths around windows and doors resembling more greenery and less holiday cheer. You could even have a plethora of different kinds of wreaths for different times of the year.
Door and Window Trimming
Door trim and window trim can add depth and texture to emphasize windows and doors. Add trim around windows and doors to emphasize the door or window inside it. Companies like Anderson Replacement Windows offer door and window trim for the interior and exterior. For doors, molding or trim are available on the actual door. Small squares or rectangles on the door create a 3D appearance, helping the viewer's eye find the striking focal point or centerpiece. Complete the look by painting the molding or trim on doors and windows to match home decor. Your windows and doors are as much a part of the space as your furniture.
Photo by Gelotte Hommas Drivdahl Architecture
Stencils
If you have a flair for the dramatic, stencils can improve windows and doors instantly. Whether the pattern is a small accent or a large stencil covering the window/door, stencils turn an ordinary home or room into a unique and eye-catching area. The trick is picking a stencil that is eye pleasing and not overbearing. Perhaps use the stencil as the centerpiece of an area and use some of the aforementioned tips to focus attention on it. Alternatively, use the stencil as a light decorative element to draw the eye somewhere else.
Four suggestions are just the start of designing drab windows and doors. There are separate design tips for windows to make them pop and separate design tips to make doors a scene-stealer. However, these four tips are a great start and a potential quell of inspiration. Let this information guide adventurous homeowners to be bold with decoration and never accept complacency. Even just a little thoughtfulness and care can help turn the most mundane and necessary parts of your house into visual masterpieces.