Most homeowners like to feel secure in the knowledge that their residence has a bit of curb appeal. Whether your home is new or ready for an update, there are several ways you can add you can beautify it without doing anything too complex. Changing the exterior of your home can also be a good opportunity to add your own sense of style to it.
Fix the Front Porch
The first thing someone will see of your house is the front porch. While many people leave this area plain and even dirty, you can easily improve the space with regular sweeping and some basic decorations like flower baskets, a wooden bench, or even a porch swing. This will make your front porch a much more inviting place to stop and talk with visitors, as well as increase your home's curb appeal and therefore your home resale value.
Photo by Dalrymple | Sallis Architecture
Try Seamless Gutters
Gutters are a necessary part of your home's exterior. They divert rain in order to protect your home's foundation and keep the roof from forming damaging puddles. Although traditional gutters can get clogged, seamless gutter systems can be more resistant to debris piling up inside them. Many companies work with seamless gutters that are as aesthetically appealing as they are functional. Seamless gutter systems made from clean copper or vinyl are also beautiful in their simplicity, especially when coupled with decorative supports.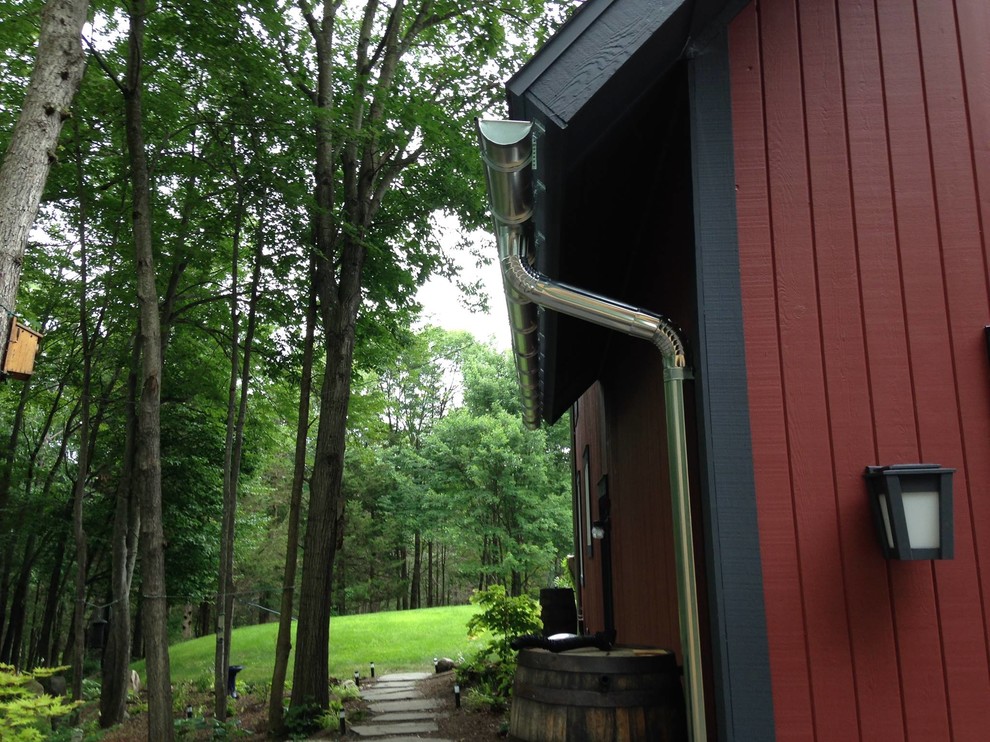 Photo by SUNRISE ON THE HUDSON SEAMLESS GUTTERS
Install Window Boxes
You can add beauty to the outside of your house in as little as one day with window boxes. These boxes typically hold soil for flowers, and that means you have a variety of choices already at your disposal. You can choose a range of your favorite colors to display in ways that show your tastes or match the palette of the exterior. Although painted wood boxes are common, you can also try copper or iron for a traditional look that will match most home exteriors.
Photo by Kyle Hunt & Partners, Incorporated
Outfit Your Mailbox
The mailbox you use can be a nice way to add some visual style to your home and express your personality at the same time. If you have a hanging box that goes right on the house, make sure it matches the trimmings of the building. Mailboxes that are closer to the curb, however, can be replaced with cement and brick covered alternatives that are not only more aesthetically pleasing, but also protect against curb-jumping cars that can often otherwise knock your mailbox down.
Photo by Kikuchi + Kankel Design Group
Whether you're selling your home or updating it for your own enjoyment, the exterior appearance matters. The outside of a house provides a first impression to any passersby or visitors. Using just a few of these fixes can improve the look of your residence without breaking the bank. Scale your home exterior plans to your budget and get creative with your décor.
Author Bio
Meghan Belnap is a freelance writer who enjoys spending time with her family. She loves being in the outdoors and exploring new opportunities whenever they arise. Meghan finds happiness in researching new topics that help to expand her horizons. You can often find her buried in a good book or out looking for an adventure. You can connect with her on Facebook right here and Twitter right here.