Having a child is undoubtedly among the most important events in one's life. Hence, it does not surprise that all soon-to-be-parents pay attention to making a nursery for their baby impeccable. Struggling between happiness due to the arrival of a new family member and anxiety to make everything perfect, parents sometimes feel overwhelmed when equipping the nursery for their baby. Luckily, we have gathered everything you need to know on the subjects. Here are the top 10 essentials for a gorgeous and functional nursery.
The crib
The crib is the focal point and one of the most used pieces of furniture in a nursery. Furthermore, it is your baby's oasis, and making it safe and comfortable is, thus, imperative. Choosing the right crib will depend on multiple factors. For example, if you plan to have more children, the standard model is the best and most cost-effective choice. Standard cribs are durable and available in different designs, so you will face no problems finding the one that meets your expectations, suits your taste, and complements the aesthetics of this special room in your home.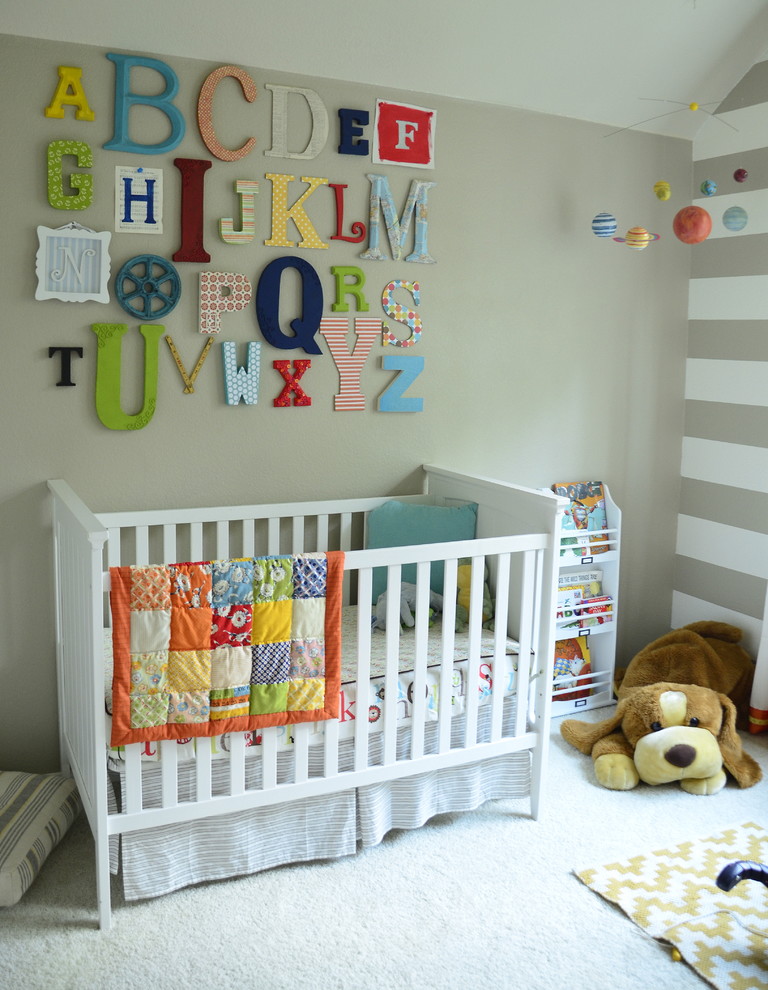 On the other hand, opting for convertible cribs is also a wise idea. Firstly, your child will be able to use it for a longer period. Also, these cribs can never go out of style, thanks to their subtle and timeless design. If you add soft bedding, you get an excellent option. Thus, convertible cribs rightfully deserve a place on our list of the essentials for a gorgeous and functional nursery.
Finally, if you live in an apartment and face a lack of living space, a bassinet is a real lifesaver. It does not take much space, you can easily move it from one room to the other, and if you opt for the model that can rock back and forth, you get an excellent helper that can make your baby fall asleep quickly.
The dresser
As a future mum, you surely want to go shopping for the coolest clothes and find outstanding fashion for your kid, but these items most often require ample storage space. The dresser you choose should be of an appropriate size, highly functional, and equipped with a premium quality opening and closing mechanism. This way, you get enough space for a vast number of various yet necessary items that will be easily accessible. Finally, the dresser's durability and strength also matter, so inspect these carefully before making the final decision.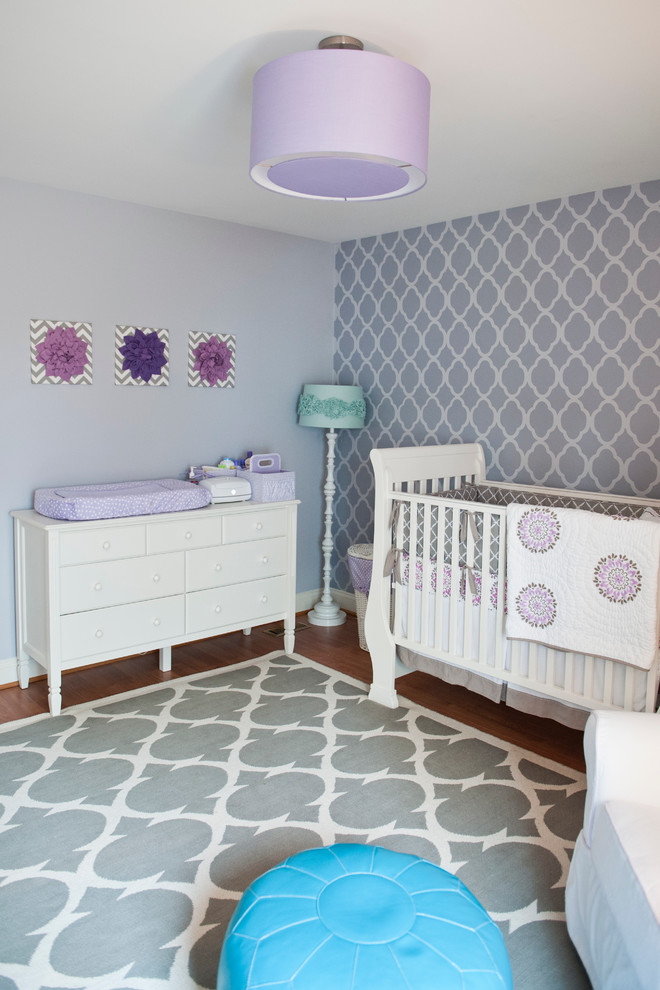 Photo by Barden's Decorating, Inc.
As you aim at making the nursery gorgeous and functional, the dresser needs to match the design and theme you have chosen. Luckily, dressers are produced in various colors, sizes, and shapes, so finding the appropriate one should not be an issue.
The changing table
Like the crib, the changing table is among the most important items in a nursery. Various manufacturers on the market have given their best to offer countless models that are convenient to use and highly stylish as well. Today, you can find the changing table that fits your space, that is safe, comfortable, and in accordance with the design you have chosen, and, ideally, the one that can have multiple uses. The changing table should be big enough to allow you to change your baby facing you. It should have enough storage space that can meet all your diaper needs. Finally, it should be high enough to be comfortable to use as the last thing you want as a mom of a newborn is that continuous and annoying back pain.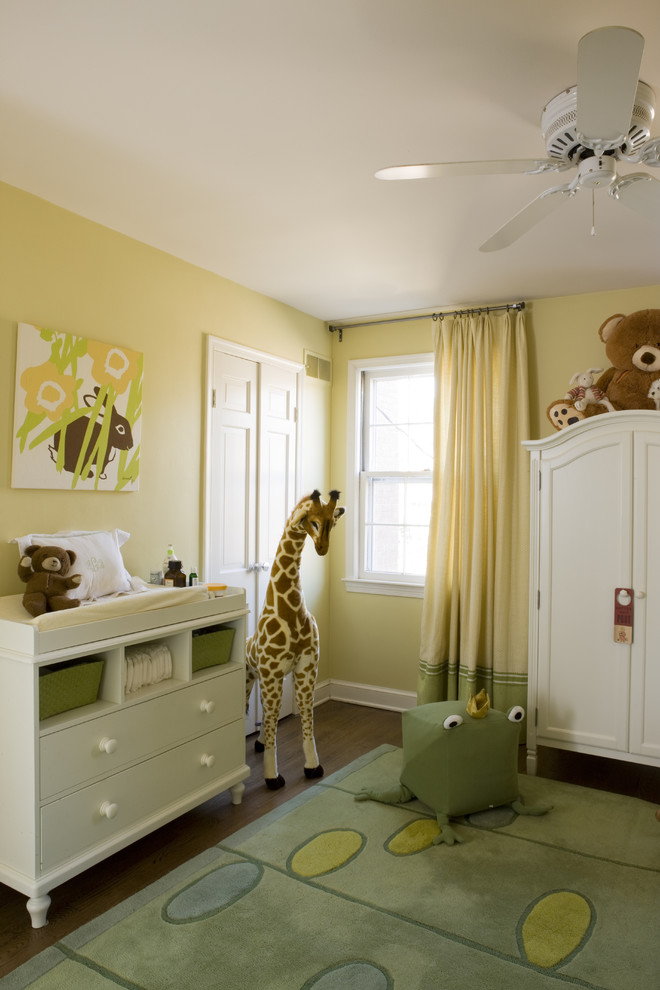 Open baskets
When expecting a baby, we all know that buying onesies is always the first step. However, there are many more steps that follow and many more items you need to obtain. The list of the things you need for the baby is considerably long, so, probably, you will often face a lack of space. What emerges as a functional and yet trendy solution is using open baskets for storing items and eliminating unattractive clutter. These baskets are perfect for toys, blankets, outfits, and many more. Most importantly, these baskets make baby's essentials easily accessible, so it will not be a problem to maneuver with the baby in your arms and still reach what you need entirely hassle-free.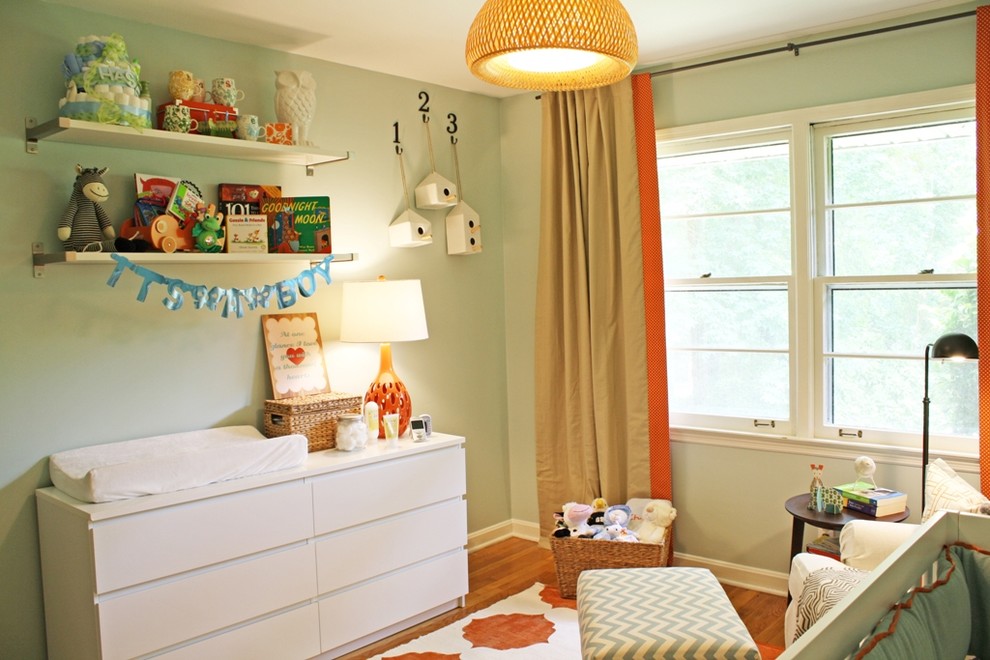 Photo by Cristi Holcombe Interiors, LLC
A baby monitor
Parents find it very stressful when they have to separate from their baby, especially if it is their first child. What can help considerably is a baby video monitor that will soothe your anxiety, at least during the initial period when your precious newborn comes home. Although not physically present next to your baby, you will still be able to see and hear him or her thanks to this modern and handy device.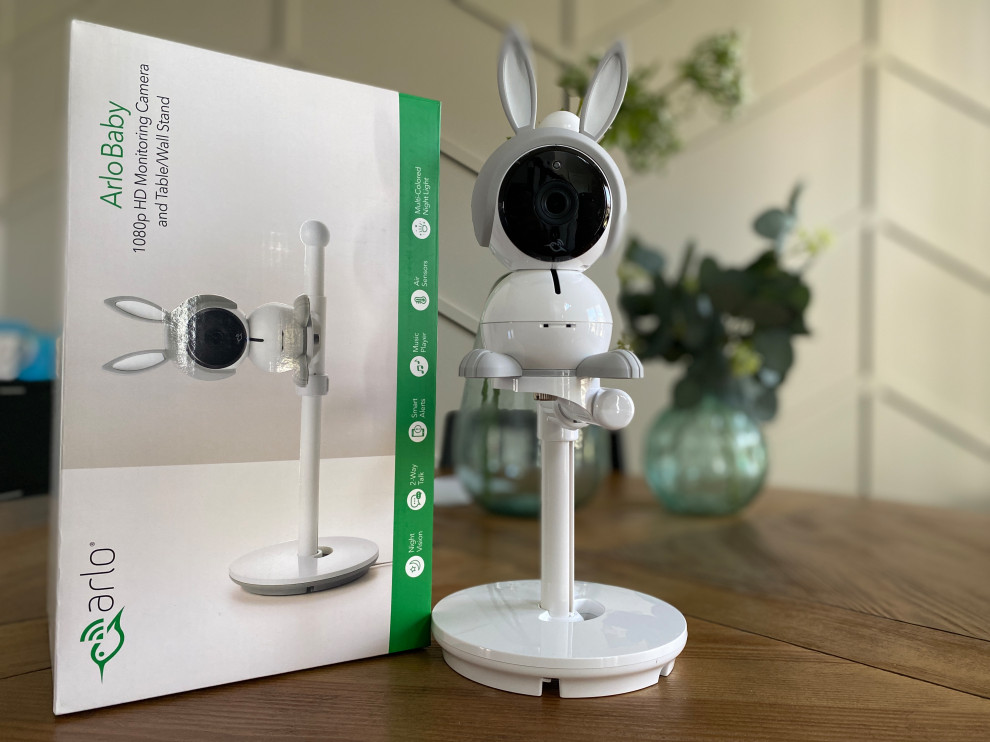 Photo by TechdHome Smart Home Services
A lamp
Understandably, a nursery should always be bright, with an abundance of natural light. However, when the night comes, a lamp is your best friend that will prevent you from stumbling around the room while checking up on your baby. Moreover, the light of the lamp has a positive effect on your newborn:
It will ease the transition to the dreamland once you finish with the feeding.
In a short period of time, your baby will learn to make a difference between the day and night.
The light of the lamp will give a nice, romantic touch to the room in the evening, so it becomes clear why the lamp is among those essentials for a gorgeous and functional nursery.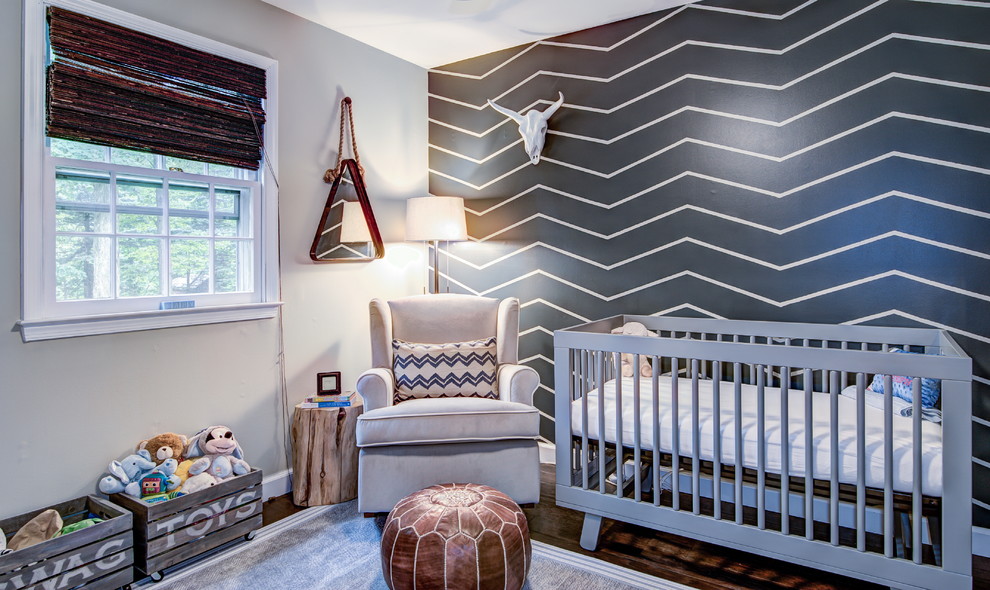 Curtains and shades
Curtains and shades should complement the rest of the room and be in accordance with the theme, design, and style. Due to the current situation with the coronavirus pandemic, you might want to explore some window accessories you can find online. You will surely find something appropriate.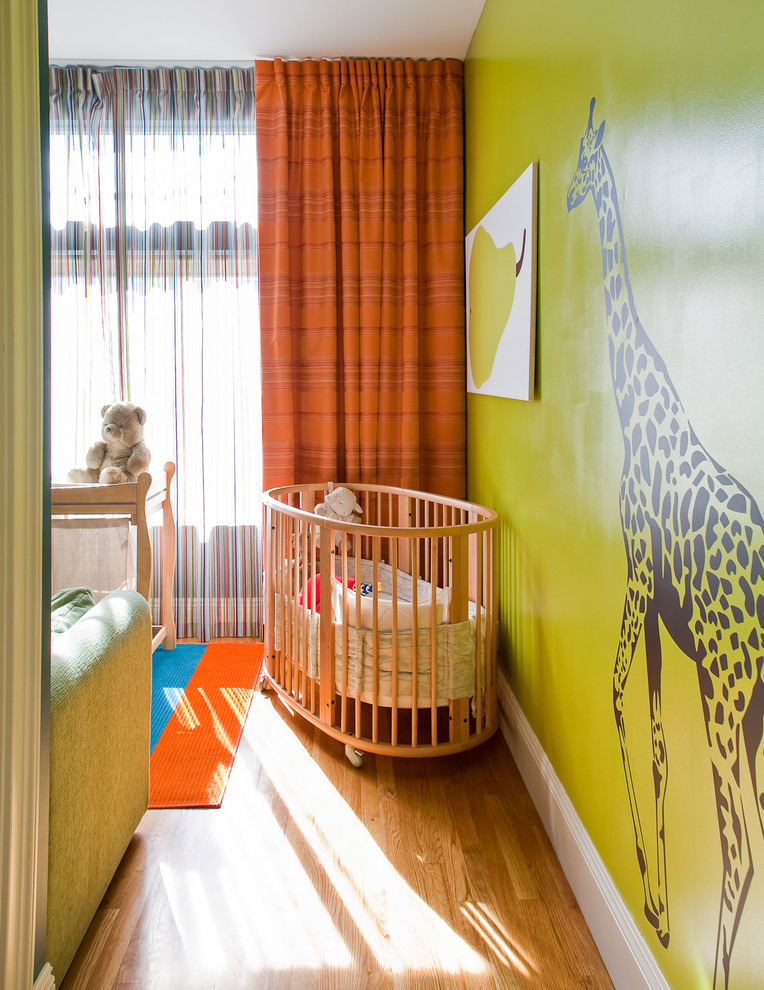 Photo by Christopher Stark Photography
A glider chair
To be able to enjoy their motherhood to the fullest, moms need their own zone in the nursery. There they can enjoy cuddling with the baby, reading bedtime stories, or simply watching their babies sleep. Hence, a glider or a rocking chair is the inevitable part of the mom's area in this room.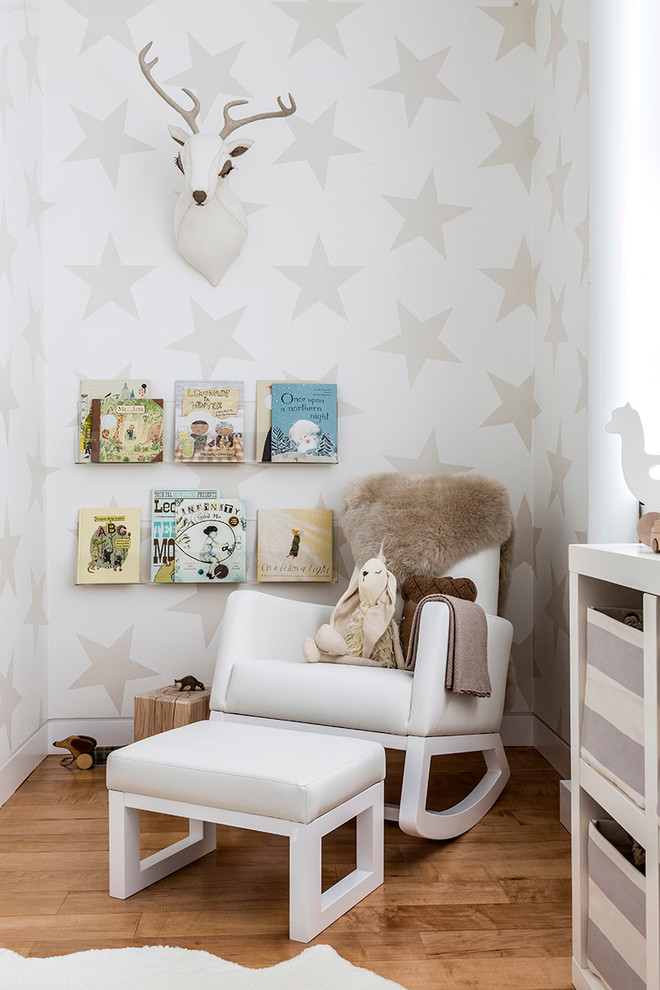 A fan
Whether you need to cool off the nursery or create that soothing, whizzing sound and help your baby fall asleep, a fan is an excellent solution. Place it on a dresser or a nightstand and keep the temperature pleasant and constant in your baby's room.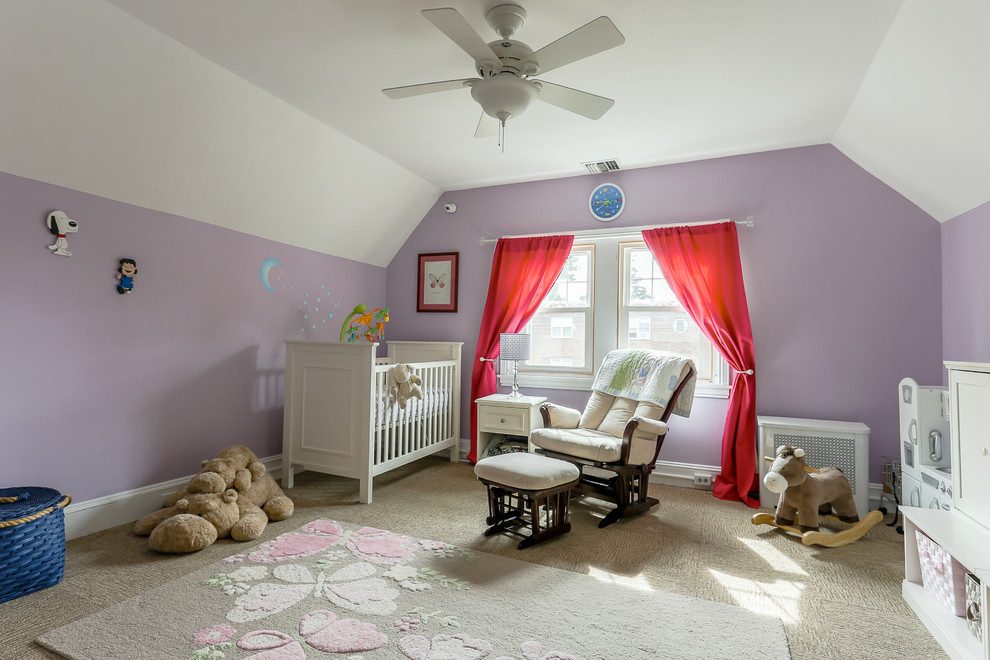 Photo by Cindy Ridgway, Compass Real Estate Agent
Decorations
Finally, when all the furniture items are in their place, decorations are the final element among the essentials for a gorgeous and functional nursery. When it comes to decorations, there are a vast number of options at your disposal. You can start a DIY quilting project before the baby is born and use your handmade decorations later on. Also, you can buy some lovely picture frames, a carpet that matches other elements in the room, or even a vintage ladder to put your child's blankets.