If you see your basement as a place to entertain friends and family, then having a kitchen in your basement makes a lot of sense. Rather than running up and down the stairs to bring food to a party, you can both make and serve the food in the same space. As convenient as it is to have a kitchen in your basement, there are a few important things to consider as you get started on construction so that the process goes as smoothly as it should.
Ventilation Needed
Any kitchen needs good ventilation. Ventilation prevents odors from lingering indoors and allows smoke to escape if you have a cooking mishap. That's why you'll want to take time to carefully plan the location of your basement kitchen to ensure that your ventilation needs can be taken care of. Typically, an outside wall is the best option for a basement kitchen, although you can put one just about anywhere in your basement for an added cost.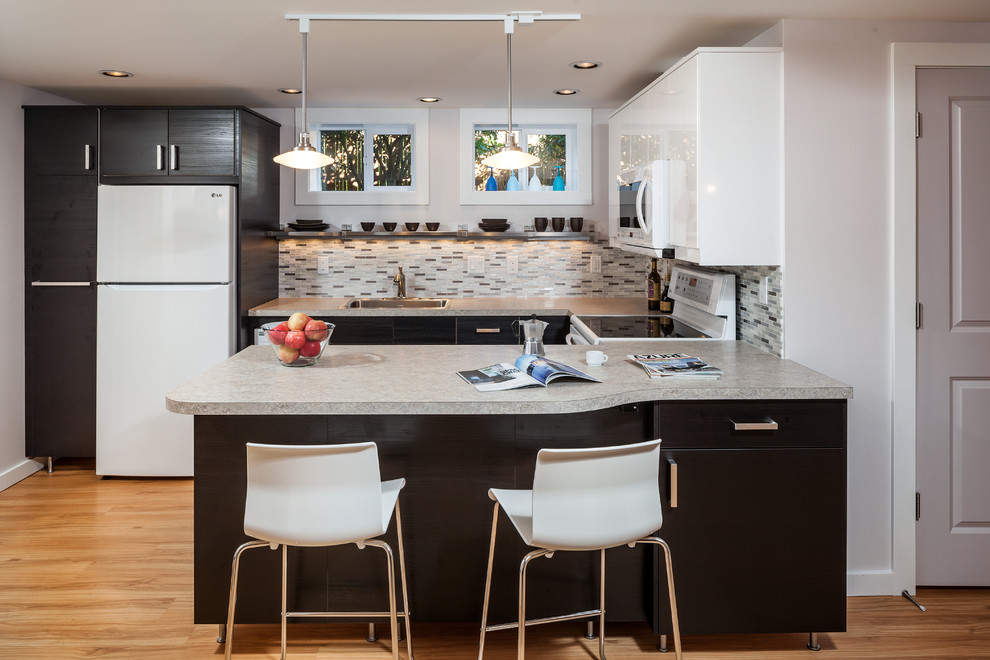 Photo by Right Arm Construction
Good Flooring Is a Must
Since a basement kitchen is typically less formal than a kitchen in the main living area, it's likely you'll have a few more spills as friends and family enjoy themselves. To help make clean-up easy, it's important to have good flooring in place. Vinyl flooring makes a great option because it is easy to clean and is unlikely to shrink or expand as the temperature of the concrete sublfoor changes. Plus, if you have flooding in your basement, vinyl flooring is often salvageable after the water is gone.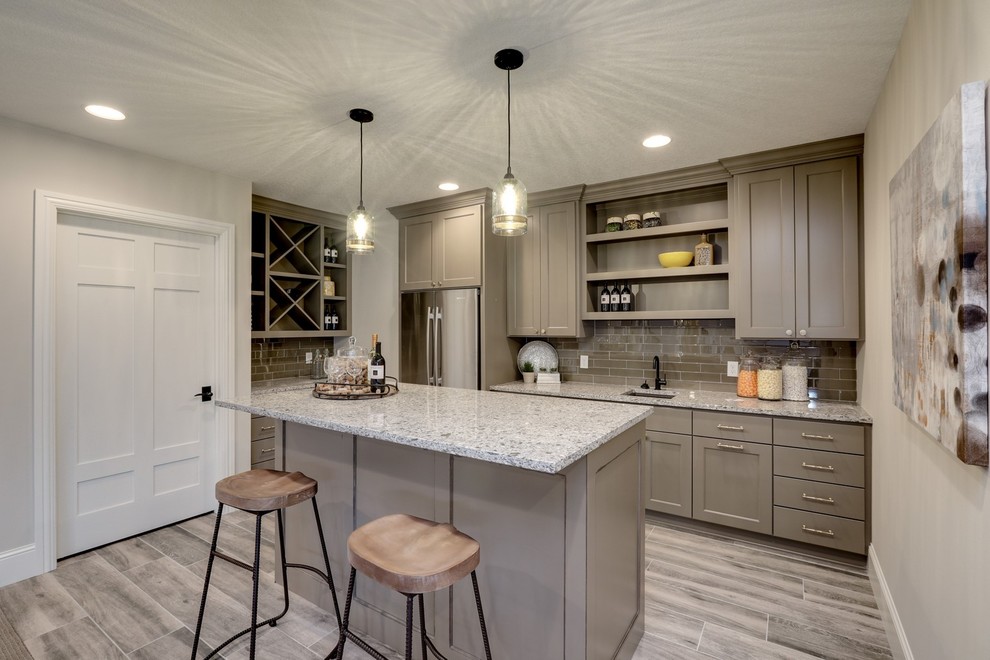 Photo by A & K Custom Cabinetry
Don't Forget Power
Kitchens need a lot of power to operate the various appliances that you'll need to make great meals. If you have a full-size stove, you'll need a 240-volt connection, which is something that you don't typically find in a basement. You'll also need to make sure that your kitchen is on its own circuit so that you don't draw too much power when you're using your big-screen television or air hockey table.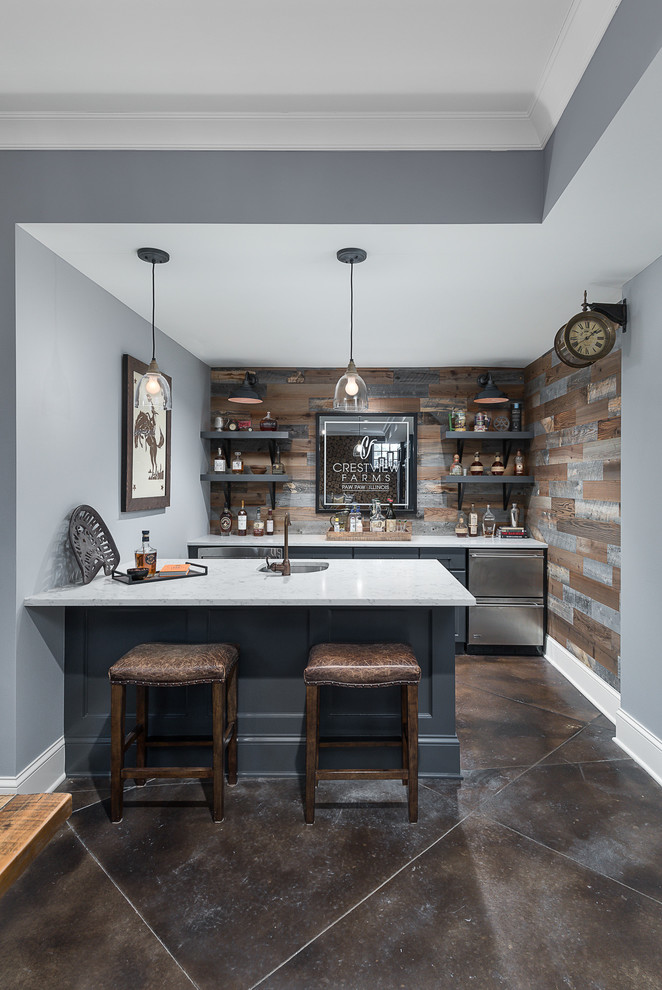 Photo by Picture Perfect House
To Upsize or Not to Upsize
Although you can certainly opt for a full-size kitchen in your basement, you may want to choose smaller appliances and cabinets to help save some space. The size you choose largely depends on how you plan to use your kitchen most often. Keep in mind that once a kitchen is in place, it can be more difficult to move than other amenities you might have in your basement. Therefore, if you plan on changing the arrangement of your basement in the future, a smaller kitchen might make more sense.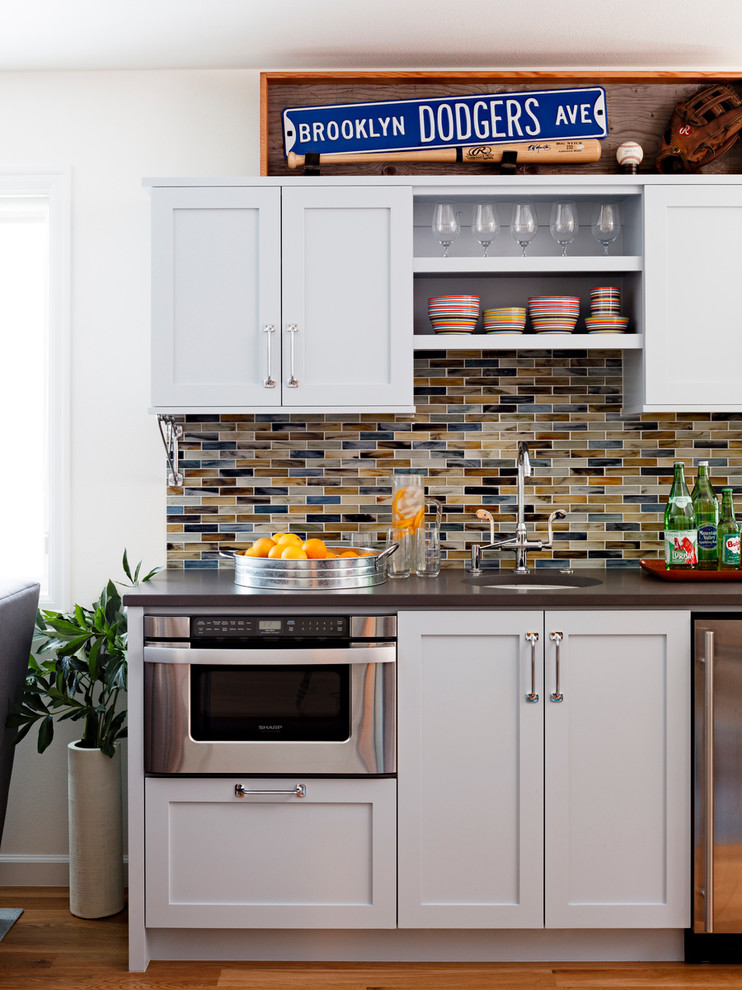 Photo by Mosaik Design & Remodeling
If you're not quite ready to add a full kitchen to your basement, you can get your feet wet and add certain kitchen equipment in stages. For example, you can start with a few cabinets and a microwave so that you can store and cook basic snack foods. Then, if you realize that you're using your cooking space fairly often, you can upgrade to nicer appliances and larger storage spaces.