You finally have the mountain home of your dreams, and a spectacular view to match. The tough part is over. Now comes the fun part! It's time to add your unique furniture, accent every room with decor that fits your taste, and start entertaining your friends and family.
Decorating your new space is a chance for you to express yourself. As long as you keep a few foundational tips and tricks in mind, your home is going to look as stunning as the mountains outside its windows.
Incorporate Rustic and Natural Elements
When you think about a home surrounded by nature, the last thing you'd imagine is incredibly rigid, modern designs. You're more likely to picture a home that looks almost like an extension of the beautiful outdoors with rustic, natural, and rough interiors.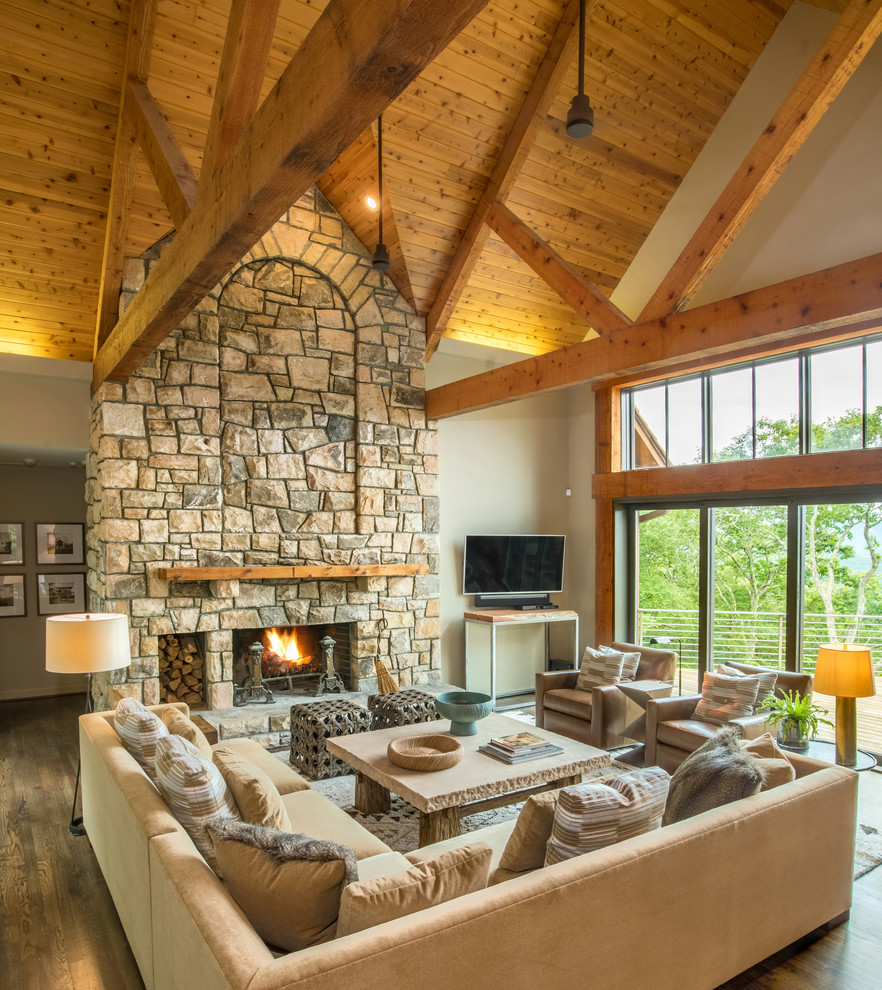 Photo by Kevin Carpenter Interiors
In order to recreate this vision, focus on adding timeless elements to your home like a stone gas or electric fireplace or maybe visible wood beams that compliment your surrounding view. For furniture, incorporate locally-made or antique pieces, something like a reclaimed wood dining set. If you have a green thumb, having a few flowers and planters in and around the home would help tie the look together. Pine cones, wooden ornaments, fluffy faux fur carpets, essentially anything that is made of natural material or at least bears a strong resemblance to natural material, is ideal.
Let the View Speak for Itself
We all know the best part about a home in the mountains is the breathtaking view that comes with it. So why obstruct it? Make sure you ask your contractor for large, thinly framed or frameless windows that let the view speak for itself. If done right, you won't even need paintings to decorate your home. Your view will be enough. This is also a great way to let natural light fill in the rooms to warm the place up.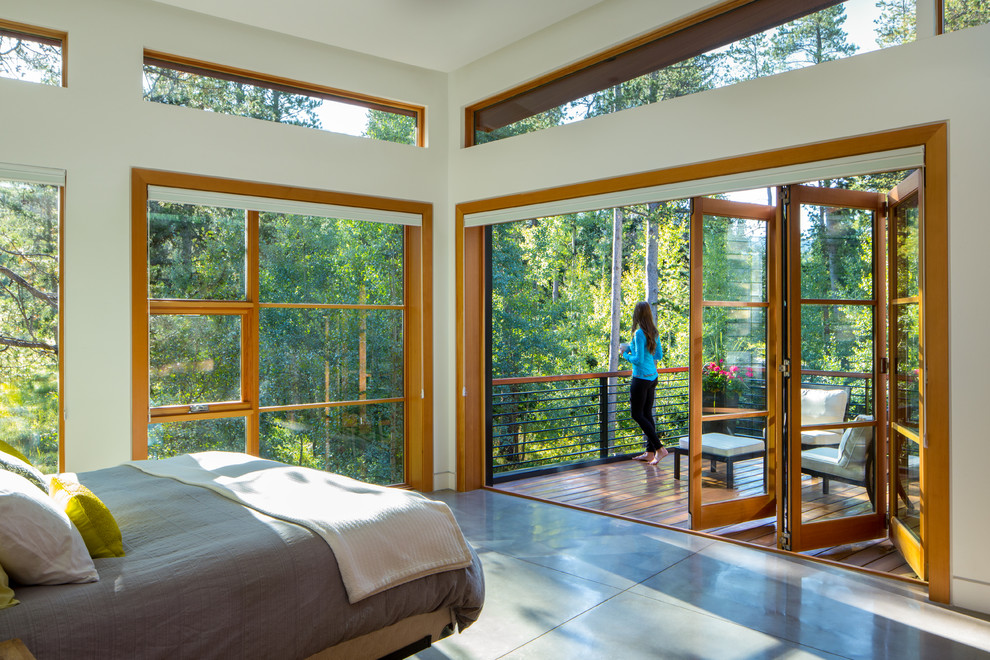 Photo by Blueline Architects p.c.
If you want to block the light in the afternoons or at night before going to bed, it's better to use blinds instead of curtains so that you don't compromise on the view. However, if you prefer curtains, get ones in neutral colors like beige or brown and in a light, subtle texture so that they blend in seamlessly with the rest of the decor.
Layered Textures Are Your Best Friend
A cold retreat in the mountains should always feel warm, inviting, and extremely cozy. A great way to achieve this is by playing around with different textures. Add carpets, area rugs, fluffy pillows, embroidery, and just about anything that gives the space warmth (both to the touch, as well as in appearance).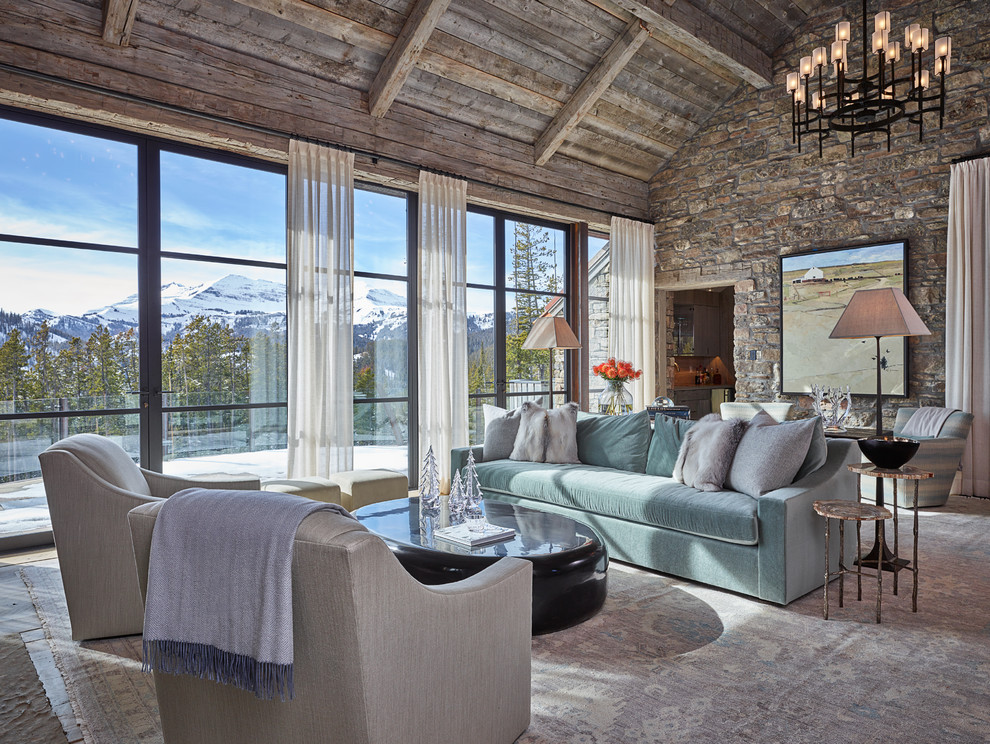 Layering elements like these also help soften the acoustics of the place and make your large, high-ceilinged home feel cozier. You can also add oversized, textured furniture like leather sofas or anything with seagrass and linen. Accent these pieces with throw rugs and pillows of varying sizes to create a space for you and your friends to sink into over a glass of wine and good conversation.
Mood Lighting the Right Way
In rooms with large windows that let in natural light, stay away from any heavy light fixtures. Instead, focus on adding just enough light for when it gets dark at night. Lighting can also be used to add a certain mood, depth, and texture to rooms when you opt for patterned lamps, lanterns, and maybe even candles.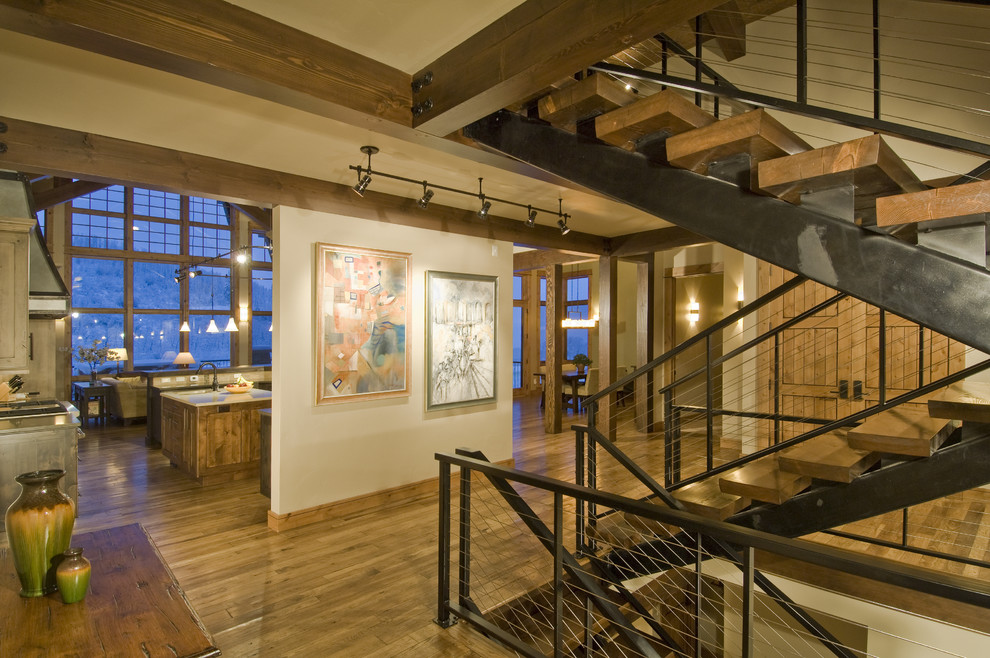 I'd recommend sticking to yellow lighting and staying clear of bright, harsh white lights in order to preserve the cozy mood of your mountain home. If you've been blessed with high ceilings, you could also consider pendant designer lighting or even an ornate, antique chandelier to draw the ceilings in further.
Unique Statement Pieces or Collections
What's really going to make your home stand out from the hundreds of other mountain homes out there are statement pieces or collections that reflect your interests and personality. These pieces are usually what people will be most curious about when they first enter your home.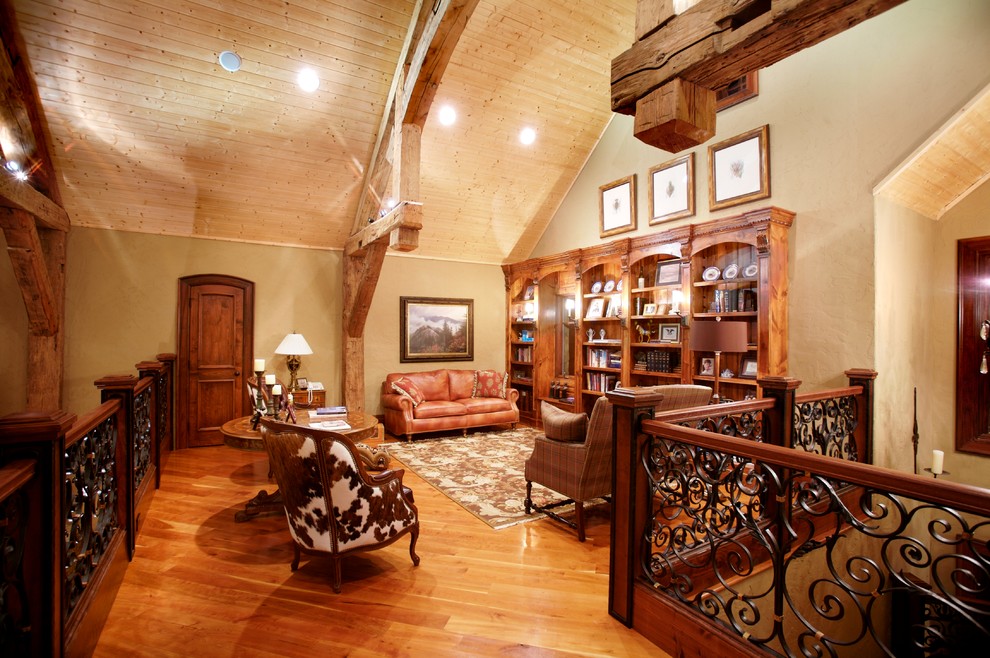 Whether you collect knick-knacks, jazz records, wooden sculptures, or even art, make your cherished items a focal point. Install a transparent wine cellar to display your favorite vintages. Display your custom swords on the mantel. Essentially, give your mountain home something that marks it as YOUR mountain home.
Keep your location in mind as you bring in various natural elements and textures, highlight the view, and add just a hint of mood lighting. Once you've completed your decor by adding your unique statement pieces, you finally have a place to call your own.