For many of us, working at home will become a permanent, or at least indefinite, situation. Whether you're a longtime commuter or just started working remotely during the pandemic, a highly functional home office enables you to get the most from your space. These home office ideas will help you design a stylish office that boosts productivity, too.
Make It Personal
While a businesslike environment helps you feel more professional while working at home, a few personal touches will help you enjoy your workspace more. Of course, photos of your family or pets make any space feel homier. Your kids' artwork and other handcrafted items can also make your office more special. Incorporating your favourite colours, whether in artwork or decorative accents, provides an instant mood boost when you turn on the lights each morning. If you're a fan of vintage items, head to the thrift store or trash and treasure market for an antique storage chest, ornate desk, old-school clocks and other unique pieces. Just make sure that your personal effects aren't distracting.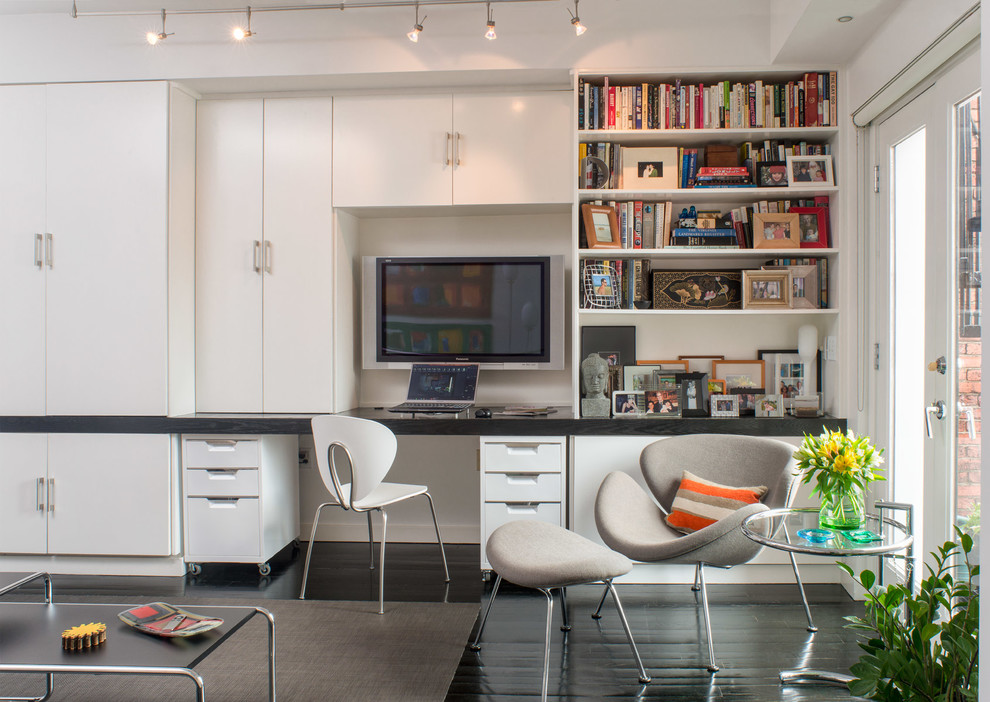 Expand Your Square Footage
A cramped office can make working from home feel more tedious, and a desk in the common areas of the house can be distracting. You need room for all your essentials and enough space to move around comfortably.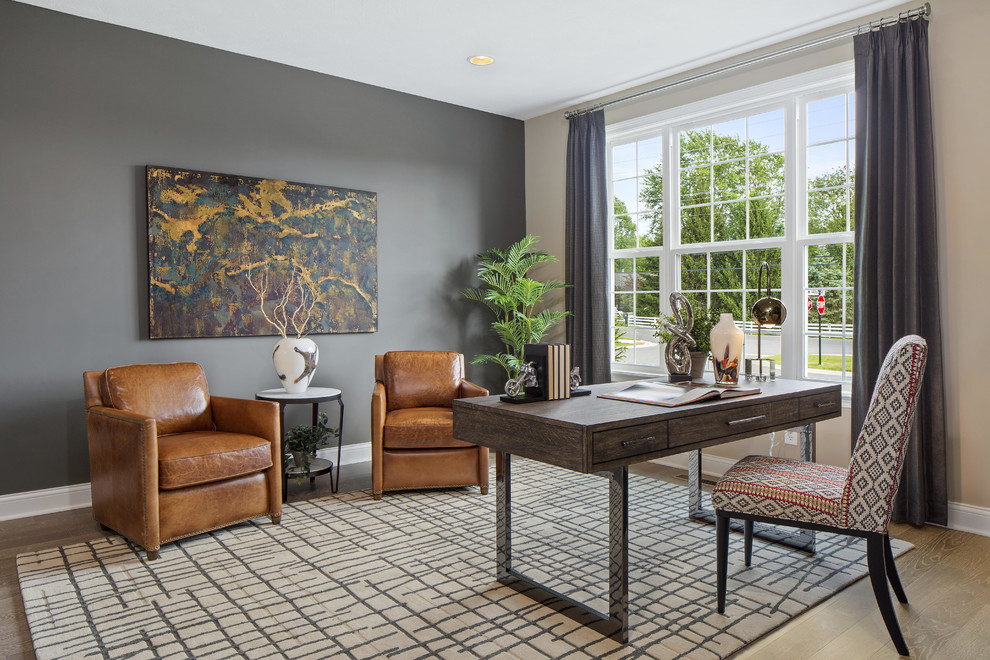 Photo by Thomas & Jayne Interior Design
If your budget allows, home extensions provide a little breathing room. The right builder will work with you to customise your work area for increased productivity and comfort. You can even discuss designing a room that can transition into a guest room, enclosed porch, or another type of space when you stop telecommuting. This is also a great time to incorporate a special feature like a window seat or french doors leading to the garden.
Make the Most of a Small Space
If you find that your office is taking up too much room and encroaching on living space, consider some alternatives. Turn a closet into a compact office by removing the doors, putting your desk inside, and adding shelving and lighting. Or designate a small, quiet area as a convertible office by installing a collapsible desktop that can be stowed against the wall when not in use. Stash accessories and supplies in a combination bench and storage container for easy retrieval.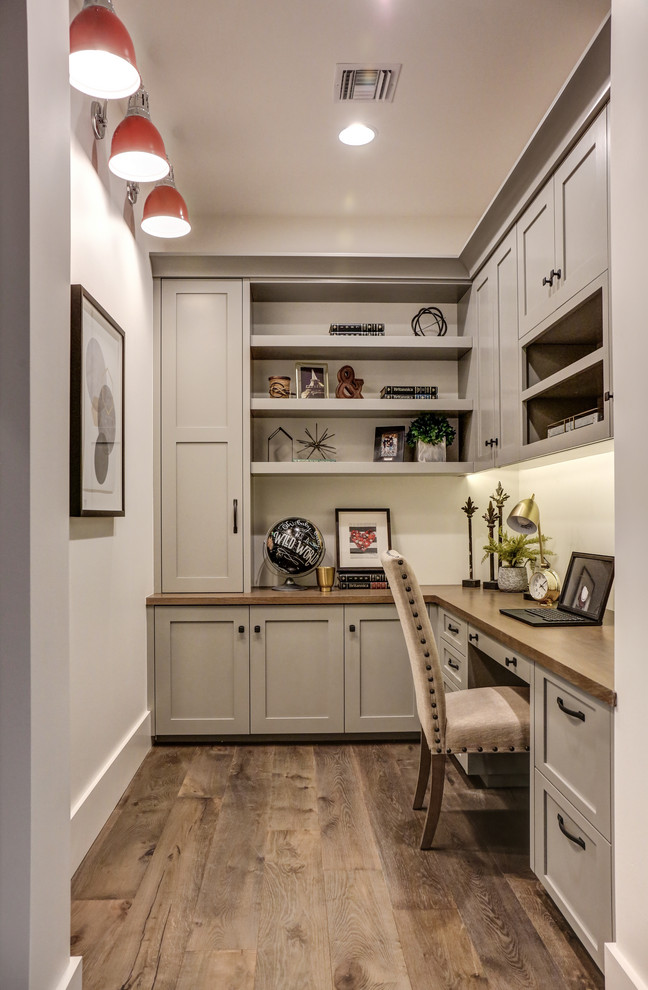 Create More Storage Space
Working from your home office, especially for the long haul, may require a lot of storage space. Whether you need built-in bookcases for your reference books or just enough room for a few items, there are plenty of both DIY and ready-made options to suit your needs. Modern offices can benefit from a splash of colour in the form of floating shelving. Hang inexpensive repurposed cabinets, or go all out with custom cabinetry.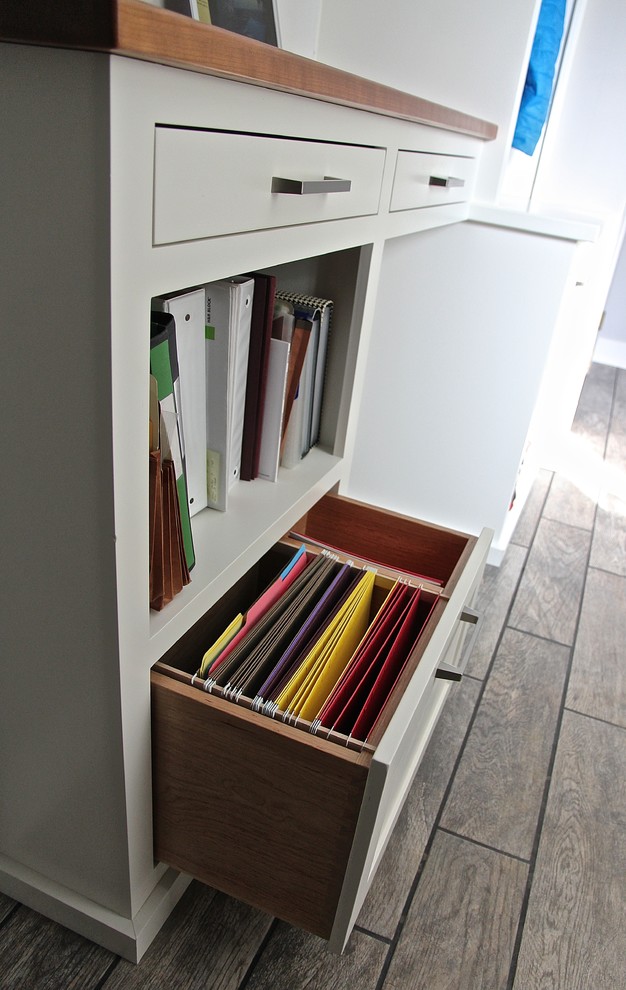 Photo by Block Brothers Custom Cabinets
Optimise your home office with these simple tips. Whether you're working with a small space or just need a little inspiration, you'll find the perfect solution for making your workday more enjoyable and productive.
Author Bio
Anita is a freelance writer from Denver, CO. She studied at Colorado State University, and now writes articles about health, business, family and finance. A mother of two, she enjoys traveling with her family whenever she isn't writing. You can follow her on Twitter @anitaginsburg.