Apartment and urban living can limit your choices when it comes to gardens. People who live in apartments with balconies, however, have options that some others do not. There are some things to consider before you turn your balcony into a garden.
Is a Balcony Garden Allowed?
Understanding your rights on your apartment balcony can be a little confusing. For example, does the property manager, HOA, or whoever may be in charge consider a pot of flowers a garden? Make sure you understand any regulations that might apply before you begin.
Is Your Balcony Safe?
Do not use a balcony for anything if it is not stable. If the balcony does not feel rock solid when you step on it, it may not be structurally sound. Weakened construction is not uncommon in older buildings.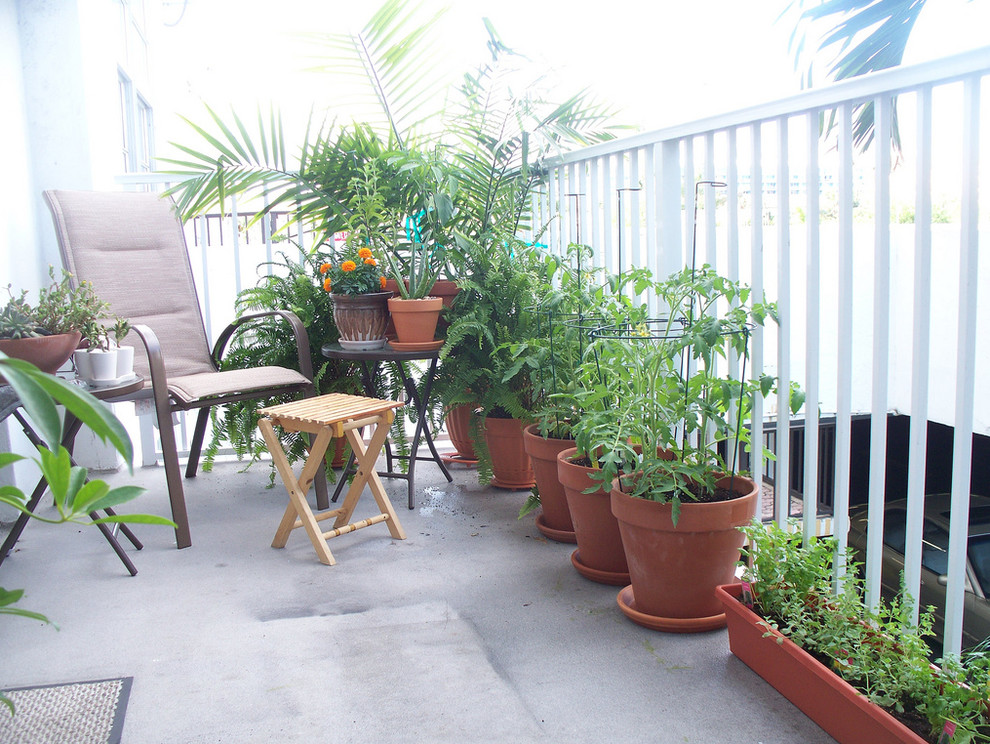 Even a tiny shift or shudder in your balcony may indicate rotten wood, weakened metalwork, or a failing attachment point. Inform whoever is in charge of the property right away if you discover something concerning. This situation represents an enormous liability hazard. Don't use the balcony until it has been inspected and found safe or is repaired.
Can The Balcony Support Additional Weight?
Pots, plants, and soil can be heavy, so plan your balcony around that. Plants grow bigger, and rain will fall on your garden if your balcony is unprotected. The additional weight of water-flooded pots can be enormous, so make sure all pots have drainage holes.
Remember to be a good neighbor. Raindrops hitting your balcony during a storm are understandable, but dirty water dripping on your head from the balcony above you not so much. If your balcony is over someone else's property, be mindful of what might drop out of your garden. Use drip trays or mats to trap errant soil and water.
Potting
The size and shape of your balcony may dictate your choice of pots or growing beds. Growing trays and square-cornered pots will help you maximize your growing space.
Don't put pots in places where they may injure someone if they fall. Attach pots and trays securely. This is extremely important on rails and ledges overlooking public areas, neighbors, and places frequented by family or pets.
Wall gardens are becoming increasingly popular. A wall garden is an array of wall-mounted pots or trays that can grow a large number of plants in a compact space. Make sure to mount the pots securely to the wall. One drawback to wall-mounted pots and gardens is drainage. Water may flow down the wall unless the pots are designed with this in mind. This can stain the wall and could create a troublesome issue for areas beneath your balcony.
Placement
Most exposed balconies go through a range of conditions throughout the day.
Watch your balcony on sunny days and note any hot spots. Watch your balcony when it rains to see if there are unexpected torrents coming from the roof, rain gutters, running down the walls, or from the neighbor's balcony overhead. And don't forget the windy days. Wind can blow plants off balconies and dirt out of pots. High wind can tear delicate leaves and tendrils.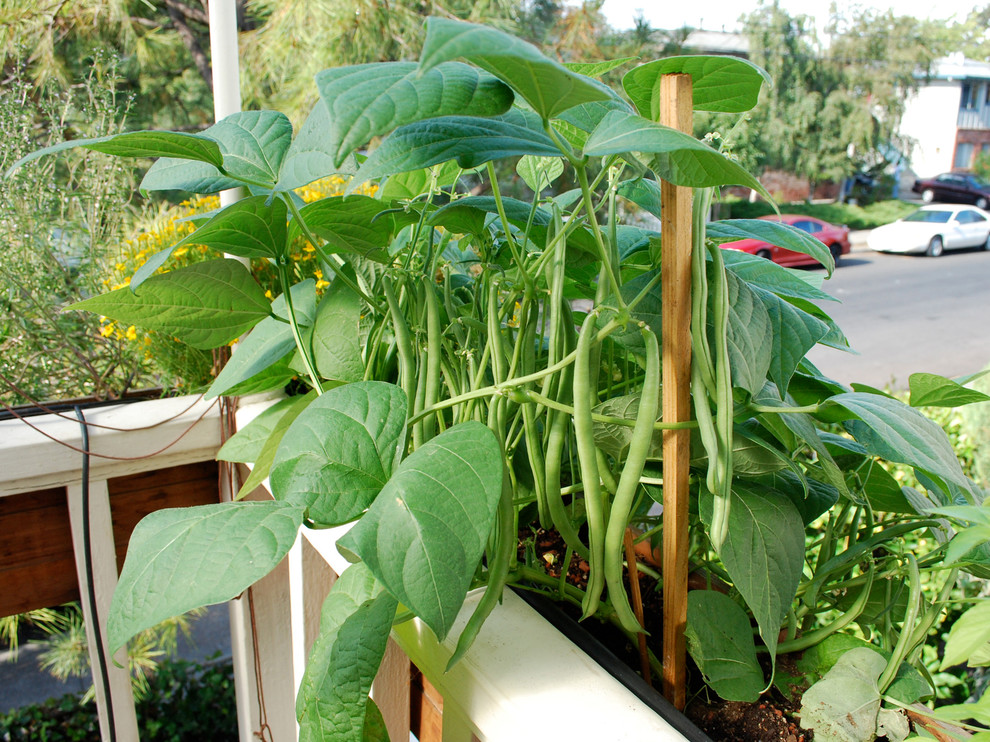 Photo by Steve Masley Consulting and Design
Pests
Bugs and pests can be a problem in any garden, so keep a close eye on your plants. Treat plants with a spray of soap and water or an organic pest deterrent to help ward off flying insects. Lawn insecticides will ensure that your balcony garden is pest free!
Plants
The variety of vegetables you can grow on a balcony is going to be limited. The following plants are selected by most people because they are generally compact and easy to grow.
Assorted Greens
Salad greens are one of the easiest and most satisfying balcony vegetables to grow. These plants include:
Arugula
Beet, carrot, and radish greens
Kale
Romaine lettuce
Spinach
Watercress
Various micro-greens and sprouts may do well on a balcony, too.
Peppers
Peppers take well to balcony environments. Many peppers prefer a lot of sun when they are young and then need less sun after they mature, like scotch bonnets, for example. Plants in pots are relatively easy to move around to give them the best light.
Patio Tomatoes
Tomatoes are another vegetable that does well in full sunlight. Patio tomatoes are a dwarf variety that never gets larger than about two feet in diameter. They are perfect for most patios and apartments, and they offer a bountiful harvest when managed correctly.
Enjoy Your Crops
If you like to grow things, you'll enjoy a balcony garden. Trimming fresh greens and eating them is a unique pleasure. The flavor of a sun-warmed tomato, straight off the plant, can rival any gourmet treat. So if you have a balcony, make sure it's safe, and don't be afraid to give gardening a try. You might be good at it.