It is interesting to make your backyard pool safer and at the same time, make it look gorgeous. Do you want your swimming experience to be classy and peaceful?
Only be achieved by one single method that is pool lighting. Pool lighting is one decision that can turn out the entire look of your swimming pool and make it more attractive.
So, what should you consider before deciding to install pool lighting?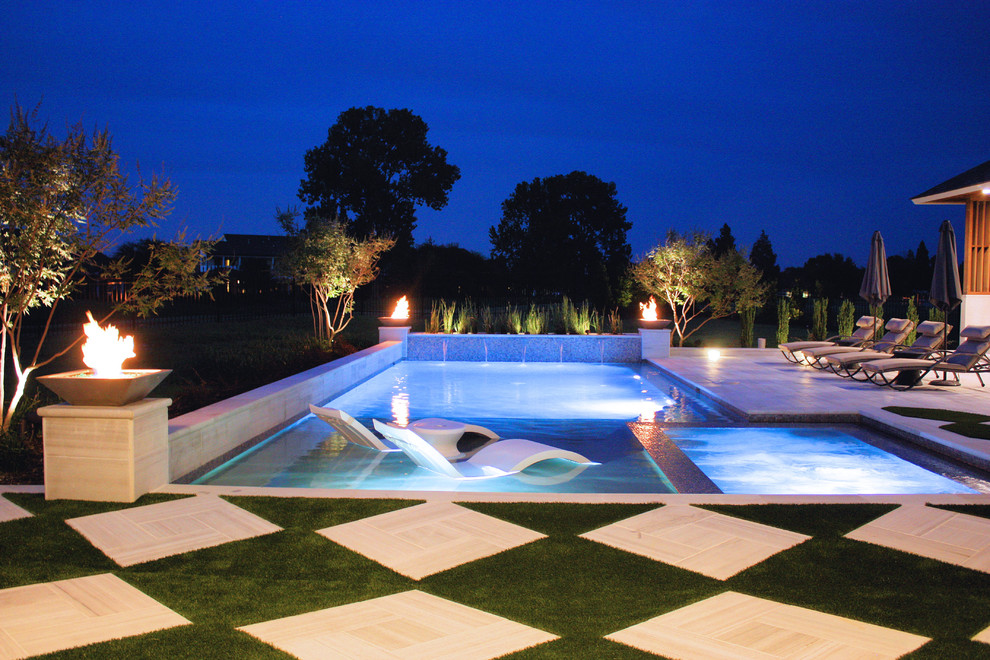 The decision to install pool lighting is not easy to make, therefore you need to consider a couple of factors before installing them.
1. Colour
The color choice depends from person to person. People want colorful rainbow lights for their swimming pool, while on the other hand, some prefer subtle transparent led lights.
Photo by Dallas Property Photos
2. Cost of Energy Consumption
The pool lighting can be decided, according to the energy consumption needs. Look for a sustainable option that preserves your energy. LED lights or solar power pool lights are the best options.
3. Pool size
Anywhere from 36 inches and beyond, you are really good to want to look at having three lights or more. But, two is what we recommend to all customers. So, in terms of lights, we use 3 different options- incandescent, fiber optics, and LEDs. The incandescent and fiber optic lights are pretty much obsolete right now. The LED goes in everything in terms of lighting.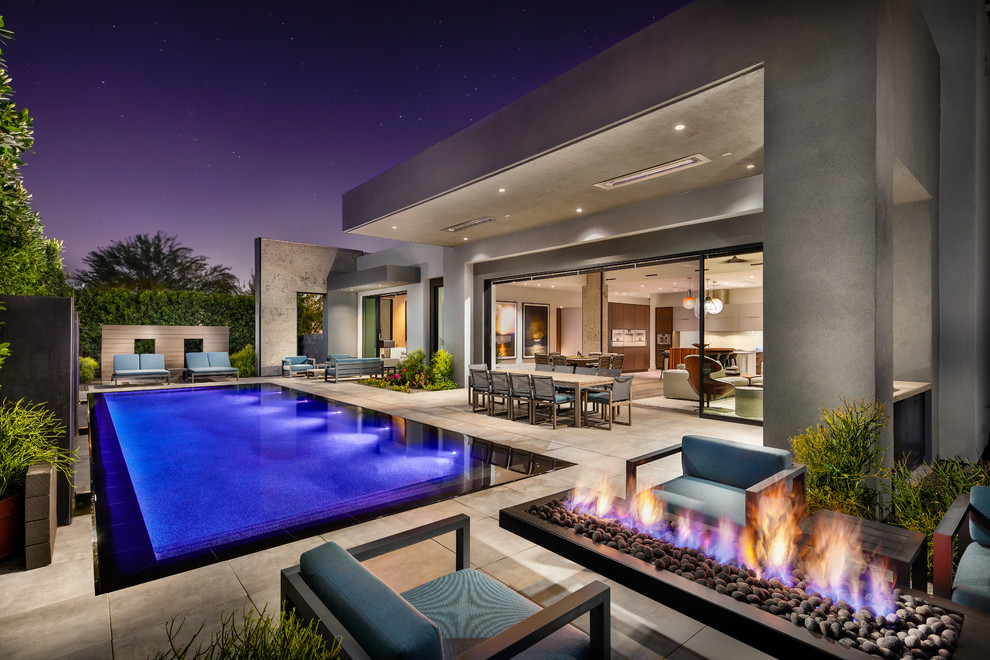 4. Inground or Above Ground
The rate of the light also depends on your preference, whether you want to install it in the ground or above the ground, of your swimming pool.
5. Install during Construction or After
The most common question that people ask is, "When do we need to install the pool lights?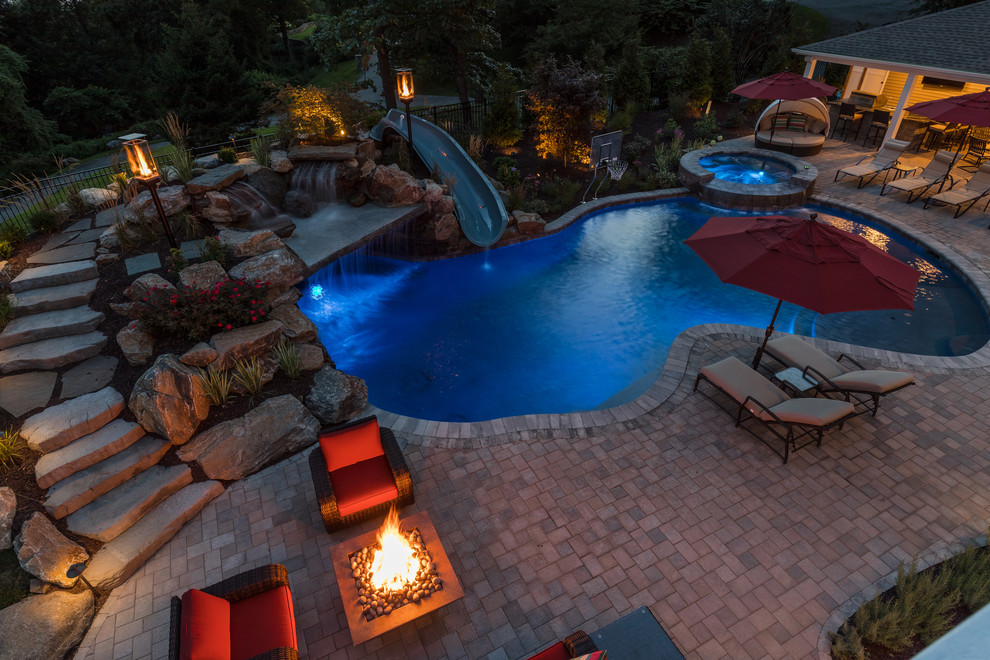 Photo by Neave Group Outdoor Solutions
You pretty much need to stick to the installation during construction. Can they be installed after?
Yes, but you have to spend a lot of money, so do not even go down that road,  and have them installed right out of the gate.
Why Light Your Pool?
Well, there are two reasons in particular.
One because it looks amazing.
Two, when you are out here swimming at night time, you have a little more peace of mind when it comes to the folks in your pool, so there is the safety factor in addition to the aesthetics.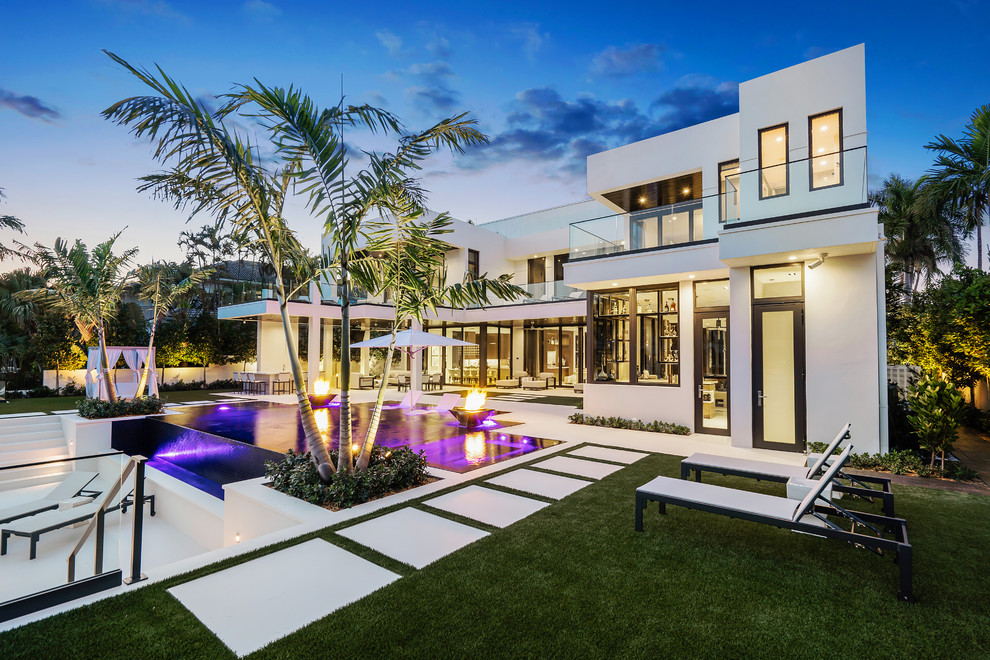 Different pool lights available:
1. LED Pool Lights
The LED light is an unbeatable combination to preserve energy and get the perfect light. The LED bulbs have a long lifetime, and the operating cost is also very cheap.
2. Halogen Pool Lights
If you want a bright Bang for your pool, then religious lights are the one for you. It is because they are brighter and also cost less than LED lights.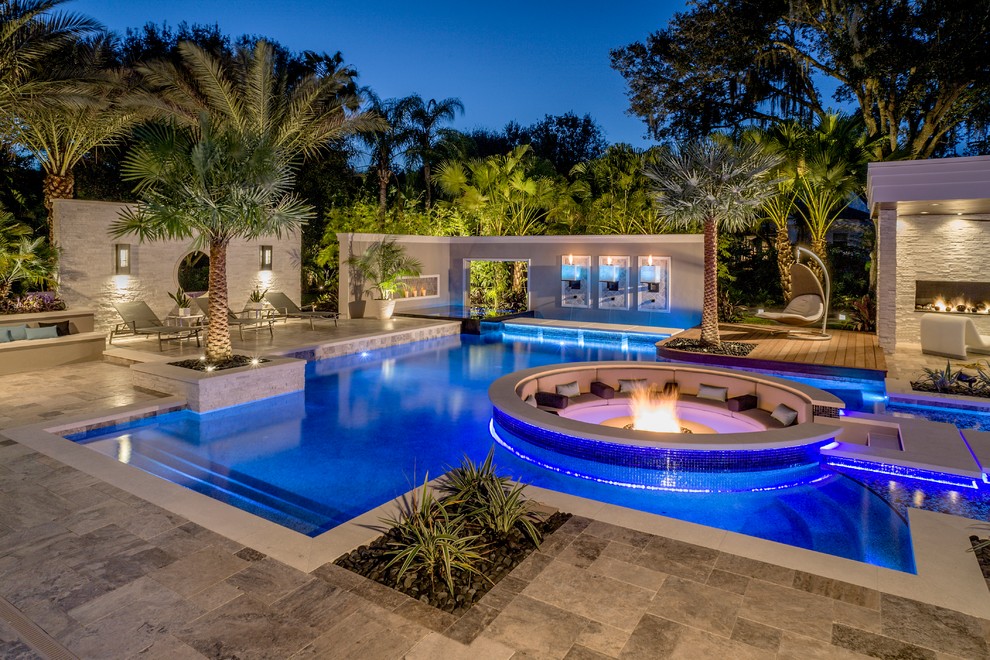 Photo by Ryan Hughes Design/Build
3. Fibre Optic pool lights
To get rid of the headaches such as changing the bulbs, fiber optic lights are an easy solution. It is because both the power source and light will be housed out of water.
No need to limit your time at home when you have pool lights to beautify your evening