A bathroom remodel can increase the desirability of your home and make your family more comfortable. Creating a solid plan in the beginning will ensure a positive result in the end. Follow these tips for sprucing up an old bathroom.
Generally, showers use less water than baths. Showers also contribute to a more modern design and can also save space. Luckily, you can easily convert your old bathtub into a modern and stylish shower with plenty of storage space to store all your cleansing basics. Ask your contractor about the possibility of keeping the tub to give people more options.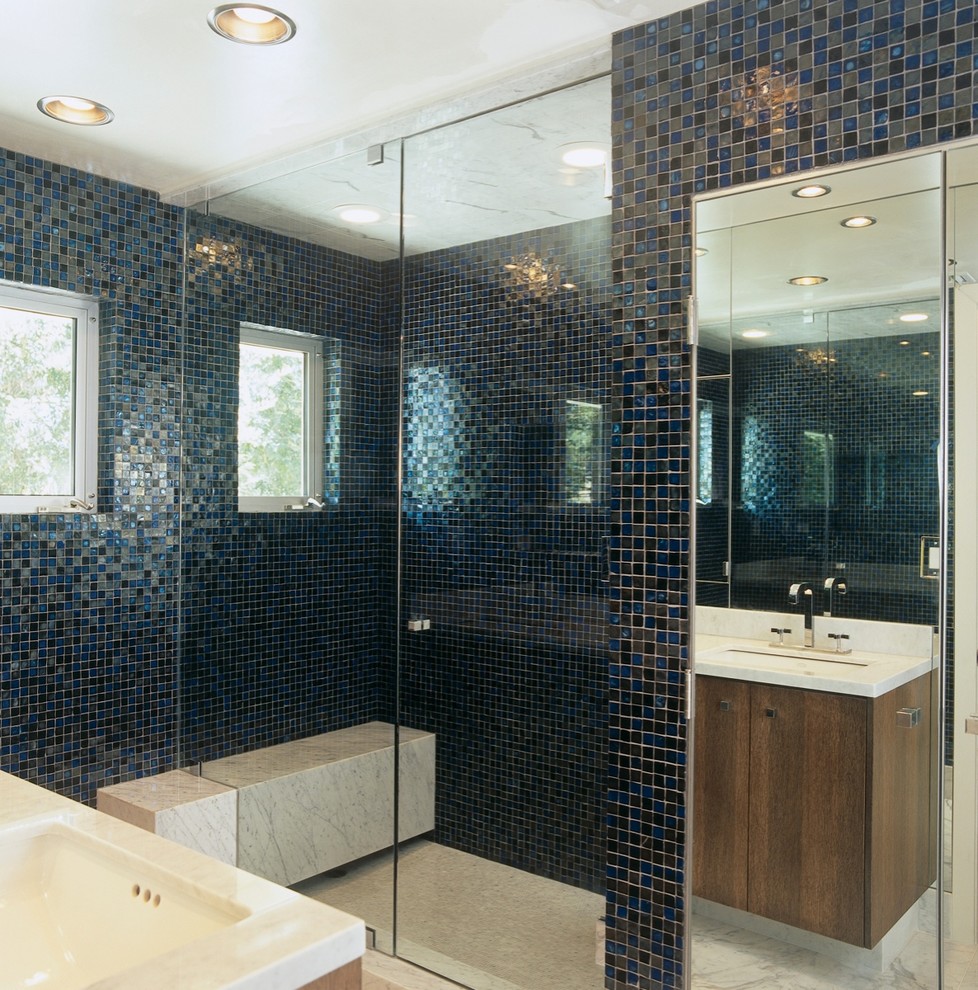 Photo by Mission Tile West Showrooms
2. Create More Space
No one enjoys a small bathroom. If you have a tiny bathroom, you may want to consider taking out a wall to increase the square footage in the room. Of course, taking out a wall requires substantial effort, time, and money. If you plan to contain your remodel to the bathroom's current size, you can make the current bathroom appear larger in the following ways:
Sleek, minimalist fixtures
Pedestal sinks
Add shelf storage
Remove unnecessary furniture and decorations
Declutter
Install larger windows
Mirrors
With a little work, you can make a small bathroom look newer and larger, though it's hard to beat a full remodel.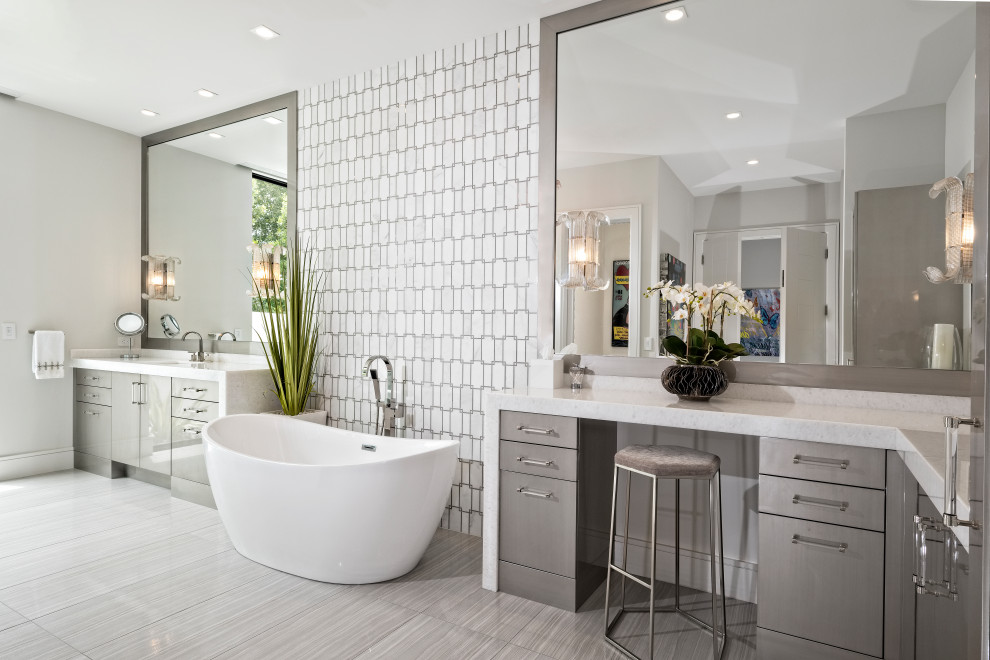 Photo by National Custom Homes IV, Inc.
3. Upgrade Fixtures
Old fixtures, such as showerheads and faucets, create a classic aesthetic appealing to many homeowners. However, classic fixtures don't have the additional features available in modern fixtures. Modern fixtures include high efficiency ratings, connectivity capabilities, greater mobility, lights, and additional setting options. You can still find modern fixtures that have a classic look if you prefer a traditional style but want the advantages available through modern fixtures.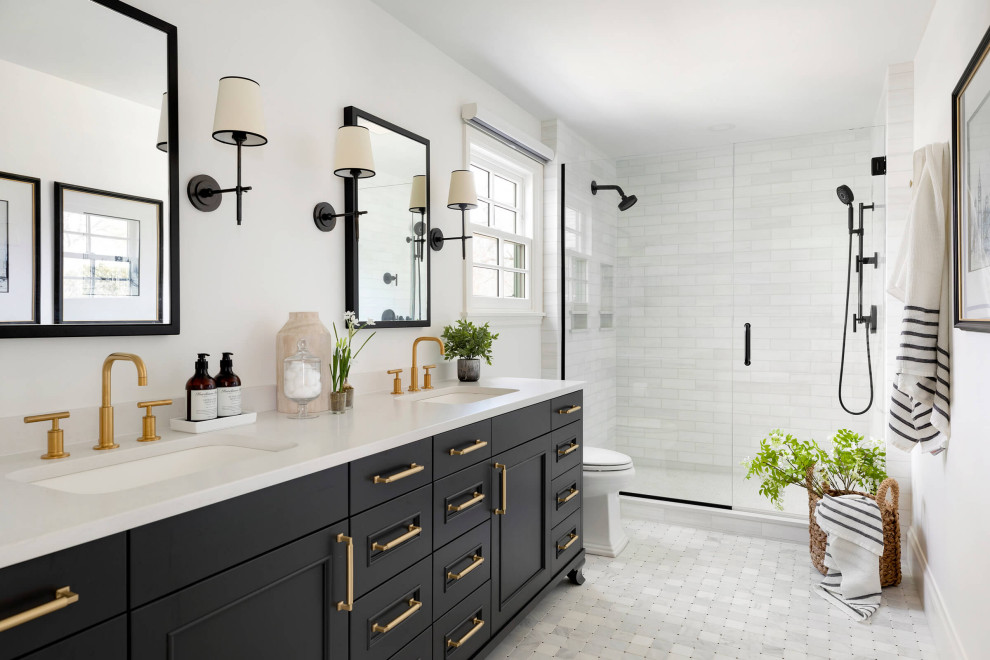 Photo by Jkath Design Build + Reinvent
4. Modernize the Floors
Floor tiles can last more than 50 years. However, that doesn't mean that the style lasts as long as the tiles. Modernize your current tiles with new, modern tiles. It will give you a chance to replace the tiles that have cracks in them while also upgrading the look of the room. During your renovation, you can also install heated floors to make winter showers that much more comfortable. Don't forget to buy extra tiles for when you need to replace them down the road. You may not be able to find a match.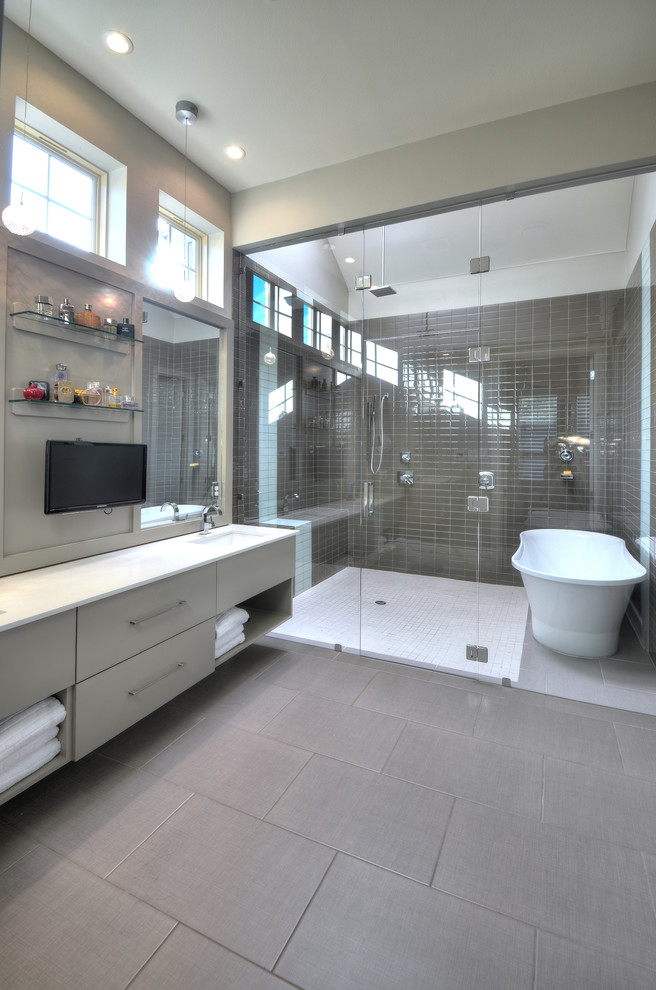 Photo by Windmiller Homes, LLC
Sprucing up an old bathroom is a fun project that will produce noticeable results. Use this opportunity to create the bathroom of your dreams (within your budget, of course).
Author Bio
Meghan Belnap is a freelance writer who enjoys spending time with her family. She loves being outdoors and researching new topics that help to expand her horizons. You can often find her buried in a good book or out looking for an adventure. You can connect with her on Facebook right here and Twitter right here.