‍In recent years, outdoor kitchens have become increasingly popular among homeowners. Gone are the days when cooking was confined to the indoors. With the rise of outdoor kitchens, people are now taking their culinary skills to the great outdoors. The benefits of having an outdoor kitchen are numerous, from enjoying the fresh air while cooking, to entertaining guests in a unique and stylish setting. If you're considering revamping your outdoor space, creating a modern outdoor kitchen should be at the top of your list.
Benefits of having an outdoor kitchen
Having an outdoor kitchen offers a multitude of benefits. First and foremost, it allows you to bring the joy of cooking outside. No longer will you be stuck inside while your friends and family enjoy the sunshine. Instead, you can be part of the fun while preparing delicious meals. Additionally, outdoor kitchens provide a great space for entertaining. Whether you're hosting a small gathering or throwing a big party, having an outdoor kitchen allows you to socialize with your guests while still being able to whip up a culinary masterpiece. Moreover, outdoor kitchens can increase the value of your home. Potential buyers are often attracted to outdoor living spaces and having a well-designed outdoor kitchen can be a major selling point.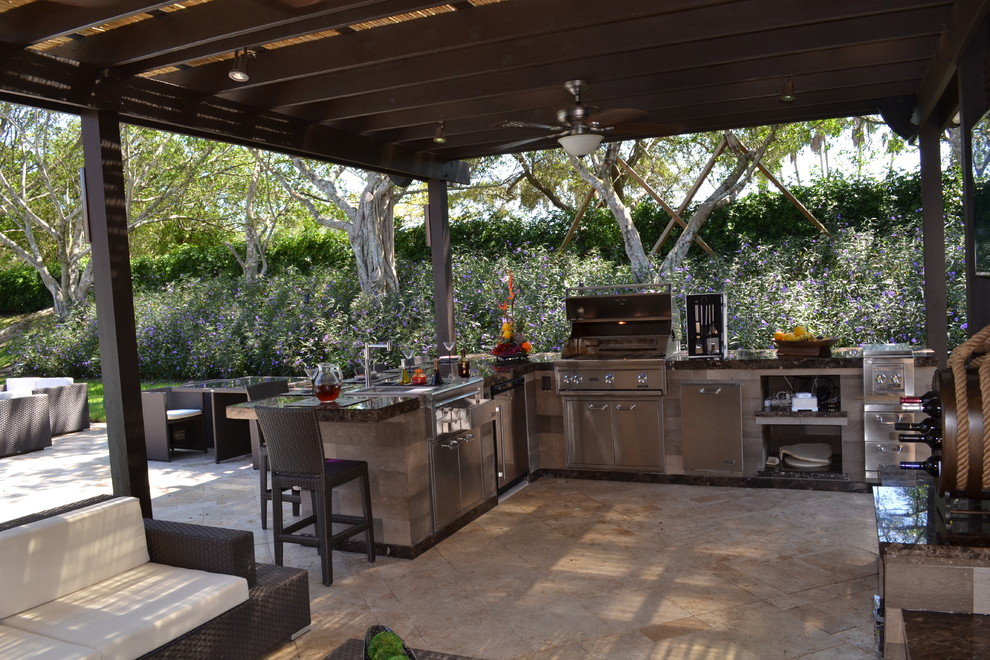 Planning your outdoor kitchen layout
Before diving into the design process, it's important to plan your outdoor kitchen layout. Consider the available space and how you want to utilize it. Start by determining the main focal points of your outdoor kitchen, such as the grill, sink, and countertop space. These elements should be placed strategically for ease of use and functionality. Next, think about the flow of the space. You want to create a layout that allows for easy movement and accessibility. Consider the work triangle concept, where the grill, sink, and refrigerator are positioned in a triangular formation for maximum efficiency. Lastly, don't forget about storage. Incorporate cabinets and drawers to keep your outdoor kitchen organized and clutter-free.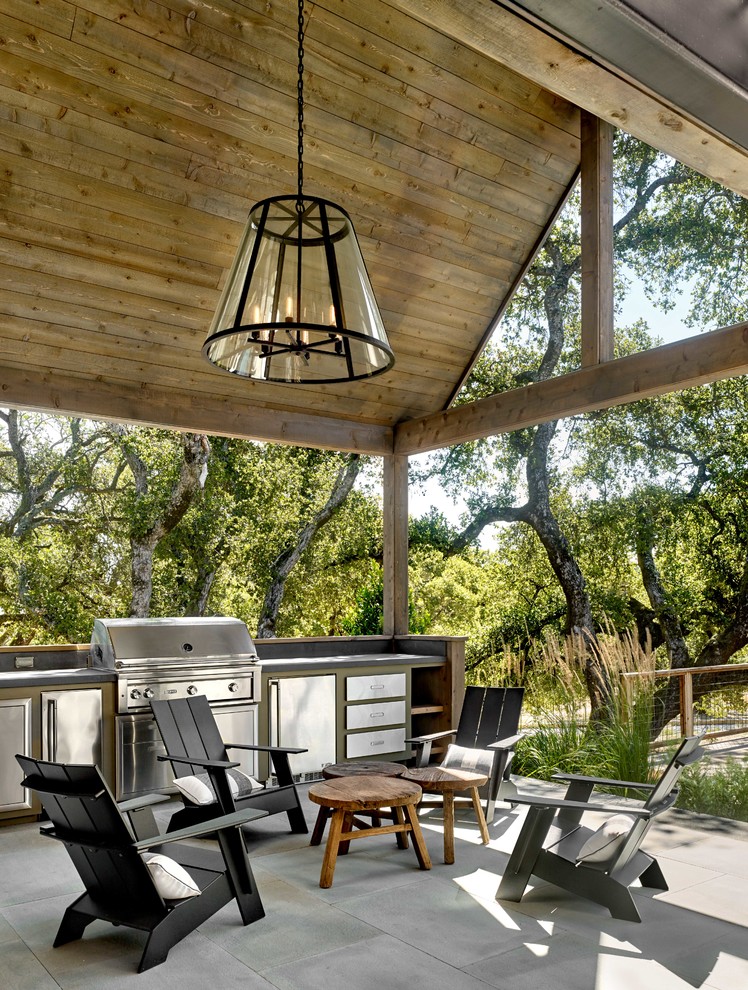 Choosing the right appliances for your outdoor kitchen
When it comes to choosing appliances for your outdoor kitchen, durability and functionality are key. Outdoor appliances need to be able to withstand the elements, so opt for materials that are weather-resistant and easy to clean. Stainless steel is a popular choice for outdoor kitchens due to its durability and sleek appearance. Consider investing in a high-quality grill, as it will be the centerpiece of your outdoor cooking experience. Look for a grill that offers a variety of cooking options, such as gas, charcoal, and infrared. Other essential appliances include a sink, refrigerator, and outdoor-rated cabinets. Make sure to choose appliances that fit your cooking style and needs.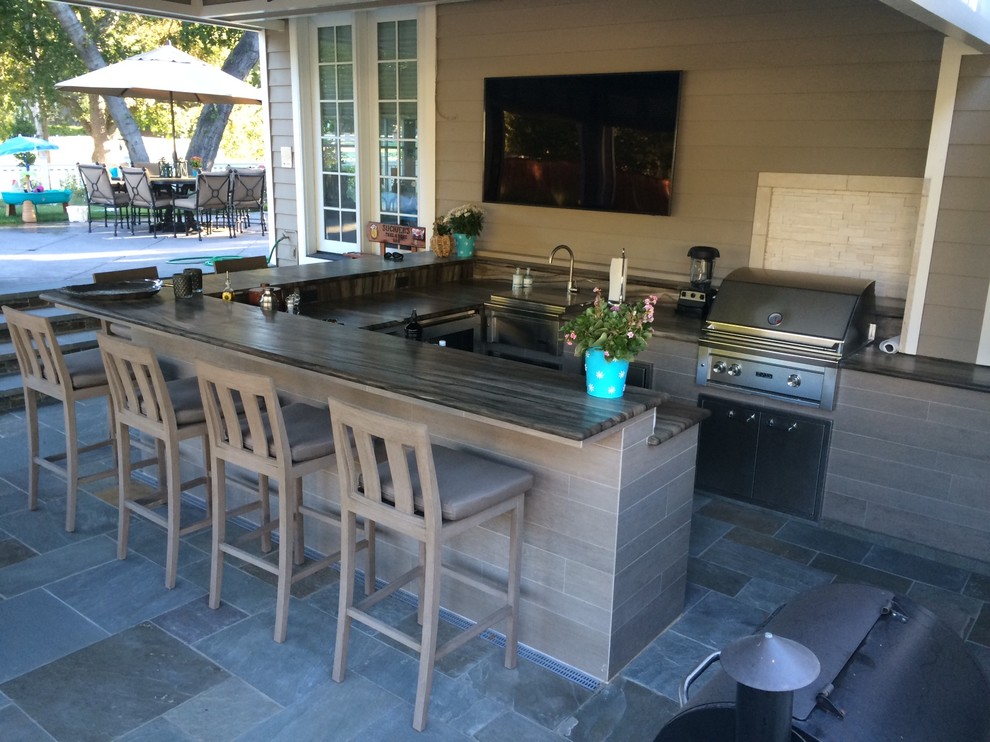 Photo by Riedel Precision Landscaping, Inc.
Designing a modern outdoor kitchen
When designing a modern outdoor kitchen, it's important to consider the overall aesthetic and style you want to achieve. Modern outdoor kitchens often feature clean lines, minimalistic design, and a seamless integration with the surrounding landscape. Start by selecting a color palette that complements your outdoor space. Neutral tones, such as grays and whites, work well to create a contemporary look. Incorporate sleek materials, such as concrete or quartz countertops, to add a touch of sophistication. Consider adding a focal point, such as a statement lighting fixture or a unique backsplash, to make your outdoor kitchen truly stand out. Don't forget to incorporate natural elements, such as plants or a water feature, to create a harmonious connection between your outdoor kitchen and the environment.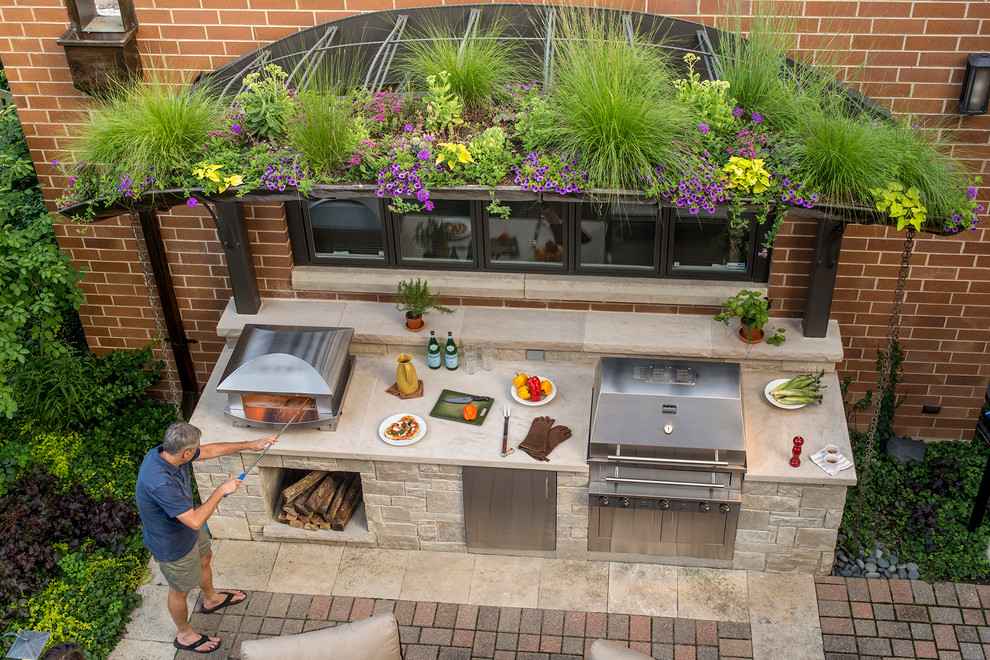 Photo by Kalamazoo Outdoor Gourmet
Tips for creating a functional and stylish outdoor kitchen
Creating a functional and stylish outdoor kitchen is all about finding the right balance between aesthetics and practicality. Here are a few tips to help you achieve just that:
Consider the layout: As mentioned earlier, the layout of your outdoor kitchen is crucial. Ensure that the grill, sink, and countertop space are within easy reach of each other, creating a seamless workflow.
Incorporate ample storage: Storage is essential in any kitchen, including the outdoor ones. Install cabinets and drawers to keep your cooking utensils, dishes, and other essentials organized and easily accessible.
Embrace technology: Modern outdoor kitchens often include high-tech features such as built-in speakers, smart lighting, and weatherproof televisions. Embrace the latest technology to enhance your outdoor cooking and entertainment experience.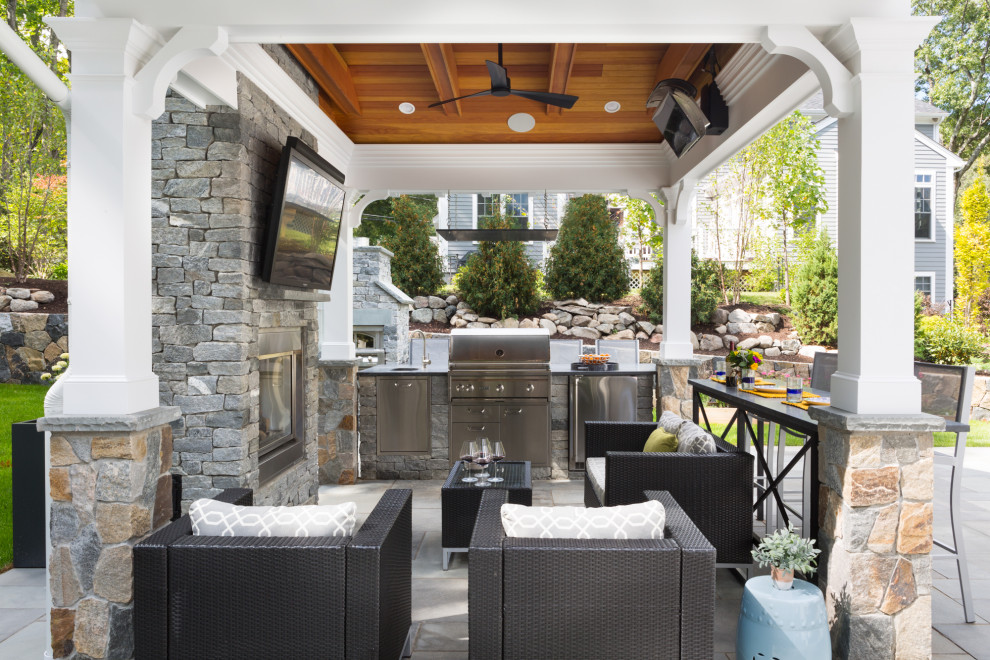 Photo by Distinctive Interiors
Outdoor kitchen lighting and heating options
To fully enjoy your outdoor kitchen, proper lighting and heating options are essential. Lighting not only adds functionality but also creates a warm and inviting ambiance. Consider installing a combination of task lighting, such as under-cabinet lights, and ambient lighting, such as string lights or lanterns, to illuminate your outdoor kitchen. Additionally, incorporate lighting in your cooking area for better visibility during evening grilling sessions. When it comes to heating options, there are various choices available, from portable heaters to built-in fire pits. Choose a heating solution that suits your needs and ensures year-round enjoyment of your outdoor kitchen.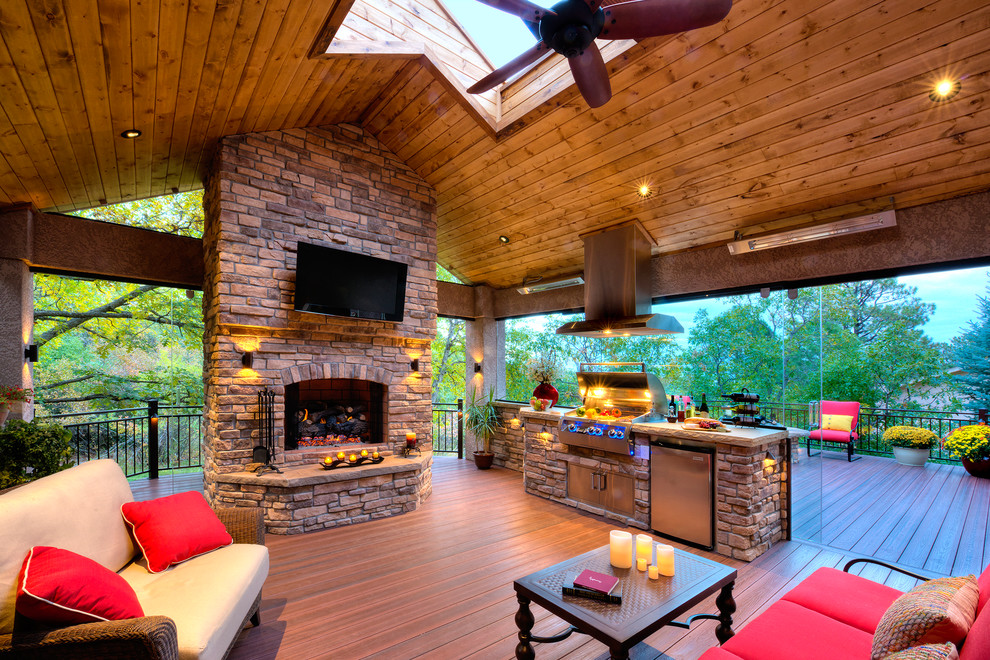 Photo by Fire Magic Grills – Robert H Peterson Company
Outdoor kitchen maintenance and care
To keep your outdoor kitchen in top shape, regular maintenance and care are necessary. Start by cleaning your appliances after each use to prevent grease buildup and potential damage. Use appropriate cleaning products and follow the manufacturer's instructions for best results. It's also important to protect your outdoor kitchen from the elements. Invest in high-quality covers for your appliances and furniture to shield them from rain, sun, and other outdoor elements. Additionally, inspect your outdoor kitchen regularly for any signs of wear and tear, and address any issues promptly to avoid further damage.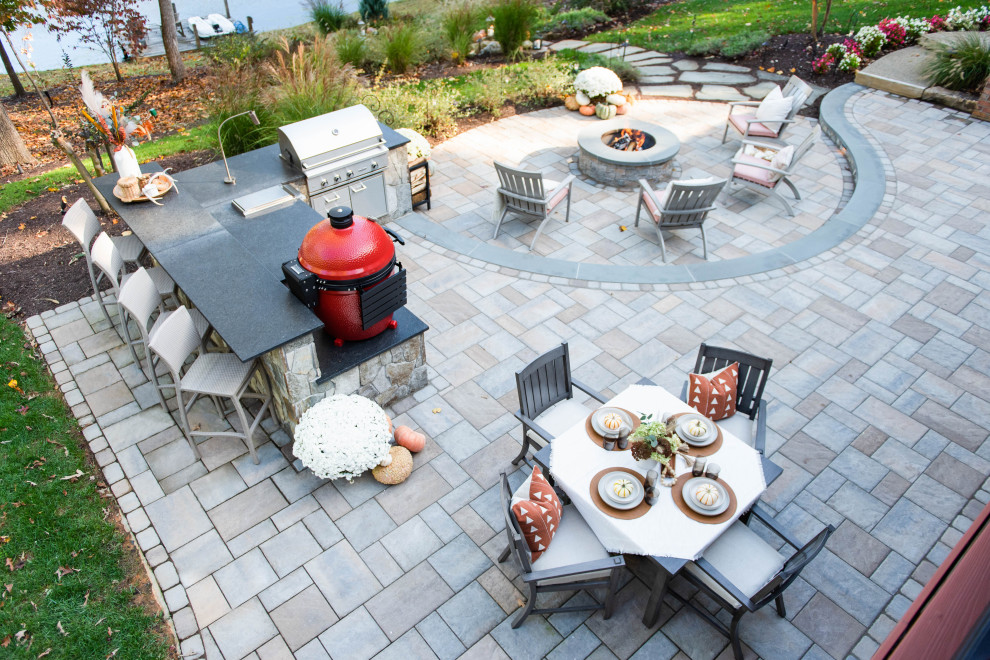 Outdoor kitchen accessories and decor ideas
When it comes to outdoor kitchen accessories and decor, the options are endless. Consider adding a personal touch to your outdoor space by incorporating decorative elements that reflect your style and personality. Here are a few ideas to inspire you:
Outdoor bar: Create a dedicated space for mixing drinks and entertaining guests with an outdoor bar. Install a countertop, add some bar stools, and stock it with your favorite beverages and barware.
Outdoor seating area: Make your outdoor kitchen a true gathering place by incorporating a comfortable seating area. Add cozy outdoor furniture, such as sofas or lounge chairs, and accessorize with pillows and throws for a cozy and inviting atmosphere.
Outdoor kitchen island: If you have ample space, consider adding an outdoor kitchen island. This versatile addition provides extra countertop space for food prep, as well as additional storage.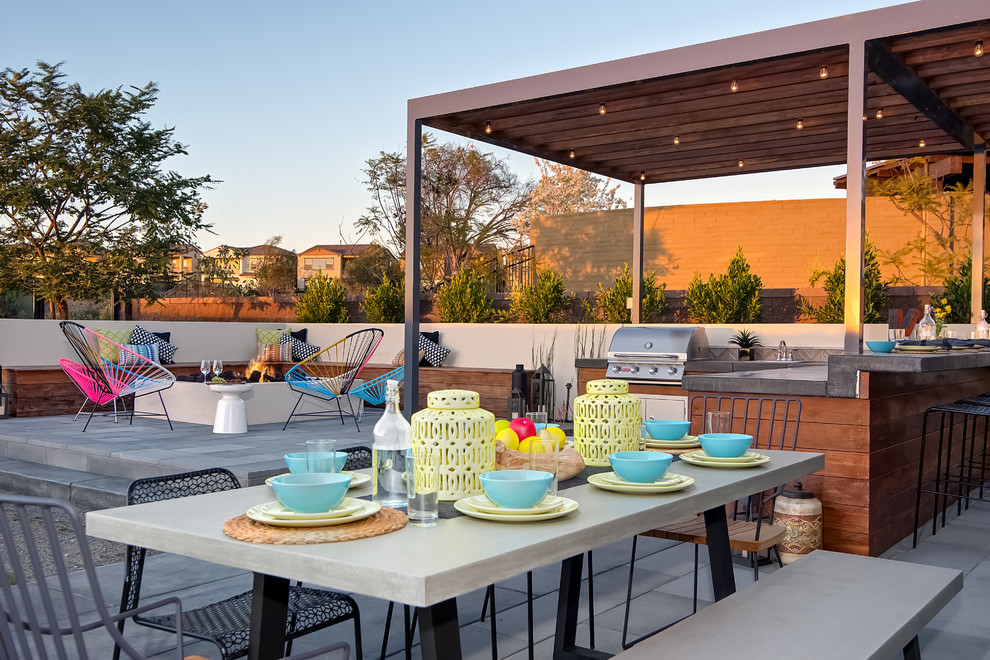 Conclusion
Revamping your outdoor space with a modern outdoor kitchen is a great way to enhance your home's functionality, style, and value. By following the tips outlined in this article, you can create a functional and stylish outdoor kitchen that will become the heart of your outdoor living experience. From planning the layout to choosing the right appliances and incorporating the right design elements, every step is crucial in creating an outdoor kitchen that suits your needs and preferences. So, get ready to embrace the joy of cooking and entertaining in the great outdoors!