Nothing breathes life into a home like new flooring. In fact, even for homeowners on a budget, swapping out old floors can make their home look as new as a showroom. But when it comes to choosing new flooring, not everyone wants or can afford hardwood. Thankfully, there are beautiful alternative flooring options to spruce up any home. Read on to learn four different alternatives to hardwood flooring.
Laminate Floors
Although there are more modern options, laminate floors have come a long way since they started being used in homes. They've come far enough that many look luxurious without costing a fortune. Laminate flooring is also extremely durable, making it a great option for families with pets and children.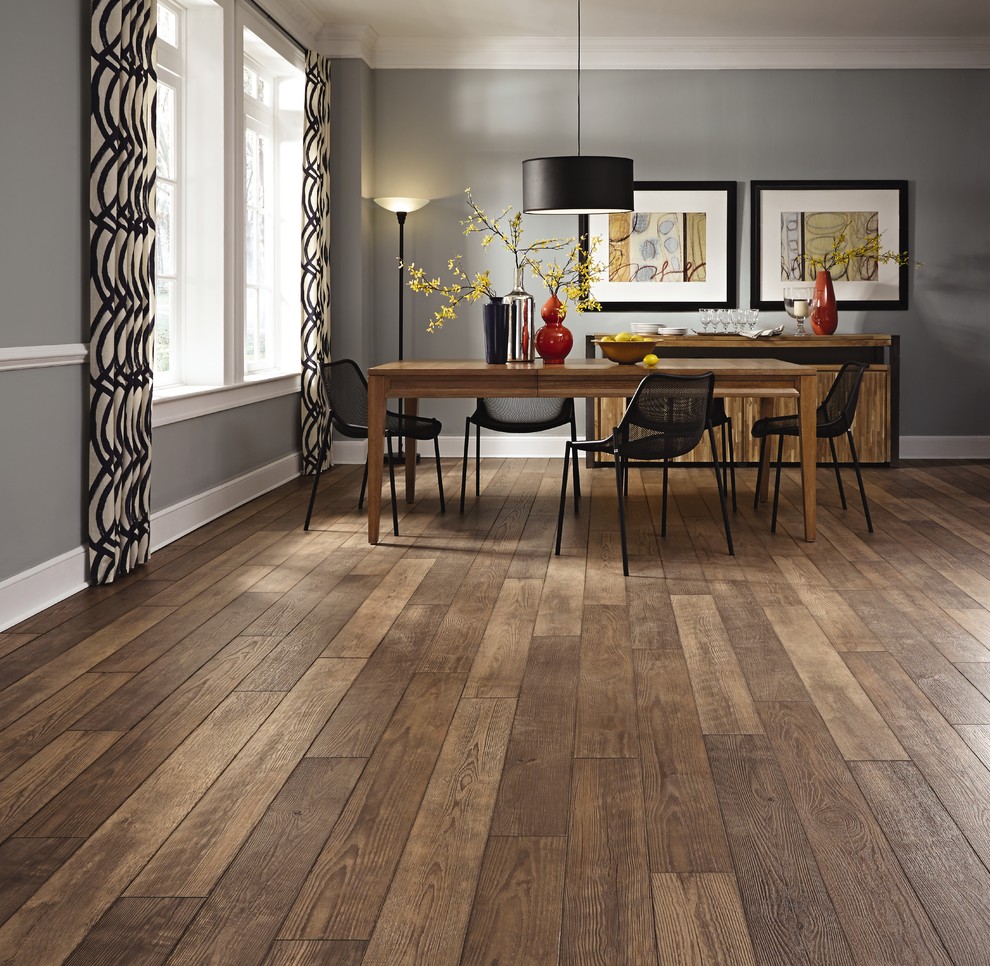 Photo by Ogden's Flooring & Design
Laminate flooring comes in a variety of patterns, colors and even thickness. Laminate can be installed just about anywhere in your home. Since laminate is considered a floating floor, it can be installed over concrete or pre-existing tile flooring. However, you need to add underlayment for proper installation.
Engineered Hardwood Flooring
If you love the look of oak but can't manage the upkeep of hardwood flooring, engineered oak flooring is an excellent alternative. Engineered hardwood floors work well in most climates, including places where the temperatures fluctuate dramatically. Oak also comes in a variety of colors, so homeowners can customize their flooring to match the room's aesthetic.
Photo by Robinson Hardwood & Homes LLC
Vinyl Plank Flooring
Probably one of the most kid-friendly products out there is vinyl plank flooring. For moms, installing this type of flooring gives them the best of both worlds. Not only is stain resistant, but it also looks like real plank flooring without the upkeep. Best of all, it's also waterproof. This type of flooring works best in kitchens and small bathrooms.
Photo by Beau Monde Fine Floors Inc
Plank Tiles
Although they've been around for some time, not everyone knows about plank tiles. They work very well in warm climates, are easy to clean, and also help to cool homes. In areas where it tends to get cold, the tiles work best when installed in smaller rooms or areas that are heated. If not, it might be a bit chilly during the winter. Plank tiles come in a variety of styles and colors for every homeowner's taste.
Choosing new floors doesn't need to be stressful. While it does take some research on what works best in your area and for your needs, there are a lot of hardwood flooring alternatives to give your home a makeover without breaking the bank.
Author Bio:
Anita is a freelance writer from Denver, CO. She studied at Colorado State University, and now writes articles about health, business, family and finance. A mother of two, she enjoys traveling with her family whenever she isn't writing. You can follow her on Twitter @anitaginsburg.