People are often reluctant to renovate their bathrooms, fearing that it's an expensive and complicated endeavor. However, the bathroom is no less than a sanctuary in every home. Therefore, it deserves special attention so that it can serve its purpose in the best possible way. Having a magnificent, modern bathroom will not only make your days more enjoyable. It will also boost the value of your home in case you are planning to sell it at some point. Here are a few practical tips to create the bathroom of your dreams.
Spice up the walls
If you want to create a big impact with a small change, think about updating your bathroom walls. The walls set the mood in any room and the bathroom is no different. However, if you want to bring in a wow-factor, a fresh coat of paint in itself won't do. Instead, consider introducing some variety by creating an accent wall. You can do this by bringing in some contrast with a complementing color, or you can check out different wallpapers. Just make sure you go for moisture-resistant types.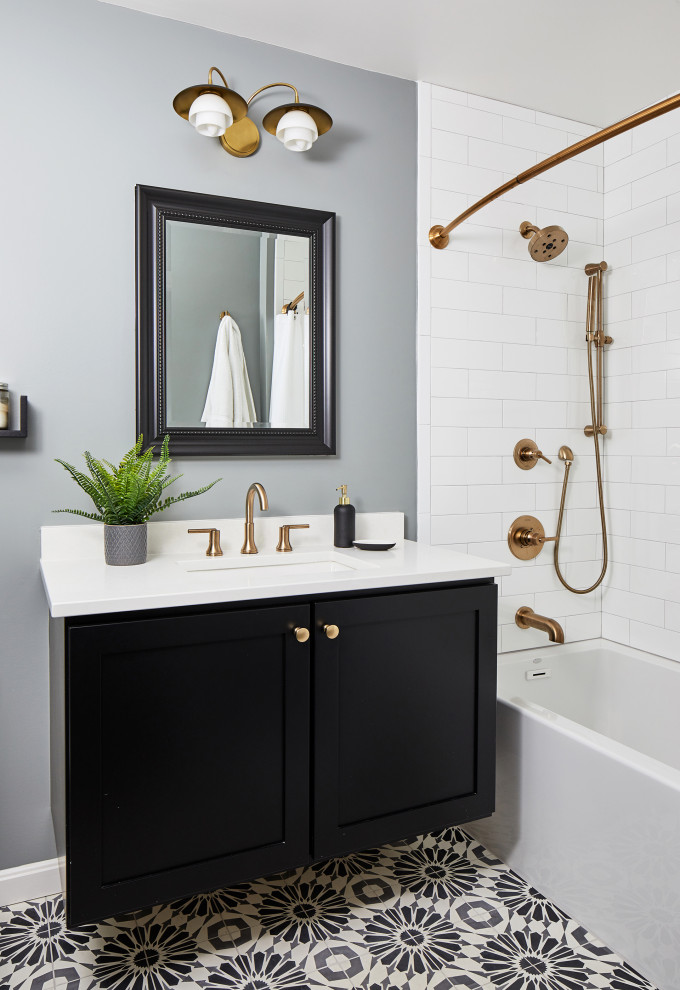 Photo by Case Design/Remodeling, Inc.
Focus on the vanity
Next up, to create a magnificent, modern bathroom, you should devote some attention to your vanity. We all spend a considerable amount of time in front of our vanities. And if you use a lot of products, you know how unsightly it can get with all the mess. Bringing in some class with a sleek vanity you won't want to clutter is a great choice. If you already have a bathroom style in mind, it won't be difficult to decide on the material. Whether you go for classic-looking porcelain or luxurious marble, the vanity will become the focal point of your bathroom.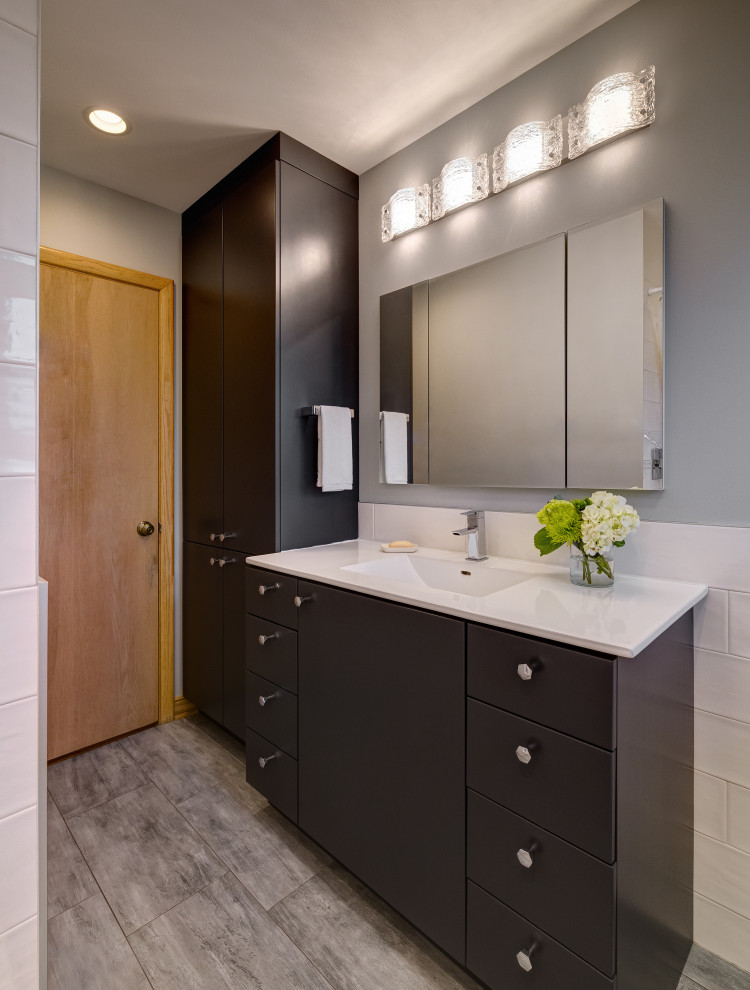 Update your fixtures
Without a doubt, the most important aspect of your bathroom are your fixtures. Needless to say, this means that this is where you should spare no expense. If your bath is old and outdated, it can ruin the overall look of your space. If swapping it is not an option, try to at least refinish it to better fit the new design. As for your shower, keep in mind that shower curtains are usually only ruining the look of the space. A walk-in shower would be the best option for a modern-looking bathroom. Add an anti-fog coating to the glass door and your bathroom will look polished at all times.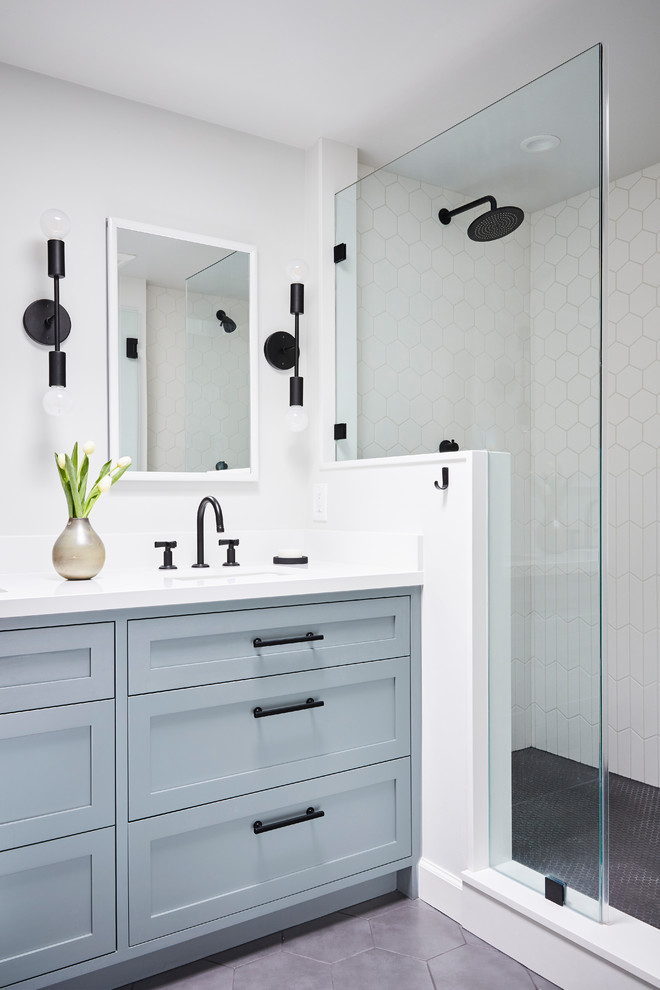 Photo by Crookston Harrell Design
Consider additions
Besides updating your existing features, you can also consider some additions that would greatly boost your bathroom experience. For instance, installing bidets has become quite popular recently. This fixture is extremely convenient to have, so more and more people are incorporating it in their homes. In addition, a state-of-the-art standalone bidet will make your space look modern and luxe. In case your bathroom is on the smaller side, a practical bidet seat will be the perfect solution for you.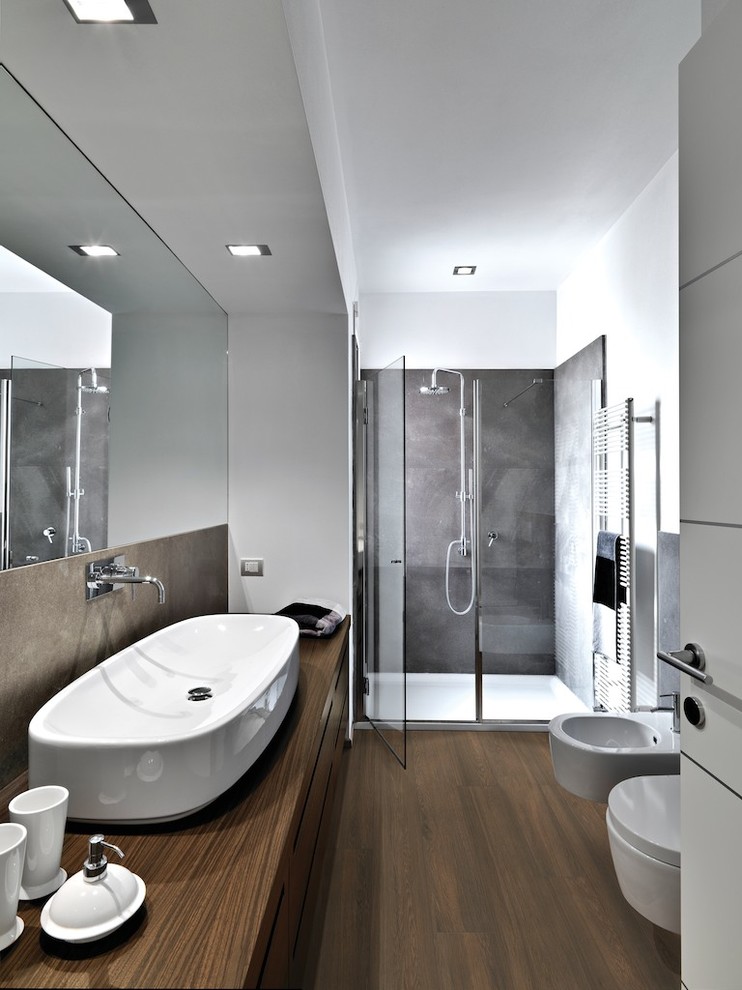 Photo by Arley Wholesale – Montgomery
Bring in more comfort
Since the bathroom is where we can truly relax, it should go without saying that it should be comfortable. The aforementioned bidet is one thing that will boost the comfort of your space. However, there are other small details that will make your bathroom both look and feel more modern. A small addition, such as a heated towel rail, for instance, will have a big impact on your bathroom. Another thing that simply transforms a bathroom is added seating. Adding a comfortable chair or even just a stool will turn your regular bathroom into a modern spa instantly.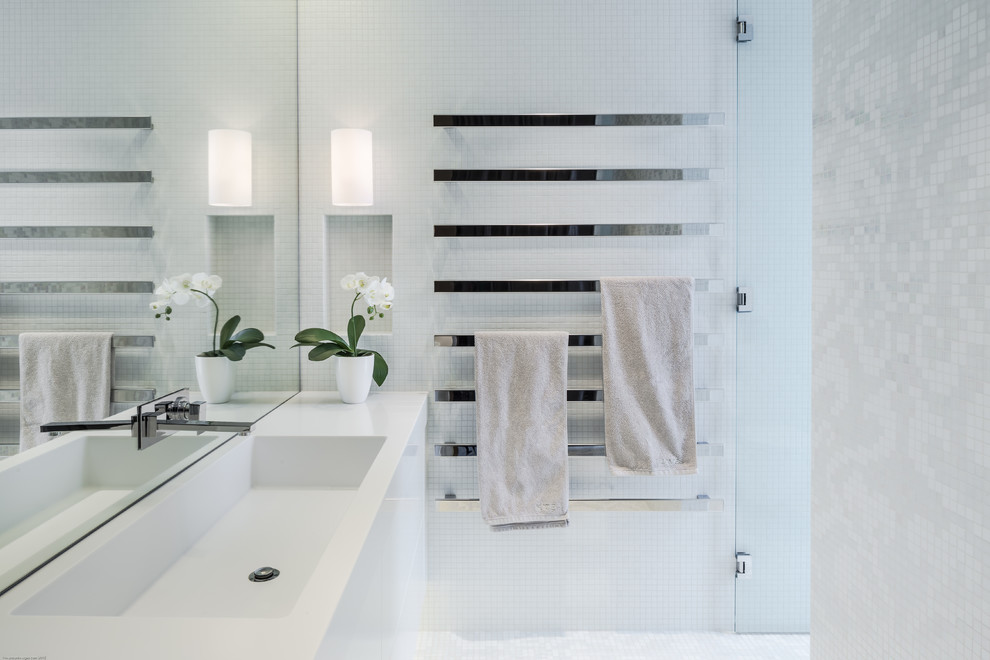 Photo by Tim Ditchfield Architects
Add sleek storage
Finally, as we have already mentioned, clutter can truly ruin the look of a space. So, if you want a modern, sleek bathroom, clutter has no place on your counter. Add some storage to do away with this issue promptly. The best option would be recessed, built-in storage that doesn't take away any available square footage. If that is not an option, you can also employ the space under the counter and hang up shelves.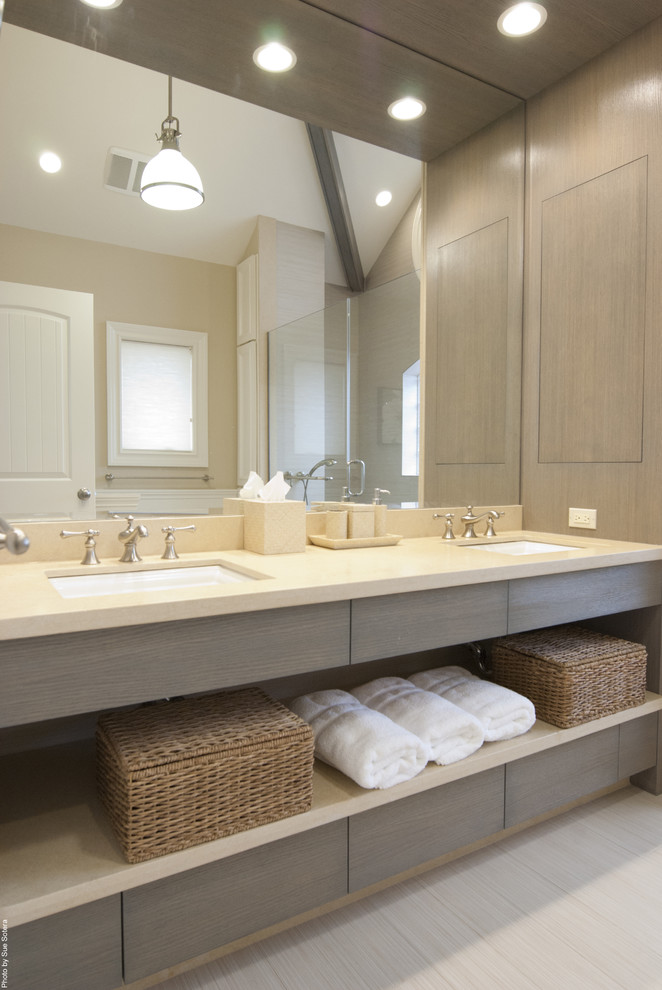 Final Words
We all dream of having a magnificent bathroom where we can relax and spend some me-time. If your current bathroom does not hit the mark, don't be afraid of changing it. A new fixture and some cosmetic changes can truly transform a space, but small additions go a long way too.
Author Bio:
Mia Ackerson is a Melbourne-based freelancer who is interested in business, technology, interior design, home improvement, beauty, fashion, gardening, baking, and cooking! She's also a babysitter! You can follow her on Twitter.