Is your home old and outdated? Or, are you tired of the same old things? Well, the cause of your dissatisfaction with your home doesn't necessarily matter – what matters is that the time has come for you to renovate your home! But, before you take that color palate catalog out and call that interior designer to help you, decide which design style suits you best.
Nowadays, there are tons of styles to go for – modern, traditional, eclectic, bohemian, etc. So, do some research and choose a style you like the most. And, when you are deciding how your home should look, think about minimalism and maximalism. That is, think about whether you lean towards having a lot of stuff or whether you lean towards having as little as possible. Once you have that figured out, you can determine what themes, colors, and types of décor you want in your home. Don't worry – doing all this is easier than you think. Especially as you have us to help you out, thus, if you want to find out which design style suits you best – minimalism vs. maximalism, keep on reading.
What is Minimalist Interior Design?
Okay, before we start discussing how you should decide which style suits you best – minimalism vs. maximalism, let us explain each style in detail. We will begin with minimalism and how to remove things from your home to make it look better. Namely, minimalism is often characterized by a lack of things. So, for instance, if you wanted to improve the interior design of your home by using this minimalist approach, you would first get rid of all excess things. That is, you would keep only the things that you need.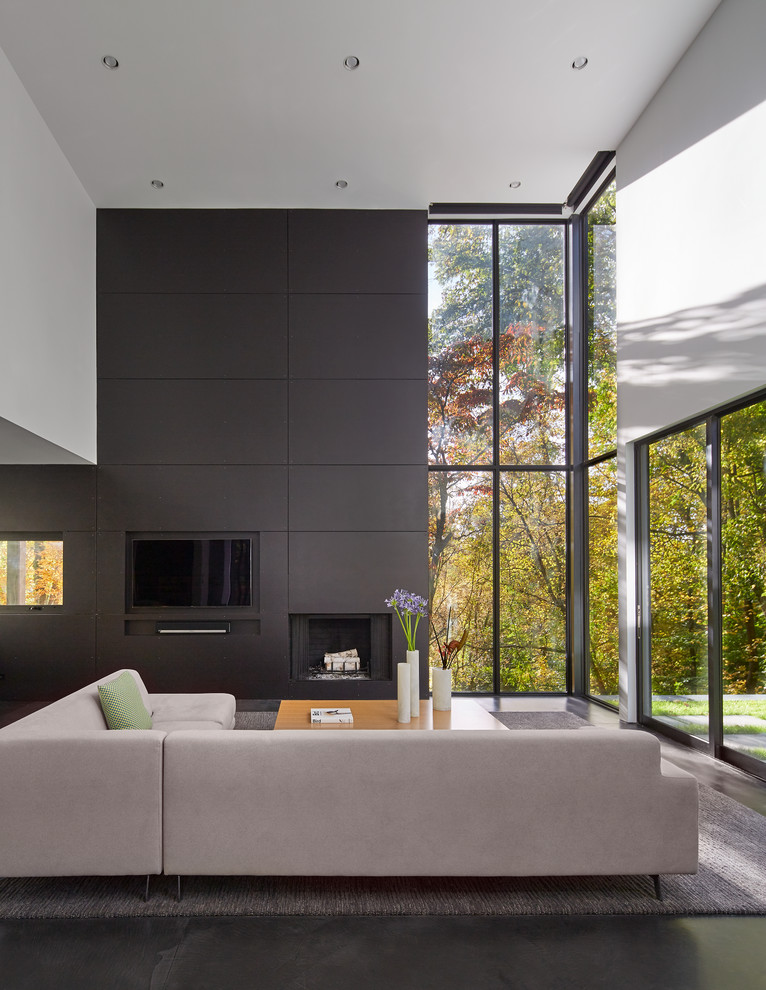 Photo by Certified Luxury Builders – Connecticut
However, that is not entirely true. Minimalism is not about getting rid of everything, no. It is about having less clutter, creating zen places, clean lines, and simplicity in all possible forms. Minimalism is also associated with a group of people who are not concerned about material things but about having room for what matters. Usually, the time and energy one does not have to spend on unnecessary things is what matters most.
How to Achieve the Minimalist Style
One thing is certain – minimalism does not look the same to everyone. But, there are specific characteristics of this design that you should meet. For instance:
Monochrome colors
Limited patterns
Clean lines
Simple shapes
Functionality
Empty spaces
Hidden storage for necessary clutter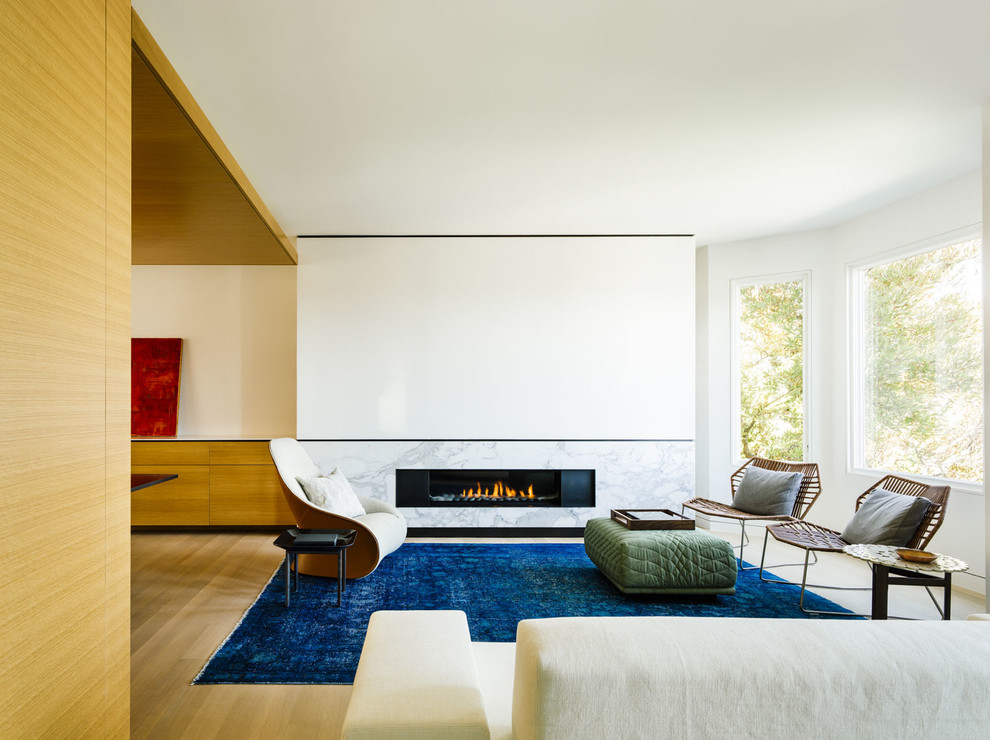 Photo by John Maniscalco Architecture
Moreover, one of the essential things about minimalist home designs is the lack of clutter. So, if you have a lot of excess clutter that cannot fit into your hidden storage and that you don't need, it is time to say goodbye to it. Thus, either give it to charity or sell it. However, if you think you cannot part your way with all your stuff, consider renting a storage unit nearby. Professional movers from Worldwide Moving Systems recommend that you pack and relocate everything to storage to get a feel for the minimalist lifestyle. And, after a couple of months, if you don't miss your stuff, you can say goodbye then.
What is Maximalist Interior Design?
To decide which design style suits you best, minimalism vs. maximalism, you need to know all there is about both of them. We told you everything about minimalism, so let us move on to maximalism.
Some people associate maximalism with having a lot of stuff. But, maximalism is more than that. That is, it is more sophisticated than that. Maximalism is being bold with your design choices, not being afraid of colors, patterns, and shapes, and being ready to find a way to incorporate more items into your home. However, you can easily turn your maximalist home into a jumbled mess of clashing styles if you are not careful. For instance, you may want to make your home look more expensive by adding a lot of everything, but if you don't create a sense of balance while doing so, you will make your home look messy.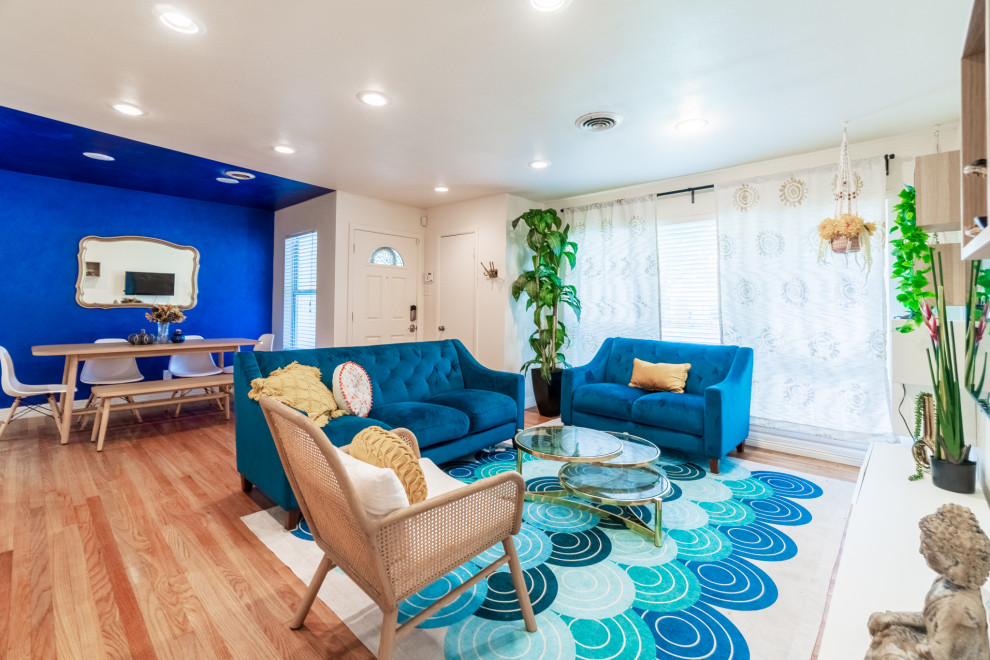 How to Achieve the Maximalist Style
And now, let us talk about how you can add more but still have a home that doesn't feel cluttered but is well-balanced. With maximalism, you have to pay attention to the following:
Bright colors
Abundance of colors
Different textures
Bold patterns
Lavish and opulent pieces
Bulky pieces
Statement pieces
Creativity and richness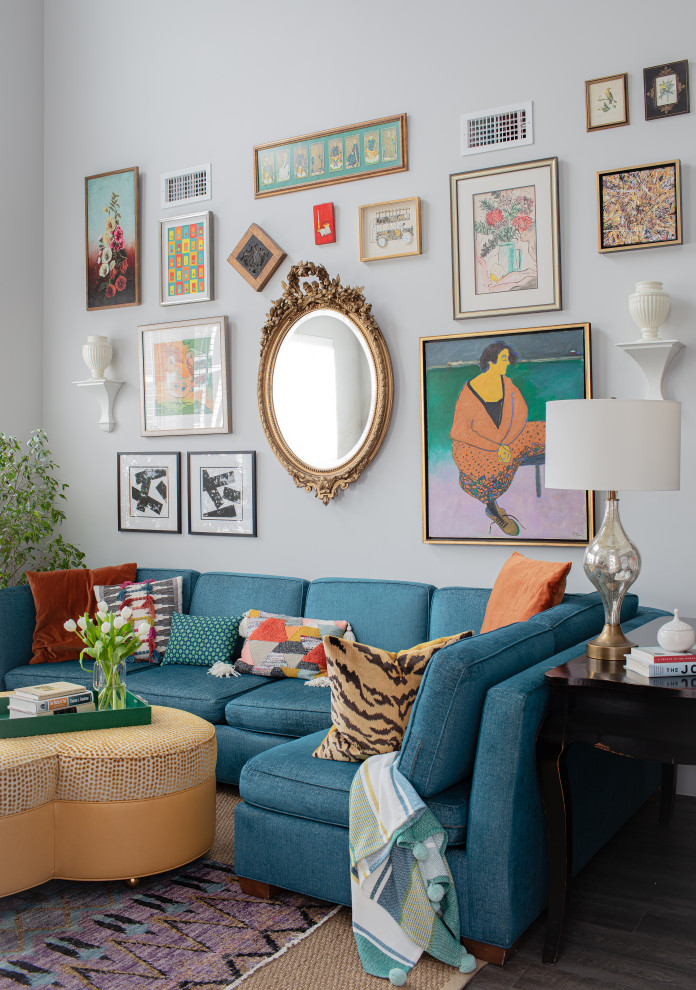 Photo by Laurie Gorelick Interiors
Don't be afraid to play with colors, shapes, and patterns. Just make sure you choose items that complement each other. Moreover, if you want to be a true maximalist, don't hesitate to invest in some bulky, lavish, and expensive piece of art or even a piece of furniture or décor. Just make sure to put that piece where it will make a statement. Maximalism can also be about a lot of stuff nicely put together. So, for instance, if you have to move to Maryland or any other state, bring all your furniture and household knick-knacks. Don't get rid of anything just yet. But, just like previously mentioned, let pros take care of it. Professional movers are the only ones who can take good care of all your items – especially the art pieces and other fragile items you need for your new maximalist home.
Which Design Style Suits You Best – Minimalism vs. Maximalism?
We can all agree that both minimalism and maximalism have their merits. And which design style suits you best depends on you – it depends on your needs, preferences, and styles. Moreover, don't be too strict when choosing which style to go for. If you want a minimalist home but don't like clean lines, just don't have them. Or, if you want a maximalist home but don't like bold colors, just use soft ones. Research some of the most beautiful interior designs and see if you can use something from there. Mix and match; you can create some of the best design aesthetics in that fashion.
As you have seen, there is a lot to consider regarding minimalism and maximalism. However, we suggest further research on this topic before you remodel your home. Find out which design style suits you best if you want to have a home in which you feel happy and comfortable.