Double Glazed Windows are a preferred choice for most homeowners for multiple reasons. With the ever increasing noise pollution and air pollution every homeowner is looking for ways and means to protect their homes in the best possible way. One way to go about this is to opt for double glazed windows. These windows, if chosen in the right manner from well-reputed manufacturers, can help you save on energy and bring down your utility bills.
What are Double Glazed Windows?
These windows consist of two panes of glass with a gap in the middle so that it can trap the heat. At times this gap is filled with gas. To make the right choice with double glazed windows you need to find out the amount of sunlight travelling right through the glass, how well these can stop the heat from penetrating and the amount of air that can leak around the windows or through the frames.
How to Choose the Double Glazed Windows:
Find out the energy rating of the total window before you opt for one. Most well-reputed manufacturers have the energy efficiency rating from A to G.
Efficient double glazed windows have gases like krypton, xenon or argon in the gaps between the two panes.
For maximum efficiency of these windows have 'pane-spacers' with negligible metal.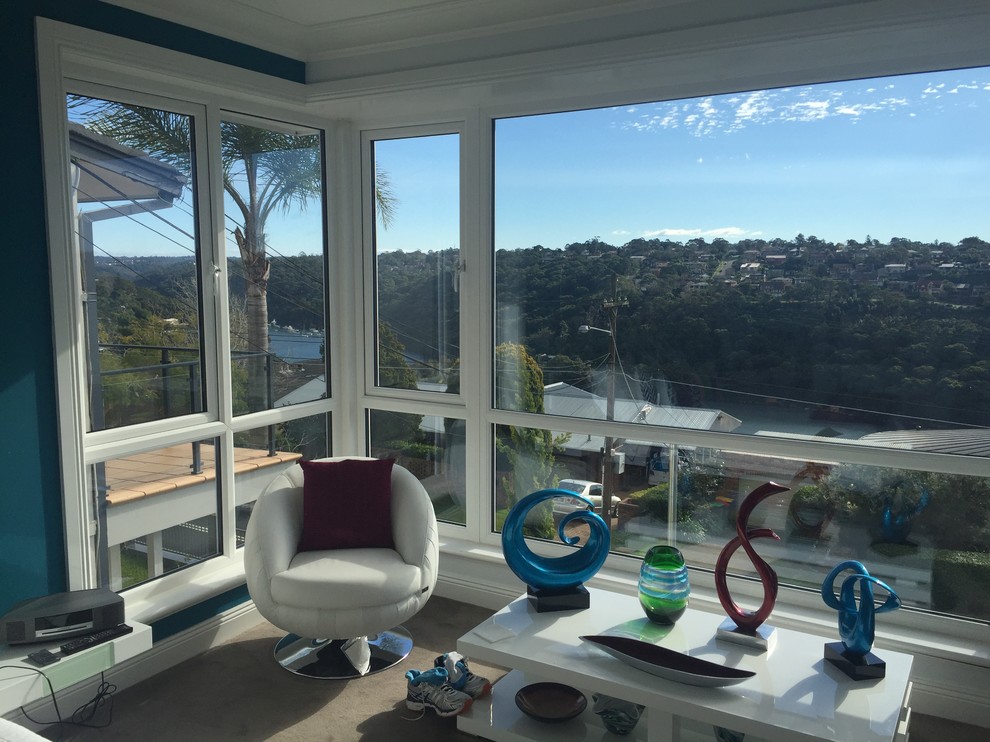 Photo by Ecovue – Look for home design design inspiration
Frames of the Double Glazed Windows:
There are a number of frames available with the windows and you need to opt for one which is suitable to your requirement.
Wooden Frames:
These frames require maintenance but can cause less harm to the environment. These work well in conservation areas where the timber frames windows are popular.
Photo by Carlos Delgado Architect – More contemporary bedroom ideas
uPVC Frames:
As these can be recycled and last long, you can opt for these frames safely.
Photo by WeatherGard – More traditional living room photos
Composite Frames:
The inner frame is made of timber and is covered with plastic or aluminum. These tend to work out as an ideal choice as they require negligible maintenance and also work out weather-proof.
Steel or Aluminum Frames:
These frames, too, can be recycled and are long lasting.
Photo by Michael Lee Architects – Discover contemporary entryway design inspiration
Look for Ventilation:
As compared to the original windows, these double glazed windows are air-tight, which leads to condensation. In case your home does not have enough of ventilation you can think of opting for double glazed windows with vents which are incorporated in the frame so that there is some amount of ventilation.
Reasons for Opting for Double Glazed Windows:
Besides being energy efficient, double glazed windows work as a deterrent for noise. You find the peace and quiet you are looking for by installing these windows. With the installation of these windows done in the right manner you are saved from water problems, that is, there is no damage to your property due to water. You need to make the right choice and get them installed in the right manner. Besides the above mentioned, you have the comfort of living in a home with temperatures being well under control. Summers and winters can be comfortable by the installation of these windows.
Choose the Right Manufacturer:
There are a number of Double Glazed windows manufacturers listed online. You can go through their websites and make an informed choice. You can check out the reviews and testimonials on the websites, compare the different prices and their specifications so that you can opt for the one which can provide these windows well within your budget. Speak to people who have already installed these window and research a little more to make the right choice for your office or home.