Living room is that one space in the house where everyone should feel welcomed to lounge around and relax. This is where the family should spend some quality time together and make new memories. That is why creating an ultimate cosy space in this room is the best way to create a space that everyone will love spending time in. Here is how you can do that.
Play with the layout
When you think about a cosy living room you probably imagine a warm and comfy place where you and your loved ones can gather to watch a movie together, drink some hot cocoa or simply chat. Well, in order to create such a cosy space, you can start by rethinking your living room layout. Think about how your furniture can fit in the living space to create a comfy atmosphere. For instance, you might want to create an enclosed space with a couch and a couple of sofas across a cosy fireplace below the TV. This will separate the room from the dining area and create a cosy private space that will serve as a lounging area for the whole family.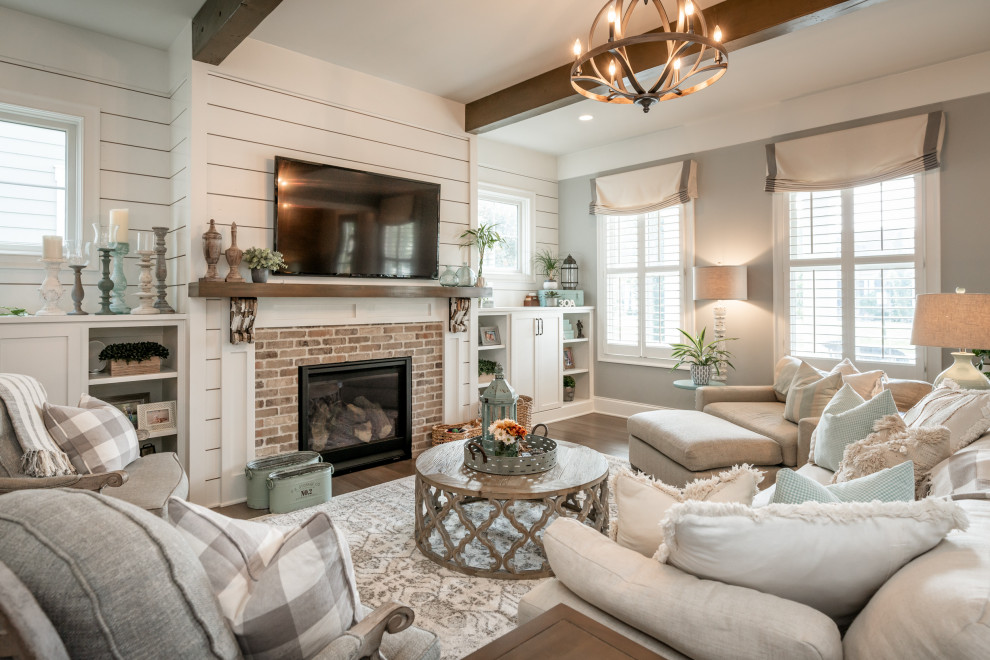 Introduce warm colours
Once you figure out the layer, it's time for you to think about what kind of colours you want to incorporate into your living space. If you want to create a cosy feel and atmosphere, going for either really warm colours or neutrals is the best way. Warm colours on the walls will make the space look a bit smaller which for many people creates a feeling of cosiness and warmth. However, if that's not the effect you are trying to create, going for neutral beige and other similar colours is another great option. This will allow you to layer on different colours on top of the neutral-coloured walls and introduce some warmth and cosiness that way.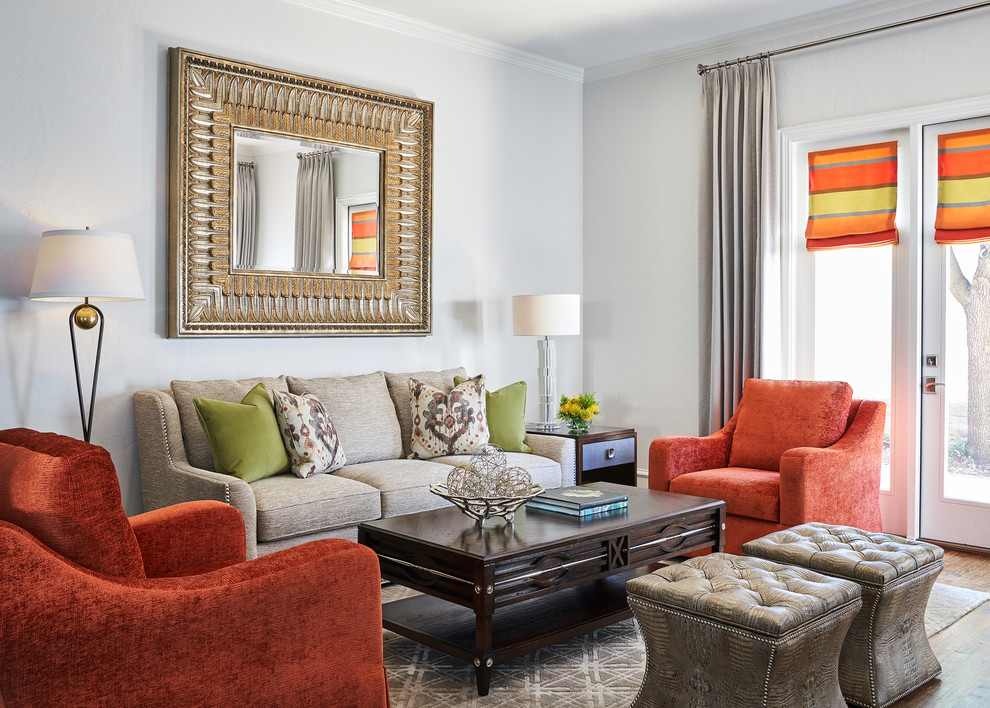 Photo by Wesley-Wayne Interiors, LLC
Layer different materials and textures
Then you can start playing and experimenting with different textures. Feeling cosy is all about feeling warm, comfortable, and relaxed. So, making sure you incorporate all the soft textures into your furniture is the best way for you to create a place you will love spending time in. Don't be afraid to mix and match different textures and see how they work out together. Think about what kind of materials you want to use for the carpet, the pillows, the blankets, and so on.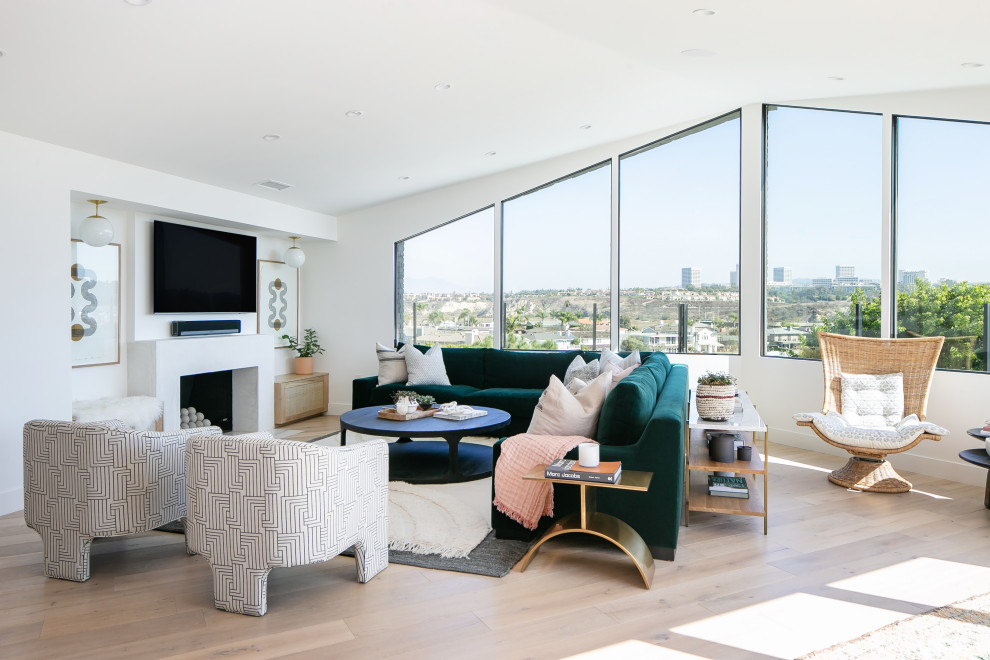 Add tons of pillows
Speaking of materials and textures, pillows are absolute necessity in your warm cosy living room. So, don't hesitate do add lots of cosy, warm, and soft pillows all over the place. You can use many different sizes, colours and textures for pillows that you can throw around your couch and sofa. The more the merrier. Combine them nicely with the design of your living room so that they will fit into the overall aesthetics you are trying to create. Once you and your family or friends gather around for movie night you will be able to enjoy lying around on some of the softest and cosiest pillows while watching your favourite movie together.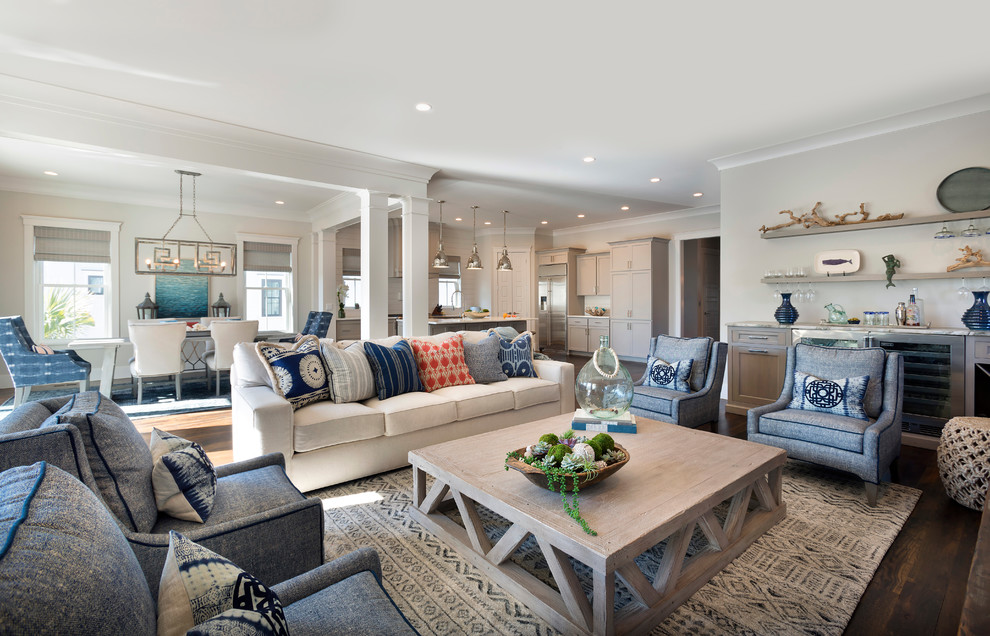 Add artwork
One of the main focal items you can explore is wall art. Artwork, such as dandelion canvas wall art  will help you to create amazing focal points, improve texture, and add completeness to your general home décor.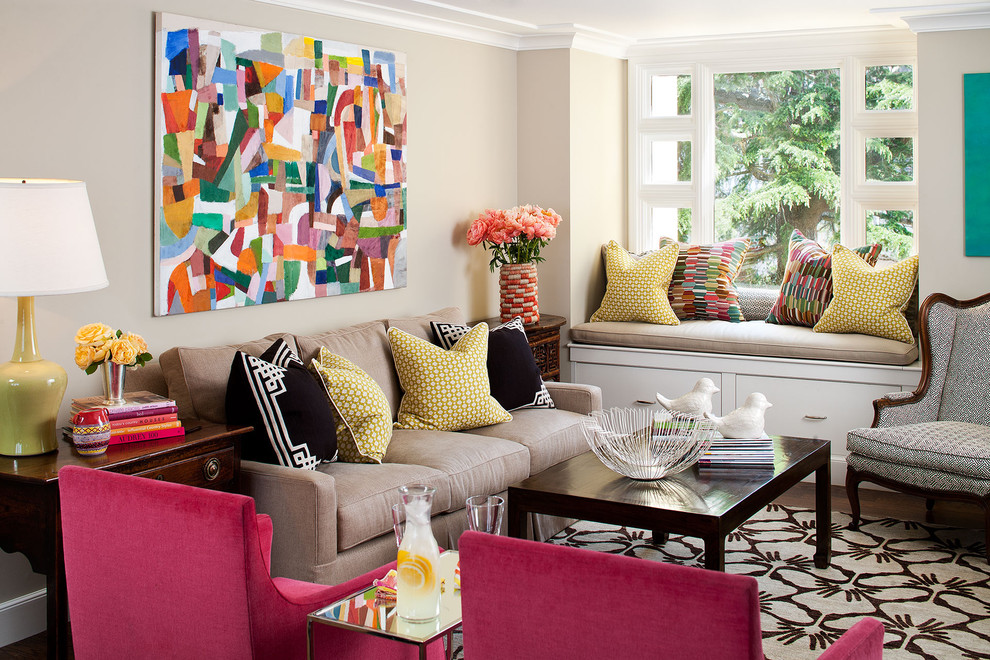 Photo by Tamara Mack Design
Play with the lighting
When creating a specific atmosphere in a closed space, the lighting plays a huge role. The lighting either makes or breaks a good living room layout. Using a single source of light that will light up the whole room doesn't really do the trick if you are trying to create a cosy and warm atmosphere. What you want to do is to try to play with multiple smaller sources of lighting. Place smaller lamps around the living room and make sure to avoid using white LED lights. They will definitely fail to create cosy vibes. You want to go for warmer yellow tones instead. Another idea is to get some of those smaller "chandeliers" that are built into the ceiling and controlled by dimmer lighting switches. This will create the perfect cosy vibes for those late night movie marathons or hangouts.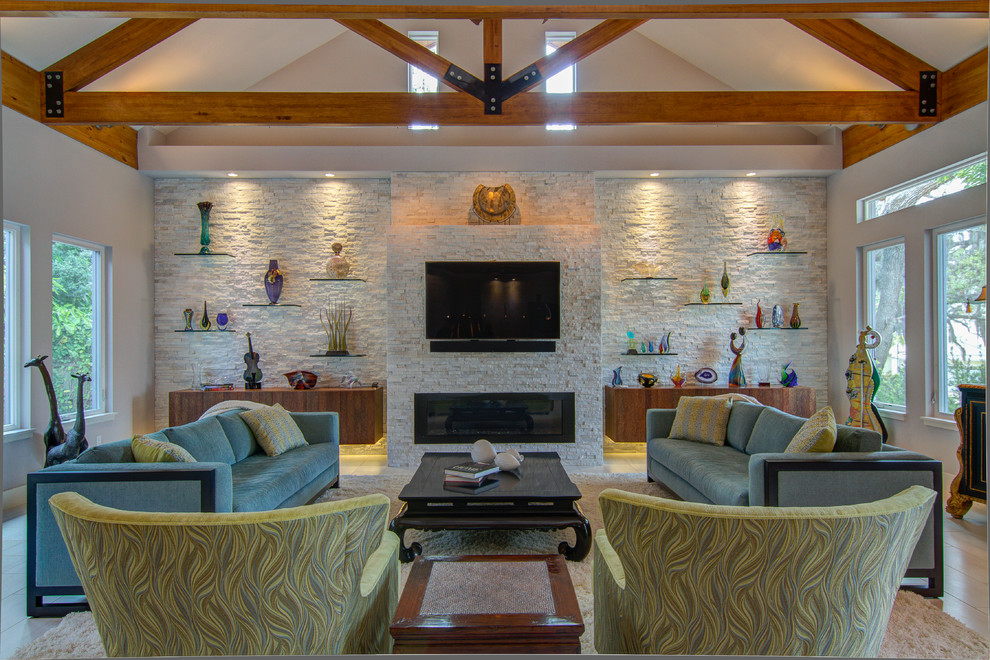 Photo by Josh Wynne Construction
Decorate with flowers
There is simply something about flowers that makes any room feel homey and cosy. They bring so many colours and so much life into the room and you just can't stop staring at them. In addition to that, they smell great. You can play around with different-sized house plants depending on where you want to place them in the room. To create an extra cosy atmosphere you can get some dried flowers online and decorate the walls or cabinets around the space with them. They will bring that special rustic but beautiful aesthetics into your living room.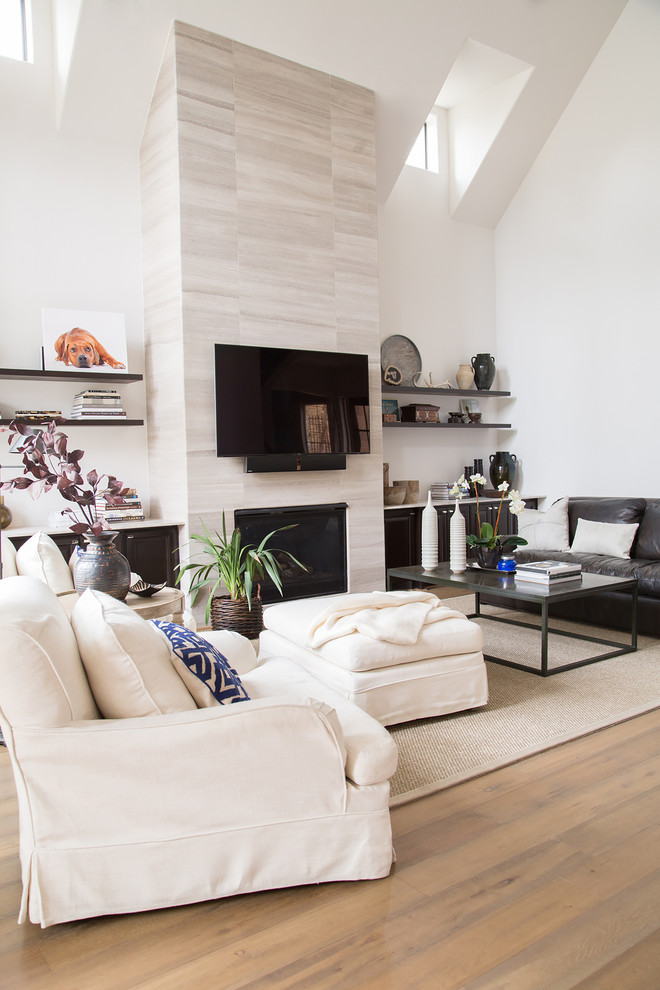 Photo by Carla Aston | Interior Designer
Get some scented candles
Lastly, if you truly want to create a cosy living space that everyone will love spending time in, get some scented candles. Cosiness is about more than just introducing warm colours and soft textures into the living room. It's also about creating a tingling sensation for all of your senses and making you feel at home. Scented candles are perfect for that. They come in some many different shapes, colours and scents. If you want to recreate an atmosphere of that well-known winter evening by a fireplace you can get a mulled wine scented candle, or if you miss your granny's baking you can get an apple and cinnamon scented candle. Get several different ones and place them around the living room for the best cosy vibes.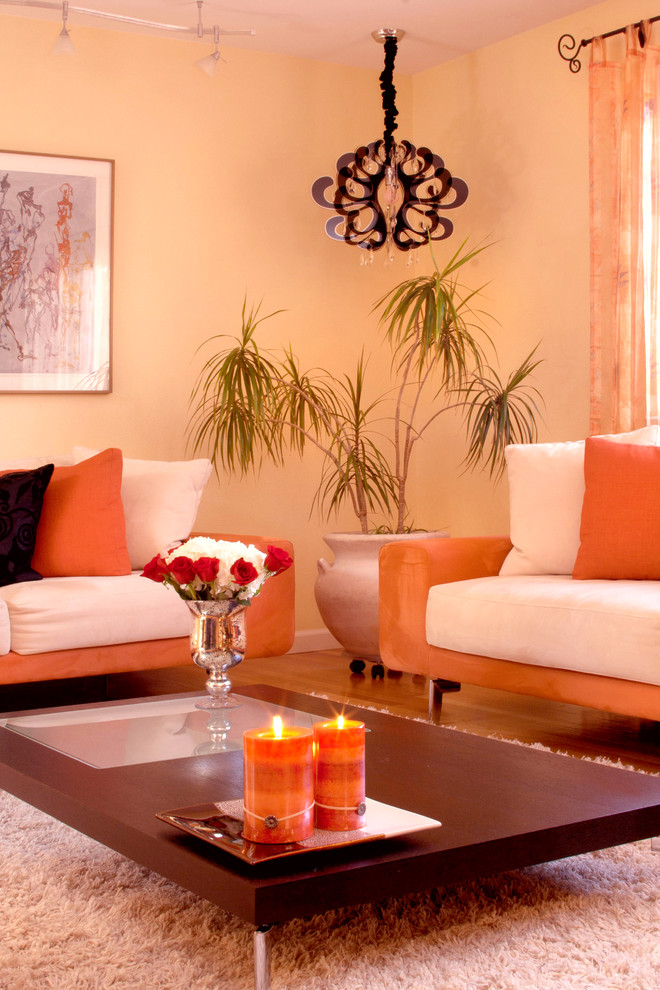 Photo by ARTISSIMO – Idit Deutsch
Conclusion
In conclusion, creating a cosy living room is all about introducing warm tones, playing with soft textures, creating soft lighting and tingling your senses with some amazing scents you won't be able to resist.