Having a luxurious bathroom is a huge flex. If you are dreaming of having a luxury bathroom that emanates elegance and coziness, it's good to know that you can create it without spending too much money on it.
The trick is knowing how to use paint, changing or upgrading certain elements, and using accessories in a smart way. For all these things you don't need a huge budget and yet you'll have a high-end, elegant bathroom.
So, let's see a couple of simple ways that can transform your current bathroom into a luxury one.
Paint it
One sure way to transform your bathroom is by using paint. Nothing makes such an impact as changing a room colour, even when the goal is just to refresh the paint.
Choose a paint colour that screams luxury and elegance to you. For example, white is a sure way to go. White is a light and neutral colour and it works well with almost all other colours, especially if you're creating an all-white bathroom.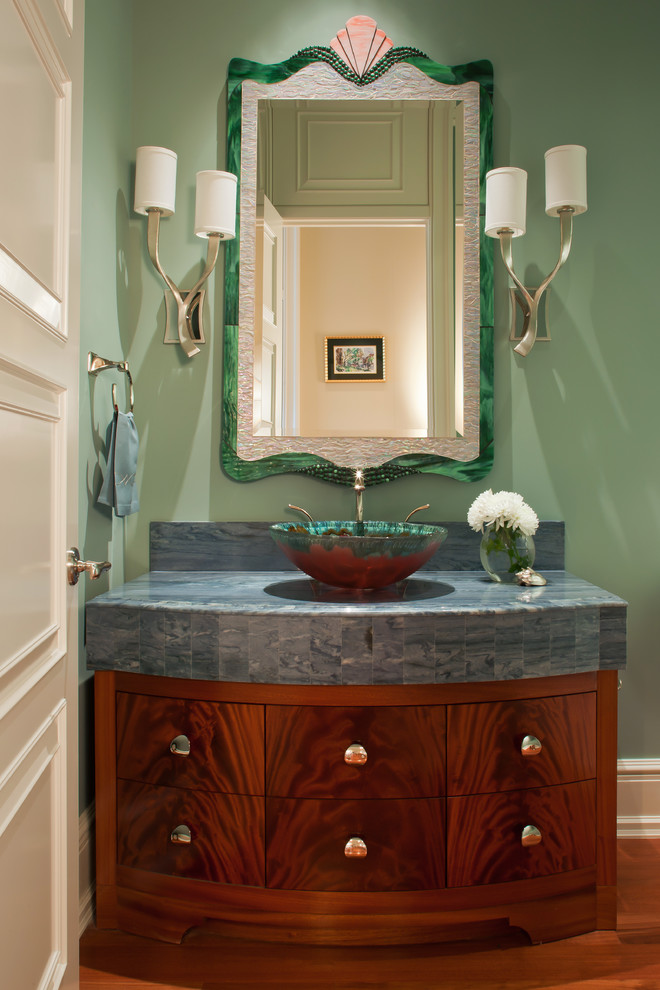 However, white is not your only option. Monochromatic bathrooms are considered to be very luxurious in the world of interior design. So, if all-white is not your first choice, you can create an all-blue or green bathroom and add pops of colour with accessories.
Similarly, a luxurious bathroom can also be dark and dramatic. If you're a fan of darker and less traditional paint colours, you can create a dark and moody bathroom by using darker shades such as charcoal or navy. To brighten up those moody places, you can use white finishes – white bathroom elements.
Wallpaper is also an option
If simply painting your bathroom in a certain colour seems too boring for your taste, you can opt for wallpaper. Using wallpaper in a bathroom is nothing new, however, it's a bit more expensive than just painting it. But if the goal is to create a lux bathroom, installing wallpaper will pay off.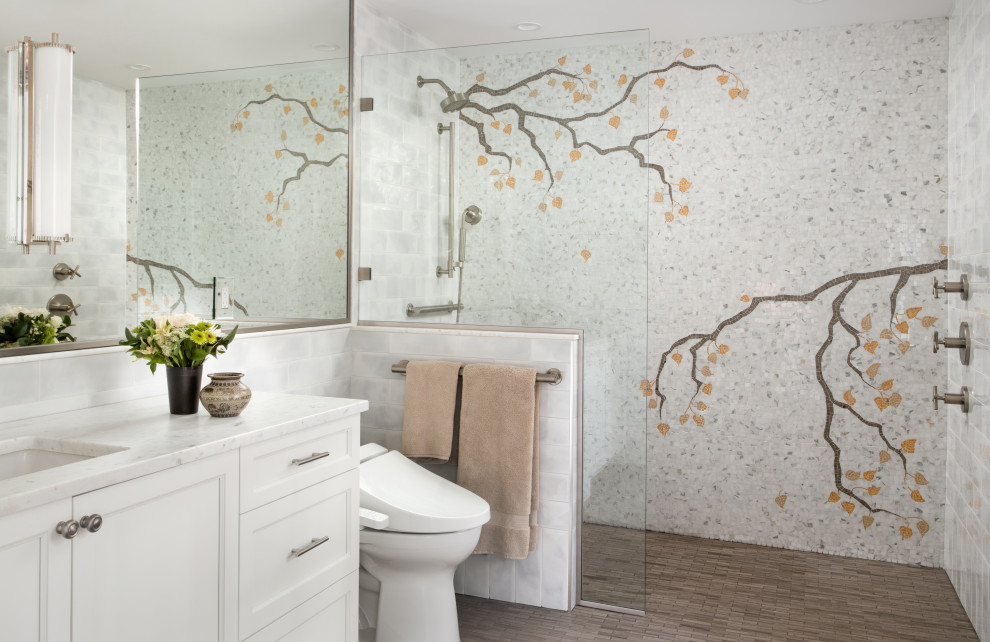 Photo by Impact Remodeling and Construction
Now, you don't have to wallpaper your whole bathroom if that seems too expensive for you. You can simply wallpaper an accent wall. This will transform your bathroom immediately without breaking your bank.
Lighting matters
A light and bright bathroom is a game-changer. If you can count on natural light in your bathroom, make sure you use it wisely – natural light is everything. However, most bathrooms don't count on such a thing – but that is no reason to give up. Designers recommend using three types of lighting in a bathroom – ambient, task, and accent lighting.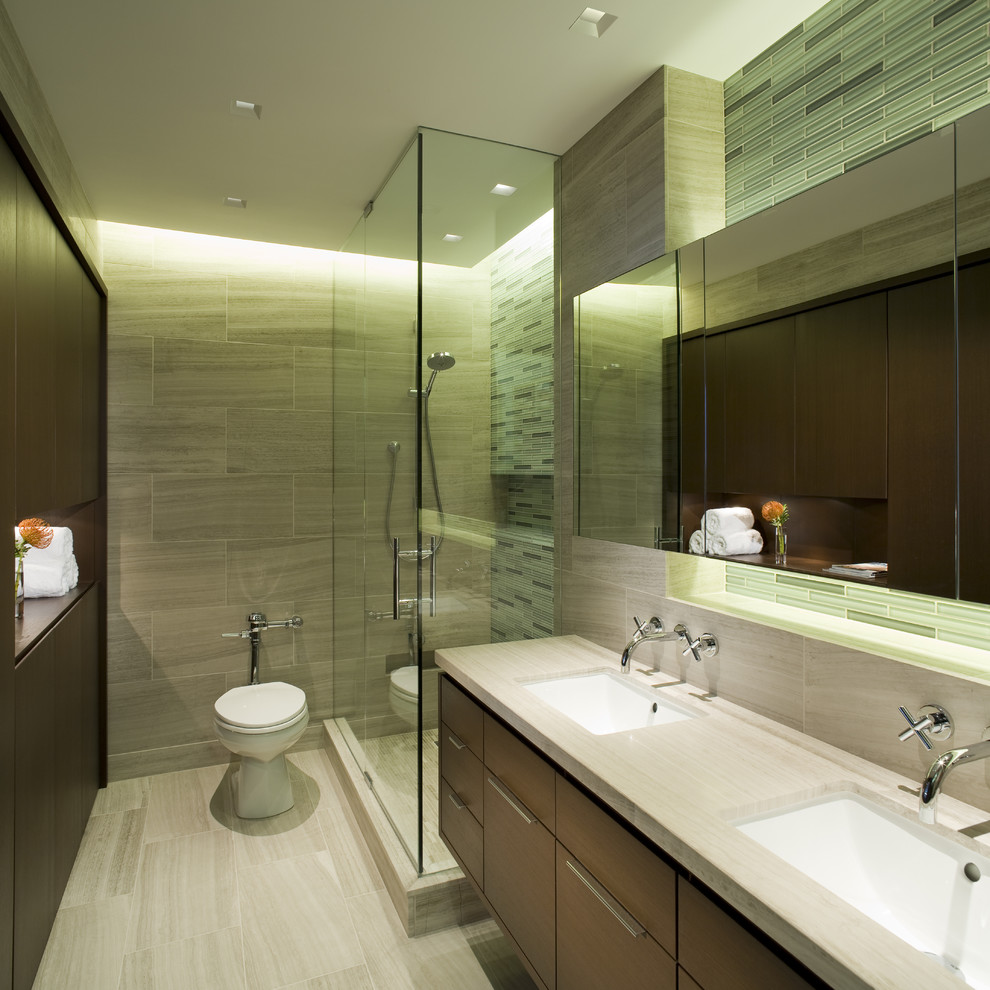 Photo by dSPACE Studio Ltd, AIA
You can use lighting to create a one-of-a-kind, elegant bathroom. All you have to do is choose statement lighting – a crystal chandelier in a bathroom sure sounds luxurious, doesn't it. Not to mention, that installing a chandelier in a bathroom will have a huge impact on the whole room. You can also pair the chandelier with wall-mounted sconces on either side of a mirror.
Don't forget to swap the mirror
Don't be afraid to experiment with a bathroom mirror. Settling for the contractor-grade mirror is not the right way to go. Any luxury bathroom has an accent mirror that adds personality to the bathroom space.
So, when it comes to choosing the right mirror for your luxurious bathroom, look for different sizes, and shapes. For example, opting for a vintage or antique mirror can make all the difference in the bathroom.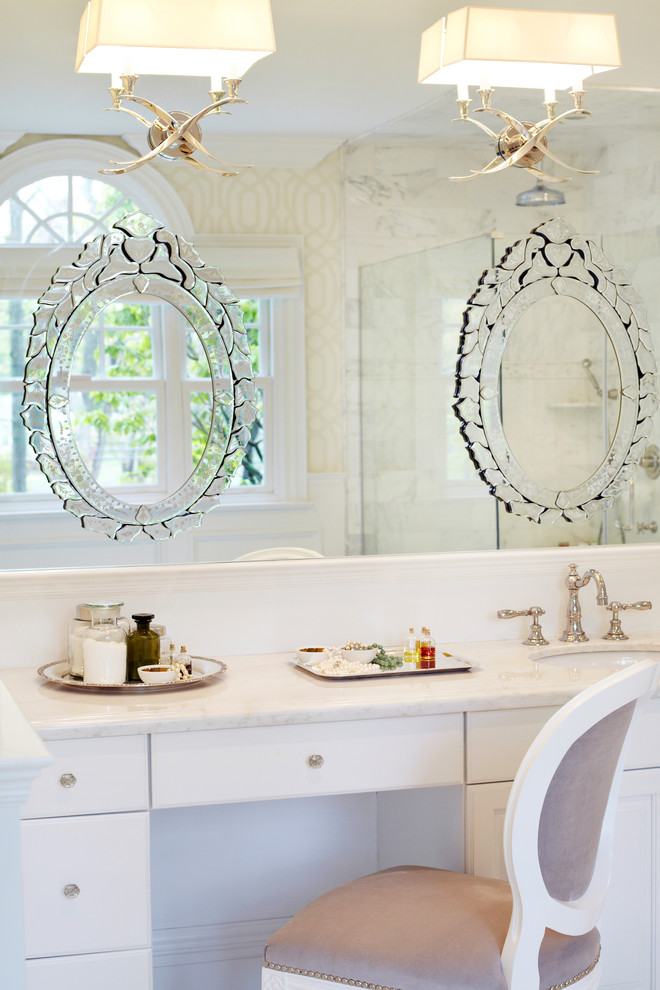 It's good to mention that mirrors are also a great way to brighten the space and make it look bigger, so also keep that in mind when looking for the right mirror for your new luxurious bathroom.
Brass, copper, or mixed metals
Lately, there's been an explosion of brass and copper in luxurious bathrooms. Truly, everything is better than the boring chrome look that does nothing for your bathroom. If you like the monochromatic look in your bathroom, you can opt for brass or copper fixtures, hardware, soap dish, and other details.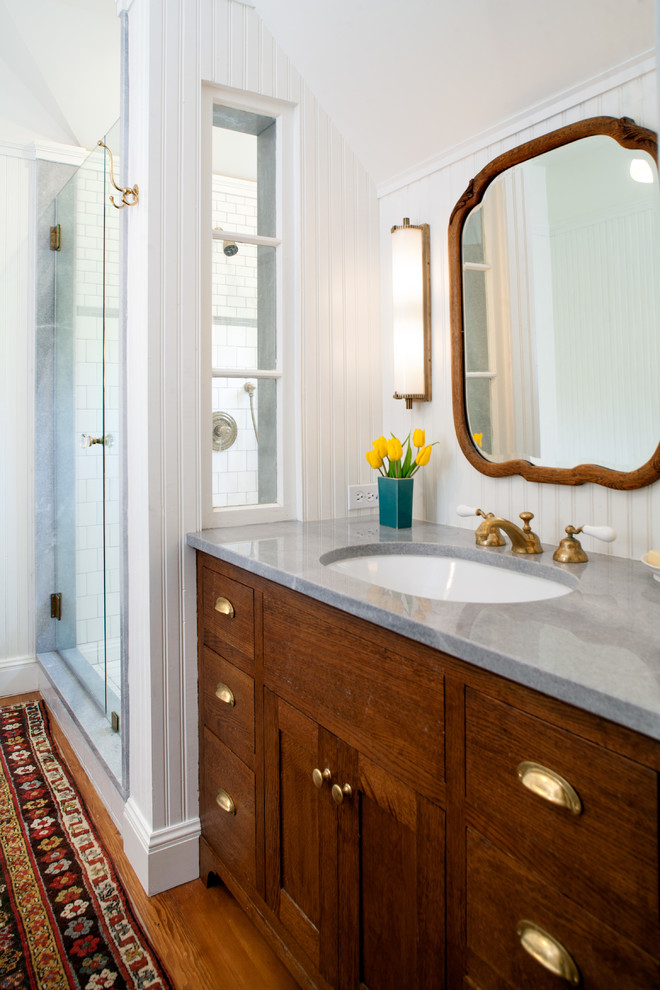 In case, you think that monochromatic is boring, you can opt for mixed metals look. When it comes to mixed metals, there is only one rule – mix two main colour families. You can install nickel bathroom faucets and towel bars, and pair them with brass mirrors, knobs and pulls, and lighting. Limiting yourself to two colour families won't make the space seem overwhelming.
Accessorize smartly
In luxury bathrooms, it's all about the details, and those details are accessories and décor. When browsing for luxurious and elegant bathroom accessories, try to create a cohesive look.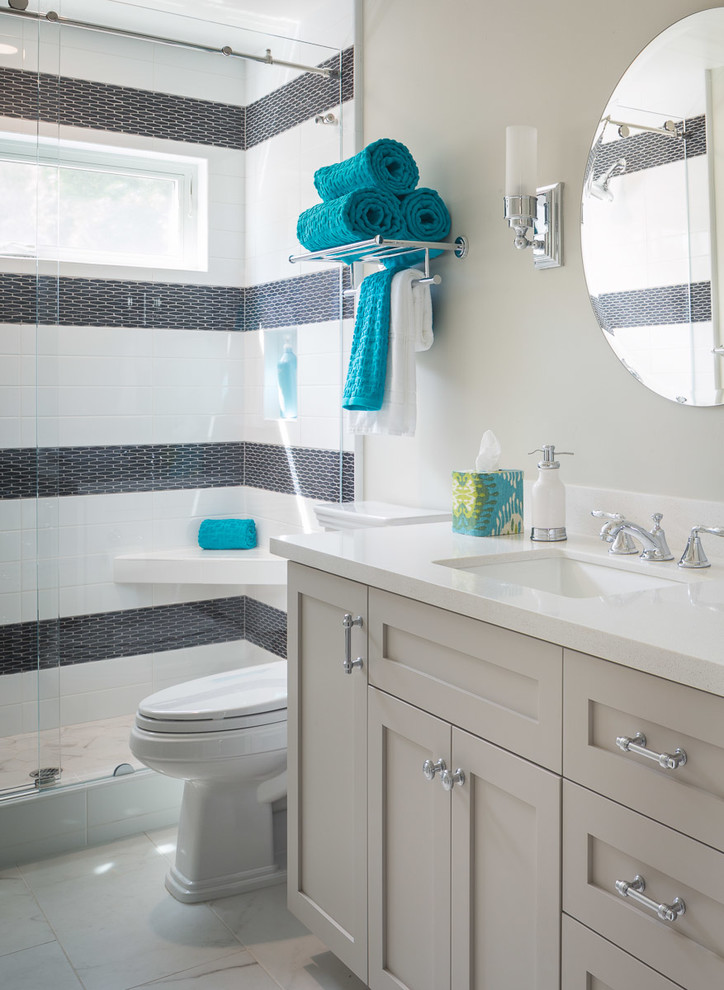 So, make sure that toilet paper holders, towel bars, soap dispensers, shelves, and other accessories are the same colour and style. This will give your bathroom the cohesive and luxurious look, you are aiming for.
Organization also matters
A luxurious bathroom is an organized bathroom where everything is in its place. That's why you should look for elegant ways to store personal items that you use every day. Try looking for elegant glass jars where you can store cotton swabs, balls, bath salts, sponges, and any other items you use.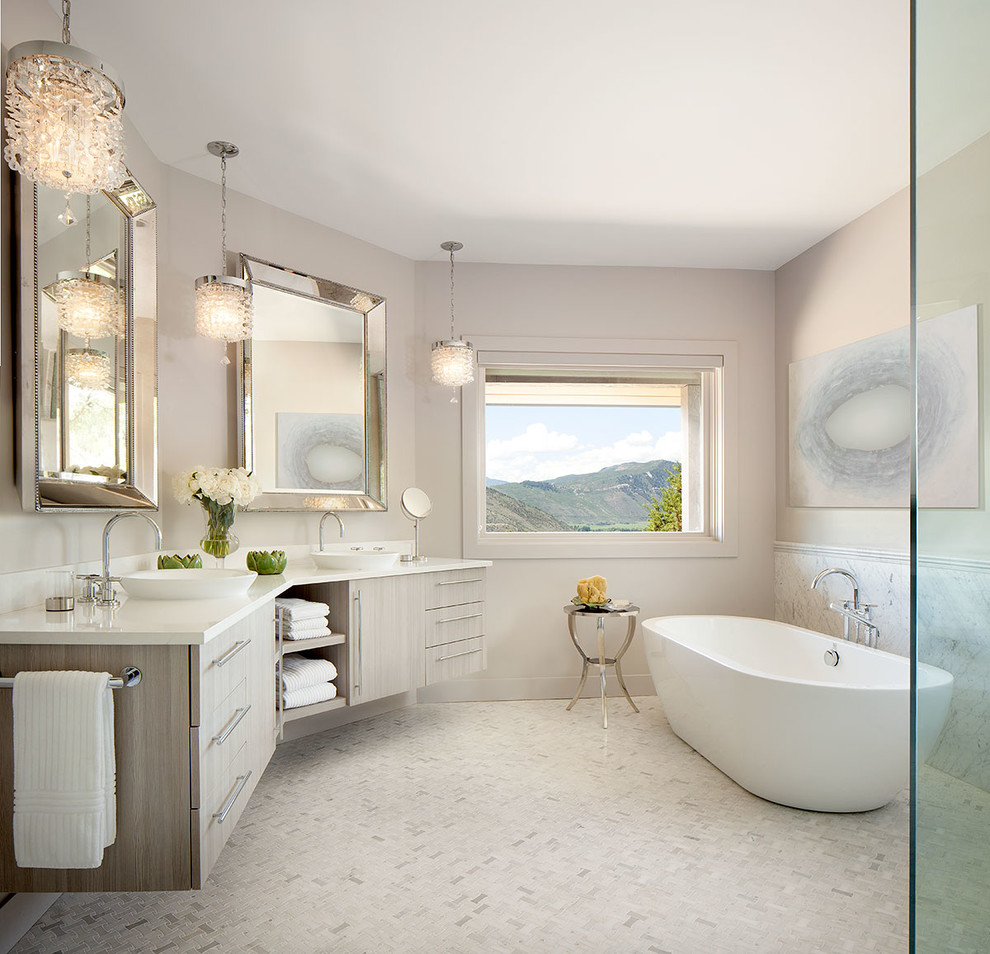 Photo by In Your Space Interior Design
To further make your bathroom clean and organized, you can also use matching glass containers and jars to transfer your shampoo, conditioner, shower gels. This way you'll get rid of clutter inside your shower and on your tub.
Decorate
Decorating your lux bathroom comes like a cherry on the top. Don't be scared to add art to your bathroom. Artwork can be a great way to transform your ordinary bathroom into a luxury one.
Add enough soft and comfortable towels – that's a sure way to create a luxurious, spa-like bathroom. Add soaps and scents in your bathroom, add flowers as a touch of luxury. A nice, fluffy rug to warm your feet once you step out of the shower or tub is also a must-have!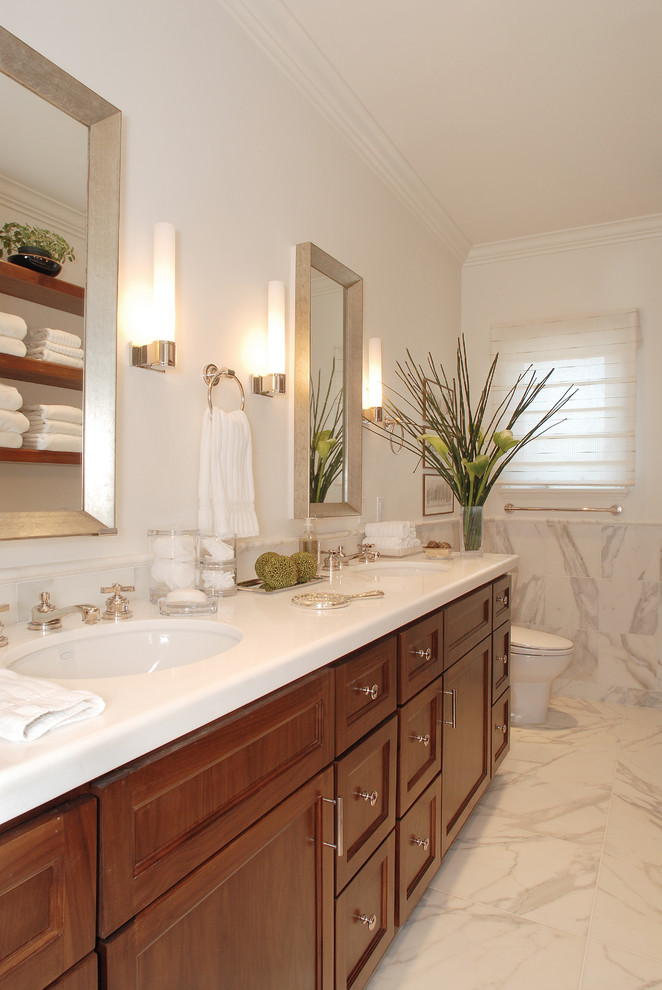 Photo by Annette English & Associates
As you can see, creating a luxurious, elegant, and high-end bathroom is all about knowing little tricks. You can have a perfect bathroom with just a fresh coat of paint and a couple of simple changes in décor.
Having a luxurious bathroom is not as expensive as you may think. We dare you to try and transform your bathroom!
Author Bio
Jasmine Anderson is a Sydney-based lifestyle blogger and a toddler mom. She loves to spend quality time with her family, go thrifting, and spend just a little bit too much time on the internet. Twitter: https://twitter.com/AndersonJess_AJ