One of the bright and fun things that warmer weather brings us is outdoor celebrations. And there is nothing like an outdoor party to have a good time now that the weather allows it. We'll you everything you should know if you are thinking of celebrating a special event or a simple meeting in the garden of your house.
Summer is for entertaining and relaxing. It is not only about being on vacation, but to take advantage of the good weather, the sun, the long days and the warm nights in the light of the stars. Simple things that make us happy, like just attending an outdoor party.
Photo by Outdoor Kitchen, Pool & Pavers
That is why today we want to give you some tips so that you can entertain outdoors. And if you don't have a garden or a large backyard, you can apply these ideas to a smaller patio or terrace. Any outside corner is good to celebrate with friends and family!
Keys to a good outdoor party
Who does not like a good party? And even more if it is outdoors, with the stars and the moon as a roof. During the summer months you may be used to dining on the terrace and it is something everyday for you and your family. However, today we are talking about something more organized: a full-fledged party!
Photo by Brandenburg Pool and Outdoor
Start by writing the guest list. To get it right, be realistic with the space you have available. There is no point in inviting a crowd of people who are later uncomfortable.
Once you have finalized your guest list, it's time to think of the setup you'll be having for the event. Depending on the setup you'll decide on, you might need to secure certain equipment. If you're planning to host outdoor events regularly, it's worth investing in a product like this that can power up your mobile catering needs. These mobile catering generators are robust enough to power your catering and party equipment. However, if you plan to hire mobile catering services and other professionals instead, these generators are already included in your event package.
Once the guests have been decided and the calls have been made, it is time to prepare everything. You will have to think about the decoration of the space, the food and drink that you are going to offer and some more details.
Decorate and illuminate the space
Start by decorating the space, be it the garden or the terrace. If the party is going to be at night, you will have to take into account the lighting. Consider placing one or more light garlands. In addition to creating a very special indirect and ambient light, they make the space feel like a party. And if you do not have any garland, you can always buy electric cable and place simple light bulbs, covering the perimeter of the place where you are going to celebrate the party.
Photo by Beth Dotolo, ASID, RID, NCIDQ
Candles will also give you a lot of play when it comes to lighting outdoor spaces . You can put them in any corner, along the way, on the steps of the stairs, on the walls, on tables. Place them in a group or alone. To not overload the space with color, select white candles which offer a most natural feel to your entertaining space.
Photo by austin outdoor design
As for the decoration, bet on plants, flowers and other natural and somewhat rustic elements that provide simplicity and naturalness.
A table full of charm
Choose simple ideas and affordable table decorations. After all, an outdoor party with friends must be a simple event, designed for enjoyment. You don't need an elegant setting, but a comfortable and simple environment in which your guests feel at home.
Look for dishes full of color, or simple in the color of the glass. If you don't have enough plates or glasses, don't hesitate to mix pieces. It sure looks great. And decorate the tables with natural branches and flowers, with candles, fruits. Sandstone candle holders as center pieces will add a natural and sophisticated theme to your outdoor decor. Let your imagination run wild!
And, one important thing, before the first guests make an appearance, think about how many people are going to come and find seats for everyone. If you do not prepare it before, uncomfortable situations may occur.
Think carefully about the menu and prepare it in advance
Have a very clear idea in mind: everything will turn out better if you bet on simple dishes, easy to cook, to present and to eat. Better if it is recipes that you can prepare before and serve cold. More time spent preparing in advance, the more time you'll have to spend with your guests.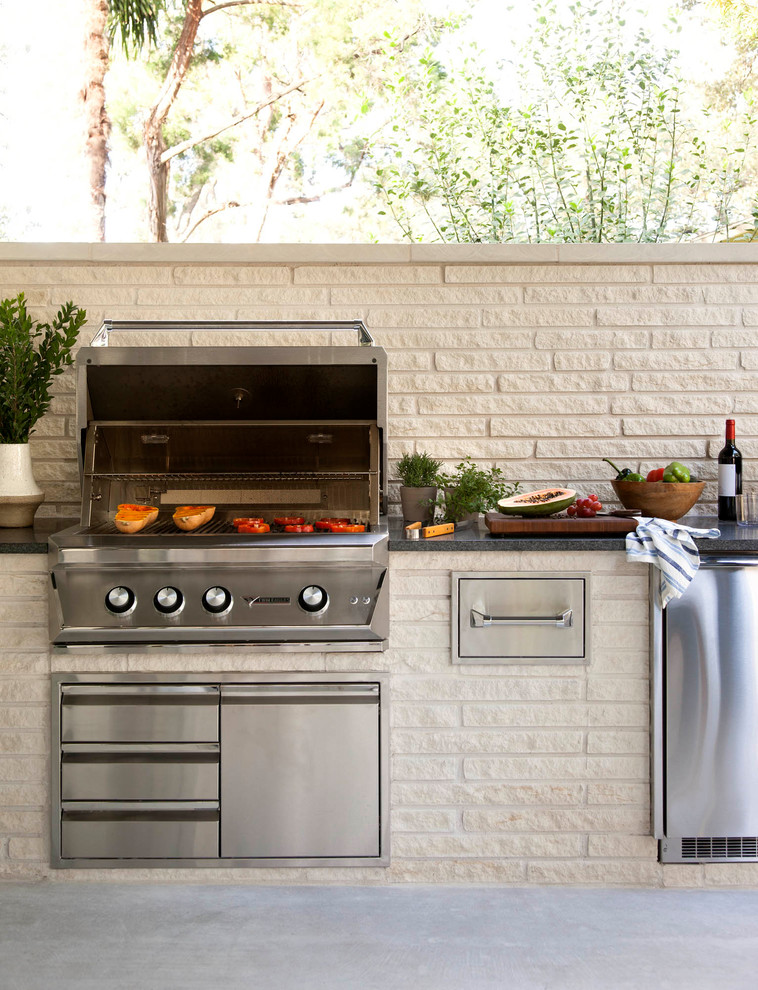 And, if there is trust with the attendees, ask them to bring something to eat. If everyone contributes, you can have an outdoor party much more often, every day, why not?
Remember the drinks! Have a variety on hand that include alcohol and non-alcohol beverages. Your friends will thank you.