A sweaty session at the gym has become a staple in our daily lives. After all, working on our summer bodies is a process that lasts all year round. Unfortunately, not everyone has the time to drive 30 mins to the gym, do a workout, and then drive back for another 30 mins. Think of all that wasted time spent driving back and forth! Luckily, you don't have to travel farther than your basement, the attic or a spare room in order to bust some moves. You just need to take a look at these home gym ideas that you are bound to love.
But before you rush to embark on a DIY project involving a brand new gym in your own home, take a look at our suggestions and pieces of advice. After you see all the ways and places that you can transform into a workout area, you will never again have an excuse for skipping a workout.
Home gym ideas and considerations for a big space
If you have a spare room or an empty garage just waiting to be turned into a home gym, then you have a luxury that not a lot of people have. By default, you also have more options than an average person. That being said, you shouldn't have a problem building a small, big or effective home gym. After all, you have so many options for equipment at your disposal that weight loss doesn't have to be a challenge for you ever again!
Photo by Jeri Koegel Photography
The equipment
It goes without saying that you can't have a good and successful workout without the appropriate equipment for a variety of exercises. Most people make the mistake of choosing the wrong equipment for their home gyms. In theory, it's much better to splurge on a good treadmill that will last for years and provide you with a cardio session anytime you feel like raising your heartbeat.
But you can't spend a fortune on your home gym. That's why it's always recommendable to get the three key pieces of equipment that will provide you with the greatest variety – a treadmill, a bench press machine, and a set of dumbbells. Whether you are a male or a female, these pieces of equipment will allow you to work your entire body in your brand new home gym.
The considerations
If you plan on transforming an entire room into a home gym, then you need to keep one very important consideration in mind – the resale potential. While some buyers will love the fact that you have a room full of equipment, others will not be able to picture themselves in it. People love the image of a calming home and, for some, that image doesn't involve a room full of weights and equipment. So don't make any changes that can't be overturned if you decide to sell your home down the line.
Photo by DeGraw & DeHaan Architects
Home gym ideas and considerations for a small space
Don't let the fact that you don't have a spare room stop you from building a personalized workout area. After all, with a plethora of ideas for home gyms where people don't have a lot of space, you don't have an excuse for not burning off any calories. And if you believe that you don't have ANY space for a gym, just think again. With a bit of organizing, cleaning, decluttering and rearrangement of your furniture, you can certainly free up a corner of your room. That's all it takes!
Adapt and improvise
Obviously, small spaces eliminate the option of a gym with massive equipment such as the one that can be found in the regular gyms. But that's okay, as all you need for a good workout can fit in a couple of square meters. A yoga mat should be a staple of every small home gym. That way, you don't have to roll on the floor when performing hip bridges and push-ups. Secondly, you can add a kettlebell or a pair of dumbbells and add a bit more difficulty and complexity to your exercises. Thirdly, if you want to build abs of steel, just equip yourself with an ab roller. They are simple to use, have great effects on your abs, and can easily be put away.
The best part is that you can even get these pieces in a color that will match the color scheme of your bedroom. That way, you can have the best of both worlds – a functional home gym that's also pleasing to the eyes.
Treadmill replacement
Strength exercises seem to be a smaller problem when in need of space. After all, free weights and bodyweight exercises will be a great replacement for a bench press machine. But how do you find a worthy replacement for a treadmill? It's simple – you go out and you buy a jump rope. This old-school piece of equipment will provide you with by far the best cardio that can be done in little to no space. With a 15-minute session of jumping rope, you will never have to carry the extra weight again.
Don't forget about the ambiance
In the end, it's not about how much space you have – it's what you do with it! Besides having a clean and hygienic house, which is a must, the small details are what gives any place a luxurious vibe. The same goes for your home gym! You don't need to go overboard to create a space that will be perfect for a workout – you just have to get creative.
Photo by Celebrity Communities
Think of a few inspirational quotes and/or posters as a staple of the best home gym ideas. If you have a celebrity whose physique you admire, make sure you put a poster of them as workout motivation. In the end, don't forget about the thing that seems to provide the greatest motivation during a workout – good music. A good beat will give you more energy and motivation to push through a strenuous exercise than you could ever imagine.
Motivate Yourself with Wall Décor
Using your home gym shouldn't feel like a chore. Why stare at a blank wall when you can look at an inspirational piece of décor? Make your home gym somewhere you want to spend time by creating an uplifting environment. Hang a piece of wall art that motivates you to be your best. Choose a print that gets you excited to start your workout, and makes you feel accomplished when you're done!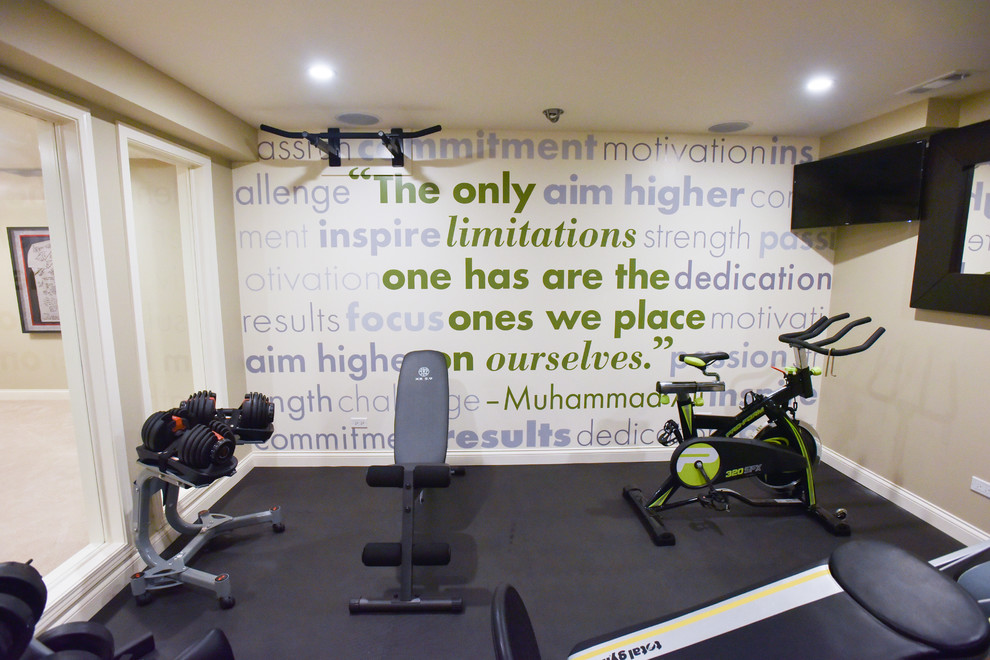 Photo by Impeccable by Meredith Park