It takes a lot of effort and time to keep a home looking nice and functioning smoothly. Leading a minimalistic lifestyle and simply removing all clutter isn't for everyone. This is why we constantly look for innovative solutions for storing and organizing our tools and household goods. You can maintain an orderly bathroom, kitchen, garage, and living room with the help of some clever storage hacks. Furthermore, you may be surprised to find that your mood increases when your house is neatly organized. In other words, you can finally put an end to shoes laying across the bedroom floor, tools jumbled in the back of the garage, and toys scattered all around the house. For your convenience, here are some of our tried-and-true hacks for organizing in-home storage.
Seven clever hacks for organizing in-home storage
When did you last feel like there was enough storage room in your house? Do you know the best place for an item you use often? People are usually not big fans of a crowded environment. No one likes being in such a state. It is a common problem for anyone who has ever lived in a one-room apartment or a college dorm room. That's why professionals from Beauty Harmony Life figured now would be a good time to disclose our secrets for making the most of your limited storage space. No need to waste money on ineffective organizing solutions since we're here with some clever hacks for organizing in-home storage. These next few space-saving storages and organizing tips are the genuine deal.
1. Label your cords and power cables with bread tabs
Can't remember which gadget needs which wire for the power strip? By clearly marking the plugs, cables, and devices, you'll be able to save time and effort while relocating. Power cables connected to a power strip may be neatly labeled using plastic bread tabs since they are durable, provide plenty of writing space, and can be quickly and simply clipped around the plug end of a cord. What's more, you can find them in all different colors, and they're not an eye sore. This way, you will be able to find your various electrical appliances with ease. And you won't have to deal with tangled cords.
2. DIY multi-level hangers to maximize your wardrobe space
In need of more closet space? Stagger clothes hangers using a thin chain to make the most of vertical closet space. Easily hang additional hangers by looping the chain's initial link over the first hanger and then every other link afterward. Expert movers and packers at Evolution Moving say this is their favorite way to move clothes as well. You may fit up to six shirts on a single rod. A melamine closet storage system may be built from scratch if you're prepared for a more involved undertaking. You can also get an over-the-door closet organizer to create more space in your wardrobe.
3. Organize entryway items in buckets
The goods we bring in from the outside tend to disappear into the abyss that is the average entryway. Small, labeled buckets may be hung from hooks and used by each family member as a secure place to keep things like keys and sunglasses. Don't forget to include pets in your entry's organizing efforts. Give your four-legged friend a container to hold his leash and waste bags in while you're on the go. This do-it-yourself entrance option is ideal if you live in a small area or an apartment.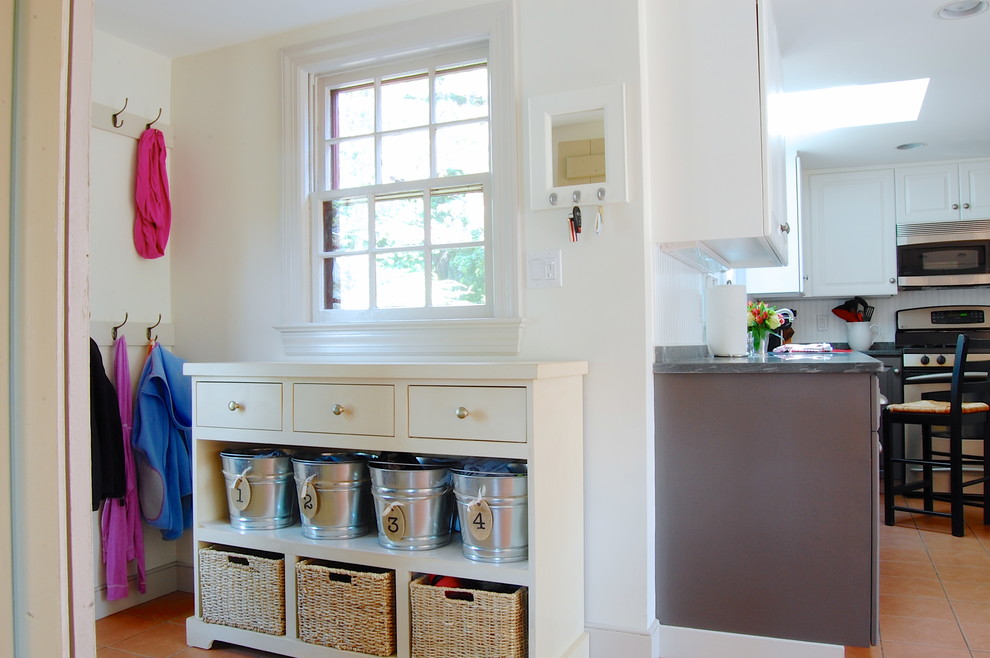 4. Use a mesh file to arrange your towels
If you have a small bathroom and not much space for all your towels or linen, you can use a tiny metal mesh file organizer as a towel holder. To save space, try rolling your towels up instead of folding them. It may be useful to color-code the towels for each family member if you all share a bathroom.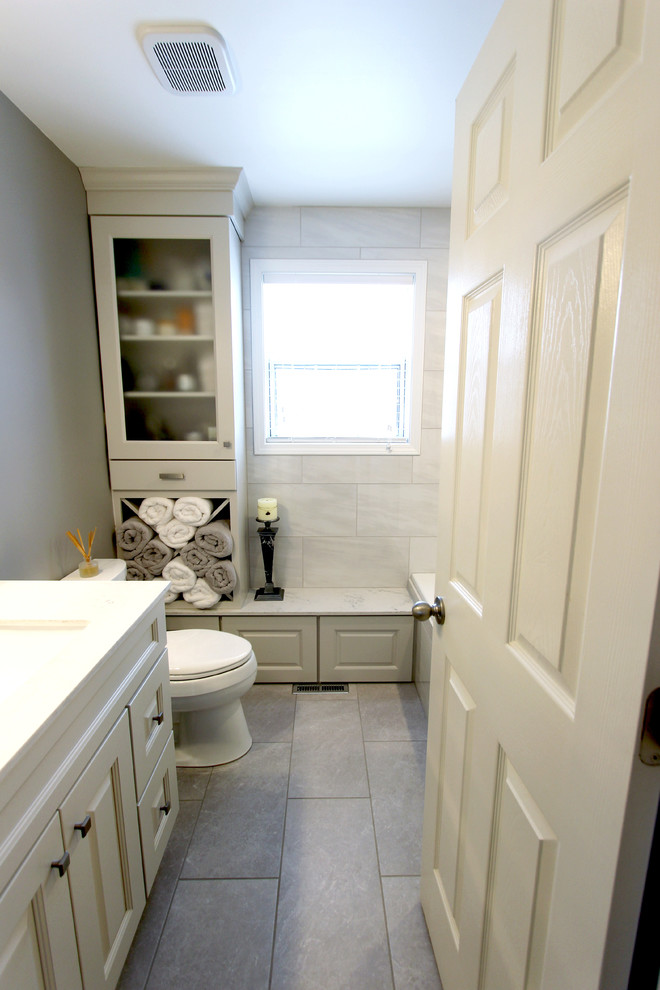 <
5. Magazine racks for your kitchen
Perhaps the room most needing storage tricks is the kitchen – pots and pans, cups and silverware, tables, toasters and teapots, and so forth. There's always something to store, yet there's never enough room. And as you may know, clean counters without any appliances on them are one of the latest home trends for 2022. When it comes to kitchen storage, homeowners often ignore the inside of their cabinet doors. Magazine racks are ideal for keeping foil and cling film, while sticky hooks enable you to organize utensils so they're always within reach but out of sight when not in use.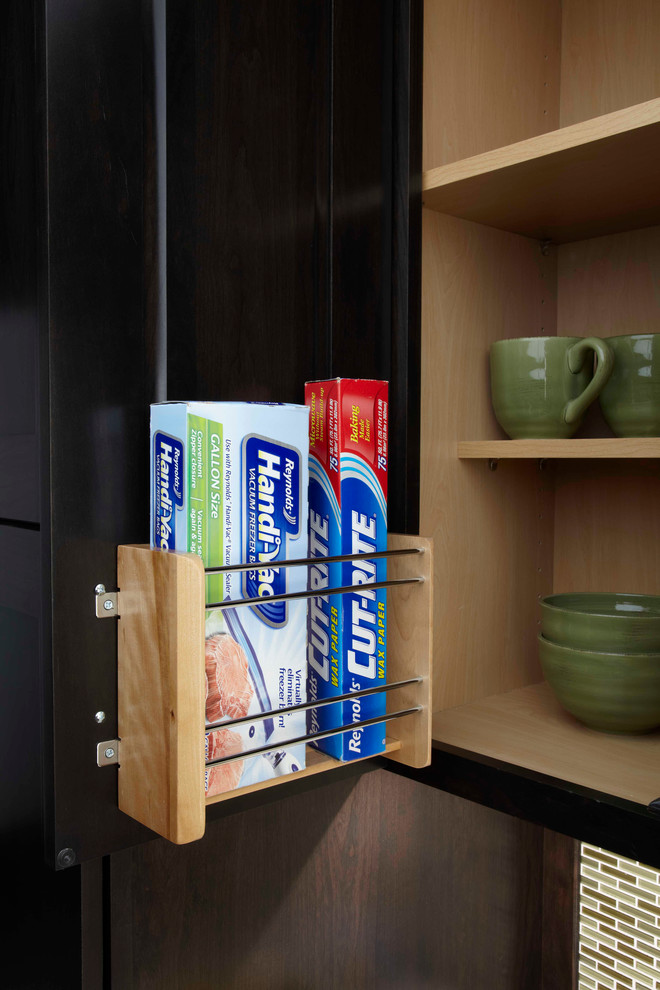 Photo by Rev-A-Shelf
6. Desk organizers can also be used for the fridge
The refrigerator is an excellent invention. However, it may benefit from some structural improvements. Yes, there is a salad drawer, but that's about it regarding fridge compartments. Why not add more drawers and boxes if you want additional storage space? The best storage option, plastic desk organizers, is often compact enough to fit in the fridge. And they're convenient as well and easy to pull out.
7. Use up that wall space
While it's true that a horizontal surface is preferable for storing items, those with a keen eye for organizing in-home storage will tell you that the vertical space along the walls is just as valuable. So, instead of renting storage spaces, let's first explore different solutions. Get some strong magnets and attach them using adhesive to the things you wish to keep in storage. Then start connecting them to whatever available metal you can find. Jars are a practical and attractive storage solution when used in a row on a wall or adhered to the bottom of a cabinet.