Keeping what is yours safe and sound is one of the most important things in the world, but the safety of your family always comes first. Because of this, you must do all that you can to make your home's security as tight as possible. Now, some people tend to overlook this, but regardless of where you live, this item should always be at the top of your priority list. With this in mind, here are some easy and cheap ways to increase your home's security.
Organized exterior
First of all, if you want to really do something for your home's safety, you need to start with making a perimeter far from your front doors and windows. This being said, you need to make your surroundings as burglar-unfriendly as possible. First of all, burglars just love when your home is surrounded by bushes or rubbish (like any other pest) behind which they can hide while sneaking towards you. To solve this, keep your outdoors transparent and neat. Furthermore, you can even add a gravel path through your garden, since threading upon it makes a distinctive noise that will alarm you in time.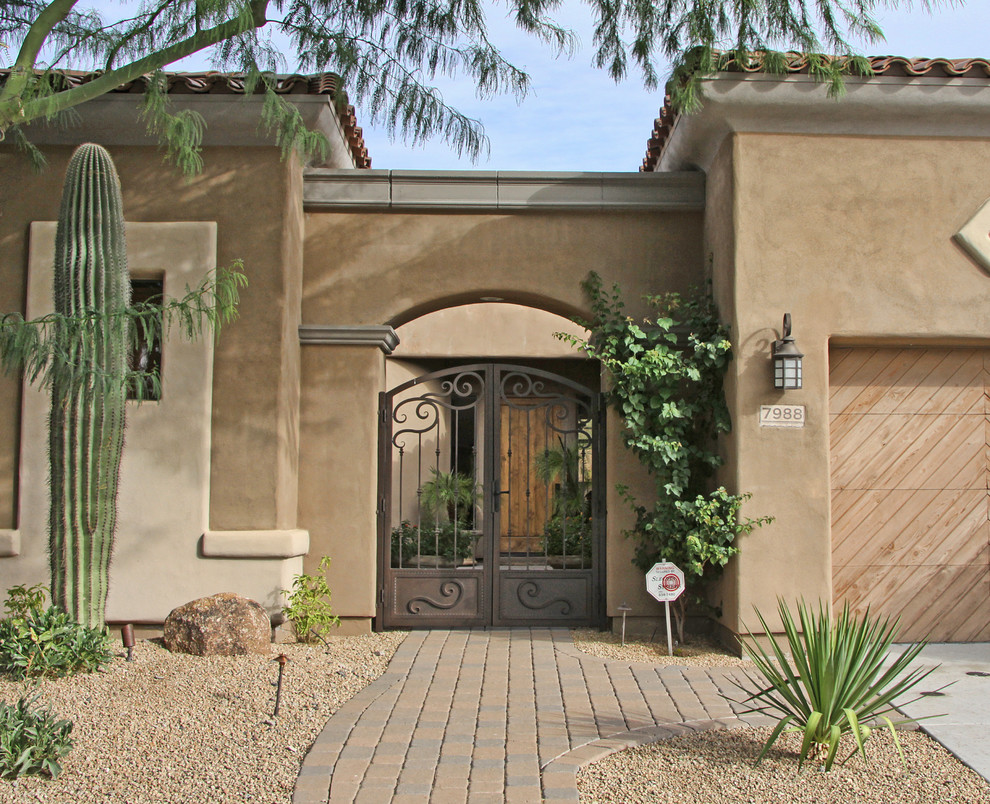 Mediterranean Exterior by Gilbert Doors First Impression Security Doors
Decoy
It is important to mention that although surveillance systems and some of the most efficient security tech may be expensive they are more than worth the price. Just one glimpse on your external surveillance cameras may be enough to discourage even the most hardcore of burglars. Still, while most people cannot afford this, everyone can make it appear so. Simply install a camera on your exterior wall, even if it is not functional, it will make everyone targeting your home think twice. A cunning deception which can make all the difference.
Eclectic Exterior by Edina Design-Build Firms Great Neighborhood Homes
Anti-burglary habits
Speaking of deception, what you can also do is nurture some of the healthy anti-burglary habits, which can significantly lower your chances of becoming a mark. For instance, when going on a trip, holiday or even just visiting someone during the weekend, don't spread the word around and most definitely do not announce it on social networks. Furthermore, when leaving the home (if you are the last one to do so) always yell something like "Goodbye!" or "See you at the dinner!" so that you give impression like there is someone still there. In order to do so you can even leave a light on. Last, but not the least important, always have someone to pick up your mail when you are away, since nothing seems more inviting to potential burglars like a pile of mail in front of your door.
Contemporary Exterior by South East Doors Urban Front
Ironclad security
In the end, all may still come down to how airtight your home actually is and here the breaking points of your home must be up to the task. Never try to save money on the quality of your doors and especially when it comes to your lock. According to a reputable Ryde locksmith a quality lock on both your home doors and your gate are an absolute paramount when talking about home safety. Finally, what good is securing your door if your windows are a week spot? By making sure that both your doors and windows are ironclad, you will be able to rest assured in your home's safety.
Traditional Exterior by Carrollton Decks, Patios & Outdoor Enclosures Weatherwell Elite – Aluminum Shutters
The best thing about quality done home security, is that it not just prevents burglars from breaking in, but often discourages them from even trying. A professional burglar can immediately tell just how strong your security system really is, so they will know when it isn't worth for them to even try. Because of this, one could safely assume that these security ideas are both your first and your last line of defense. When it comes to your safety and that of your family, you deserve nothing but the very best.