Are you one of those people who have tons of clothes but somehow can never find anything to wear? Or do you simply lack space and order in your closet? Yes, the struggle is real, but the solution is not quite difficult. In order to organize your closet properly, all you need to do is follow a couple of simple rules that will make your life so much easier. So if you are tired of your creative mess and you wish to have a clear vision of all your clothing garments, make sure to follow these few easy tips:
Remove Everything and Clean
The first and the most logical part of closet organization is removing all the things found in it. From winter coats and sweatshirt up to lingerie, shoes and jewellery; make sure to thoroughly clean out your closet so you would have a clear idea of what you are actually dealing with.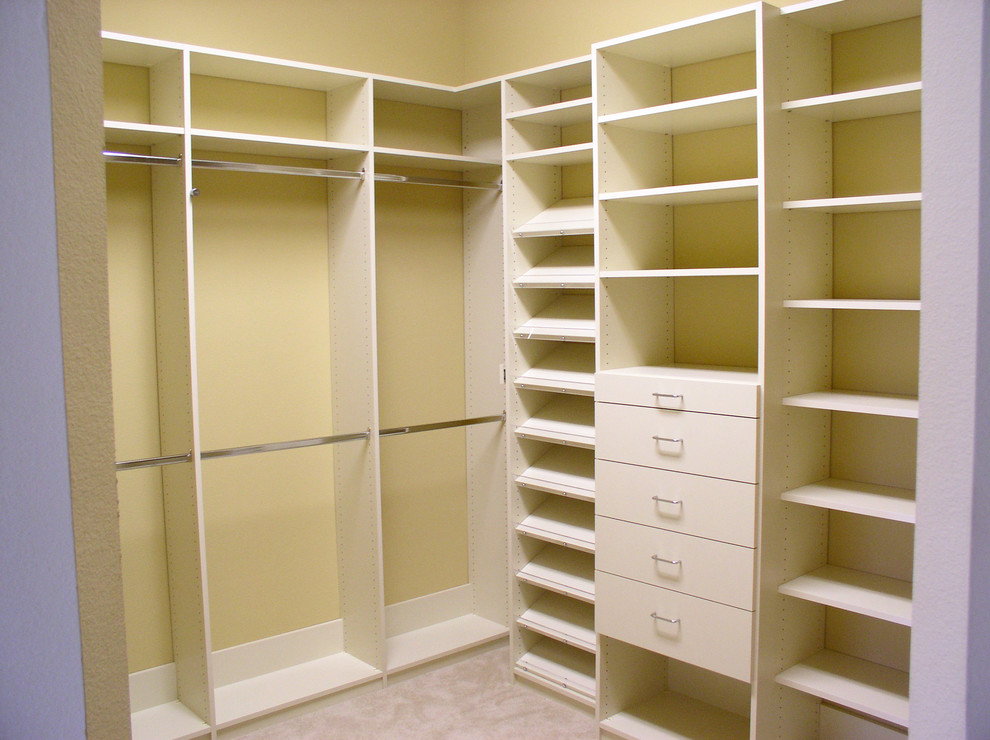 Traditional Closet by Palm Harbor Closet Designers and Professional Organizers Artisan Closets and Trim Inc
Sort It Out
The next step is to sort out through all of your things and make two simple piles: the stuff you have worn in the last year and the things you are holding on to for no peculiar reason. Sometimes this process might be quite difficult, but it is important to rummage through everything so you would be able to establish some order.
Rustic Bedroom by Raleigh Closet Designers and Professional Organizers California Closets – Triangle, Triad and NC Coast
Categorize
After you have piled up all the clothes you regularly wear, it is time to categorize them. This is perhaps the most important part of closet organization. Of course, there are a lot of different ways to group things: by season, colour, purpose etc. It is important to find a method suitable for you personally, so you would be able to get around your wardrobe more easily.
Contemporary Closet by Washington Closet Designers and Professional Organizers California Closets – DC Metro
Clean
Before you start putting your clothes back in your closet, remember to clean the inside of your wardrobe thoroughly. It does not matter if it is seemingly clean. This is important for a number of reasons, dust, dirt, moths and similar pests being one of them. This could also be a cause for an allergic reaction or some skin irritations, so it is much better to be safe than sorry.
Contemporary Closet by London Photographers Gregory Davies Photography
Helpful Features
Another great tip is installing some helpful features into your closet like shoe holders or shoe racks, double rods or simply installing additional shelves or drawers for extra space. Shelving will help you immensely in obtaining better visual overview off all your staff. Be sure to make use of all the available space like the walls and the inside of the doors.
Traditional Closet by Houston Interior Designers & Decorators Munger Interiors
Donate
When you have sorted out all of your things, it is time to decide what to do with the rest. Try to do something charitable and donate some of the stuff to those in need. And you can easily rid your home from all the unnecessary excess things by calling on a rubbish removal service.
Store It
Of course, if you wish for your closet to be meticulous and clean, there is no point of cramming in every clothing garment. It is perfectly recommendable to segregate the winter clothing from the summer one and store it until the seasons change once again.
Contemporary Closet by Royal Oak Interior Designers & Decorators Richard Ross Designs
Light It Up
Last but certainly not least, a quite easy trick that will make your wardrobe moments that much easier, is installing simple light fixtures that will enable you a clear visual of your whole closet. Simple and yet quite effective.
Contemporary Closet by Los Angeles Closet Designers and Professional Organizers Lisa Adams, LA Closet Design
With these few organizational tips, there can never be more excuses for a messy closet. So gather your things, start rummaging and get organizing. And remember – an organized closet is the first step towards an organized life.